There are lots of services online. But we suggest you try this company. It is a well-known service with great quality products and nice feedback. Are there any drawbacks? Let's learn them together!
Short Overview: Pros and Cons
Don't like cooking but still want to enjoy healthy meals? You can now use Trifecta, one of the best food delivery services on the market. The company offers well-cooked healthy, prepared foods with fresh ingredients. Let's see what people like the service for:
First of all, the company offers organic food for people on a diet. If you want to order a low-carb meal delivery but get enough protein, Trifecta menus will be a perfect idea.
Every dish is fully cooked. You will get the meal in sealed packages. The menu is wide, and there are different options for meat-eaters and vegan lovers.
Meal service offers free delivery. We can't miss this point. This is a nice advantage that makes Trifecta food delivery easier.
Trifecta meal service is known for the quality of its organic food. But there are some drawbacks to the work of the company. First off, Trifecta plans are rather expensive. You should pay for the organic choices and quality packaging. But many people consider the price of the plans higher than average. What's also weird is the inability to choose the meal. Sounds strange? Let's take a closer look at the service.

Pricing
Do users wonder how much is Trifecta? Many people say that the Trifecta cost is more than the average price on the market. Let's see what prices the company has. You will have to pay about $100 for the seven-meal order. This is a cheap order if compared to other plans. If you choose a Vegan plan, you will pay at least $115 per set. What's great is the ability to miss the week. You don't need to pay every other week to buy the meal. No penalty will be introduced if you miss some days.
The price of the meals won't change despite the number of meals. In many cases with other services, the price would alternate based on the number of dishes. But this isn't the case for Trifecta. If you choose a basic plan without any additional preferences, you should pay about $11 per serving. But a Keto plan or low-carb option will cost more. Trifecta pricing is based on several factors. The quality of ingredients at Trifecta, shipping expenses, and packaging are the most important elements of the pricing policy. When you choose quality, you must pay for it. Trifecta prices may seem high, but they're worth the try.
How Trifecta Works
We have learned the prices from Trifecta meal kits reviews. But how does the company work? You don't need to bother yourself with cooking and cleaning the dishes. By ordering food from Trifecta meal reviews, you get all the benefits of organic meal delivery service:
Open the Trifecta website and offer your meal plan. You can find the plan to fit your eating habits. Do you enjoy vegan options? Would you like to gain weight professionally? Low-carb options are also available on the website.
You choose the plan and decide how many meals per week you need.
The company cooks, seals, and carefully packs the food into the containers. When the food is ready to go, it is sent to the necessary address.
In many cases, the plans consist of food you can't specify. When choosing the basic plan, you are free to choose the options. But this function isn't available when you go for other plans.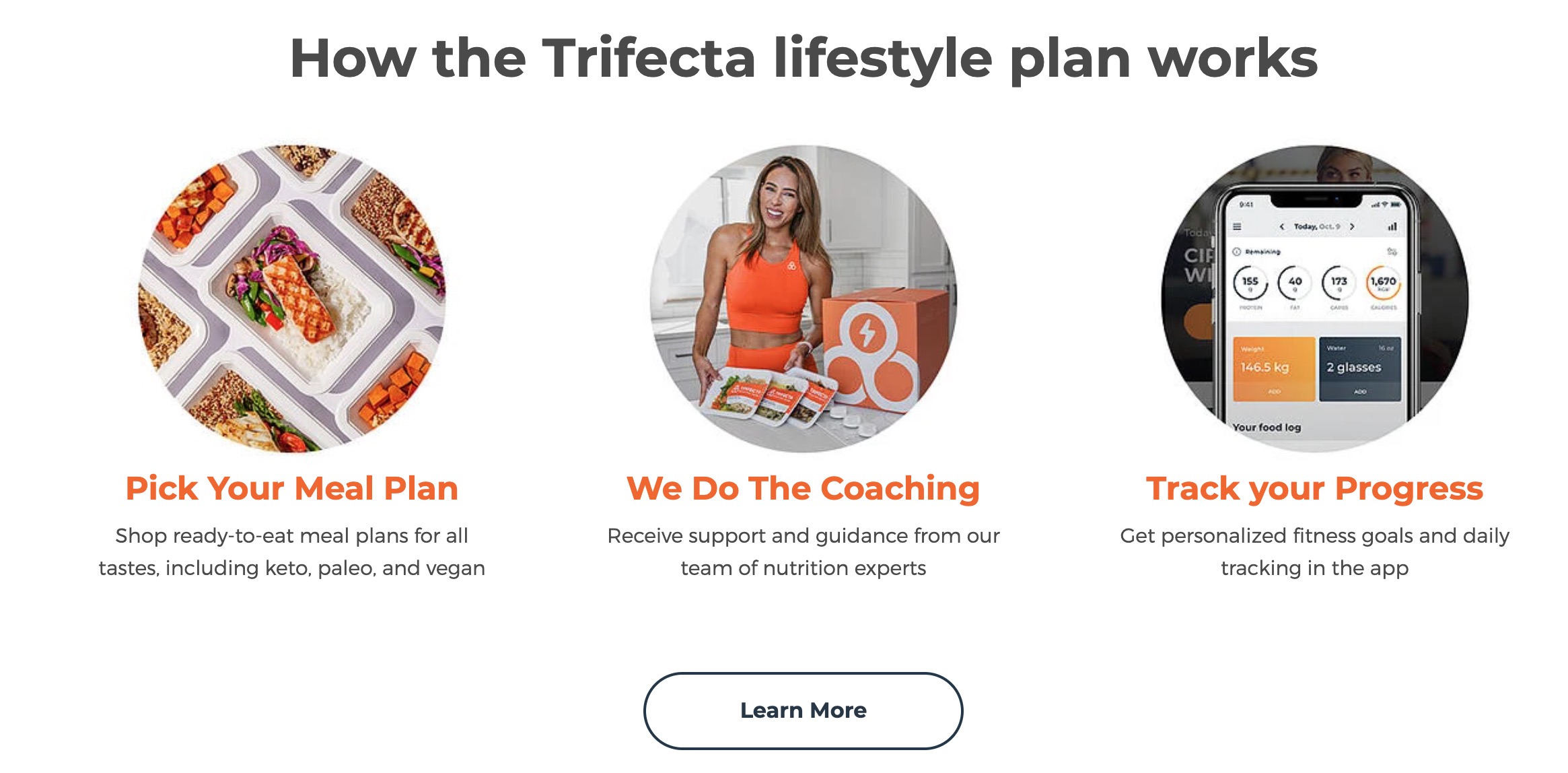 How Easy Are Trifecta Meal Kits to Prepare?
Being the best delivery service in the niche, Trifecta ratings are based on the reviews from the clients. The meal is thought to be easy to cook at home. You receive a Trifecta container with pre-cooked food. What steps do you need to take to have everything on your plate? It is easy. You take the container and follow the instructions on the Trifecta recipe cards. The company takes care of the clients and their comfort. All you need is a microwave or oven to reheat the meals.
Who Is Trifecta Good For?
Trifecta reviews contain feedback from many clients who already tried the services. But some people get the most benefit from Trifecta:
If you don't have time for cooking, Trifecta meal delivery reviews will be a perfect idea.
If you enjoy healthy eating and need to follow a particular diet plan, the company will help you. It has lots of specifically designed plans focused on athletes.
Being an athlete means dedicating most of my time to training purposes. There are no extra hours for cooking.
Who It Isn't Good For?
If you are into sports and take care of your muscles, the Trifecta meal kits review will help you follow the goals. If you enjoy healthy eating, Trifecta will meet your needs in food preferences. But if you simply love food and don't need any restrictions, you won't find this service helpful. The company is aimed at extremely healthy and nutritious recipes. If you want to enjoy your meal and brighten up your days with sweets and high-carb dishes, you should go for another company.

Trifecta Packaging and Reusable Policy
In reviews of Trifecta, you may find interesting facts about the packaging the company offers. First of all, it needs to be mentioned that food comes in containers. Everything is well-sealed in a vacuum that makes transportation much easier and safer. Every container is carefully sealed to keep food inside, and don't let it mess up while shipping to your door.
Another great thing about Trifecta is the eco-friendly approach. The company offers recyclable packages. Not all of them follow the same technology, but the service is trying to implement the use of 100% recyclable packages soon. If you receive a cardboard box, you should re-use it or compost it. You can do the same with the plastic trays but make sure to rinse them first with some water. You can also get TemperPack panels which can be composted easily. They are better for the environment since they are plant-based. Another packaging is an ice pack. You should defrost it and re-use or recycle, too.
Changing and Canceling Order
Do you want to cancel the meal? Such cases are rare. But if you need to cancel the order, you should make it in advance. Trifecta review starts working on the dishes a week ahead. So, if you decide to cancel the food later, you won't get any compensation, and you will lose your money.
Customer Service
When you need to reach the company, you have 3 basic options. The first one is by email. Send a message to ask a question. If you have an urgent issue, you should type your message into the live chat. There's also a phone number. Feel free to call the company whenever you need to solve the issues with the order.

The Alternatives
In online reviews for Trifecta, you can see that most people are satisfied with the services. But what if we compare other meal delivery services with this one? Let's take SunBasket.
The company offers great meal delivery options to fit people with different food tastes.
You are free to choose from a bunch of meal kits. The variety of dishes is huge.
But you need more time to cook. And there's also the option to choose a snack.
If we take a look at the next company, we will see the following:
Green Chef has lots of recipes to cook. Cooking is easier with proportioned ingredients, most of which are precooked, too.
The Cancellation procedure is easy. You are free to change or cancel the order.
But you can't mix the meals. Well, this is the same that we feature at Trifecta. But this is just the specificity of the service.
You may find different websites to offer prepared foods for the clients. Some of them are great, while others have considerable drawbacks. And this is you who choose the service and close your eyes on the cons.
The Verdict
Should you choose Trifecta? The company is a perfect choice if you're into sport. Athletes find this service as a great alternative to cooking at home. You can follow the plan and save extra hours at the same time. Everything is precooked, so you need to re-heat the meal to enjoy the food. And what's also great is free shipping. You will receive your recyclable package with no extra fees. But you won't find any junk or cheat-meal options here. And the price may be higher than you expect.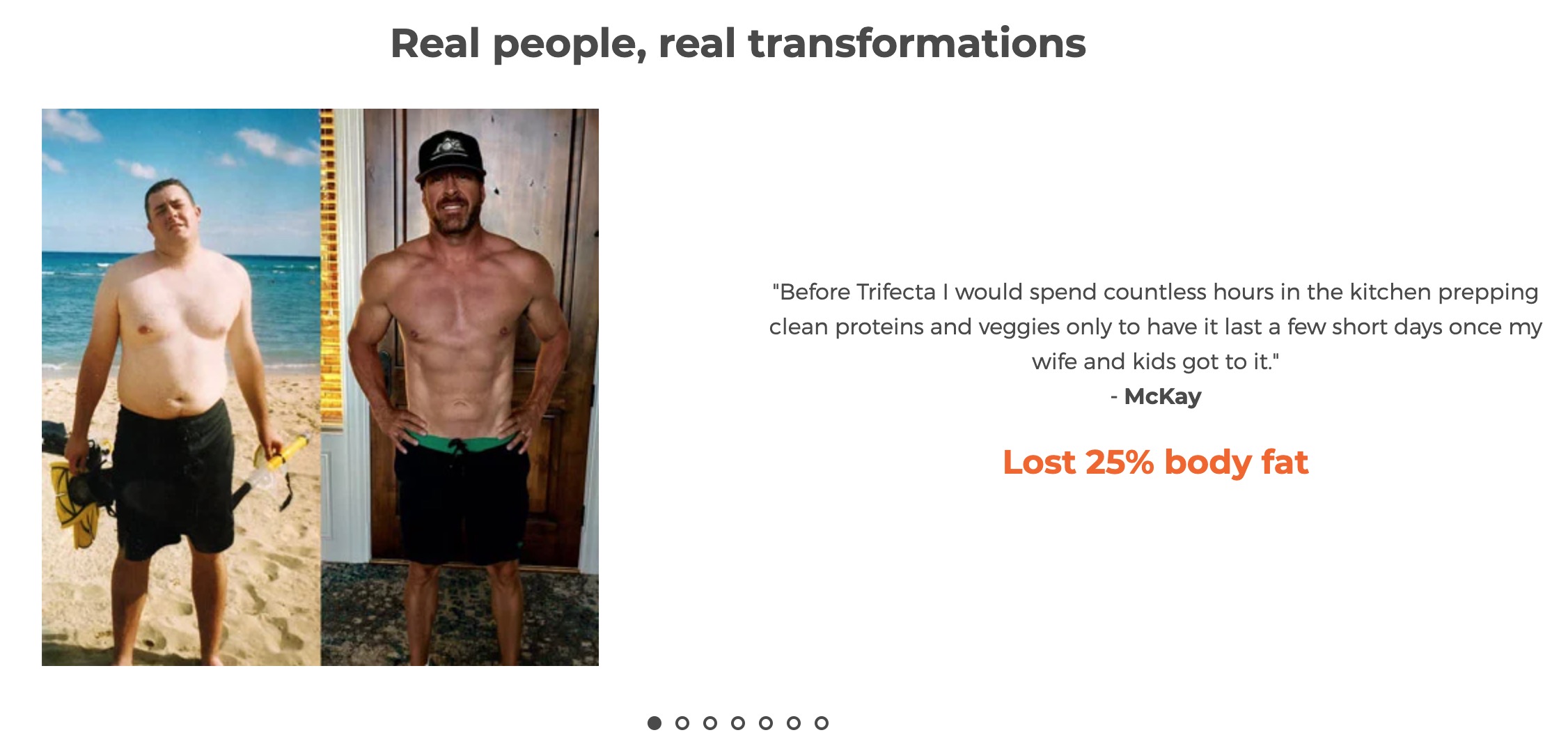 FAQ
Are Trifecta Meals Healthy?
Yes, the meals consist of fresh organic food. Every recipe at Trifecta is well-developed by a team of professional cooks. You will get the most of the dishes and enjoy the healthy nutrients. Low-carb and high in protein dishes will become your eating routine and improve the condition of your body.
Can I Try Trifecta for Free?
No, you can't try the dishes without payment. A team of experts is working on each recipe. They buy the ingredients and cook tasty meals. Shipping is free. But you should cover the price of the services. You may want to use a Trifecta promo code or get a discount. It will reduce the price, and you'll save some money with Trifecta.
Is Trifecta Worth the Money?
Yes, it is definitely worth your money if you order it on purpose. If you mind the quality of your body and want to feed it with proper nutrients, Trifecta is a perfect choice. You will also opt for eco-friendly choices with reusable packages.