What is the best gluten free meal delivery, and who should follow the gluten-free diet? About one percent of people in the world have celiac disease. It is a metabolic disease associated with gluten intolerance. When it enters the body, the T-cell link of the immune system is triggered, the inflammatory process begins, and the villi of the small intestine atrophy over time. Many prejudices cause a misunderstanding of the mechanism of gluten assimilation. Still, it is safe for a healthy person. But for a celiac patient, this is extremely harmful, and the use of gluten should be avoided.
The main treatment is a gluten-free diet. Celiac disease can't manifest if the patient doesn't receive a harmful substance. Two weeks of a diet is enough to eliminate the symptoms. If celiac disease is diagnosed, a gluten-free diet will have to be followed for life. Its goal is to exclude foods on the list of prohibited foods from the diet. Compared to other diets, gluten-free is quite easy to tolerate, as almost all dishes can be replaced with substitutes.
A gluten-free diet is not too restrictive for a person. People will not experience the unbearable need for any substance. They don't need gluten itself, and other components of prohibited foods can be found in analogs.
Gluten Free Meal Delivery: Which One to Choose
A modern trend, a healthy habit, and just the right attitude to health today is a careful approach to choosing a diet. Such a food format as home delivery attracts its efficiency, saving personal time spent on cooking and a variety of dishes.
Regarding choosing the best meal delivery service for gluten free products, it is important to highlight several factors that will significantly affect your attitude toward this way of eating.
The first factor is the use by the company of only fresh and high-quality products for preparing dishes ordered to your door.
The second, no less important aspect is the method of preparation and approach to forming the diet because it is important to eat beautiful and healthy food.
You should consider the cost of this type of food and the speed of delivery. But also don't forget that really good products and gluten free mail order meals can't be cheap. Are Factor meals gluten free? Can you eat Epicured foods if you don't tolerate gluten? Can HelloFresh boast their gluten-free menus? Let's answer all these questions.
Epicured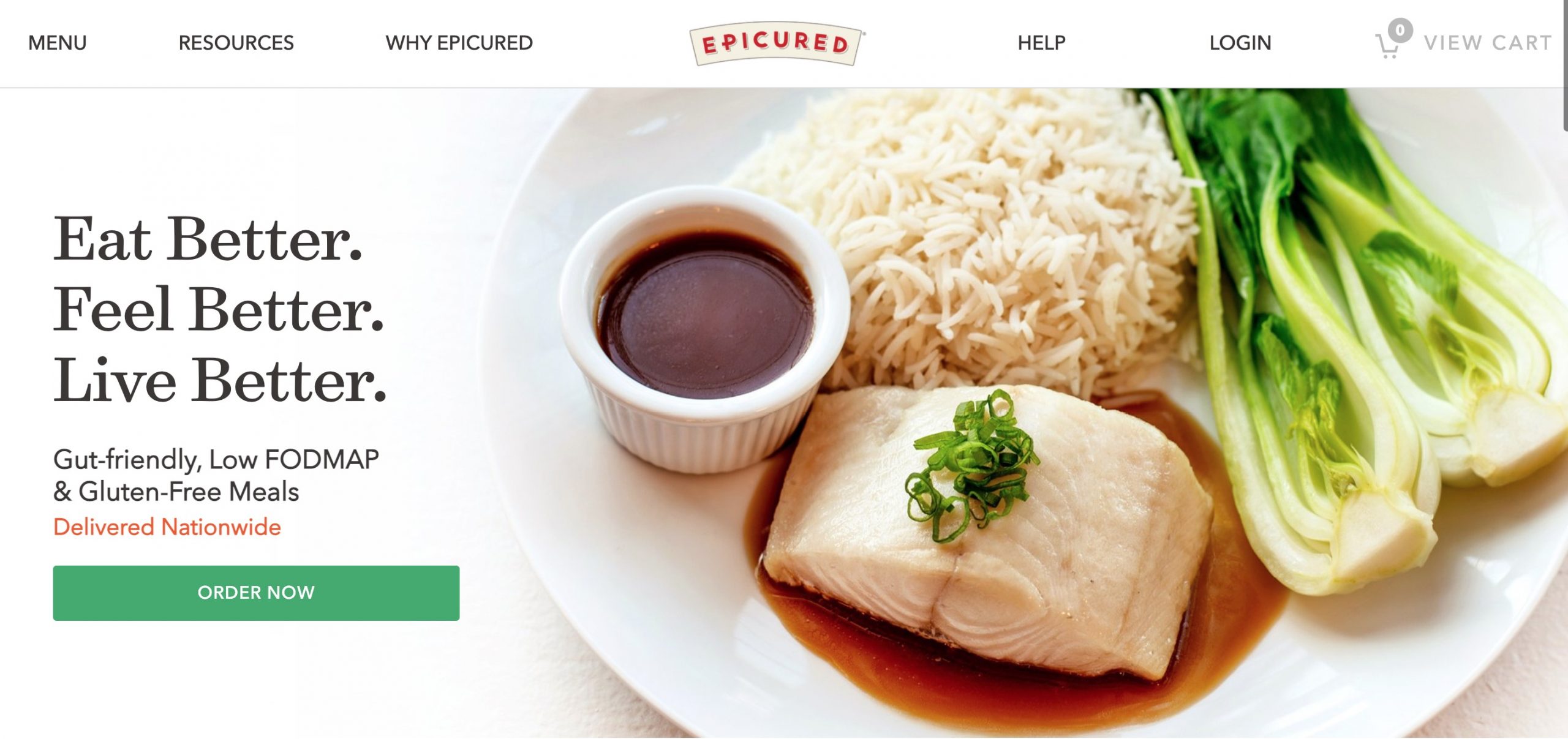 Pros:
Over 30 entree options weekly
Easy to prepare
Dedicated gluten-free menu
Cons:
Expensive
No free shipping to some states
Food lasts only 4 days in fridge
It is the best gluten free meal delivery service from New York City.
Nutritionists clinically validated and approved the company's food for people living with various diseases due to gluten intolerance. People who value convenience and delicious food choose this service.
It has over 50 ready made gluten free meals to choose from. You can see all the ingredients that make up the dish on the official website. All products are organic. You can choose what to eat by applying three main filters – dietary preferences, allergies, and nutrition.
There is a choice of breakfast, lunch, dinner, dessert, side dishes, snacks, and drinks.
What to eat:
Shrimp pad Thai
Sesame crusted wild salmon
Chocolate energy bites
Cost per meal:
Entrees: $10 – $19
Breakfast: $7 – $9
Smoothies: $5 – $19
Bowls & Salads: $12 – $15
Soup: $6 – $11
Sides: $4 – $18
Snacks & Desserts: $6 – $20
It ships to all states. All ingredients are packaged in recyclable packaging. Free shipping is available to all states east of the Mississippi. Shipping West of the Mississippi is up to $45, depending on how far away you are. Watch more here:
Freshly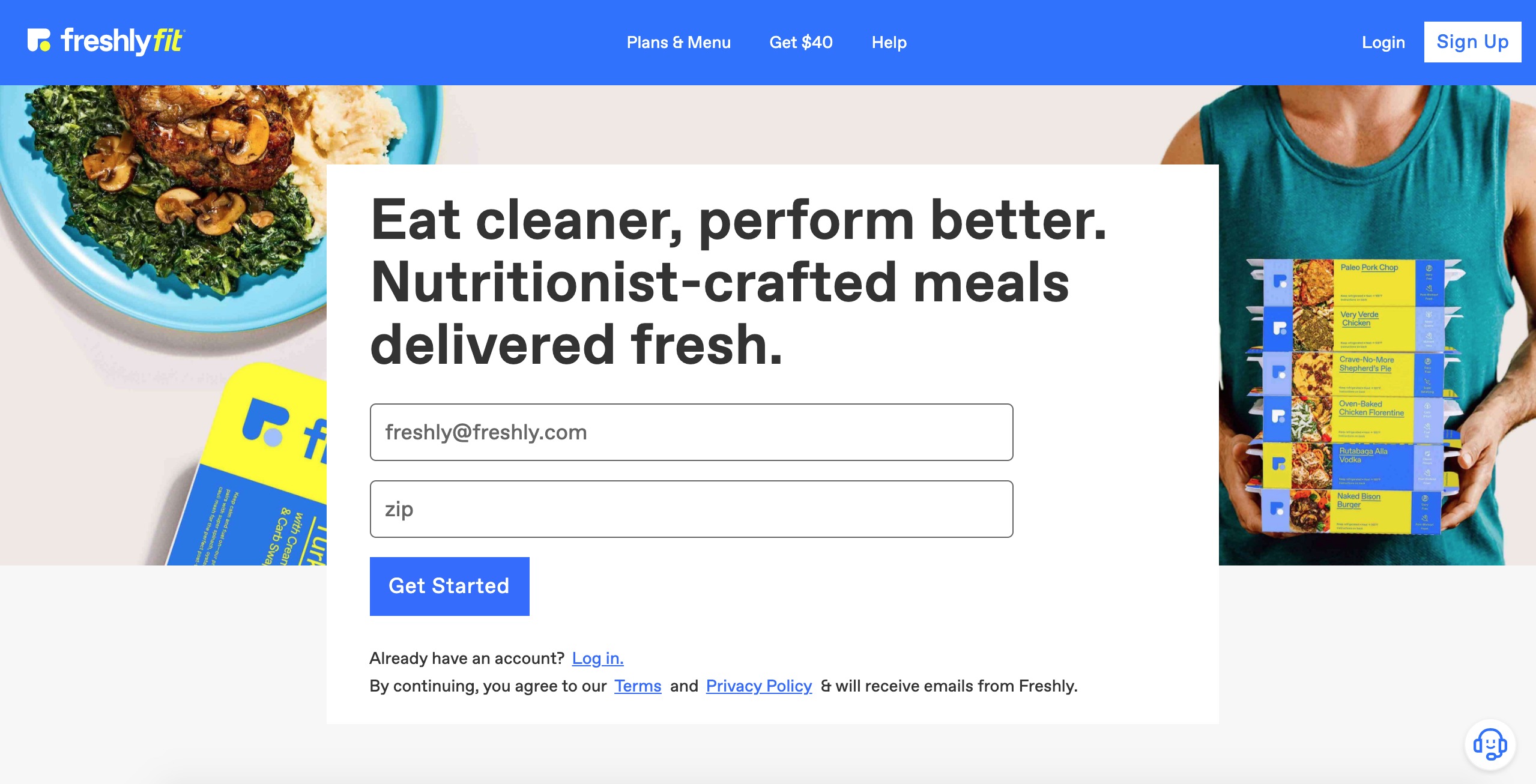 Pros:
100% gluten-free menu,
Ready-to-eat
Quality ingredients
You can order up to 12 gluten free ready made meals a week
Cons:
Shipping costs increase as the order increases
It was founded in 2012. Now it is a good competitor in the healthy food market. The best thing here is the price. Also, it delivers all products fresh. They are gluten-free and certified. This gluten free food delivery pays excellent attention to the health of its customers. It has a certified gluten-free center and a highly professional support team.
The menu features a certified 100% gluten-free menu. By using the service products, you get a lot of nutrients. The menu consists of only one large meal, but you can order up to 12 gluten free packaged meals per week. Therefore, you will not go hungry. Delivery plans are very simple. You choose the number of dishes you need per week. Your order will be repeated until you change it or cancel it.
What to eat:
Spaghetti alla Bolognese
Turkey
Chicken tikka masala
Cost per meal:
4: $12
6: $10
10: $9
12: $9
If you don't have time to cook, just reheat the ingredients of Freshly gluten free meals. The packaging is recyclable. Delivery can be made to 48 states.
Daily Harvest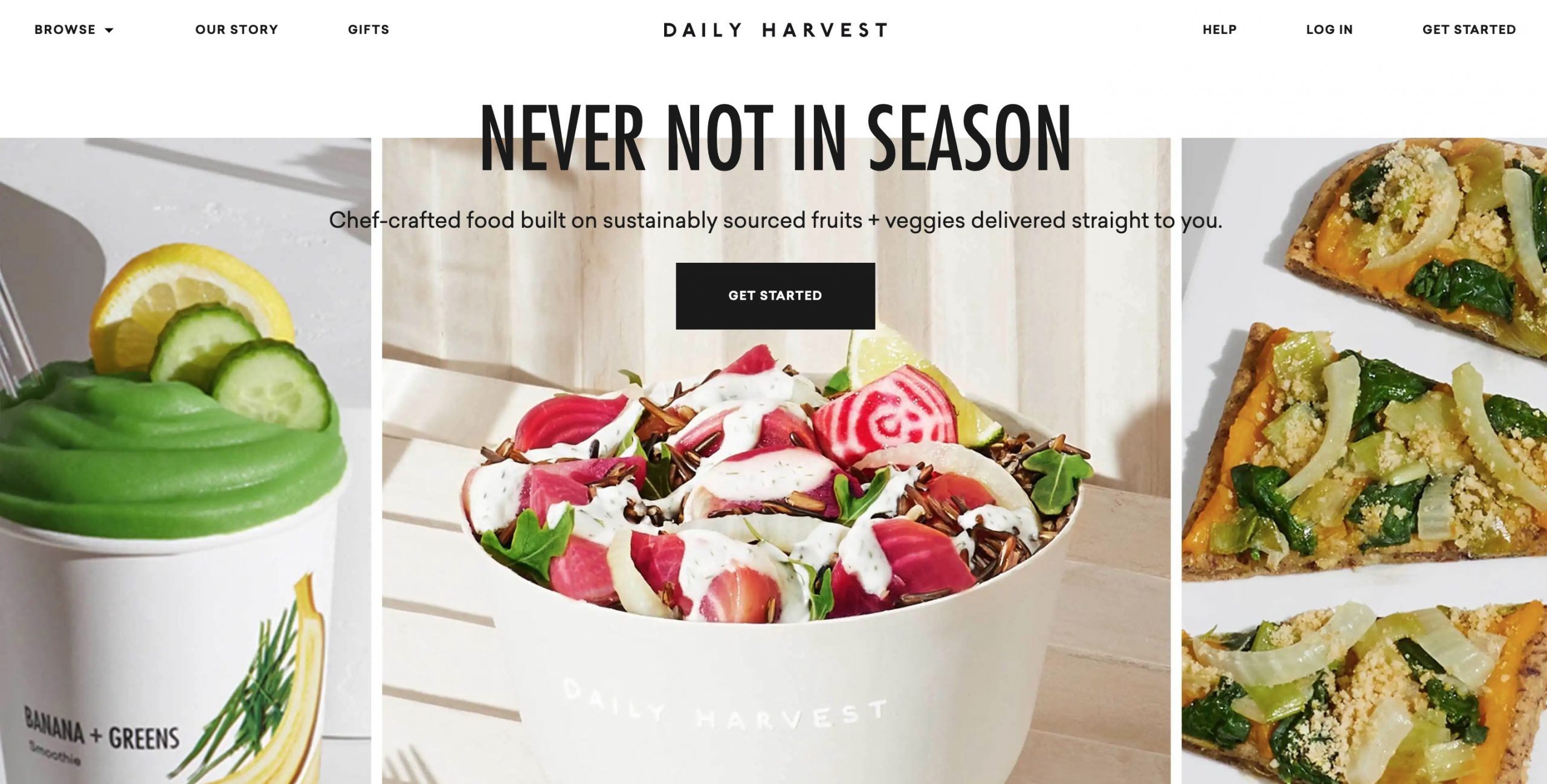 Pros:
Healthy food with high-quality ingredients
Free shipping
Customer service will help you find the dishes that are good for you
Cons:
Some flavor combinations are tasteless
No meat
This gluten free home meal delivery was founded in 2015. At first, it was exclusively a smoothie company. But over time, everything has changed. Today, there is a gluten-free menu with several sub-sections like smoothies, soups, non-dairy ice cream, etc. It supplies weekly or monthly boxes of pre-frozen snacks that can be kept until you want to reheat and eat them.
Dishes are very easy to prepare. For example, tortillas and bowls can be heated in the microwave for a couple of minutes, and smoothies can be smashed in a blender. Instructions for each dish are written on the boxes. The company claims to use almost 100 percent organic ingredients. The menu can be filtered following your dietary needs.
What to eat:
Acai and cherry cocktail
Pumpkin soup with nuts and rosemary
Portobello and pesto
Price for a box:
Small box: $5 discount
Medium box: $10 discount
Large box: $20 discount
Each discount applies to the total amount of all items you select. When you register on the website and choose some meal delivery service gluten free option, the first order becomes the default order. It will repeat every week until you change or cancel it.
Shipping is available in all states except Hawaii and is free.
Fresh and Easy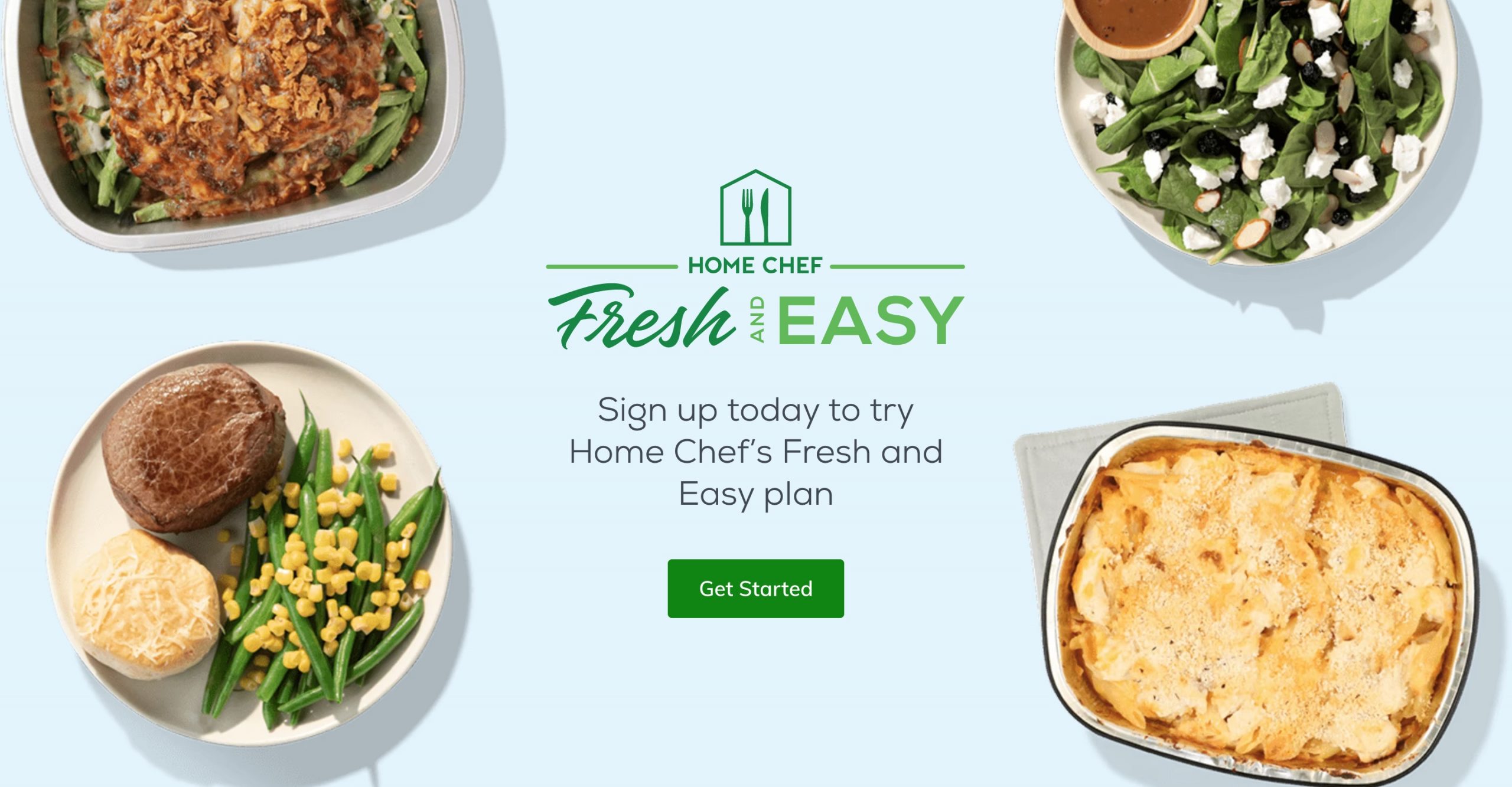 Pros:
Wide selection of proteins
Quality ingredients
Plenty of menu options
Cons:
Cooking may take up to 40 minutes
Not all home chef gluten free dishes are gluten-free
This delivery service appeared in 2014. It has an extensive choice of diets. The service is USDA-organic certified, and all dishes are cooked by chefs and approved by nutritionists. It specializes in set meals but develops its offerings with various add-ons. You have an abundance of options.
The gluten free meal kits come with ready-made components. Fresh and ready-to-eat dishes can be put in the microwave or oven, and they will be ready in 40 minutes.
There are 17 meal gluten free meal kit options and 16 Fresh and Ready Meals available each week. You can choose the dishes you like or trust the service to choose food based on your dietary preferences. All boxes are for two people. If you are feeding four people, you should order two boxes.
What to Eat:
Coconut shrimp with cucumber salad
Salmon and farro bowls with spinach, apricots, and green goddess dressing
Black Angus steaks with Brussels sprouts
Price:
2 kits with 4 servings – $14 per serving
3 kits with 6 servings – $13
2 kits with 8 servings – $12
Four Fresh & Ready meals per week – $12
Eight Fresh & Ready meals per week – $10
Boxes are delivered fresh and never frozen. It ships boxes to 46 states (excluding Alaska, Hawaii, Montana, North Dakota, and parts of New Mexico). Most of the company's packaging is reusable or compostable.
Factor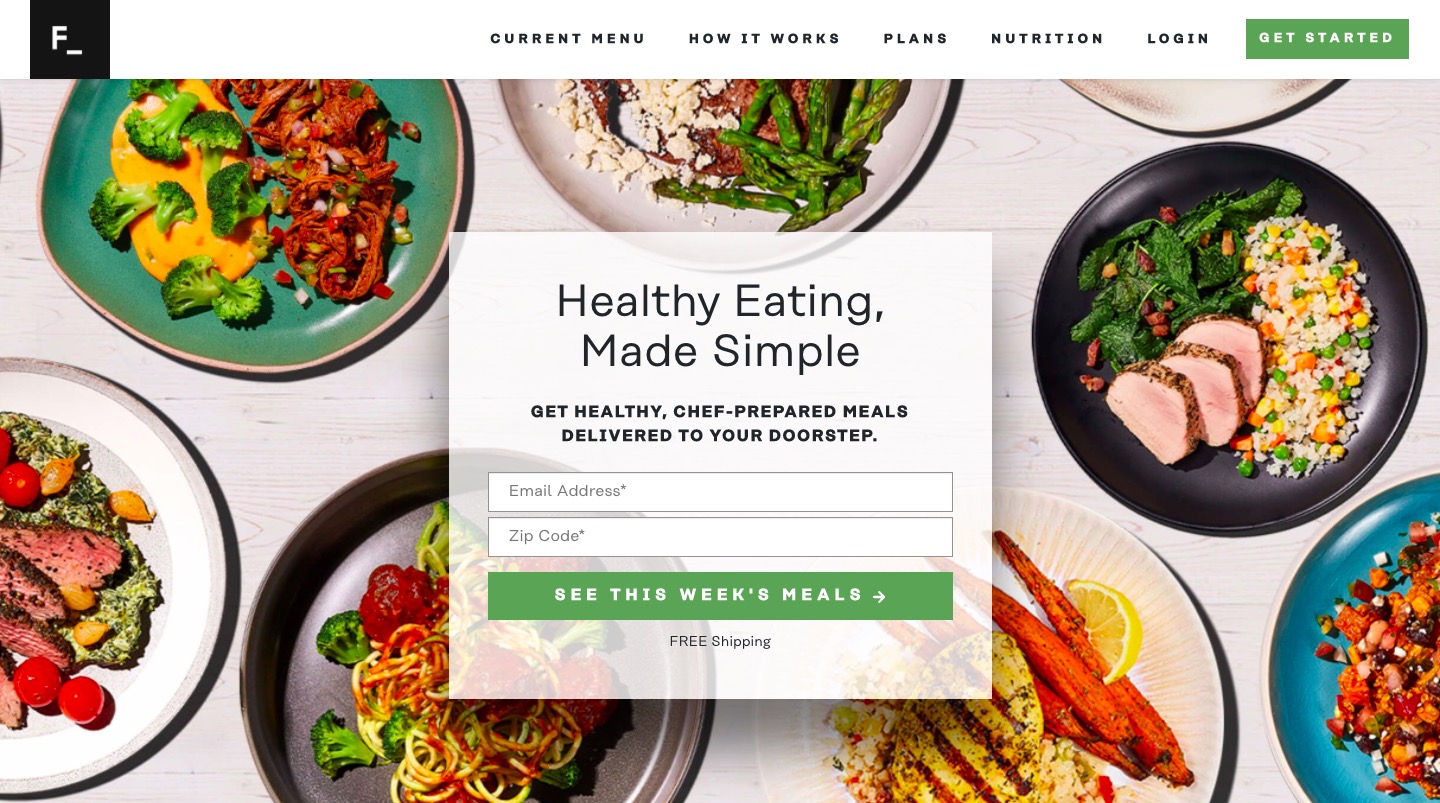 Pros:
It is convenient to cook dishes
You can get nutrition advice
A nutritionist approves all recipes
Cons:
Too many low carb meals
High cost
Are Factor meals gluten free? It is a food delivery service with a focus on health. It offers a varied menu designed by nutritionists. Factor nutrition is designed for people on a specific diet. Since its dishes don't require any culinary skills, they're precisely for those who don't like to cook.
What to eat:
Parmesan Risotto with Italian Sausage and Broccoli
Alfredo shrimp with zucchini noodles
Set of various smoothies
Price:
4 meals per week – $15 per meal
6 – $12.83
8 – $12.30
12 – $11.50
18 – $11
Delivery is carried out throughout the United States on Monday, Tuesday, or Wednesday, depending on your zip code. If there are any changes, then report them a week in advance.
Compare the Best Gluten-Free Meal Delivery Services
| Name | Lowest Price per Serving | Number of Menus | Number of Recipes | Number of Delivery States |
| --- | --- | --- | --- | --- |
| Epicured | $11 | 15+ | 40+ | 48 |
| Freshly | $9 | 2 | 40+ | 48 |
| Daily Harvest | $6 | 5 | 99+ | 49 |
| Fresh and Easy | $10 | 8 | 59 | 46 |
| Sunbasket | $10 | 6 | 43+ | 46 |
| Factor | $11 | 5 | 20+ | 48 |
A Guide to Choosing the Best Gluten-Free Food Delivery Services
Do you need gluten-free food delivery services? When determining if such a service is good for you, consider the pros and cons.
| Advantages | Disadvantages |
| --- | --- |
| Free yourself from cooking. You can do what you love or just relax. | You don't know what products chefs use. |
| You can ask any service for quality documents and ensure the quality of the products. | You don't have the opportunity to independently serve, add seasonings, sauces, or spices – only complement the finished dish with them. |
| Professional chefs can prepare complex dishes for you if you can't cook them on your own. | The order may take longer than you would spend time cooking on your own. |
| You don't have to clean up the kitchen and wash the dishes after eating. As a rule, the dishes are brought in disposable containers. | You may encounter poor-quality customer service. |
| You can order food for many people and save on cooking (especially if you use promotional codes, coupons, and other discounts). | They may deliver bad food |
| Using reliable deliveries allows you to get pleasant emotions from communicating with the customer-oriented staff! | |
To avoid getting confused about the variety of offers when choosing a food delivery service, pay attention to the following points.
Food quality. The composition of dishes is of great importance because the food has to be only of high quality. The fewer harmful additives used, the better the food. Everything is simple.
Food type. It can be vegetarian food, pastries, meat or seafood dishes, fast food, fruit snacks… There are many options. When choosing one or another of them, consider your preferences and needs.
Time of delivery. People order food delivery for dinner, breakfast, or during their lunch break at work. Therefore, couriers must work quickly.
By ordering the delivery of healthy and balanced food, a person is guaranteed to receive the necessary nutrients that the body needs to maintain a quality standard of living. Also, you get food that contains all the necessary nutrients. After all, these services are focused on healthy eating.
Gluten-free food delivery services guarantee delicious, nutritious, and affordable meal plans. It will help you consume healthier food without spending extra money or countless hours in the kitchen. All you have to do is communicate your food preferences and your dietary goals or restrictions. With such services, you can create an ideal dietary and tasty menu for an individual order and make your eating habits healthier.
FAQ
Which Meal Box Is Best for Gluten-Free?
All deliveries are good, but Epicured was the best. It is completely focused on gluten-free products. The delivery service allows you to eat varied and healthy food, considering your dietary needs and goals. You get personalized meal plans and customizable and healthy gourmet gluten free packaged meals delivered to your door with a healthy food delivery service.
Does HelloFresh Offer Gluten-Free Meals?
HelloFresh doesn't have an explicitly gluten-free meal plan. However, by adding some adjustments, you can make a gluten-free menu. Such products are labeled on the prescription card. However, the dishes are not produced in a certified gluten-free facility. Therefore, you should be careful.
Does Blue Apron Offer Gluten-Free?
Blue Apron can't be called the best gluten free meal delivery because it doesn't have a gluten-free menu. If you study the food components, some options may be good. But there is no clear category for gluten-free ingredients.