When was the last time you went camping with your family and had so much fun? When you were in the camp, what did you choose to eat? Like many families, you've brought French toast, steaks, or hot dogs to grill and some fries, right? But it's not the best easy camping meals for large groups you can cook.
Eating well during a group camping trip is a double pleasure. However, good food is also a guarantee of the full-fledged work of the campers. A well-fed tourist is an energetic tourist! Properly selected food is an important element of a successful camping trip.
How Camp Food Differs from Everyday Food
Camping food is a kind of everyday food. The main criterion here is weight. If we consider that 600 grams of food on average is taken per person for each day of camping, then in the first days of 10-day camping, you will have to carry about 6 kg of food and equipment.
Therefore, when compiling the list of easy camping meals, preference is given to the lightest and most compact products: cereals, nuts, energy bars, and dried/freeze-dried vegetables and fruits. Dried vegetables and fruits are easy to cook at home, in a conventional oven, or in an electric dryer. After drying, their weight decreases by 10-50 times and recovers well when cooked.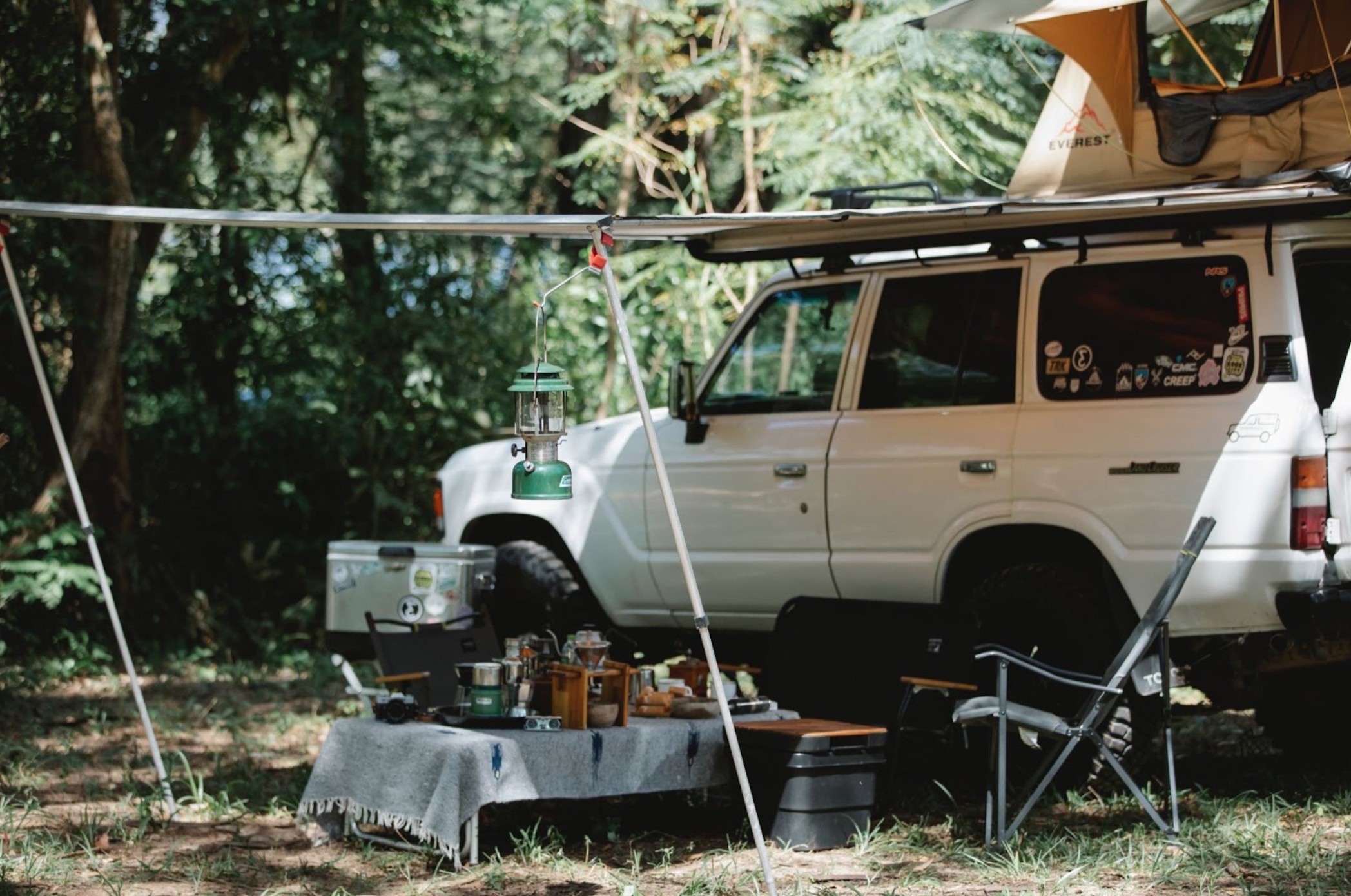 Meal Planning During a Camping Trip
Classification of easy camping food by time of consumption:
Breakfast is, as a rule, various cereals (buckwheat, oatmeal, rice, muesli, etc.). Eat as many calories and glucose as possible in the morning! The morning should be high in calories to have a full energy supply.
Lunch is usually prepared quickly. There are canned food (fish, pate) and sandwiches, tea or coffee. You need to eat well to reserve strength before sunset, and then you can have dinner.
Dinner is usually held in an equipped camp. You should already have a fire pit and time to cook a great dinner on a cast iron skillet. Dinner should be delicious. If you go to bed without eating, you will be cold at night because you will not have the energy to generate heat. So, you can forget about good sleep. At this time, you can show off your culinary skills and cook various soups or cereals with meat. You can cook soups, canned food, stew, ground beef with soy sauce or barbecue, rice, pilaf, jacket potatoes, fried sausages, etc.
Dinner and breakfast camping meals are necessarily cooked on fire, in a slow cooker or Dutch oven — this is a full meal. As for lunch, it all depends on the complexity of the trip. If there is time and energy to cook an easy camping meal, it is nice. If the trip is more complex, spending precious time preparing dinner is not cost-effective. In this case, you can limit yourself to tea with high-calorie sandwiches and brew a packaged soup. The most important thing is that food has to be hot and delicious!
Everyone decides for themselves what food to take, comes up with easy camping meal ideas, and eats separately if there are food allergies.
What to Consider when Choosing Food for Camping
What to take into account about camping meals?
Weight. Experienced campers say that weight is the main thing when compiling a food set for the trip.
Calories. In simple camping trips for 2-3 days, the traveler should consume an average of 2500-3000 calories per day (from 600 g of food per person). In mountain camping, calorie content should be increased from 3500 calories and more (from 900 g per person) per day.
Diversity. After reading the tips, you can get rid of half of the products to lighten your bag as much as possible. The best easy camping meals give strength, good sleep, and cheer up. Without all this, the whole trip doesn't make sense. That is why we recommend abandoning the idea of ​​eating energy bars, chocolates, dried fruits, and similar dry rations during a camping trip.
A number of meals. The best thing about camping is three hot meals a day and several snack options. To not carry too much, calculate the number of meals and the necessary portions for all the people in advance and arrange everything in compact packages. For bulk products, it is better to take several bags at once, getting rid of bulky boxes.
Taste preferences. It is worth considering the preferences of the campers and the tolerance of products. If someone categorically doesn't eat oatmeal, replace it with another cereal. Nobody should go hungry.
If the trip lasts only 2-3 days and not a week or more, you can significantly diversify the food set. Take sausage, pate, cheese for sandwiches, fresh vegetables, fruits, and sweets.
What Food to Take With You While Camping?
Your food is an essential part of the great outdoors. It is important to think carefully about what to take on a long camp trip. After a walk in the fresh air and enjoying the company of your friends, your body may require quite impressive compensation, especially when it's cold there. If you don't give your body enough nutrients, your blood sugar levels will collapse, and you'll feel bad. To help you avoid this, look at the list of the best foods to bring on your trip.
The general rule: a hearty meal should easily survive possible temperature changes. For example, the sun roasts during the day, and at night — frosts at the soil level. It is good if the weight of food is not too heavy because you will have to carry it yourself.
As standard, the list of products for the hike includes:
Cereals (oatmeal, rice, buckwheat, millet);
Pasta;
Canned food in vacuum packaging;
Potatoes (usually take a little for cooking soup);
Onions, carrots, and garlic (sometimes granulated or dried instead of fresh);
Broth in powder;
Spices;
Powdered milk;
Condensed milk;
Egg powder;
Dry mushrooms;
Legumes (dry or canned);
Packaged soups or noodles;
Salt;
Vegetable oil;
Sweetener;
Acetic essence or citric acid;
Sweets;
Sausage and cheese (hard varieties that can be stored without a refrigerator for a long time);
Tea, coffee, cocoa;
Snack foods.
It is reasonable to immediately package your own meal in portions: for example, leave buckwheat in a large package because you will get three kilograms of delicious hot porridge from this amount, which is enough for eight people. It is also better to arrange nuts or dried fruits in small portions to distribute them to those who wish during a halt.
Also, be sure to bring your plastic bottle with you. An ideal individual water container is a 1.5 plastic bottle. It is convenient to replenish it in rivers and springs. Black tea is mainly prepared in the camp, which can be diversified by adding young cedar cones, rose hips, etc.
List of Prohibited Products
No one can completely prohibit anything. But it's worth using common sense, and some products are best left at home. For example:
Hard boiled eggs;
Boiled sausage;
Milk products;
Raw fish or deli meat (you can take homemade cutlets or sausages with the obligatory condition to eat them on the first day of the trip);
Any products in glass jars or bottles;
Alcohol;
Fresh veggies and fruits. Yes, it's unusual without them, but they weigh too much. It is much more reasonable to take dry vegetable mixtures. You can cook soups from them and add them to cereals. You can take dried mushrooms with you — just one handful per large pot will make the brew tastier.
What Food Should I Bring for 3 Days Camping?
3-day camping with a large group is quite short. So, on the one hand, you can afford some gastronomic excesses, and on the other hand, you don't have to carry a heavy backpack with food. It is worth making a camp menu for each day in advance if you are planning a long route. Daily buckwheat with mushrooms and instant noodles is not the best way out.
Sample of the best camping meals for the 1st day:
Breakfast. Oatmeal with dried fruits and nuts, tea/coffee with crackers.
Lunch. Buckwheat with mushrooms, sandwich on bread with cheese.
Dinner. Rice with dried meat, tea with herbs.
Snacks. Protein bars and coffee.
Sample meal for the 2nd day:
Breakfast. Breakfast casserole.
Lunch. Lentils with dried vegetables, tea, and a peanut butter sandwich.
Dinner. Pasta with pieces of meat and vegetables with tomato paste, tea with a piece of cake.
Snacks. Nuts (unsalted) and muesli bars.
Sample meal for the 3rd day for large groups:
Breakfast. Barley or millet porridge with dried apricots, bread with nut paste, and tea.
Lunch. Outdoor grill, vegetable soup with pasta (or rice), tomato paste, cheese sandwich, and tea.
Dinner. Buckwheat or pearl barley with ketchup and mushrooms or squash caviar, tea with sweets.
Snacks. Crackers, dried fruits.
If you eat different cereals and various dried vegetables, fruits, and sweets with tea, the camping recipes will not be tasteless. It is very convenient to take cereals in bags for one-time camp cooking as they perfectly match the proportions for one meal.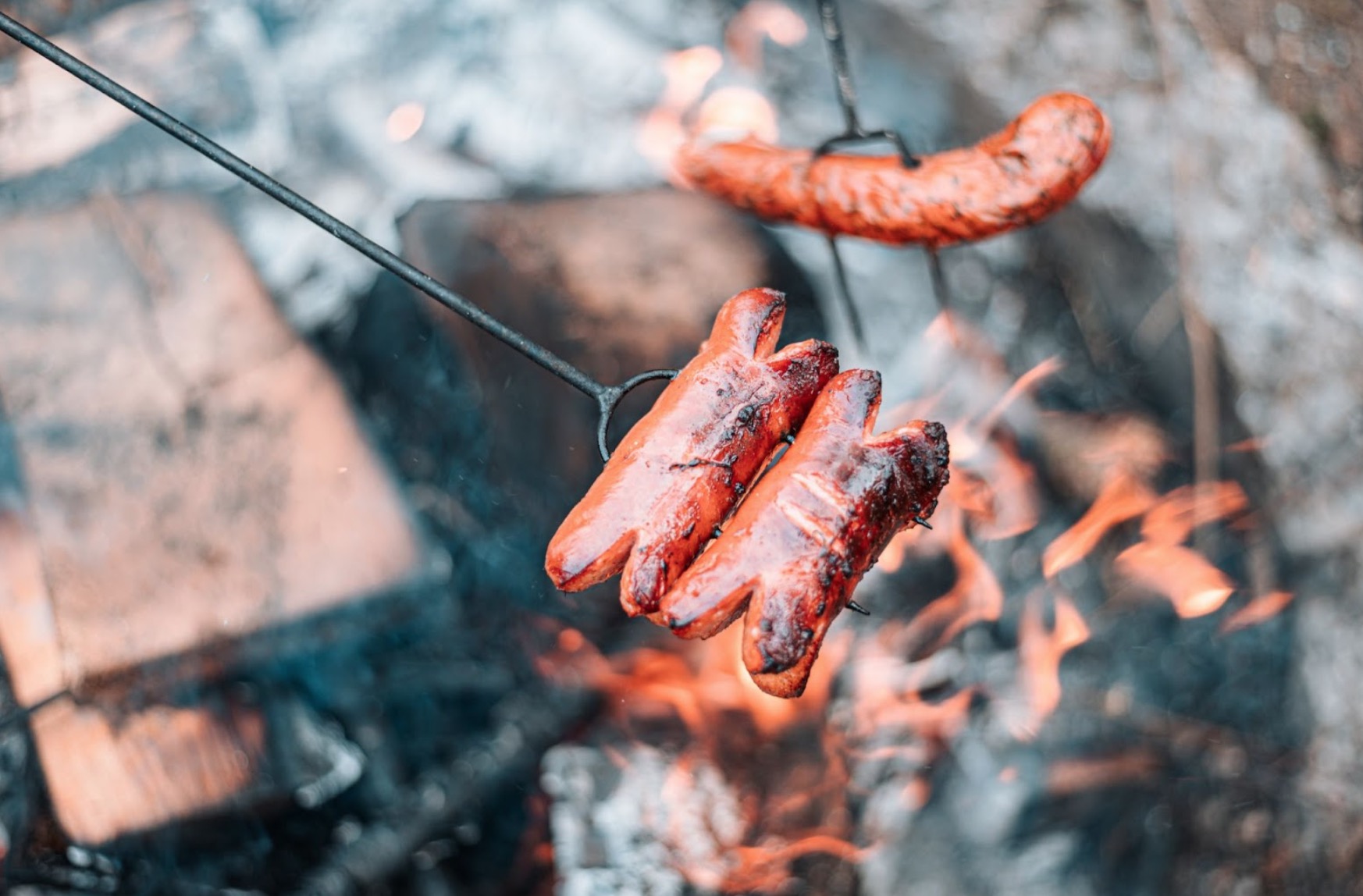 How Can I Camp Without a Refrigerator?
If you're going camping for a day, you won't have to worry about meals for large groups and spoilage:
There are backpacks with a refrigerator function that keep food fresh for up to 5 hours without ice and special cooler bags where food can be stored for up to 16 hours (also without ice).
If the trip is planned for several days, it is better to take fresh food for two days. Then it is better to switch to dry rations, cereals, etc. For long camping trips, put ice packs in your cooler bag. The use of ice significantly increases the shelf life of food. Vegetables and fruits will last longer than perishable foods if you place them in a cool, dry, and well-ventilated place.
The best option is to take a separate tent for food. It will serve as a pantry for you. You can also distribute supplies to different tents. Make sure that your pantry remains in the shade. If the tent heats up, it will turn into a greenhouse, which threatens to spoil your food soon.
Suppose you didn't have time or didn't want to get yourself a bag or backpack with the properties of a refrigerator, but you intend to take meat and other perishable products with you. In that case, several alternative solutions will help you keep your food fresh for several hours.
Storage in flowing water. The flowing water always stays cold, and if you are lucky enough to stay near a stream or a small river, this is your option! Dip water bottles and easy camping meal containers with meat, fish, or dairy products into the water, tying them to something on the shore (otherwise, all your food will float away). You can store food like this during the day if it is in the shade.
A storeroom in the ground. If there is no river nearby, you can dig a small hole in the ground (slightly larger than the volume of the food container), put the container there, and close the gaps between the walls of the hole and the container with straw grass or paper. From above, you can sprinkle it with earth or cover it with straw. All perishable products must be stored separately! Don't put meat and fish in the same container.
If you take meat or fish, you can smoke them — this will help keep them longer. Choose fresh fruit and vegetables. If it is warm and sunny, ripe fruits will spoil very quickly.
If you use natural ways of storing food (in the river, in the ground), be careful: in some places, the smell of food can attract wild animals. They may try to steal it. Some of them (for example, wild boars) can be dangerous.
What Meats Do Not Need To Be Refrigerated?
Usually, when people analyze what easy camping meals for large groups to take, they choose fast food. Dried vegetables and fruits, cereals, milk powder, and canned food are the best fit. Don't take dairy products, boiled sausage, and salads.
What Is the Most Popular Food for Camping?
Carbohydrates are hearty meals. They are needed as the basis of nutrition. You can take buckwheat, rice, corn, pearl barley, or pasta on your camping trip.