Many pregnant women who expect a baby underestimate how exhausting it is to take care of a newborn. Being involved in postpartum care, a woman notices that there is not always enough time to take care of herself. A woman who previously ate only healthy foods may begin to eat less nutritious, salty, and fatty foods just because she does not have enough time to cook. But when a new mother does not give herself enough care, she has fewer resources to take care of others.
The use of freezer meals for new moms is the best and most effective way to keep strong and healthy for the first time after childbirth. If you are a young mother, it is crucial for you to think about using it. Read below about the reasons to freeze food, what makes an excellent postpartum freezer meal, and find some freezer friendly recipes.
Why Make Freezer Meals for New Moms?
There are 6 reasons why make freezer meals for new moms. The following paragraphs describe them in detail.
New Moms Get Very Tired and Have Little Time to Cook
In the first weeks or even months after the birth of a baby. Mothers may not get enough sleep. With a moment of free time, a woman will soon lie down to rest then go to the kitchen to mix ingredients and follow recipes for cooking.
Research by scientists at Ohio University confirms the fact that women do not get enough sleep after childbirth. On average, they sleep only 5 hours a day. With such a lack of sleep, constant care for a newborn, breastfeeding, etc., it is not surprising that many new mothers eat what is available and when it is convenient. In the short term, this might work. But if we consider the long term, it is necessary to consume higher quality food to stay healthy. Easy freezer meals for new moms become real salvation in this situation.
Postpartum Moms May Find It Difficult to Eat Right
New moms need to eat a variety of foods. This will ensure the good health of the woman and contribute to the production of milk for breastfeeding. Nutrition does not greatly affect the composition of milk. However, the lack of proper nutrition can significantly affect the health of the human body.
The best freezer meals for new moms solve this problem. Of course, the choice of dishes will not always resemble the ideal, but you will know that you can eat healthy food that will give you strength and energy at least once a day.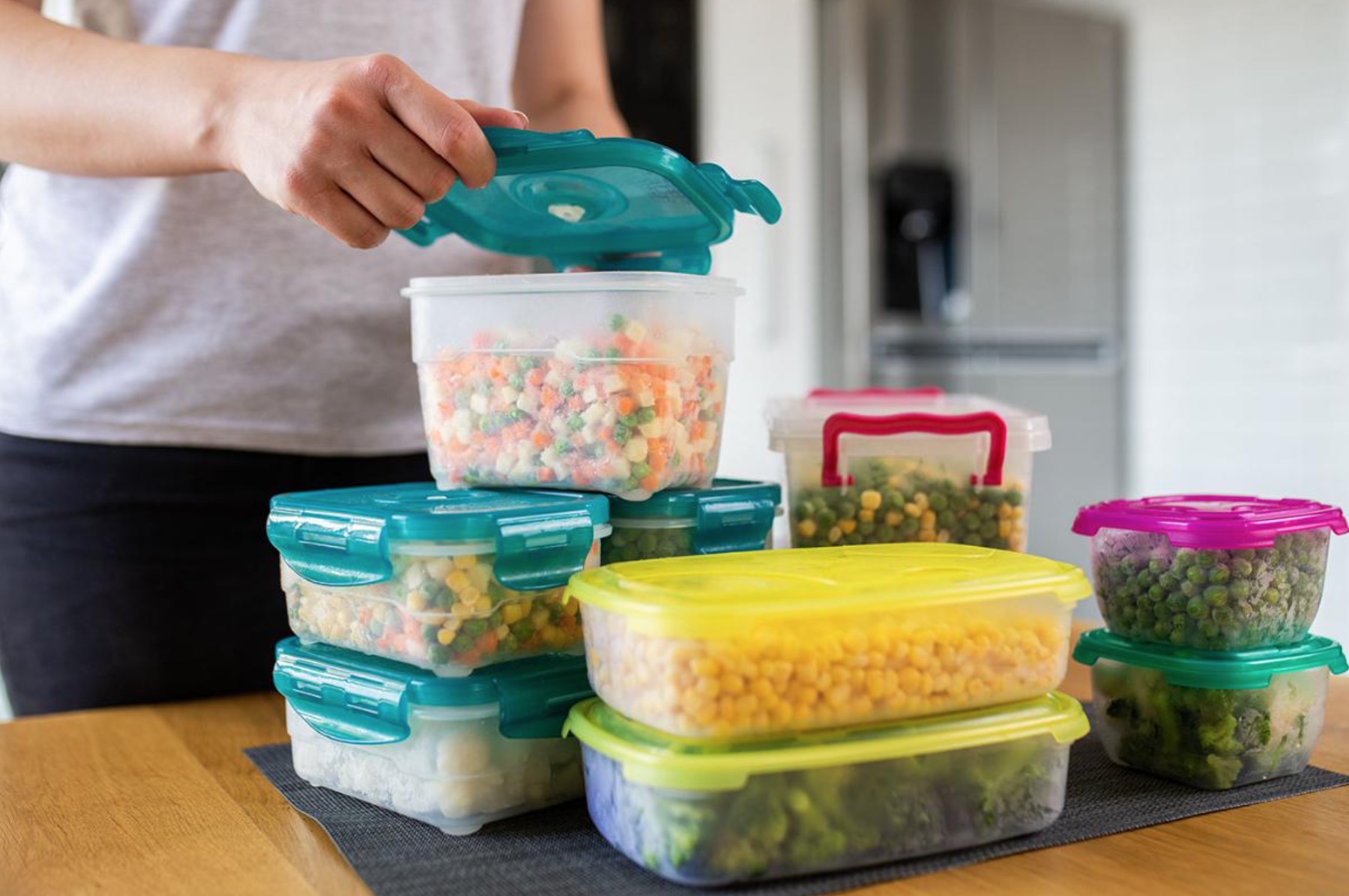 Parents Get Rid of Having to Think About What to Cook for Dinner
In some cases, the problem of postpartum mothers is that they do not have ideas for preparing simple dishes. The preparation of complex meals lacks not only time but also energy. Having freezer meals for new parents, you are freed from thinking about what to cook for dinners.
Psychologists establish an interesting fact at the University of Stockholm. Thus, it is more difficult for tired people to make decisions. And when decisions are made, they are not always correct. For example, a tired woman may decide to eat something unhealthy for dinner that she would not allow herself in a more healthy and active state.
Possibility to Divide Food in Portions in Advance
Nobody likes to eat the same food all the time. Healthy freezer meals for new moms can be divided into separate portions. This will ensure diversity in the diet. In addition, taste preferences after childbirth can change. If you don't want to eat one dish, you can always use another.
Fewer Money Expenses for Home Delivery of Food
When a postpartum mom lacks time to take care of her kid and prepare food at the same time, home delivery is a lifesaver. It's not unusual to order food from time to time. But if you regularly order food, you can get additional cash costs from the family budget. Freezer meals for new mom will help to solve the problem.
Using Fewer Semi-Finished Products
There is a large selection of semi-finished products in supermarkets today. A new mom might think these are good foods to eat after childbirth. But that's not the case at all. Semi-finished food contains many preservatives, sodium, and chemicals, which allows you to extend the product's shelf life. Therefore, do not abuse them if you want to maintain your health. It is better to allocate several before childbirth in order to prep postpartum freezer meals and provide yourself with healthy and nutritious food for several postpartum weeks or even months.
What Makes a Good Postpartum Freezer Meal?
In fact, almost all products can be frozen. However, there are those who do not tolerate storage in the freezer. Consider best freezer meals that perfectly tolerate this procedure:
Chicken. Oven-cooked chicken is great for freezing. It practically does not lose its delicious taste after defrosting. Cool the dish after cooking and wrap it with cling film to ensure proper freezing. Then transfer it to the freezer.
Portion cutlets and meatballs. Since these dishes perfectly tolerate the freezing process, you should not limit yourself when buying minced meat. Meatballs can be frozen in the sauce. Just let the dish cool, wrap 2-4 pieces in cling film, and keep it that way.
Homemade dumplings. To be sure of the usefulness and naturalness of the freezer meal for new mom, spend some time preparing dumplings at home. After covering it with cling film, put the finished raw dumplings in a container.
Preparations for soups. To make soup easier and faster, you should take care of the preparation in advance. Vegetables can be fried, frozen in portions, and stored until the right moment. You may also freeze broths cooked on meat, fish, or vegetables. Such new mom freezer meals are very popular today.
Bakery products. Pancakes, pies, pizza, and other bakery products can withstand freezing well, so you should take advantage of this convenient opportunity.
Freezable casseroles for new moms. Many of us love casseroles. It is healthy food. Make it before the baby is born, wait for the dish to cool, place it in a container with a lid, and put it in the freezer. Don`t forget to indicate the start date of freezing on the lid.
Do not freeze foods and dishes based on starch. Rice, pasta, and potatoes change texture and taste after defrosting.
How to Store Frozen Meals for New Parents Correctly?
Most people agree that no special skills are needed to prepare freezer meals for postpartum. Just take a container, put food, and move it to the freezer. It seems that there are no difficulties. But if you want to maximize the taste and visual qualities of the food, review several important factors. Consider the table below.
Proper Storage of Good Freezer Meals for New Parents
| Factor | Description |
| --- | --- |
| Primary preparations | The first thing to do is buy containers of different sizes. You will need both large and small containers. This will allow ensuring the convenience of portion freezing of various freezer friendly meals for new moms. |
| Portion freezing of food | Freeze only the amount of food you need in one container. Otherwise, leftover food will have to be re-frozen, and the dishes are likely to lose their taste and nutritional qualities. |
| Shock freezing | Freezing at a temperature of -30ºС is much better suited for freezing ready-made meals. |
| Tight product packaging | Tightly arranged products, as well as the most removed air, prevent moisture loss during storage. Wrap separate portions with cling film or use vacuum bags. |
| Incomplete filling | Fill containers with the expectation that water converted to ice will take up more space. Accordingly, the meals to freeze for new moms may damage the tightness of a filled container. |
| Marking | Using marking is extremely convenient since you always clearly see what is in a particular container and its expiration date. |
How to Defrost Make Ahead Freezer Meals for New Moms?
The most reasonable approach to defrosting the healthy make ahead freezer meals for new moms is moving them to the fridge. Freezer casseroles for new moms and any other food cannot be defrosted in the following ways:
Using hot water. Hot water can cause the upper layers to thaw while the middle part of the meal remains frozen. As a result, the appearance and quality of the product deteriorate.
Using boiling water. This method is also not recommended, even if you want to defrost food urgently. It will lead to the loss of taste.
At room temperature. This defrosting is fraught with damage to the upper layers of the dish by bacteria.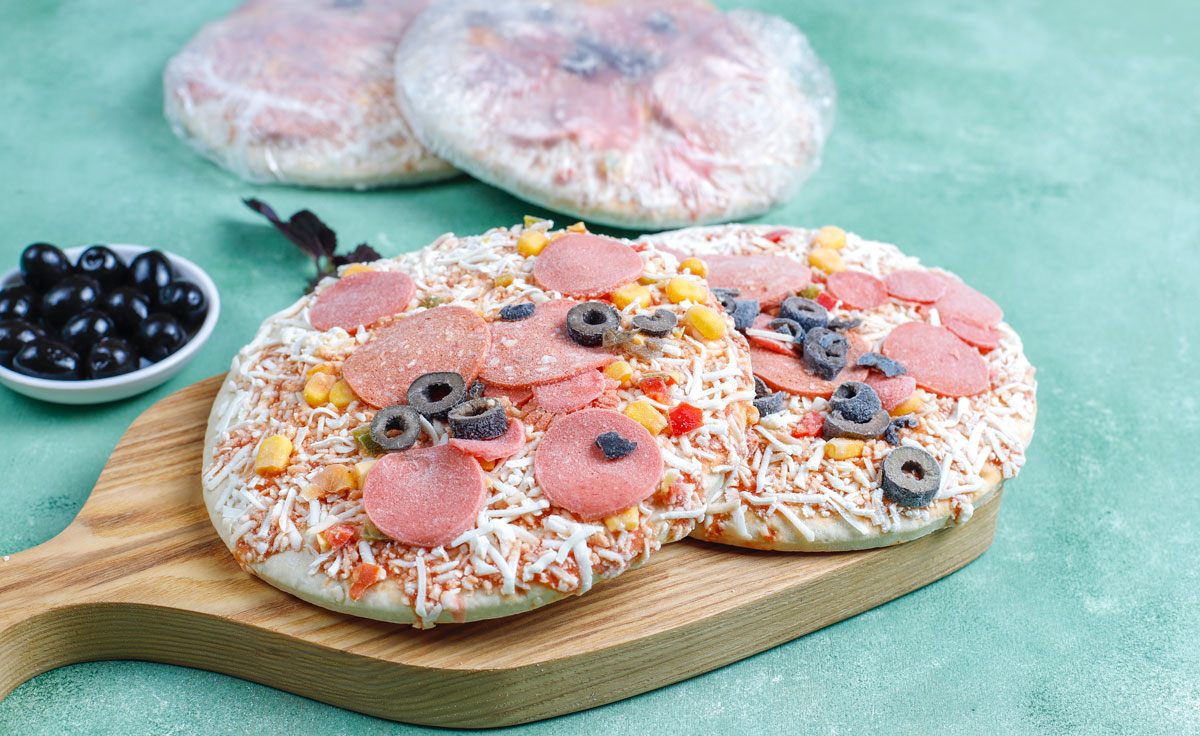 What Are the Most Common Freezer Recipes for New Moms?
There are one handed meals for new moms from which you can choose. But within the framework of this review, it is impossible to consider all the recipes. The three most popular frozen meal ideas for new moms are provided below.
Pizza with Mozzarella Cheese, Sausage, and Olives
The quality of the dough determines the usefulness and deliciousness of any pizza. Yeast dough is suitable for both thick and thin pizza bases. You will need:
1 liter of warm water.
2 kg wheat flour.
50g salt.
100ml olive oil.
8g fresh yeast.
The sequence for making pizza dough is as follows:
Combine flour with yeast, gradually add water, and knead for several minutes.
Add some salt and continue kneading until the dough becomes elastic.
Add olive oil.
Cut the finished dough into pieces weighing 200 g. Form into balls and leave the dough to rise for a while.
Roll out the dough you need for the pizza. If there are leftovers, put them in the fridge. In this form, yeast dough can be stored for 2-3 days in this form.
Filling Ingredients:
50g tomato paste.
100g olives.
100g sausage.
100g mozzarella cheese.
Green onions.
Pizza cooking sequence:
Spread the rolled-out dough with tomato paste.
Spread sausage, mozzarella pieces, and olives evenly on its surface.
Sprinkle green onions on top.
Put the pizza for 15 minutes in the oven, preheated to 180 °C.
Wrap the chilled pizza with cling film and store it in the freezer. It is very convenient to freeze pizza in portioned slices. It's easy to defrost a pizza. Just take it out of the freezer and let it thaw. After removing the cling film, heat the pizza in the oven or microwave.
Creamy Cauliflower Soup
Creamy cauliflower soup is a tasty and balanced dish that saturates well, improves digestion, and quickly restores strength. To prepare it, you will need the following ingredients:
1 large head of cauliflower.
½ tablespoon of butter.
1 tablespoon of olive oil.
1 onion.
1 potato.
1-1.2 liters of broth.
400 ml of milk.
100 ml heavy cream.
Salt.
Creamy cauliflower soup preparation:
Cut the cauliflower into florets, eliminating the stalk.
Heat the oil in a special saucepan and put the cabbage, chopped onion, and potatoes into it.
Saute vegetables for 7-10 minutes over low heat. Don't forget the occasional stirring as well.
Pour the broth into the fried vegetables and bring to a boil. Then salt and add some milk.
Remove the lid from the saucepan and cook for 25 minutes.
When the vegetables are soft, pour in the cream, mix, and puree using a blender.
Before placing the meal in the freezer, it is appropriate to cool it and move it to a convenient container. Such a soup will be suitable for consumption even after a month. Just thaw it properly in the refrigerator.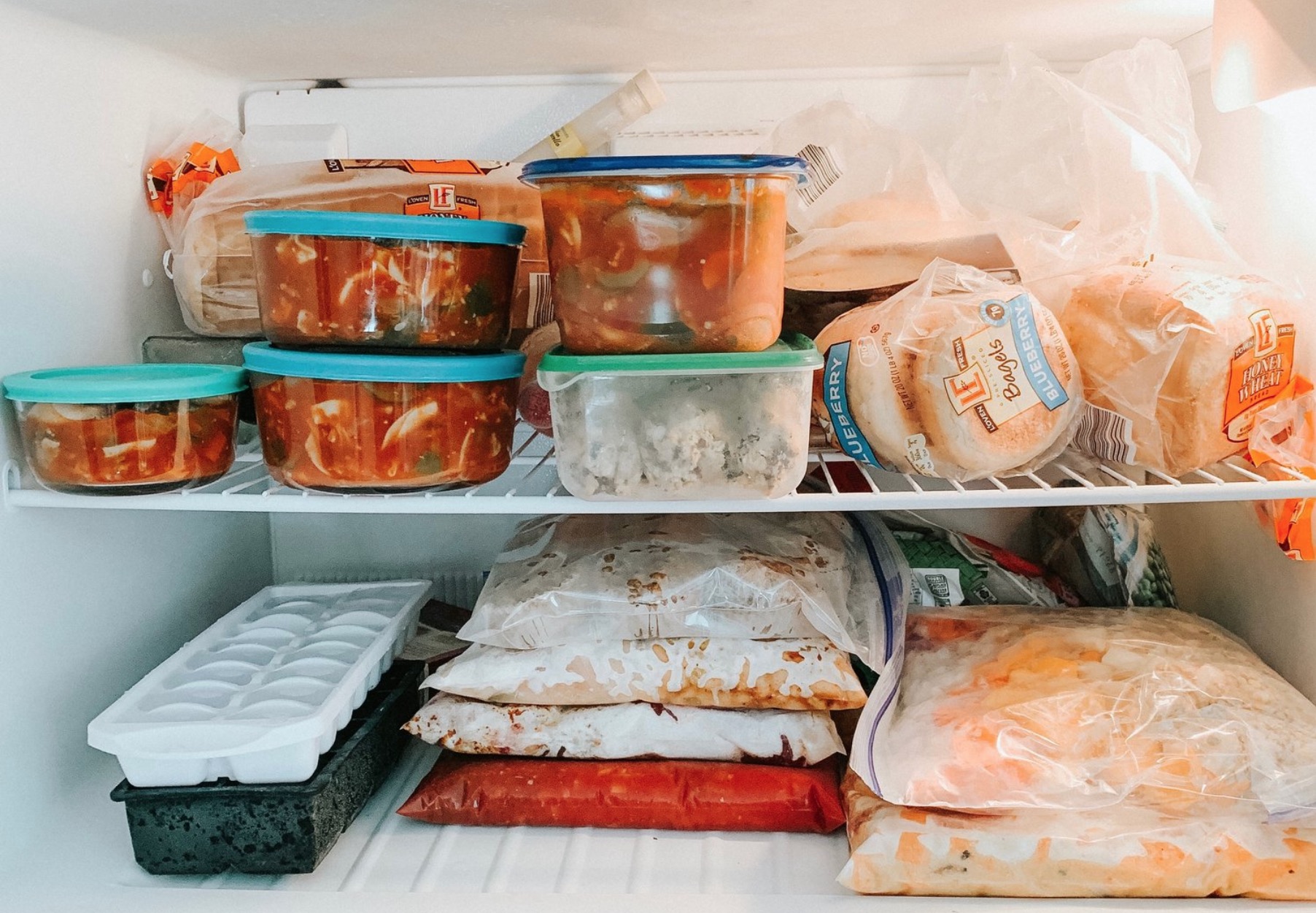 Cottage Cheese Casserole
The following ingredients are necessary for the dish:
600g cottage cheese.
3 eggs.
3 tablespoons of semolina, butter, and sour cream.
2 tablespoons sugar (it is also possible to use honey).
1 teaspoon olive oil.
Salt.
To prepare a casserole, follow the below algorithm:
Preheat the oven to 180°C degrees.
Make a water bath to melt the butter.
Add all main ingredients.
Use a blender to get a homogeneous mass.
Pour the finished mass into a special baking dish, previously greased with olive oil.
Bake the casserole for 1 hour.
Before freezing, refrigerate the dish and transfer it to containers.
FAQ
What Meals Should I Freeze After Having a Baby?
For women who have just given birth, it is helpful to have the following meals in their freezer: casseroles, pizzas, soups, stews, bread, muffins, dumplings, burritos, frittatas, etc.
When Can You Start Making Freezer Meals When Pregnant?
It is the best time to prepare freezer meals a few weeks before childbirth. But some begin preparations even months in advance. In this case, it is appropriate to choose dishes that can be stored for a long time without losing their basic qualities.
What Should I Stock My Freezer With Before Baby?
Before a child is born, make the following freezer meals for new moms: lasagna, creamy chicken noodle soup, meatballs, slow cooker teriyaki chicken, cottage cheese casserole, etc.