Trying to figure out which meal kit delivery will fit your taste or paying capacity the best? There are lots of such companies that go the extra mile promising delicious eating experiences and affordability. One of such go-choices for picky eaters is Sprinly. Read below to familiarize yourself with Sprinly reviews on pricing, available meal kits, their customer support, among others.
Short Overview (Pros and Cons)
Sprinly has a major focus on plant-based dishes that are easy to prepare. Their meals are fully fit for omnivores, vegans, and just those who like experimenting. The offers come never frozen but only fresh; hence, you just heat and eat. Their dishes can be characterized as – 100% gluten-free, with no refined sugar and any kinds of artificial additives. Off we go to Sprinly review of pros and cons.
Pros of Sprinly:
Only less preparation is needed to enjoy the meal;
Fully plant-based, which fits vegan and those in love with greens;
Nothing comes frozen;
High in fiber prepared foods.
Cons of Sprinly:
Small portions;
Not available for shipping in all states;
A bit pricey compared to other services;
Limited choice of meals.

Pricing
Let's first start with the Sprinly menus. They have 3 plans – 6/12/18 meals per week. The menu features gluten-free and vegan dishes, excluding refined sugars and artificial additives. Every week, you are offered a rotating menu with dishes balanced with nutritious ingredients. Or, the service is friendly toward customization since you can pick the options based on your personal preferences.
For your understanding, check the current Sprinly meal reviews options:
Pasta Primavera with Gluten-Free Pasta and Cashew "Parm;"
Mac and "Cheese" with Steamed Broccoli;
Fajita Bowl with Our Sprinly Lentil Walnut Crumble;
Japanese Soba Noodles with Pineapple Glaze and Tofu.
If you crave something spicy or without soy, nuts, there are descriptions. On the other hand, Sprinly lacks many dietary preferences. For instance, you won't find Keto or Paleo plans.
Now, how much is Sprinly?
As was hinted above, there are 3 Sprinly plans.
6 meals are $109 weekly;
12 meals are $199 weekly;
18 meals are $289 weekly.
They come with free delivery; however, the shipping areas are limited. They deliver to the East Coast, Midwest, and South regions only.
How Sprinly Works
This service does not differ much from other meal kit companies. The whole order should be placed online.
By visiting their official website, you have to click on GET STARTED. You will be offered to pick 3 plans where you choose the most favorable for you. After that, the website system offers you a checkout. The next step is to indicate Customer & Shipping information with your email, address among others, and click CONTINUE. Then, you select the preferred meals for the week.
That's it. Your meals will be delivered on the specified dates, fully packaged in insulated boxes with ice packs to keep them fresh. Spend just 3 minutes to reheat the dish and have a delicious experience in plant-based cuisine.
Beyond that, the service allows you to pause or skip your deliveries or subscription. No commitments or fees exist there.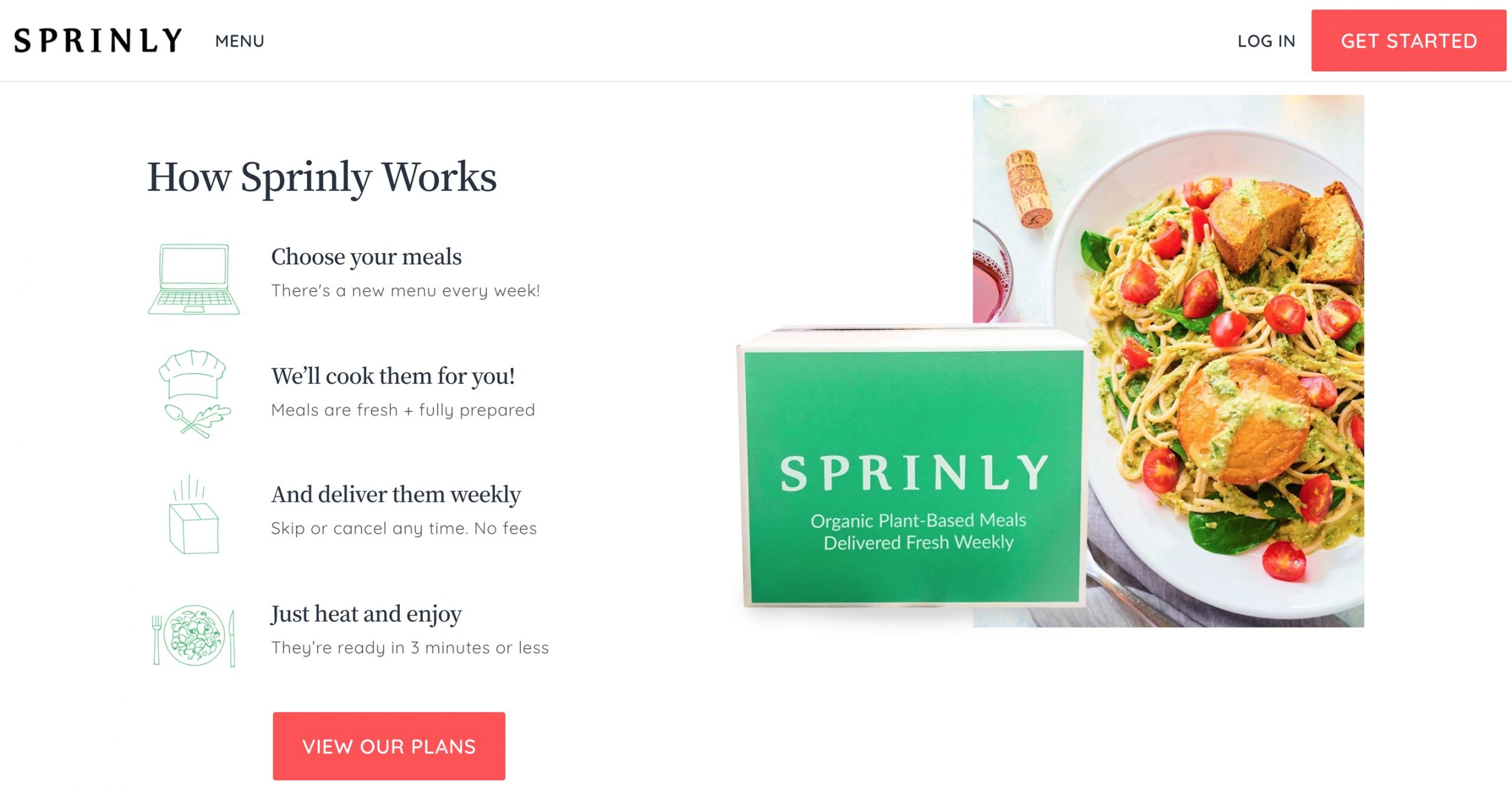 How Easy Are Sprinly Meal Kits to Prepare?
As you could read above, you do not need to spend time cooking Sprinly dishes. Every meal you get from them is packed in a microwave container alongside certain instructions on how to heat them with the oven or microwave. Then, some meals can even be consumed cold. As per them, they offer Sprinly recipe cards with microwave/stovetop tips, but the oven preparation guidance is still under "construction."
Sprinly company clearly understands that people who go for meal kits usually run out of time for any kind of preparation. Thus, their chefs craft meals, which can be consumed within 3 minutes only. The same concerns dishes with dressings and sauces that do not require time to figure out on how to add them.
Moreover, they care that your dishes can last for at least 5-6 days after the delivery. Yet, Sprinly recommends eating all of them just right after receiving them because it will promote freshness and high quality.
Who Isn't It Good For?
Sprinly meal kits review should always be considered when only starting the journey with this industry. Yes, you might not be a vegan or a person who likes gluten-free meals. Yet, when balancing the diet with meat only, it is sometimes very boring.
Summing up the categories of people who should avoid Sprinly, they are the following:
Those who cannot resist carnivore diets;
Those who seek extreme affordability with Sprinly cost since the prices are quite exorbitant compared to other companies;
Those who want their dishes to last longer;
Those who want to lose weight with the plans;
Those who have strict dietary preferences or particular allergies. It can be said about Paleo/Keto eaters.
Yet, if you are just experimenting, you may try Sprinly just to understand the art of crafting plant-based meals.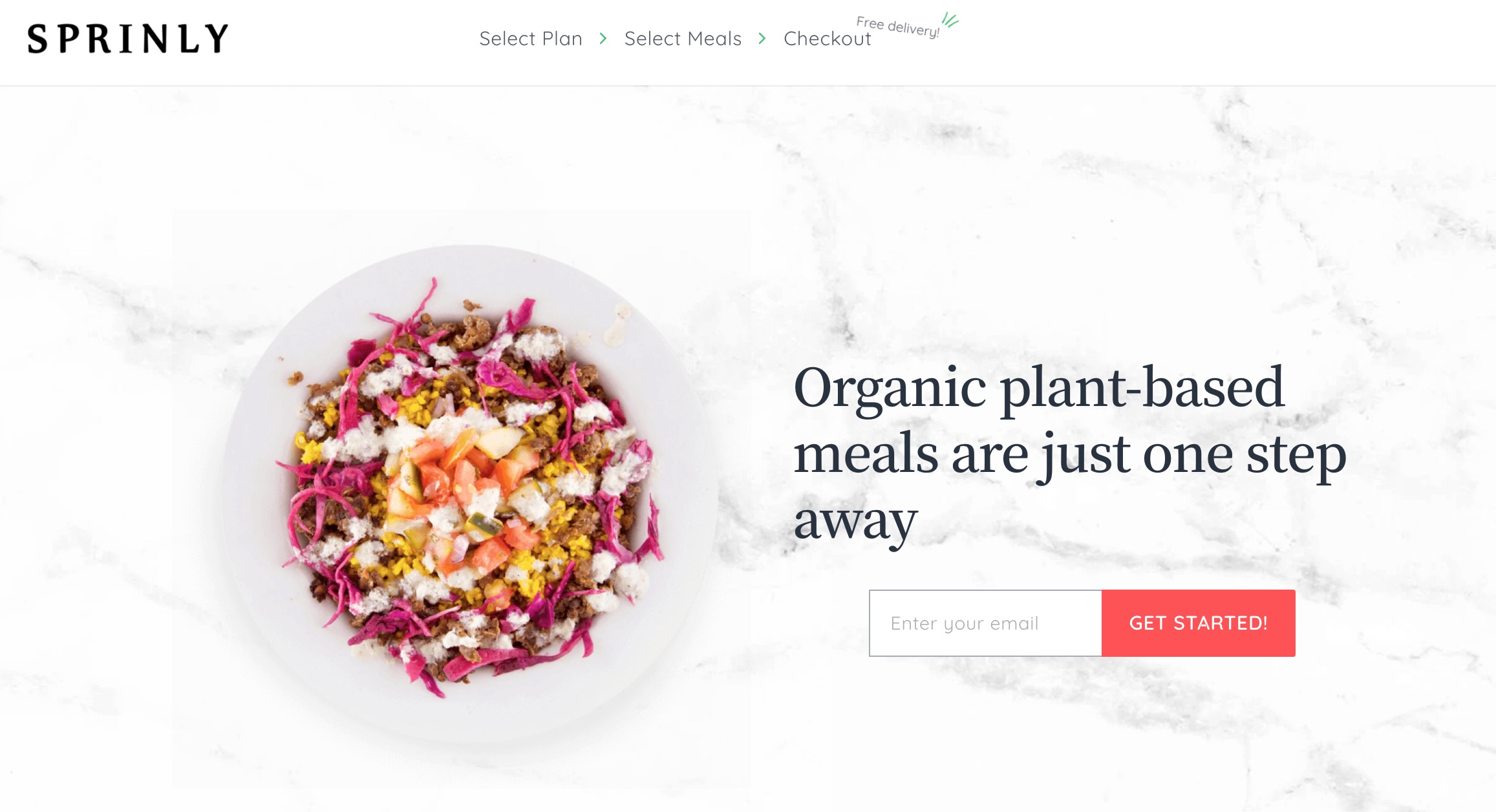 Sprinly Packaging and Environmental Friendliness
Sprinly packaging can be simply described as sustainable and environmentally friendly. The same as other companies, they care about you to understand how to recycle their boxes. The boxes are also reusable and handy if needed. For instance, the insulated boxes can be easily destroyed and then curbside recycled. The meals come with gel packs that are also reused.
Summing up the perks of reviews of Sprinly packing, boxes – 100% recycled cardboard, insulation – fully natural cotton fiber, liners – polyethylene, extra containers – 40% recycled polyethylene, and ice packs – 99% water, 1% polymer, polyethylene.
Changing and Canceling Order
You can always change, pause or cancel the order. Yet, there are several restrictions.
To cancel your order, you have to do it only before Tuesday at 11:59 pm EST. It helps avoid charges for the next week. It can be done directly from the official website in your personal account. Otherwise, you can write an email to the company. If you miss the deadline but still want to cancel, the company says that they will do their best but with no guarantees.
Note, if your dishes were sent for preparation, the full payment is obligatory without refunds. You can find more Sprinly meal delivery reviews where existing clients share their feedback on getting refunds when canceling the orders at the last minute.
Customer Service
The customer support team of Sprinly is okay. You can always address your inquiry in several ways. For instance, you can write to them at [email protected] or call them at 1-800-686-8036.
Unfortunately, there are no live chat buttons where you can get answers promptly. On the other hand, there is a detailed FAQs page where you can satisfy your cravings regarding the bothersome questions from other clients. Based on clients' feedback and just Sprinly ratings, the customer service is pretty decent, with no complaints at all. The company does its best to make its clients happy.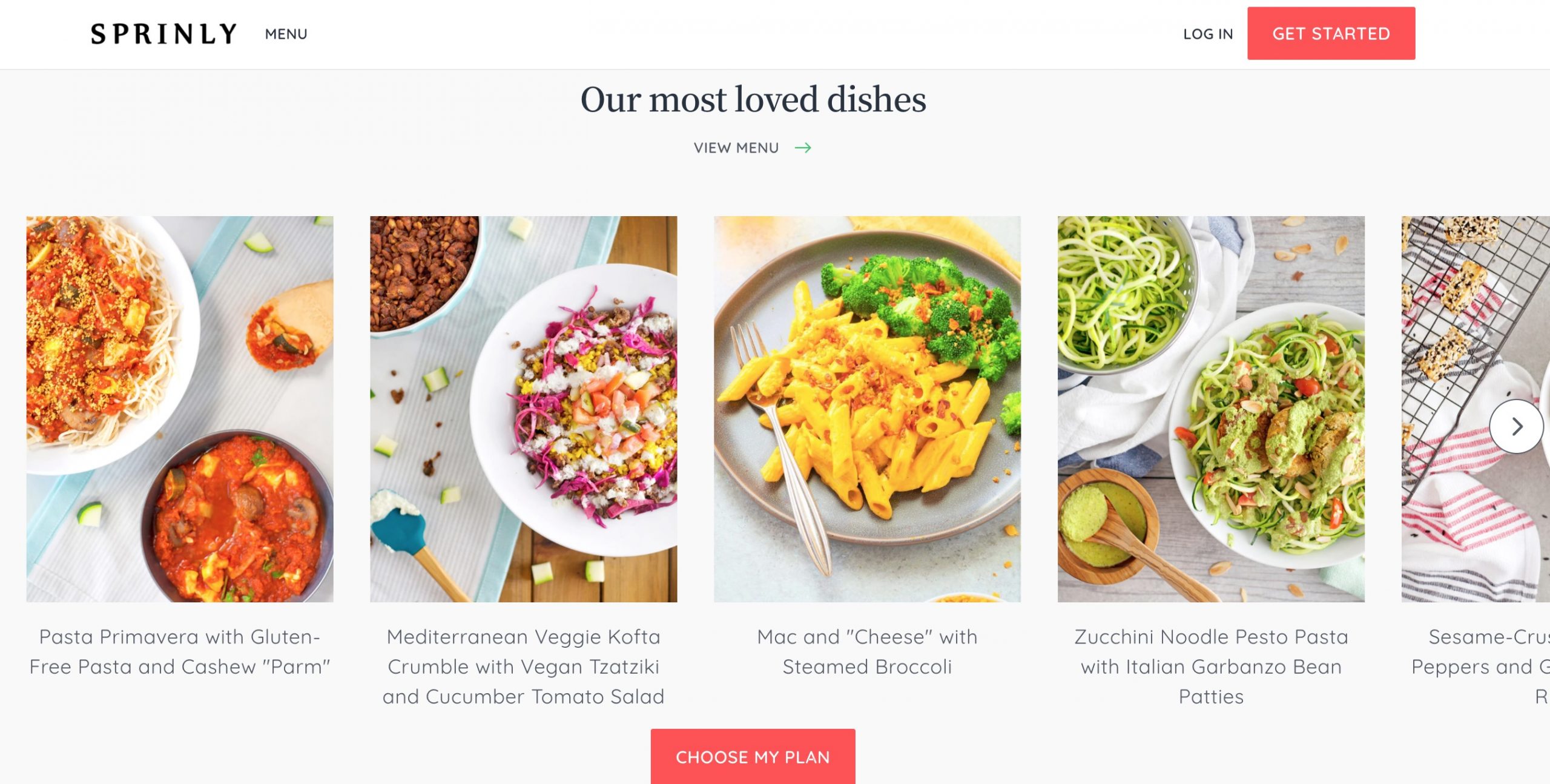 The Competition/Alternatives
Now, let's proceed with alternatives to Sprinly meal kits reviews, which can be turned to as well. We take Sun Basket and Daily Harvest meal delivery companies.
Sprinly vs. Sun Basket vs. Daily Harvest
Sprinly
Daily Harvest
Sun Basket
Prices

6 meals is $109 weekly;
12 meals is $199 weekly;
18 meals is $289 weekly.

$69.75 for 9 smoothies;
$89.88 for 12 smoothies;
$167.76 for 24 smoothies a week.

Classic menu – $10.99-$12.99;
Family menu – $10.99;

Menus
Sprinly menus – Plant-based, fully fit for vegans and those who seek gluten-free meals.
Plant-based smoothies, bowls, soups, harvest bowls, flatbreads, oat, and chia bowls.
Various plant-based meals covering vegetarian, pescatarian, and Mediterranean diets.
Shipping/Delivery
Free shipping, not available for all 50 states.
Free shipping and covers only 95 % of the continental United States.
$8.99 – shipping fee. Delivery to 47 states.
As you could see with reviews for Sprinly, it is a 100% option if you crave only plant-based meals. Daily Harvest is a pick when you want to try out a smoothie diet with healthy bowls that fit vegans and vegetarians. Finally, Sun Basket is not only a company with plant-based meals but various diets that may fit low-income customers. All three have positive feedback in the industry, and clients love them for high-quality and fresh, and occasionally organic ingredients.
The Verdict
Thus, why choose Sprinly food delivery over other meal kit companies? First off, it is the best delivery service that caters to plant-based dishes fit for vegans, vegetarians, and those who want to experiment with green delicacies. You can find various cuisines from around the world. Secondly, they have handy and reusable packaging, which promotes sustainability and recycling care. Thirdly, their customer support team is on top. On the other hand, Sprinly is not a good choice if you seek the utmost affordability because they are quite pricey, especially compared to other food delivery services. Then, they do not deliver to all 50 states. Comparing their cons, especially, Sprinly pricing and pros, it is still possible to speak of their worthiness. You will enjoy their rotating menu dishes and occasionally boost your health with their high-quality ingredients.

FAQs
Are Sprinly Meals Healthy?
Yes, Sprinly meals are super healthy. The company concentrates on plant-based dishes crafted for vegans and vegetarians. You can also customize the dishes and build a weekly plan that will meet all your expectations regarding the spiciness, sweetness, and bitterness. Yet, it is hard to speak of only organic food ingredients; there is a combination.
Can I Try Sprinly for Free?
No. Similar to other meal service parties, there is no such thing as a free trial of meals. The only free thing available with the company is shipping, which caters to some kind of savings.
Does Sprinly Have Coupons for Existing Customers?
Yes, by checking the third-party websites where such offers are available, you can find $10, $30 OFF coupons, or one or another Sprinly promo code to cut the price on your plans.
Is Sprinly Worth the Money?
Sprinly prices are quite huge in the industry; however, their plant-based meals are totally worth it all.