These days food delivery services are becoming more and more popular among people. Humans prefer to save their time and effort and enjoy prepared foods instead of wasting precious moments while cooking meals. Meal delivery platforms make everything possible to please their clients. Spoonful of Comfort service doesn't only deliver delicious meals to their clients but market themselves as heartwarming gifts.
Short Overview (Pros and Cons)
The reviews of Spoonful of Comfort can take no notice of the history of the creation of the enterprise. The owner of this meal service lost her mother, who died because of cancer. The girl had no opportunity to comfort her mother through her last days. She thought it would be great to comfort mummy with a warm chicken soup that always makes people feel better. The mother died, but the idea of the creation of such a unique meal delivery service was born.
Nowadays, the residents of 50 states have an opportunity to order Spoonful of Comfort packages to congratulate, encourage, or support their relatives or friends. The products of Spoonful of Comfort are also a good option for a yummy supper or a quick and tasty launch.
Before you place an order, get acquainted with the most advantages and disadvantages of Spoonful of Comfort service. The main pluses are:
Reviews for Spoonful of Comfort highlight that there are lots of available options on the menu. All soups are made from fresh ingredients. They are cooked with love and care. Spoonful of Comfort meal reviews indicate that soups are yummy no matter whether you choose a top-rated chicken noodle sample or vegan variation.
An idea to express your love and support via sending warm soup may sound weird. But it really works. Dishes are healthy and heartwarming.
You may be surprised to get to know that Spoonful of Comfort offers not only tasty extras but also various accessories. You may send a cute blanket to your best friend or an encouraging card to your sister.
The main minuses are:
The assortment of dishes includes soups, cookies, and some seasoning extras. If you are a great meat fan or prefer eating meals that consist of at least 3 dishes, Spoonful of Comfort is not a perfect choice for you.
Spoonful of Comfort prices are higher than in many other meal delivery services. It's also necessary to pay for the shipping. Spoonful of Comfort cost includes cute wrapping. All the boxes look like real gifts.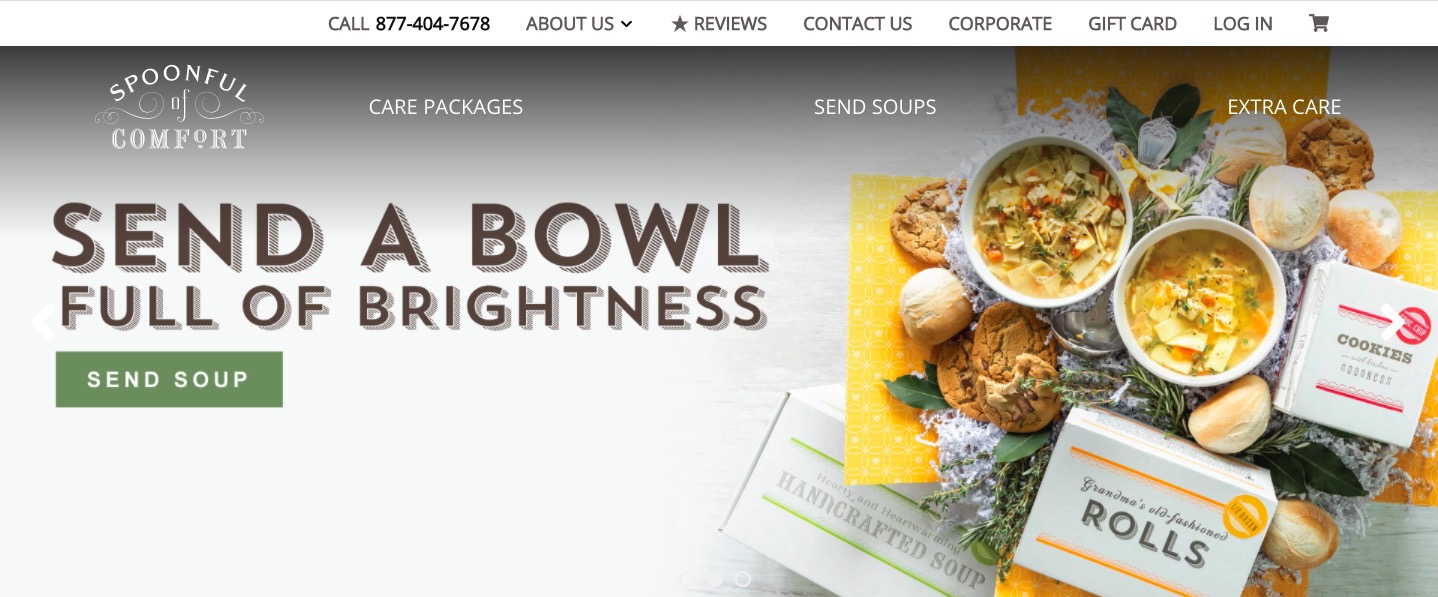 Pricing
The price depends on the products you offer. Traditional soup packages will cost you about $69,99 without shipping. You are to pay for handling and shipping about $14.99 in addition to the main price. If you want to cut expenditures, you may exclude cookies from the box. Yet, you can hardly find clients who really do this. In this Spoonful of Comfort review, it should be noticed that shipping is not included in the price. Your bill is higher than the cost of the soup you may see on the website.
Spoonful of Comfort meal kits reviews state that boxes with soup may be stored up to 6 months if you freeze them. If you are going to store them just in the fridge, you have from 3 to 5 days to eat meals.
Spoonful of Comfort menus are not only about soups. You get cool cookies and seasonal extras. On the website of Spoonful of Comfort, you can also find an appealing selection of accessories and jewelry. Such items make the package even more heartwarming and charming.
How Spoonful of Comfort Works
Spoonful of Comfort meal kits review indicates that it's quite easy to place an order. You can do it on the website of the company. The first step to take is to pick up a package you desire. Then, you have to investigate the content of the box. You may add some extras or exclude cookies.
The next step is to clarify the payment details and address of delivery. It's easy to track your order on the site of the delivery company. If you want to send a Spoonful of Comfort gift to someone, the recipient won't be informed what he or she is going to receive. It allows you to make surprises more pleasing.
How Easy are Spoonful of Comfort Meal Kits to Prepare?
If you do not want to spend hours cooking dinner for the whole family, Spoonful of Comfort is exactly what you need. After you receive a box with a jar of soup. You have to unpack it if you are going to eat a dish. It's possible to heat soup with the help of both a stone oven and a microwave oven. The first variant implies that you have to heat the dish for up to 10 minutes. It takes only a couple of minutes to heat the dish with the help of a microwave oven. It means you do not need to use any Spoonful of Comfort recipe cards. When it comes to such elements of the menu as cookies or rolls, they are ready to eat.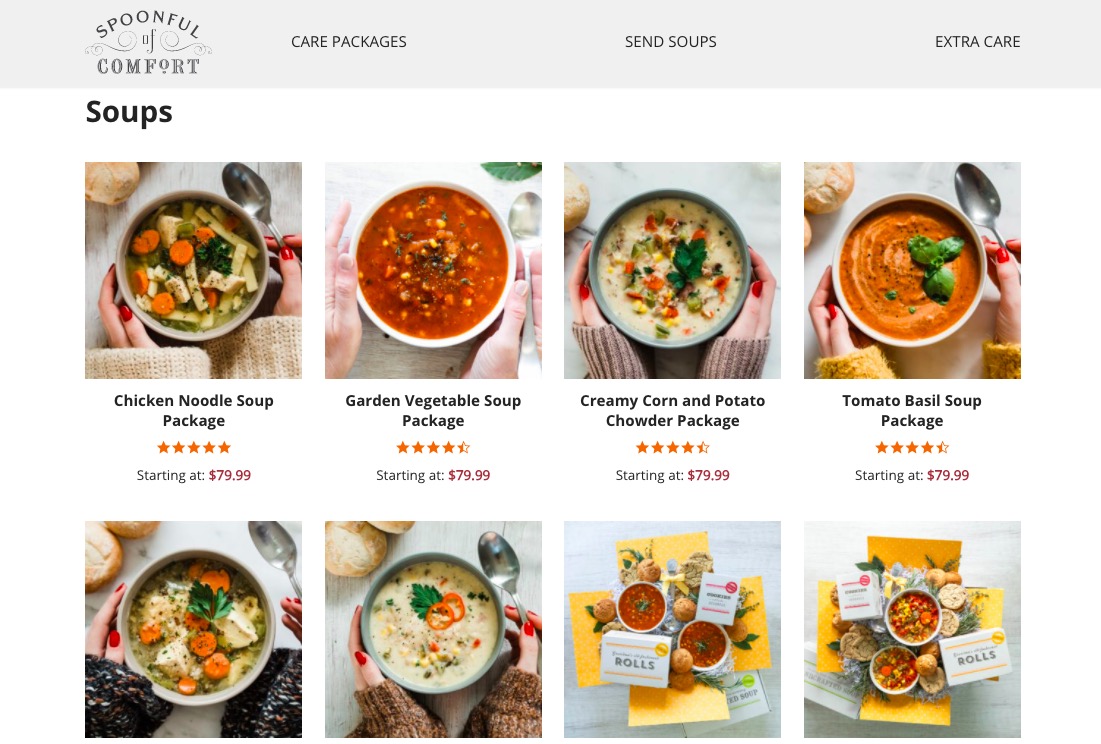 Who is Spoonful of Comfort Good for?
There is a wide range of people who will be glad to receive Spoonful of Comfort care packages. There are no special Spoonful of Comfort plans, there are the so-called care packages. The most popular offers include "Birthday Care Package", "Get Well Soon Gift Package", "Mini Sick Day Care Package", and others. Schoolchildren are fond of the "Back to School Cookie Package". No matter what you celebrate, Spoonful of Comfort may offer you a perfect gift. It's also a good solution for people who like soups but are not eager to cook them.
Who It Isn't Good For?
The reviews of Spoonful of Comfort indicate that the platform is not a perfect solution for those who try to eat balanced meals. You are to get only soups and some sweets. Moreover, if you follow a definite diet, Spoonful of Comfort is not the best helper for you. Even if you pick up vegetarian options and get rid of cookies, dishes still have lots of calories. The same is true about gluten-free dishes. Spoonful of Comfort caters to a limited set of options.
Spoonful of Comfort Packaging Usability
Soups should be transported safe and intact. A special type of packaging material is used to prevent the spoilage of the content. Spoonful of Comfort ratings show that the packaging keeps the temperature well. If you want to postpone the consumption of the dishes, you have to place them in the fridge.
Changing and Canceling Order
Sometimes it's necessary to add alterations or cancel your order. To do this, you have to call the service and contact the managers. It's necessary to keep in mind that it takes up to 3 days to deliver your order. If you miss deadlines, it's impossible to change a package that has been already sent.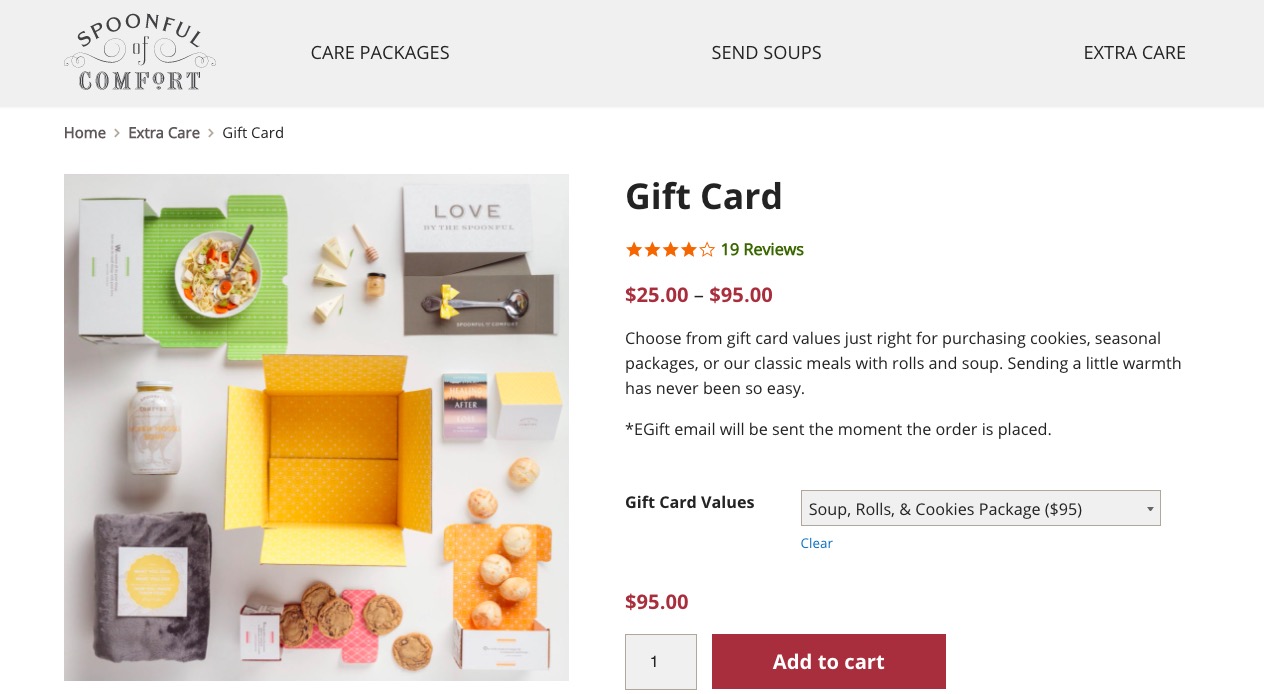 Customer Service
Alongside reasonable Spoonful of Comfort pricing policies, the company is appreciated by users thanks to its good customer service. If you have some questions, you may contact managers in one of the following ways:
By filling in a special online form.
You should pick up the most appropriate type of concern and enter your contact information;
This option has definite restrictions. It's available only from Monday to Friday from 9 a.m. to 5 p.m.;
The managers are ready to answer all your questions. Yet, it's better to look through the FAQ section first. There you may find answers to the most popular issues.
It's also a good idea to sign up for newsletters if you want to receive the latest information about the company and discounts.
Alternatives
While Spoonful of Comfort food delivery is a rather one-of-a-kind platform, it's quite difficult to name its counterparts. Yet, a couple of the most outstanding rivals may include Edible Arrangements and Canterberry Gifts. These companies possess their own distinctive features. Although Edible Arrangements and Canterberry Gifts have lower prices, they differ in concept and level of food quality. Spoonful of Comfort caters for you mostly healthy dishes. The menus of alternatives include various options. Yet, they are not as unique as Spoonful of Comfort's variants. When it comes to the question "How much is Spoonful of Comfort?"The company features reasonable prices.
Conclusion
Spoonful of Comfort reviews denote that it is the best delivery service when it comes to making unusual gifts or testing something new. Heartwarming soup packages are the best way to express your concern for your friends and family members. It's so cute and appealing to gather around the table with warm, handcrafted soup that comforts not only your stomachs but also your souls and hearts.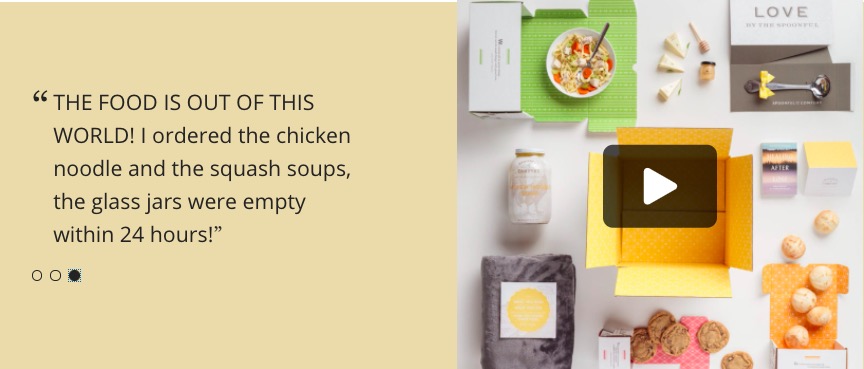 FAQ
Are Spoonful of Comfort Meals Healthy?
Spoonful of Comfort meal delivery reviews highlight the perfect taste of each dish you get. Yet, not all the ingredients are organic. If you want to savor only organic food, you may order chicken noodle soup. It's made from natural products. All the dishes are made from fresh products.
Does Spoonful of Comfort Have Coupons for Existing Customers?
Everyone wants to save his or her money. Spoonful of Comfort allows you to do this. You may get up to 15% off. It's a good idea to use promo offers while shipping is not free, and the total bill may be rather significant. Everyone has an opportunity to apply a profitable Spoonful of Comfort promo code.
Is Spoonful of Comfort Worth the Money?
It should be highlighted that Spoonful of Comfort packages are not only about food delivery. Every box gives you positive emotions and vivid memories. Such boxes are able to help you to find a common language with your relatives or express your feelings. Spoonful of Comfort is worth the money you have to pay for healthy and yummy food.
Is Spoonful of Comfort Easy to Cancel?
It takes only a couple of minutes to cancel your order. You have to contact the managers of a support line via phone to cancel your order. You should keep in mind that you can do it only within working hours.