Stress at work, hectic family life demands a lot from us and gives us a real lack of time in various areas. It also has an enormous impact on eating habits, among other things. Since many people lack time to shop and cook, a balanced diet is an unfulfilled dream.
Everyone attaches great importance to a healthy lifestyle and a healthy diet. Some people have already decided on using food delivery services. In our comparison Sun Basket vs. Home Chef, we take a look at two popular providers of meal kits.
Sun Basket and Home Chef deliver food boxes with selected, simple recipes and the necessary ingredients. Meals are delicious and taste even better than in popular restaurants.
Short Overview
Sun Basket
Recipe selection per week: around 18 dishes
Quality of the ingredients: fresh organic produce, responsibly sourced meats & seafood, homemade sauces, and spice blends
Special diets: paleo, carb-conscious, gluten-free, lean & clean, diabetes-friendly, vegetarian, pescatarian, Mediterranean
Shipping costs: $10.99 – $12.99 depending on the number of servings
Sun Basket delivers various cooking boxes throughout the USA. The provider pays attention to a wide range of dishes to meet every taste and lifestyle. Families with children order healthy and straightforward recipes; vegetarians enjoy the vegetarian boxes.
Home Chef
Recipe selection per week: 17-19 dishes
Quality of the ingredients: fresh fruits and vegetables, occasionally organic
Special diets: vegetarian, vegan, carb-conscious, calorie-conscious
Shipping costs: $7.99 – $13.99
Home Chef is a provider of quality culinary products based in the USA. The company aims to familiarize its customers with healthy and fresh dishes. The Home Chef provider delivers fresh ingredients, the majority of which are even organic. You are free to implement the various cooking ideas in a maximum of 30 minutes.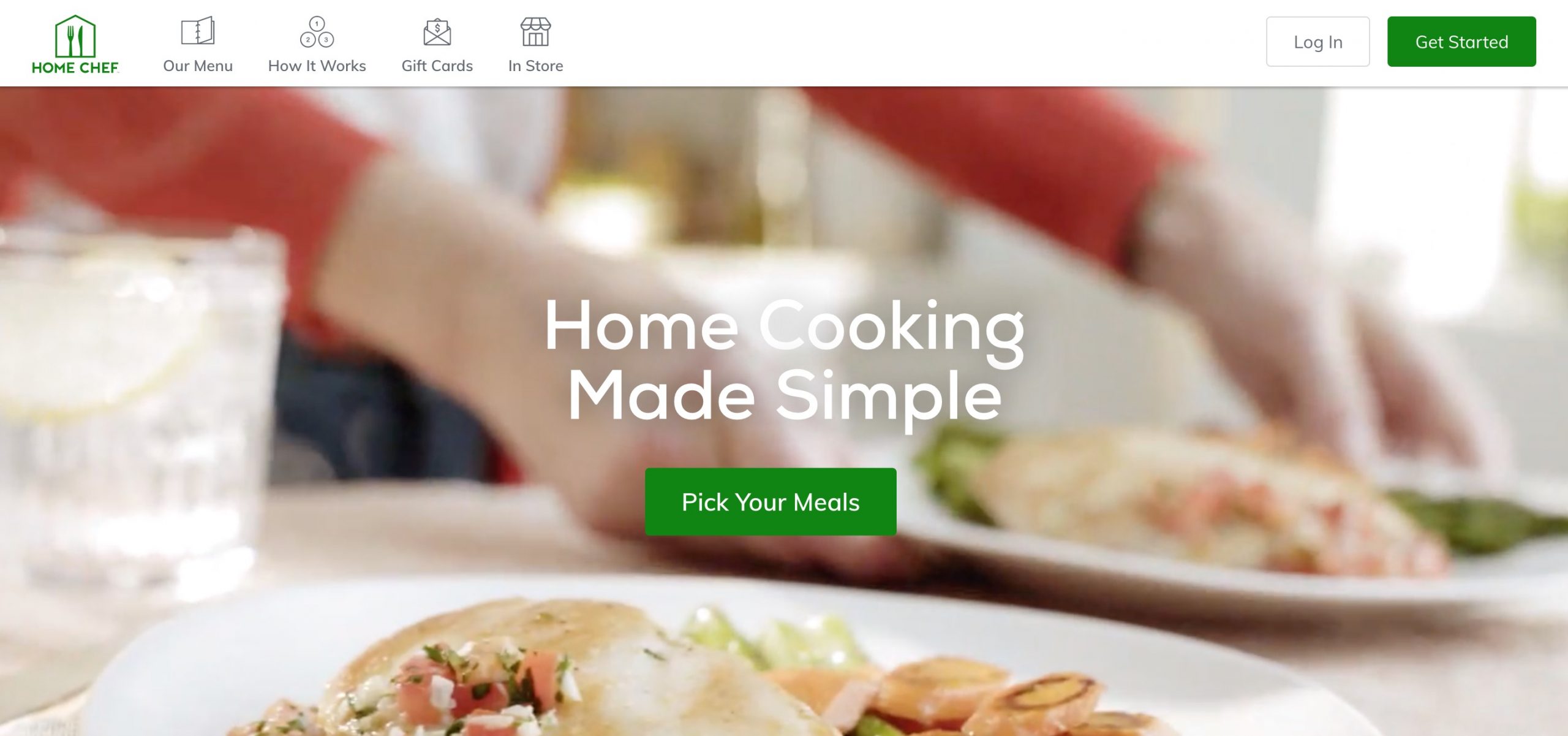 Pros/Cons
Sun Basket
Pros
Fresh, simple, and convenient
Variety in the menu plan without having to worry about cooking
No food waste
Good calculability of expenses
The relatively short cooking time of 30-40 minutes
Suitable for beginners thanks to the simple recipe explanation
Cons
No spontaneity possible
No individual menus based on allergies
Home Chef
Pros
Different dishes for every taste
Great for vegetarians, vegans, and allergy sufferers
Fresh ingredients
Few leftovers
Easy-to-understand recipe instructions
Large servings
Clear website
Cons
No keto or paleo diets
Not advisable if you have several allergies
Pricing
Sun Basket
We specify the Sun Basket prices per serving. The first order may have free shipping. But in the future, shipping prices vary from $ 10.99 to $ 12.99.
| | | | |
| --- | --- | --- | --- |
| | 2 recipes | 3 recipes | 4 recipes |
| 2 servings | $13.99 | $11.99 | $10.99 |
| 4 servings | $10.99 | $10.99 | $10.99 |
Home Chef
The price per serving at Home Chef starts at $6.99. There are 2, 4, and 6 meals and 2-6 servings available. If you choose two servings for two people, the price per shipping is $13.99. Choosing more dishes lets you save money at Home Chef shipping and pay $7.99.
Types of Menu
Sun Basket
At first glance, Sun Basket's selection seems much larger if we compare Home Chef vs. Sun Basket. It offers 18 recipes each week. On the site, you find not only dinners but also lunches, breakfasts, pasta, snacks. The choice is wide enough, and everyone will find something to their liking here.
In our comparison of Sun Basket and Home Chef, we paid particular attention to the "Dinners" section. It includes different areas, focusing on various types of meals, their complexity, or the time you spend on cooking. These sections include:
Fresh & Ready: You get ready meals in 6 minutes. Some examples are beef chili with cheddar and Greek yogurt, Cauliflower macaroni, and cheese, Korean kimchi fried rice with pancetta.
Meal Kits: Customers receive pre-portioned ingredients and cook the meals. Examples: Belizean stewed chicken over coconut rice and beans, Lemongrass turkey, and rice noodle lettuce cups.
If you have special diets, allergies to components, the tags under each recipe help determine what meets your wishes. These tags are necessary if you want your dishes to correspond to these criteria:
Gluten-free
Soy-free
Paleo
Dairy-free
Carb-conscious
Mediterranean
Lean & Clean
Vegan
Family-friendly
Vegetarian
Diabetes-friendly
Spicy
The recipes, preparation time, and a cooking overview are already on the Sun Basket site. However, you find no exact quantities here. You only cook the recipes by ordering a Sun Basket cooking box.
Sun Basket is an official partner of the Monterey Bay Aquarium Seafood Watch program, which stands for eco-certified seafood.
Sun Basket pays particular attention to ecological cultivation and animal welfare. In the best-case scenario, these are regional products. As far as organic food quality is concerned, the company uses it when it is possible.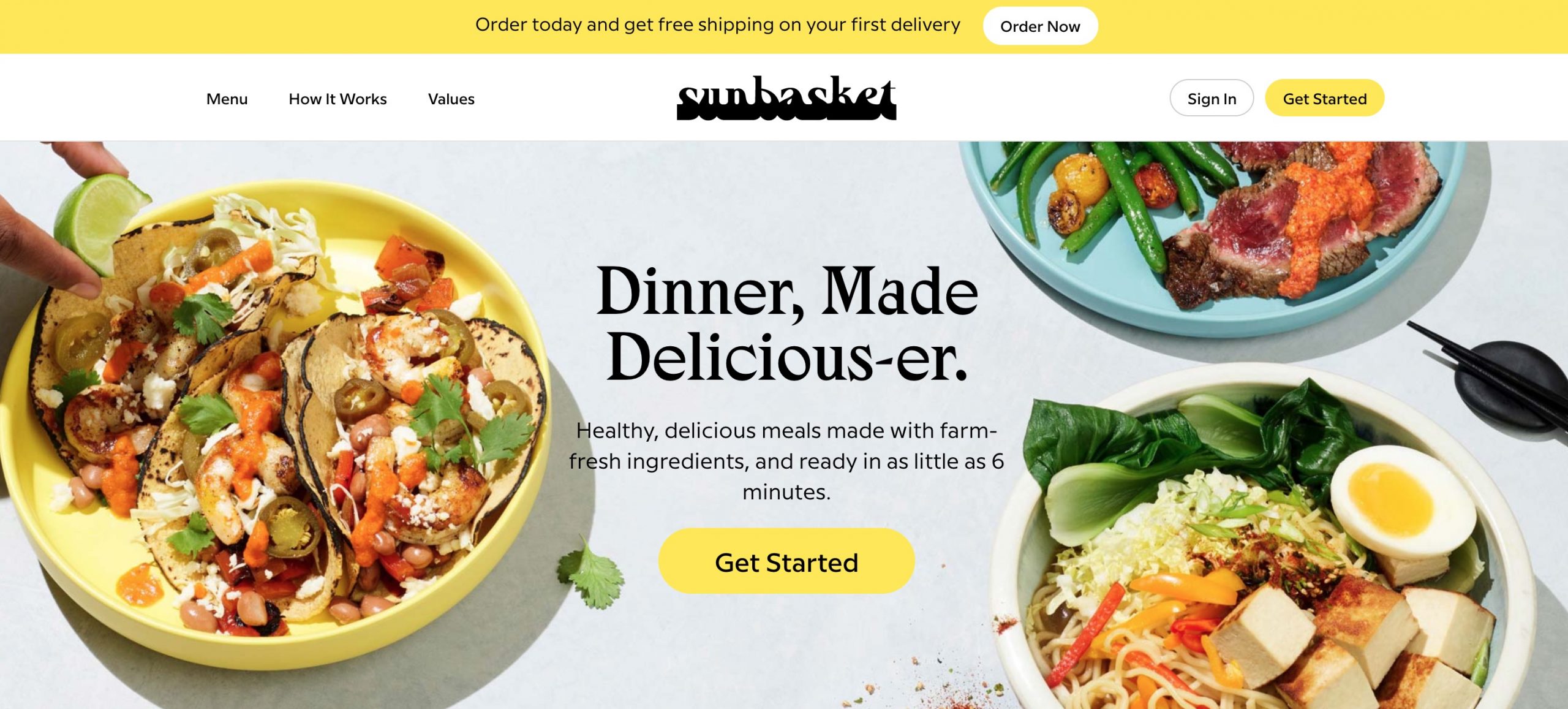 Home Chef
The providers of the cooking boxes Home Chef has a variety of different menus. There are varied recipes with vegetables and fruits, fish, meat, potatoes, and rice every week. The ingredients are fresh, regional, and partly organic. There is also the option of choosing a menu for special diets such as vegetarian, vegan, or low-carb.
With the Home Chef cooking box supplier, it is also clear whether the menu is gluten- or dairy-free. There are some tags under each recipe that show some potential allergens. People with intolerances also see whether the respective dish is suitable.
Home Chef takes at users' disposal the choice between meal kits, 15-minute meal kits, oven-ready or grill-ready ingredients, and culinary collection with premium meals. There are two plans at the portal, including Home Chef Standard Plan and the Fresh & Easy one. The first requires more preparation and expands your culinary skills. Also, you get some fresh and prepared foods to create Home Chef meals at home. The second plan includes products that require little preparation and cooking. It saves time and energy.
With a selection of around 15 meals per week, users enjoy a great variety. Home Chef has different boxes for two, four, or six people.
Winner: Sun Basket
Even inexperienced customers have great chances to create a gourmet dish with Sun Basket. Having a choice between Sun Basket vs. Home Chef, the first caters to users with various dietary preferences.
Boxes
The cooking box providers Sun Basket and Home Chef cannot afford lousy advertising. They pay attention to the impeccable quality of the food. You benefit from products because these suppliers rely on regional goods. It enables freshness and quick consumption without long transport routes.
All ingredient packages allow you to find the ingredients you need for your meals quickly. At first, you see a lot of plastic and paper packaging. In this way, the companies ensure that the products arrive fresh and not-damaged. Another plus is that you may recycle and reuse packaging.
At Sun Basket, you choose the type of box, then determine the number of people. You also decide how often you want to use these cooking boxes 2, 3, or 4 times a week. Specify when and where the delivery should take place.
Home Chef offers boxes for 2, 4, and 6 people. The number of meals varies from 2 to 6. The recipe cards you get in a box have excellent illustrations, contain nutritional values ​​and time information.
A Sun Basket box relieves the customer of as much effort as possible. After all, you no longer should worry about suitable recipes and getting to the supermarket. You already benefit from a significant time saving – a good reason to use Sun Basket and Home Chef food delivery services.
In comparison to supermarkets, you save money on your meals. The more meals and servings you buy, the more profitable your purchase is.
Winner: Tie
The packaging of both Sun Basket and Home Chef boxes is recyclable. Ingredients arrive in packaging and have good quality.
Ordering Process
When we compare meal delivery services and try to find out which is better Sun Basket vs. Home Chef, the ordering process plays a significant role. As a customer, you have the option of selecting a delivery day on the specified days. Sun Basket and Home Chef food delivery services give you the chance to receive the delivery in a set time. If you are not at home during the specified time frame, inform the supplier of a different drop-off location or have the product deposited at a location of your choice.
First, be aware that when you subscribe to Home Chef, you can choose from several formulas depending on the number of people in your home. Then you access a list of several Home Chef recipes. Depending on your preferences, you can choose the ones of your choice. If you don't like food, don't panic, you are welcome to customize the recipe. Delete certain ingredients or change them on others.
Once you have made your selection at Sun Basket and Home Chef, specify a date and a time slot for delivery since the products arrive fresh. Each week you can log in in advance to choose your recipes before preparing your package. If you go on a vacation, stop a Home Chef delivery for one or two weeks.
Winner: Tie
The ordering processes at both sites run fast. And the difference between Home Chef and Sun Basket is not that big. At both services, you enter some personal details and get your delivery on the desired date.
Support
The Home Chef blog offers a wide range of interesting articles on everything to do with groceries and shopping. In the Sun Basket "Recipes" section, you get an overview of many recipes. In contrast to the available recipes, quantities and individual preparation steps are also published online here.
There is also a "Tips & Techniques" section at Sun Basket. You find out useful information on cooking, kitchen basics, and tips on choosing kitchen appliances. Find out how to make the perfect pasta or which fats are healthy.
When it comes to shopping and food waste, Home Chef's blog "The table "gives you the chance to find out more. Above all, attention is drawn to food waste and its consequences.
The Sun Basket or Home Chef mobile app lets you have the digital cookbooks with you. You can access the apps wherever you are. The sites give you the option of changing or canceling your cooking boxes while you are out and about.
Reach the Sun Basket team by phone or email. There is also a live chat called Sunny B, where everyone can get an answer online. An option called "Ask an expert" takes at your disposal the help of Sun Basket customers. At Home Chef, submit a request to get a detailed answer on your injury. If there is something urgent and you want to solve it immediately, make a call. The Home Chef Team works Monday till Saturday.
Both portals have explicit FAQ sections. They cover popular questions and allow users to find answers without difficulties.
Winner: Sun Basket
The Sun Basket puts more effort into ensuring 24/7 support. They want their users to have a positive experience with the best delivery service.
Conclusion
Winner: Sun Basket
When we compare Sun Basket vs. Home Chef, the first portal has impressive results. Its customers pick out their favorite weekly dishes. Given the very favorable pricing and variety of meals, Sun Basket becomes a winner in our comparison. The overall positive impression is also a result of the smooth ordering process, the clear website, and the reliable delivery.