There is a connection between the fast pace of life and unhealthy eating habits. Do you work long hours, come back home, and want to have a delicious dinner? Today, it is as easy as ABC. There are many meal delivery services that can help you manage time effectively. Cooking takes much time and effort. That's why meal delivery is in high demand in 2023. Do you want to eat high-quality home-made foods at an affordable price? Here are the cheapest meal delivery services to choose from.
Home Chef
Home Chef is a well-known delivery service that offers a large variety of subscription meals. The company has a flawless reputation and hundreds of satisfied customers. Home Chef is one of the largest meal delivery companies that has been on the market since 2013. It is an affordable meal delivery for those who don't want to sacrifice the quality and variety of foods.
Types of Menu
Everyone knows the saying: Tastes differ. Home Chef is one of the best budget meal delivery services that offers an impressive selection of recipes. The menu is updated regularly. Whether you prefer the menu with much protein, more veggies, or the meals cooked according to your personal dietary restrictions, don't hesitate to choose Home Chef. Their menu is the most diversified one among all the cheap meal delivery services. Moreover, they provide customers with a great opportunity to customize meals according to personal preferences.
Delivery Area
Home Chef affordable meal delivery service operates in the USA and delivers meals to over 95% of Americans. You are recommended to check whether your zip code is on the list of the delivery service before you order foods.
Pricing/Cost per Week
The initial pricing is $6.99 per serving. The exact price depends on the chosen dietary plan. You can customize your plate, but it may cost you extra money. Take into account that the price for gourmet meals may be the same as at a restaurant. If you want to save, then choose a standard plan with the cost of about $38.90 (2 meals for 2 people).
Good for/Bad for
Home Chef is a good choice for those who want to enjoy a diversified menu. It's the best delivery service for big families who invite guests often but lack time for cooking. Choosing Home Chef, you will always have fresh easy-to-cook meals on your table no matter how much you work daily.
Who is Home Chef bad for? Some customers who give preference to organic foods only admit that Home Chef offers organic foods at an extra cost. If you eat only antibiotic-free meats and organic foods and aren't ready to pay more for these foods, consider using the services of some other company.
Customer Support
Customers can contact customer support during business hours and by filling out an online form. Specialists will give answers to all your questions almost instantly. Besides, the company's website has a FAQ section with much useful information for those who want to know how Home Chef works.
HelloFresh
HelloFresh is the best cheap meal delivery service that will change your eating habits forever. The company has over 5 mln of active customers. HelloFresh has been on the market for 10 years already since 2011. During this period, the company has expanded, and now there are over 7000 employees who do their best to provide you with healthy foods at a relatively low price.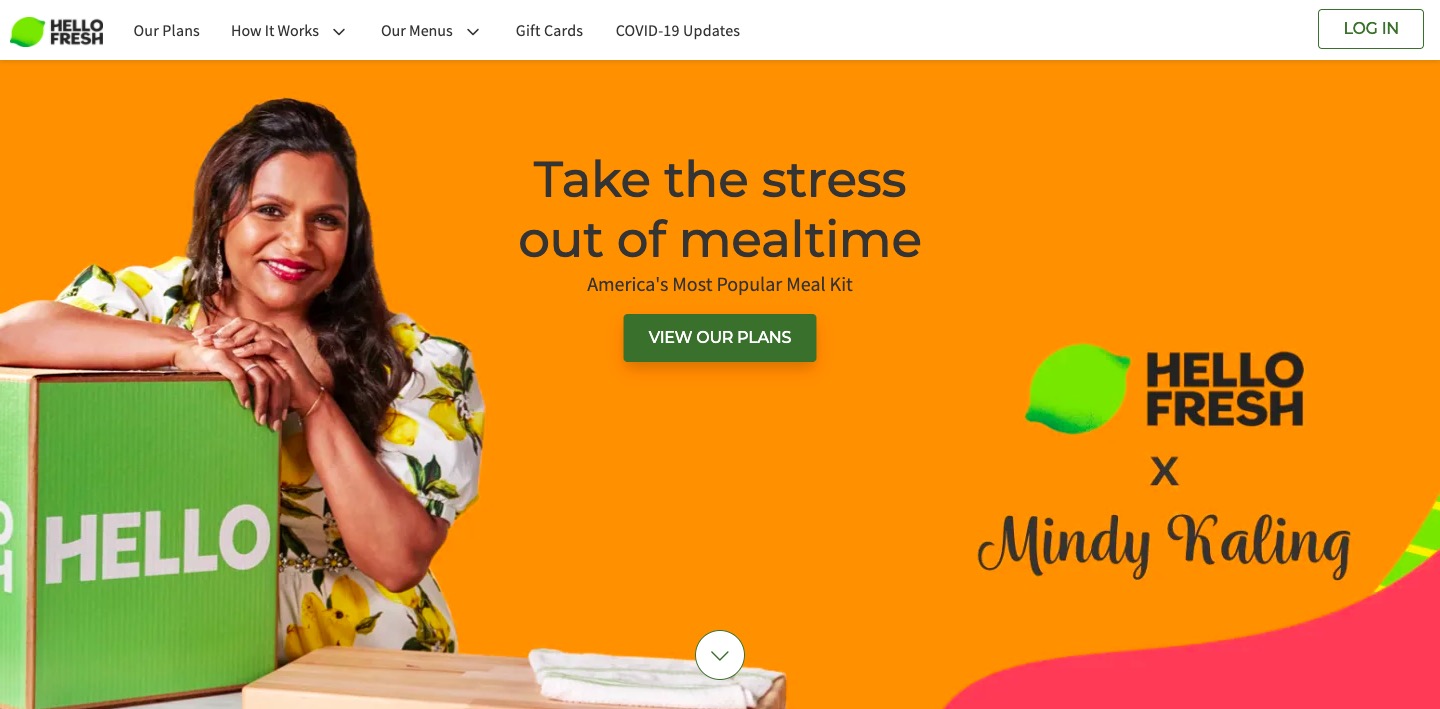 Types of Menu
Are you fond of cooking but you don't have enough time for shopping and looking for good recipes? HelloFresh meal service will help you to save time by delivering a large variety of meals with easy-to-follow instructions. Everyone will find the menu he/she likes best. There are delicious options for vegetarians, those who follow pescetarianism, and low-calorie meals. You can select a meal plan either for 2 or for 4 people. The main advantage is that you can choose dishes you'd like to try. Every week, you can get up to 5 recipes, selecting them weekly among 23 recipes. The good news is that you can cancel your delivery plan or skip weeks when you are having vacation.
Delivery Area
The delivery area of the meal kit company in Australia. Before you order foods, check the full list of delivery areas of this best-priced meal delivery service. Currently, the food delivery service operates in such areas as SA, VIC, NSW, ACT. The full list is available on the website of the company. You're recommended to enter it and make sure your area is on the list because changes can be made.
Pricing/Cost per Week
HelloFresh is the best, most affordable meal delivery that offers relatively cheap meal subscription options. You can order meals for 2 or 4 people. The meal plan for two people will cost you $69 weekly. If you have a big family, you can choose a plan that is a bit cheaper. It will cost you $129 weekly. You will save about $1 for each person if choosing a family plan. Take into account that you should place an order for a minimum of 4 plates every week. The exact cost per week depends on how many plates you buy regularly.
Good for/Bad for
HelloFresh is the right choice for you if you like trying different dishes regularly but don't have much time for cooking. All of the foods are delivered with easy-to-follow instructions. The company has meal plans for everyone until you need to stick to very strict dietary restrictions. So, if you follow a keto, vegan, or paleo meal plan, then you'd better look further. One more thing to take into account is that there are no allergen-free meals.
Support
Customer support works properly. You can contact the company on the website by filling out a special request form. Share some of the basic personal details and ask any questions you have. Specialists in customer care will be glad to provide you with all the necessary information.
Every Plate
Every Plate is a company that aims at providing everyone with a possibility of eating tasty and healthy foods at an affordable price. The delivery service belongs to the previously discussed company Hello Fresh. The company launched a cheap meal delivery service in 2018. Since then, Every Plate has delivered hundreds of meal options to people with a limited budget who want to stick to a balanced diet.

Types of Menu
Do you like changing your menu from time to time trying new dishes? You will have such a chance if you choose Every Plate. They offer 8-13 new dishes to choose from weekly. You will be impressed by the variety of meals for such a relatively low cost. Steak, chicken, pork, and other tasty meal options are available every week. But you should keep in mind that there is no rich assortment of dishes for those who have dietary restrictions.
Delivery Area
The meal delivery service covers all the continental parts of the USA. But before you order meals, go to the website and check whether your zip code is included in the list of the delivery areas.
Pricing/Cost per Week
EveryPlate delivers cheap meal delivery boxes. The cost for serving is $4.99. Pay attention to the fact that the price doesn't depend on the number of people. Whether you order for 2, or 4 people, the cost per serving remains the same. One more thing to keep in mind is that the delivery isn't free here. You will have to pay $8.99 for the meal kit delivery. But don't be disappointed. The cost for tasty dishes is rather cheap compared to many other delivery services. Moreover, Every Plate has different promotions and discounts.
Good for/Bad for
"Is Every Plate for me?" – You'll be satisfied with the choice of the delivery service if you are want to eat various delicious foods despite being on a tight budget. Every Plate offers a good choice of dishes that is updated regularly. If you don't like to go shopping for food but still want to cook easy recipes, subscribe for Every Plate. It is a good option for parties with friends when all of you can cook an easy-to-follow recipe using pre-portioned ingredients.
Who won't be satisfied with the options offered by Every Plate? It isn't the best choice for people who follow keto, paleo, vegan, and other diets with strict restrictions. Those who lack the time catastrophically should look further for delivery services that offer ready meal options. It will take you about 30-40 minutes to cook dishes from Every Plate. Do you prefer meals that don't contain gluten? Then, Every Plate is not for you either. They offer meal options that contain gluten in the composition.
Support
Customer support works round-the-clock. You can ask questions via a live chat option 24/7 or call customer support during business hours. Friendly specialists will tell you how Every Plate works and help to choose the best meal plan for you and your family.
Dinnerly
Dinnerly has been launched in 2017. Since then, the company has delivered hundreds of cheap meal kits to people who love homemade dishes. The delivery service offers everyone to enjoy fast cooking without sacrificing the quality of dishes. They can show you how to cook tasty meals using just 6-7 ingredients.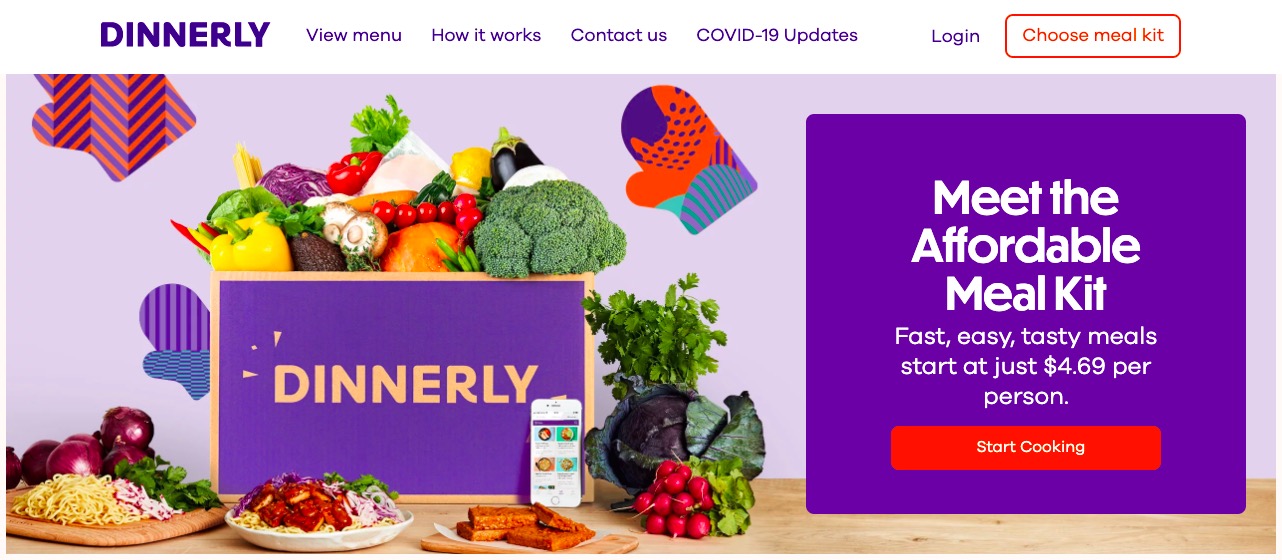 Types of Menu
The selection of dishes is wide. You can order creamy ravioli, chicken pad thai, steak, chicken with spices and sauces, cupcakes, macarons, and other super delicious dishes. You can check what ingredients the dish is made of to make sure that you aren't allergic to the dish composition. The range of meal options changes weekly. This means you won't get bored eating the same dishes regularly. There are some options for vegetarians as well.
Delivery Area
The delivery service operates in Australia. Check the full list of the locations they deliver to on the website. There may be changes to the delivery areas.
Pricing/Cost per Week
Dinnerly can rightly be called the cheapest food delivery service. You will pay about $4.29 per serving for a family box. The cost per serving for 2 people will cost $4.99. The principle of Dinnerly is that the price decreases when you order more meals. You can order 3-6 meals weekly.
Good for/Bad for
The Dinnerly delivery service will meet the expectations of people who don't want or can't spend much on meals. It's the cheapest food delivery in Australia. It's good for those who don't want to eat takeout meals but prefer homemade foods. However, those who follow special diets or gourmet dishes may not find the dishes they need. Dinnerly isn't for eaters with too high requirements for a meal plan variety.
Support
Do you have questions about how Dinnerly works? Don't hesitate to ask your question in a special form on the website. Also, you can make a call during working hours. There is a FAQ section where you can find the answer to your question.
Blue Apron
Blue Apron is the meal delivery service that was founded in New York in 2012. Over 2000 people for this one of the US cheapest food delivery services. The company can save your time and money by delivering simple but tasty foods.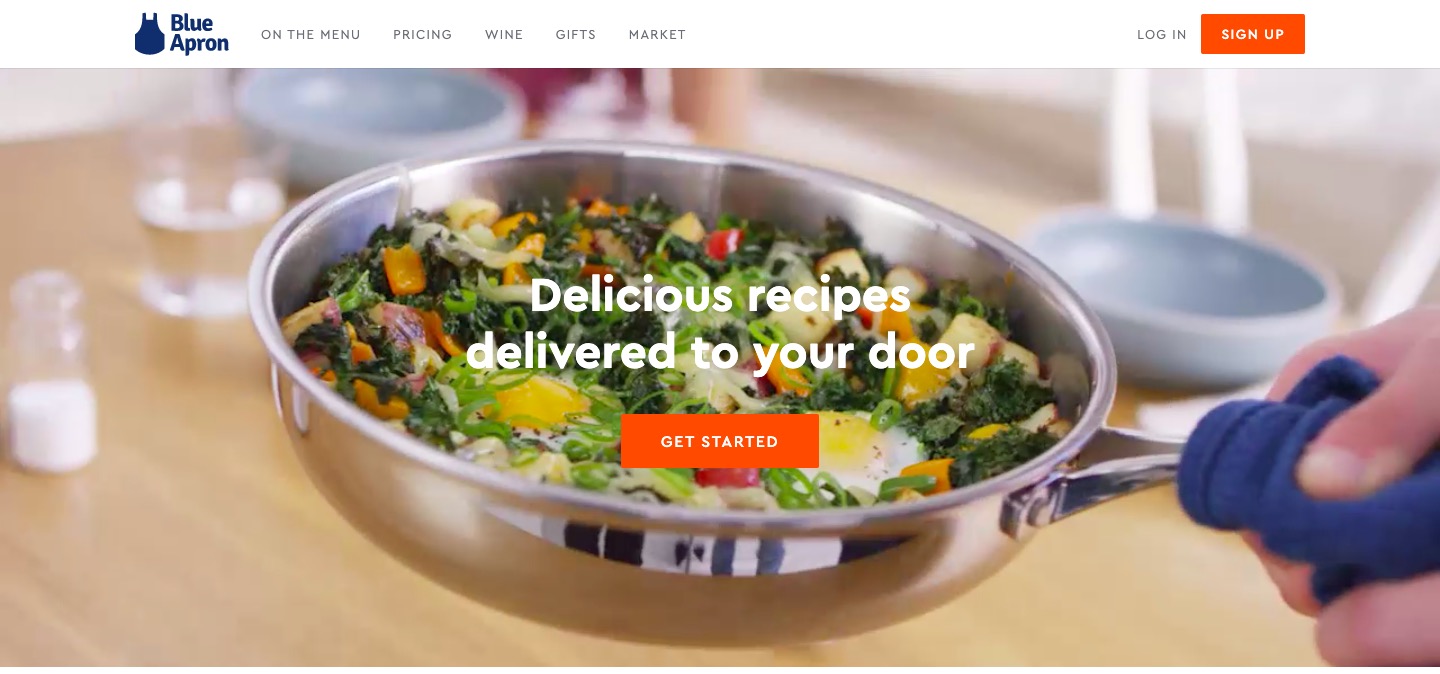 Types of Menu
Blue Apron offers a variety of healthy options to choose from. All of the dishes contain high-quality ingredients and are designed by talented chefs. It's one of the cheapest meal delivery services that offers many different types of dishes, including premium options. Some of the dishes are not worse than in reputable restaurants.
There are many meal options for meat-lovers. Vegetarians will also find this meal service a good choice as there are many options with fresh seasonal veggies and fruit. All of the dishes of this cheapest meal prep service can be cooked within 20 minutes.
Delivery Area
Blue Apron delivers the cheapest meal delivery kits around the USA only. Check whether your zip code is on the list. For this, enter the website and find the delivery areas or contact customer support to make sure that you can become a customer of a Blue Apron service.
Pricing/Cost per Week
Blue Apron is the least expensive meal delivery service taking into account the quality of meals they offer. The cost is a bit higher than previously reviewed delivery services have. Here, you will pay from $7.49 per serving. Take into account that free shipping is offered for orders that contain at least 3 recipes. If you order a meal plan for 2 with 2 recipes weekly, you'll have to pay $7.99 for the delivery.
Good for/Bad for
Who should order the most affordable meal delivery Blue Apron? Those who don't want to spend much time cooking but still want to treat the family to delicious, easy-to-follow recipes. However, there are no recipes for people with allergies. It won't suit those who want to cancel the meal plan easily. If you want to cancel the services, you should contact customer support via e-mail.
Support
Customer support of Blue Apron reacts almost instantly. You can ask how to order the least expensive meal kits by sending an email or making a call. There is an informative FAQ where you will find answers to the most frequently asked questions.
Conclusion
What is the cheapest home meal delivery service? If you are on a tight budget, choose Dinnerly or Every Plate. If you want to enjoy a more impressive choice of meal options, consider ordering foods from Home Chef that can meet the expectations of the most demanding customers.