Nowadays everyone wants to eat healthily with fresh ingredients and without spending much money. But hand on heart, after a stressed day at work, the time and desire to cook varied meals are missing. There is already a solution to the problem. It is not without reason that food delivery services like Sun Basket and HelloFresh are becoming more popular. No wonder we compare Sun Basket vs. HelloFresh to help you decide on the best delivery service.
The Sun Basket and HelloFresh companies are a solution that allows every customer to have their own experiences with international and healthy cuisine. The customer gets a cooking box with fresh and nutritious ingredients, suitable recipes to cook with satisfaction and enjoyment. There is no obligation to order boxes each week. Users have a right to skip weeks and cancel a subscription any time they want. No doubt, you may try ordering one package to evaluate the quality of products.
Short Overview
Sun Basket
Recipe selection per week: 18 dishes
Quality of the ingredients: fresh meats & seafood, fresh organic produce, housemade sauces, and spice blends
Special diets: carb-conscious, paleo, gluten-free, vegetarian, lean & clean, diabetes-friendly, pescatarian, Mediterranean
Shipping costs: $10.99 – $12.99
Sun Basket is a company from San-Francisco. It offers its meal kits throughout the USA. The provider is rather popular because it caters to a broad audience from different walks of life. Dinners, lunches, breakfasts are gourmet and delicious. It helps to spare time and lead a balanced diet.
HelloFresh
Recipe selection per week: 23
Quality of the ingredients: hormone-free chicken, responsibly sourced seafood
Special diets: low-calorie, low-carb, vegan, vegetarian, plant-based protein
Shipping costs: $8.99
The Berlin-based company HelloFresh has been supplying customers with cooking boxes since 2011. It has expanded its business to the USA and some other countries. HelloFresh has the motto "healthy living." Fresh and healthy HelloFresh ingredients come from regional suppliers, are of organic food quality, and result in balanced meals.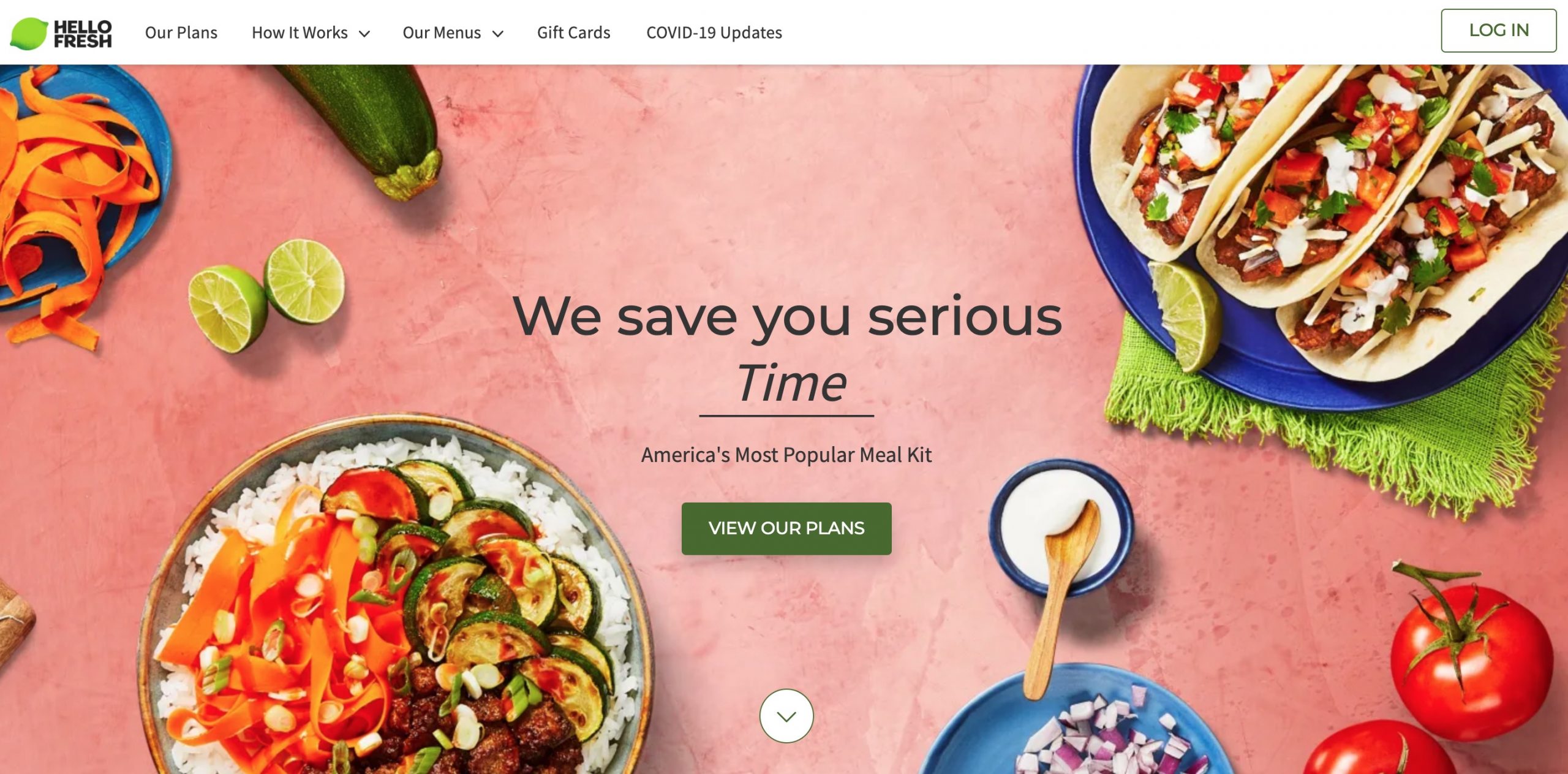 Pros/Cons
Sun Basket
Pros
Cancellation of subscriptions at any time
Food boxes at fair prices
High quality and fresh ingredients
Different payment options to choose from
Modern, free, and high-quality app
Competent and friendly customer service
Cons
No orders for one person
Packaging waste
HelloFresh
Pros
Time savings when planning/shopping
Large selection of different recipes
High food quality
Vegetarian & child-friendly alternatives
Understandable and well-illustrated recipes
Cancel subscription at any time
Pre-weighed quantities of ingredients (no leftovers)
Cons
No boxes for singles
More expensive if you order only a few meals
Pricing
Sun Basket
Shipping costs vary between $10.99 – $12.99. And the price per serving decreases if you add more meals into your box.
| | | | |
| --- | --- | --- | --- |
| | 2 recipes | 3 recipes | 4 recipes |
| 2 servings | $13.99 | $11.99 | $10.99 |
| 4 servings | $10.99 | $10.99 | $10.99 |
HelloFresh
When comparing the prices, the difference between HelloFresh and Sun Basket is that the first has fixed shipping costs – $8.99.
| | | | | |
| --- | --- | --- | --- | --- |
| | 2 recipes per week | 3 recipes per week | 4 recipes per week | 5 recipes per week |
| 2 servings | – | $8.99 | $8.99 | $8.99 |
| 4 servings | $8.99 | $7.49 | $7.49 | – |
Types of Menu
Sun Basket
As soon as you register on the Sun Basket site, you understand how wide your choice is. A variety of menus and dietary preferences satisfies even the pickiest eaters. It doesn't matter what your diet is now. It has the potential to become more varied with Sun Basket. The menus each user can select include:
Paleo
Carb-Conscious
Lean&Clean
Chef's Choice
Gluten-Free
Diabetes-Friendly
Vegetarian
Mediterranean
Pescetarian
Quick & Easy
Sun Basket allows you to choose dishes based on your personal preference. The number of possible serving – 2 and 4, recipes per week – 2, 3, 4. But what surprised us even more in the review was the opportunity to order useful additions in the form of snacks, smoothies, tortillas.
The offered dishes can also be sorted by calorie count using a filter. There are two options: less than 200 and less than 600 calories. Customers enjoy a vast choice of 18 dishes per week in a meal kit dinner section. However, there are other sections, including:
Breakfast
Pasta & Sauce
Proteins
Snacks
It expands the options offered by the Sun Basket service. To narrow down the proposed meals to the desired ones, you have many filters at your disposal. And what does HelloFresh offer?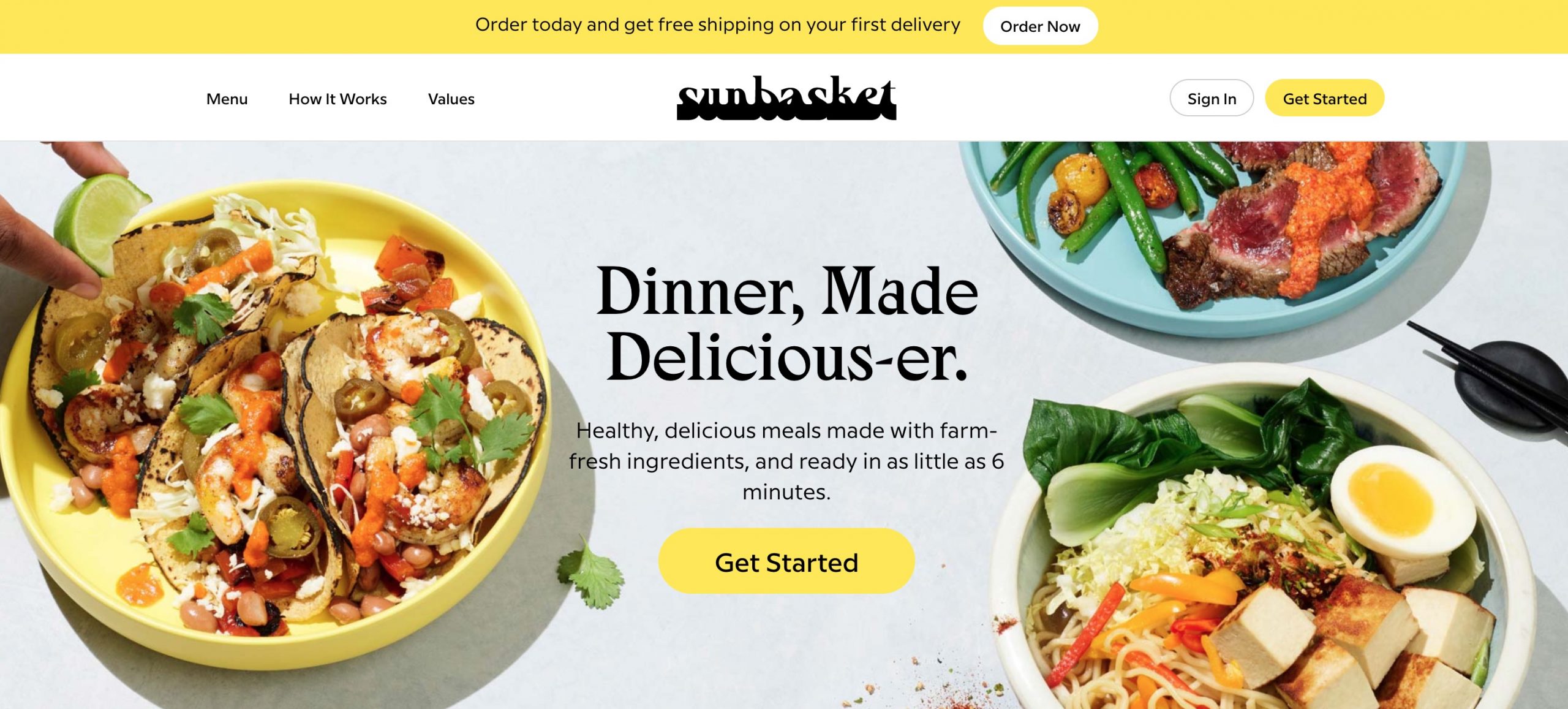 HelloFresh
Chefs and nutritionists develop the dishes at HelloFresh with a focus on wholesome and healthy recipes. The adjusted amount of calories per dish is an average of 500 to 800 calories. A good meal delivery service should provide you with all the essential nutrients to stay healthy in the long run. The HelloFresh company tries to incorporate such a conception into their business.
At HelloFresh, you are welcome to order a meal box with the ingredients for several dishes to your home. Choose between different meal plans:
Meat & Veggies
Veggie
Family Friendly
Calorie Smart
Quick and Easy
Pescetarian
The first HelloFresh menu is a balanced proportion between vegetables, meat, and fish. People who want to lead a balanced and healthy life should appreciate such a choice. The second one focuses on vegetables and products with vegetable proteins. Those who follow a vegan diet enjoy a variety of HelloFresh dishes.
The recipes range from home-style cooking to exotic dishes and unexpected interpretations. For each dish, you get a HelloFresh recipe card with details on nutrients, background information on ingredients, and the list of ingredients, including pictures plus step-by-step cooking instructions. If you are not an expert in cooking, there is nothing to worry about.
What about special diets? HelloFresh does not offer separate meals for those sticking to Keto or Paleo. Likewise, if you only consume gluten-free or prepared foods, HelloFresh may not fulfill your wish. Vegans can browse the recipes themselves in the Veggie section and choose what meets their desires.
Winner: Sun Basket
Sun Basket is more suitable for those who adhere to specific diets that HelloFresh. Also, their menu is not limited to dinners only but also has breakfast or lunch options. Such a varied offer may satisfy many needs. The meal delivery offers a large selection of regional and seasonal organic products and caters to people who want a vegetarian, vegan, or gluten-free diet.
Boxes
When we compare Sun Basket vs. HelloFresh, both companies promise varied recipes and the possibility of eating healthy meals. Companies create balanced recipes with fresh and green ingredients. With the HelloFresh service, the meal preparation takes an average of 30-35 minutes. Most boxes contain everything you need to create a gourmet meal. However, buying some essential ingredients is required. These include, for example, oils, vinegar, butter, or sugar. Common spices such as salt and pepper should also be at home.
After opening any of the boxes, you will see that the company packs everything in separate bags. Don't be shocked by the amount of waste. Users may recycle almost all packaging.
HelloFresh is an environmentally friendly company and takes an active position against food waste. Avoiding unnecessary environmental impact is more comfortable with well-pre-portioned ingredients and recyclable packaging.
Sun Basket uses a cooling system to guarantee the freshness of the products. The ice packs – adapted to current climatic conditions and the delivery time – ensure the ingredients arrive at your home in good quality. What all boxes of Sun Basket have in common is the fresh and controlled food inside. The recipes, in turn, ensure a balanced diet and optimal vitamin intake.
Winner: Tie
HelloFresh and Sun Basket providers pack the ingredients into reusable bags. All boxes have a clear structure, and you won't get lost with the ingredients.
Ordering Process
The order is different from your experience with other cooking box providers. Ordering from Sun Basket is straightforward. After selecting the number of people and the number of cooking boxes per week, enter the zip code and an email address. You may vary the number of meals from week to week.
What about the second site in our comparison Sun Basket vs. HelloFresh? You register at HelloFresh and state your meal preference. Then you choose the appropriate number of various dishes and get your first meal kit. After receiving the HelloFresh delivery, you have a subscription that you can pause or cancel every week. You order your cooking box at least one week in advance. A HelloFresh box can be for two, three, or four people with three, four, or five dishes each. The creation of a customer account and the subsequent orders take a short time.
The HelloFresh and Sun Basket companies pack all the ingredients in plastic or paper bags. They deliver them to you on the dates you select beforehand. If you are not at home, HelloFresh and Sun Basket can leave packing till you take it. The courier will then deliver your box to your doorstep or a neighbor.
What is more critical is available apps of the services, where functionality is more than efficient. If you have little time to make an order using your PC, a mobile version or an app are convenient functionalities.
Winner: Sun Basket
A big plus by choosing the dishes will be the Sun Basket's video blog, tips, and techniques. They help to get to know the service and its offer.
Support
When we analyze delivery services and decide which is better Sun Basket vs. HelloFresh, we also consider support. When you go to the site and do not know where to click to place an order or understand how the service works, go to the frequently asked questions section. Both HelloFresh and Sun Basket services answer all questions in sufficient detail, helping to understand the service concept quickly and without problems. If your question is about ingredients, subscriptions, delivery, or different dishes, you will find the answer there.
Sun Basket takes at customer disposal an agent assist that works from 8 a.m. to 5 p.m. You may send an SMS or call him/her. There is a chatbot called Sunny B to answer some common issues 24/7. You may also send an email to get an answer as soon as possible. There is an expert help service, where customers who have already used the service can consult you.
HelloFresh lets users use a live chat if you have any questions or comments. There is also an option of making a call.
Canceling a subscription or skipping a week is simple with both Sun Basket or HelloFresh. At the HelloFresh, go to the account settings. To cancel a subscription with Sun Basket, contact the support team.
Winner: Sun Basket
If there is any issue, you can contact an expert to get help with Sun Basket.
Conclusion
Winner: Sun Basket
Having a choice, HelloFresh vs. Sun Basket, the Sun Basket service is our winner. Its users discover new recipes every week and always try something new. The preparation is easy and does not take much time. Although the ingredients are fresh and healthy, the prices are low. The dishes are worth trying. Regardless of whether you prefer vegetarian meals or dishes with meat, you find what you are seeking.
The Sun Basket company selects its partners and ensures the ingredients meet strict quality standards. The range is vast to enable customers to enjoy varied meals. Cooking healthy foods is not tricky with fresh organic ingredients and unusual recipes.