Meal subscription services like Blue Apron and HelloFresh deliver fresh ingredients to your door every week, saving you time and effort in planning meals and shopping for groceries. In our comparison Plated vs. Green Chef, you can see how these services work and what advantages they offer to their clients.
Plated and Green Chef provides you with fresh and prepared foods. These foods – vegetables, spices, fish, meat, complementary ingredients – are put together to make a complete meal. You get a chance to create a culinary masterpiece on your own. With the recipe, which is also in the box, you get started without worrying about shopping. You also avoid the sometimes annoying preparation of some ingredients. You no longer should worry about how to measure 15 grams of a particular ingredient.
If you enjoy cooking and trying new foods but often don't have the time to plan and prepare all of your dinners, services like Plated might be for you. Let's find out which service is worth your money and attention by analyzing their menus, delivery options, and subscription costs.
Short Overview
Plated
Recipe selection per week: 16 recipes + 4 vegetarian recipes
Quality of the ingredients: meats without antibiotics, hormone-free beef, seasonal products
Special diets: gluten-free, vegetarian, low-carb, low-calorie
Delivery: to the continental United States, excluding Alaska, Hawaii, and some other states; weakly delivery
Plated allows you to choose from a selection of meals each week. The recipes and pre-portioned ingredients are then delivered to your home. You can prepare meals at home without any difficulties. They're like a mix of meal planning, grocery shopping, and recipe discovery apps rolled into one. Since 2012, Plated has been offering its clients a variety of fresh products and gourmet recipes.
Green Chef
Recipe selection per week: 9 different recipes for each of 3 plans
Quality of the ingredients: USDA-certified organic ingredients
Special diets: keto, paleo, veggie, vegan, gluten-free
Delivery: to the continental United States, excluding Alaska, Hawaii, and parts of Louisiana; Monday through Saturday
Green Chef combines convenience with cookery training. The meals are all portioned. You don't waste food and take care of your waistline. Green Chef not only delivers almost everywhere but also attaches great importance to organic products. Once ordered, the service will send you a new cooking box every week, but you can cancel or pause it at any time. As the name suggests, the focus here is on green and organic foods.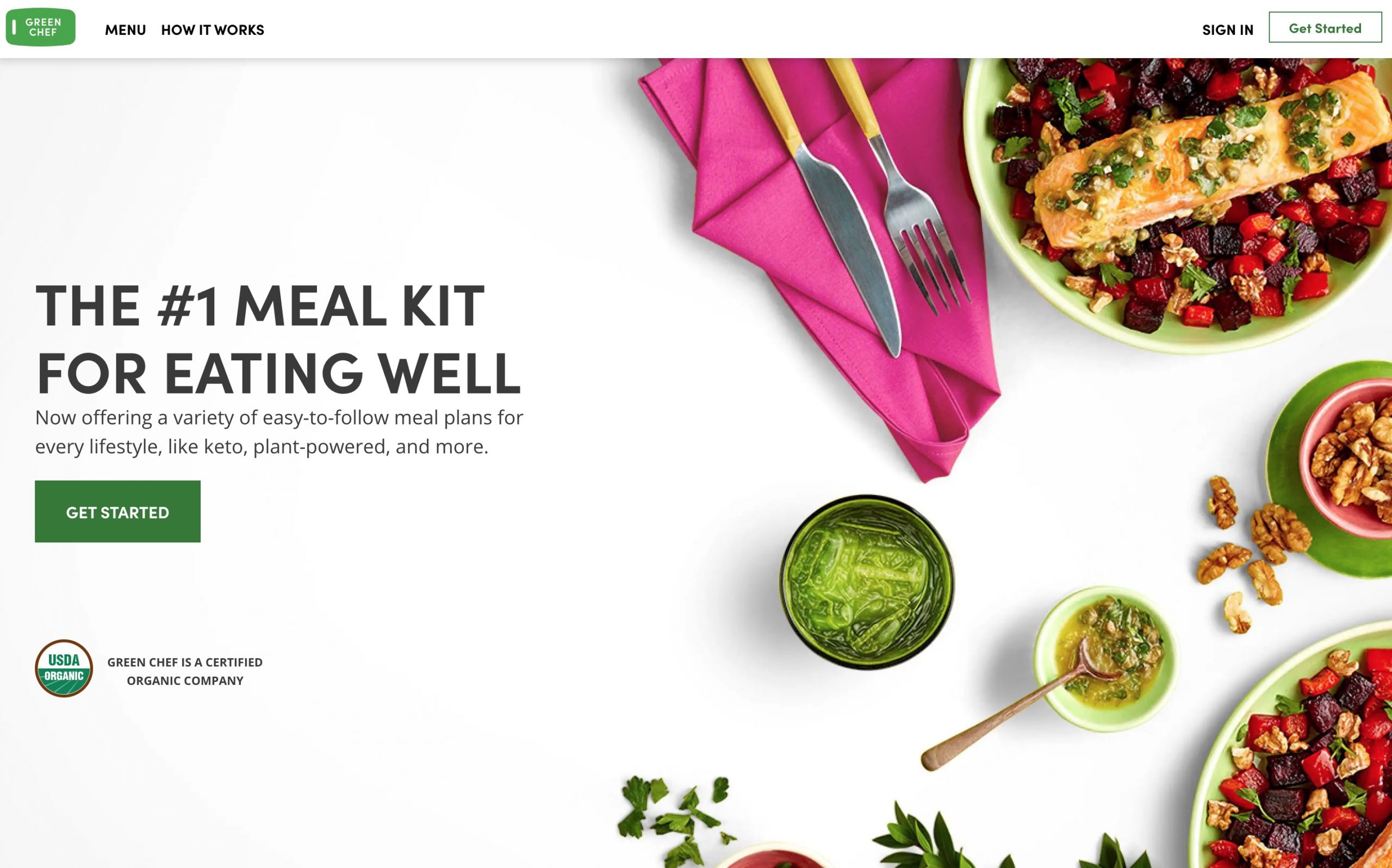 Pros/Cons
Plated
Pros
Manifold recipes each week
Seasonal and organic ingredients
Uncomplicated ordering process
Flexible delivery times
Various payment options available
Recipe cards allow you to cook the dishes quickly and easily
Possibility to pause the subscription
Convenient app
Cons
No boxes for singles
Packaging waste
Menu with two nights per week has a shipping fee
Not all nutritious information is available online
Green Chef
Pros
Certified organic ingredients
Good customer support
Possibility to choose the desired delivery day
Menus for the next three weeks
Table of allergens and nutritional values are on the site
Easy and quick cooking
Vegetarians and vegans have a big selection of recipes
User-friendly website
Cons
Auto-renewing subscription
Additional shipping costs for all plans
Noone can manage weekly menus
A lot of packaging waste
No app
Pricing
Plated
| | | | |
| --- | --- | --- | --- |
| | 2 nights/week | 3 nights/week | 4 nights/week |
| 2 servings per night | $47.80 | $71.70 | $79.60 |
| 3 servings per night | $59.70 | $89.55 | $119.40 |
| 4 servings per night | $79.60 | $119.40 | $159.20 |
Green Chef
| | |
| --- | --- |
| Plan | Price per serving |
| Keto + Paleo | $12.99 |
| Balanced Living | $11.99 |
| Plant-Powered | $11.99 |
Types of Menu
Plated
Part of the fun of using the Plated service is discovering new recipes and ingredients. However, having a meal choice is also good, especially if your household has picky eaters, food allergies, or special diets. In our comparison Green Chef vs. Plated, we enjoyed the diversity of the recipes.
At Plated, you can choose your preferences every week: low-carb dishes, gluten-free, lighter dishes below 600 calories, or quick-prep meals that cook in less than 30 minutes. You also have the stovetop option if you have only this food processor. There are various search filters to apply to the menus on the site. However, Plated does not offer the option of relying exclusively on organic products. Vegetarians have a separate section with peculiar healthy and fresh meals.
For each week, there are around twenty different recipes to choose from on Plated. The selection of recipes ranges from soups and unusual salads to elaborate meat dishes and ensures a lot of variety.
Plated offers a big choice for vegetarians, flexitarians, and gourmets. Indeed, the meatless offer is tempting, very varied, and colorful. The plus is that vegetarian dishes are at the same price as traditional dishes at Plated.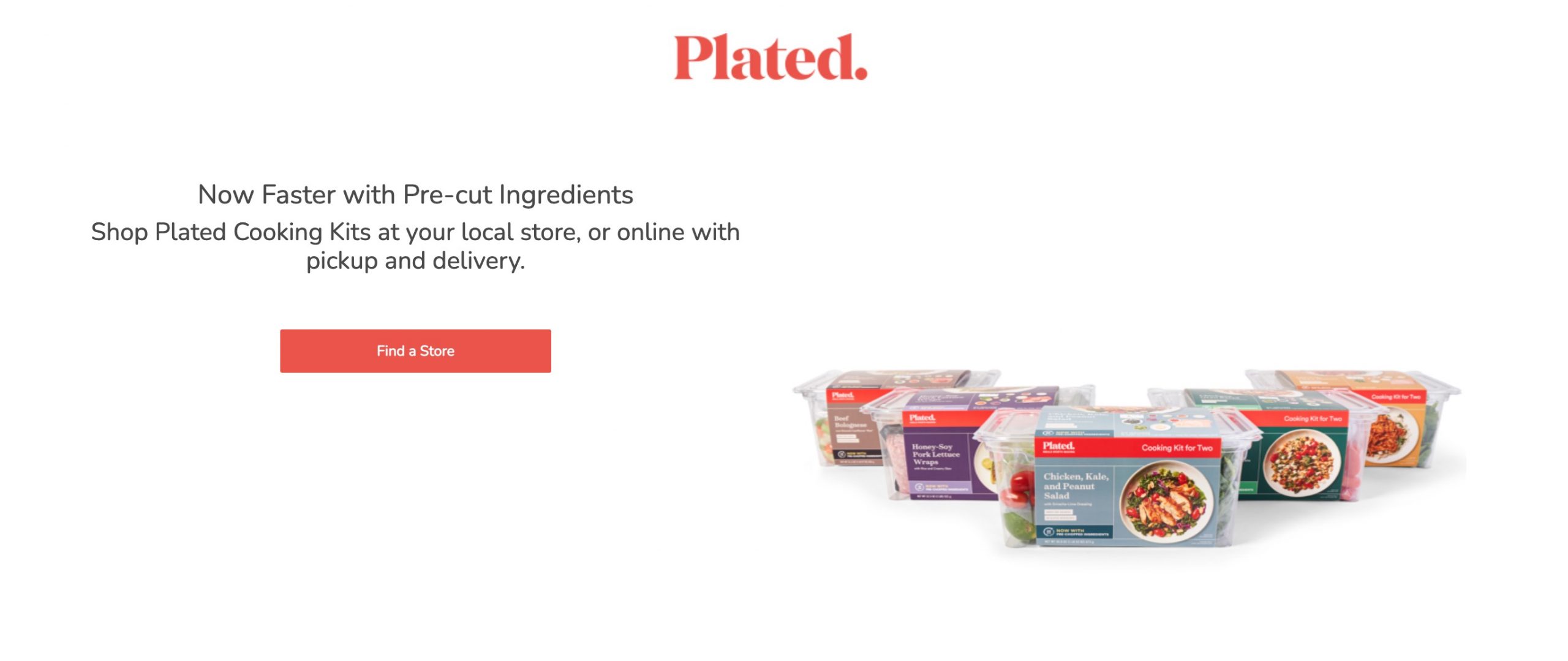 Green Chef
Green Chef has the motto "eating and living green." Many of the foods come from regional suppliers, are of organic quality, and are intended to result in healthy and organic food.
Green Chef scores with flexibility. It does not only apply to the choice of dishes. Here you can choose from 9 recipes per plan. You can adjust the number of servings weekly. When we compare Plated vs. Green Chef, the second offers customers who like to cook and try new things. However, the recipes are straightforward and easy. Even beginners can find their way around the preparation.
The food delivery service Green Chef has several meal plans, catering to people with particular eating habits. Whether you follow a vegetarian, paleo, or keto diet, most boxes offer you the choice. The description of the meals helps make a choice. Nutrition value and cooking time are evident.
By going to the Green Chef website, you find out about nine recipes. Vegetarian recipes composed of fruits and vegetables are numerous, varied, and worked on. As for meat and fish recipes, Green Chef has chicken, pork, beef, fresh fish fillet, or even seafood, depending on the week. Quick recipes are a little more ordinary in flavors and more basic in design. They include a limited number of manipulations for a preparation time of fewer than 30 minutes.
Winner: Green Chef
While Plated offers many options for people with different dietary preferences, Green Chef is also certified organic. It is one of the few companies with a thorough approach to product selection.
Boxes
In our comparison of services, we try to understand which is better Plated vs. Green Chef. Let's take a look at the boxes the companies offer. Plated has the particularity of providing many sauces, seeds, and condiments. However, you should have some basics at home, including salt, pepper, olive oil, or vinegar.
The ingredients of each meal are in small plastic bags. The packaging of the various products is adapted to the recipe quantities, which avoids weighing and waste.
The Green Chef cooking box contains – depending on the package booked – ingredients for several meals. Fresh, healthy, seasonal, prepared foods are supplied for new recipes. It eliminates shopping without having to switch to ready-made products, fast food, or delivery services. As indicated in the recipe cards, the dishes should all be ready in around 35 minutes – great for people who have little time and still want to eat healthily.
The meat comes in a recyclable insulating bag. It has the correct temperature thanks to a reusable ice pack. Both services' fresh box also guarantees that all food arrives chilled and fresh even on sweltering days.
The packaging materials of Plated and Green Chef are recyclable: cardboard boxes, plastic ice packs, paper bags, egg cartons. The site's Green Chef's FAQs have answers on where and how you can recycle these packages.
Winner: Green Chef
The packages of both companies in which you get the products are from plastic, cardboard, paper. The boxes come with branded logos. In this aspect, the difference between Green Chef and Plated is not that big. But Plated, unlike its rival, is not so careful about recycling and reusing the materials.
Ordering Process
When you order your first box using Plated, you take out a subscription to receive the selected package every week. In the Plated login area, users may specify their preferences regarding the ingredients they prefer the most.
Personal taste prevents you from accidentally choosing recipes with incompatible or disliked foods. You can skip, pause or cancel deliveries at any time. What is not so well solved by Plated is that you choose dishes only from the weekly menu. You do not have to adopt anything from the suggestions made.
Anyone interested in ordering on Green Chef has their user account on the designed provider website. First, you choose the preferred menu, indicating the number of servings. The next step is registration using your email address. Then, you write your address and pick meals. What differentiates Green Chef from Plated is that here you cannot read the recipes. All the cooking steps you will see in the printed recipe card only after the box's delivery.
The registration of an order is simple on both sites, and the query of the necessary data has an understandable structure. We found it useful in our comparison of Plated and Green Chef that everyone can make changes or cancellations of cooking boxes without any problems. All you have to do is log into your account 6 (Plated) or 7 (Green Chef) days before delivery. Failure to follow this rule will result in the order's delivery, leading to unjustified complaints and negative reviews.
Winner: Plated
Both companies have easy-to-use websites that make it difficult to get confused. All you should do is register, provide contact details, address and pay. Plated offers a special 25% discount for the first month, which is a positive plus for new customers. Also, for orders over $60, shipping will be free.
Support
When comparing Plated and Green Chef, customer services endeavored to settle product complaints or late deliveries quickly and in a helpful manner. It makes it easy to plan meals for family days or celebrations. Customers who have registered will also receive the menu plans for the current week by email. Plated contact options are available via telephone or live chat.
The Green Chef site offers a pervasive FAQ section. Each buyer can find information regarding the service itself, delivery, ingredients, payment, and subscription. If you want to unsubscribe, write a complaint, you will receive a quick and detailed response. Another thing to note is that both Plated and Green Chef companies offer refunds for product shortages, spoiled ingredients, or late delivery.
Winner: Green Chef
The sites have good customer support offering live chat and phone service. They will give a detailed answer and pay money in case of a bad experience. But since Green Chef offers a more detailed FAQ section that Plated, it is the winner in our comparison.
Conclusion
Winner: Green Chef
In our comparison of the best delivery service, Plated or Green Chef, the choice was hard. Based on the different criteria, Green Chef is our winner. There is fast delivery, reusable waste, and high-quality products at a moderate price. If you like fresh dishes and seek yummy cooking boxes, you can try this meal delivery company.