Everyone can celebrate the preparation of a dinner to excess. But what if choosing the recipe and the right ingredients take so long that you don't have the time to cook comfortably in the end? Meal delivery services want to remedy this.
Would you like to try out a cooking box, but you don't know how to choose the best delivery service? In our comparison Plated vs. Blue Apron, we introduce you to two popular food delivery services. If you want to know more details about them, take a look at our exact comparison here.
Short Overview
Plated
Recipe selection per week: 20 recipes
Quality of the ingredients: free and organic ingredients, antibiotic-free pork
Special diets: no-gluten, vegetarian, low-carb, less than 600 calories
Shipping costs: free with any order of more than $60
Plated was founded in America in 2012. It supplies food boxes with selected, simple recipes and the necessary ingredients. However, the meals remind us of dishes from good and expensive restaurants. Therefore, supermarkets with a common ingredients box cannot replace the delivery service. It pays particular attention to ecological cultivation and animal welfare. As far as organic quality is concerned, you get fresh and green ingredients.
Blue Apron
Recipe selection per week: from 3 to 11 meals per menu
Quality of the ingredients: non-GMO, no added hormones or antibiotics
Special diets: vegetarian, diabetes-friendly, carb-conscious
Shipping costs: free shipping with three or more recipes per week
Blue Apron is also an American company that now sells its meal kits throughout the USA. The site promises delicious, chef-designed meals that will be delivered right to your home. At Blue Apron, you don't choose a whole cooking box but can choose your personal favorites from eight dishes proposed. The food delivery service offers a more sustainable way to cook and create gourmet dishes at home.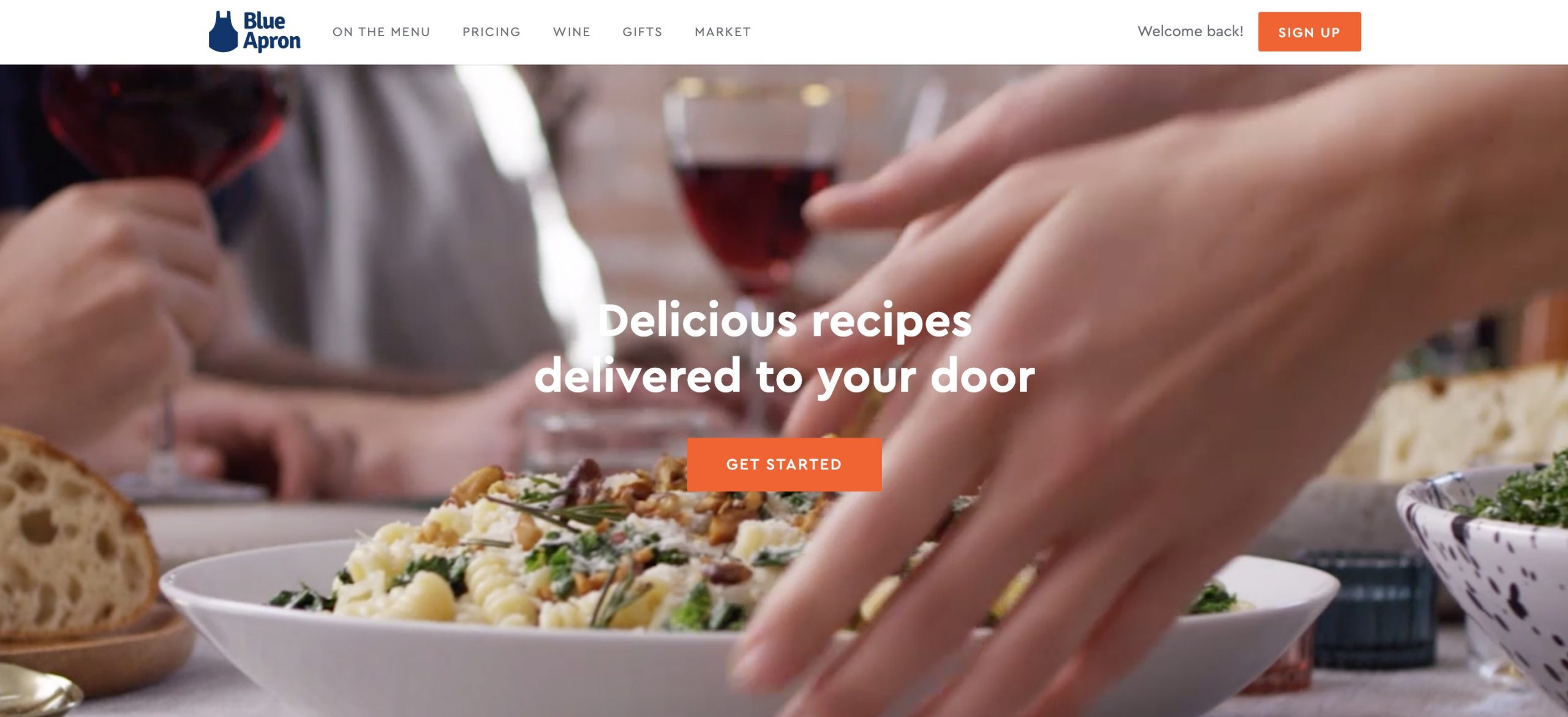 Pros/Cons
Plated
Pros
Clear homepage
Simple ordering process
20 new dishes every week
Gluten-free and low carb diet
High food quality
Easy to understand recipe instructions
Time specifications for preparation apply
Versatile choice of healthy dishes
Mobile app available
Cons
Not all products are organic
No free shipping for small orders
Blue Apron
Pros
Convenient than meal planning and grocery shopping
Great for vegetarians
WW-friendly and Beyond Meat options
Seafood from sustainable production
Offers lower prices per more servings and free shipping on larger orders
Cons
Not recommended for people with severe food allergies or intolerances
Doesn't offer meals suitable for gluten-free, vegan, paleo, or keto diets
Smaller orders may be more expensive and include an additional shipping fee
Pricing
Plated
The more you order at Plated, the less you pay per meal. If you want to make an order over $60, you enjoy free delivery. Some options are available at an additional fee, including desserts at $8. The table shows the prices per week.
| | | | |
| --- | --- | --- | --- |
| | 2 nights | 3 nights | 4 nights |
| 2 servings | $47.80 | $71.70 | $79.60 |
| 3 servings | $59.70 | $89.55 | $119.40 |
| 4 servings | $79.60 | $119.40 | $159.20 |
Blue Apron
The Blue Apron service offers free delivery if you choose three or more recipes per week. If you want to order wine, the price per bottle is $10. The table shows Blue Apron's prices per serving.
| | | | | |
| --- | --- | --- | --- | --- |
| | Signature | Signature for 4 | Vegetarian | Wellness |
| 2 recipes | $9.99 | $8.99 | $9.99 | $9.99 |
| 3 recipes | $9.99 | $7.99 | $9.99 | $9.99 |
| 4 recipes | $9.99 | $7.49 | – | – |
Types of Menu
When we compare Plated vs. Blue Apron, both delivery services' concept is to send the cooking boxes to your home. In these meal kits, buyers find precisely weighed ingredients with suitable recipes. So you get everything to prepare your delicious meals and no longer should go shopping – apart from the standard components everyone has at home.
Plated
At Plated, you can choose between 20 recipes each week. If necessary, the customer can use the customer account to provide even more information about their eating habits. These include:
Beef
Fish
Lamb
Pork
Poultry
Shellfish
Vegetarian
On this basis, Plated will know more precisely which recipes are suitable as recommendations in the future. Users can adjust them at any time. Those who follow a diet can take advantage of filters. Click on "Low Carb Diet" and get meals that correspond to these criteria. It is suitable for users with various eating desires, including seafood, meat, spicy, and stovetop only.
All target groups are taken into account. Also, allergy sufferers can order a cooking box from Plated. Use filters to sort the dishes. It becomes easier to choose something meeting personal preferences.
Organic food comes from the region. To this end, Plated works with selected producers who practice organic farming and animal welfare.
The Plated company develops 20 new recipes and some desserts each week. From these, you assemble the desired box. There are also vegetarian recipes available every week. The recipes are almost always relatively healthy and, what is more critical, appetizing. The prices depend on the number of people and meals ordered – the following applies: the more, the cheaper.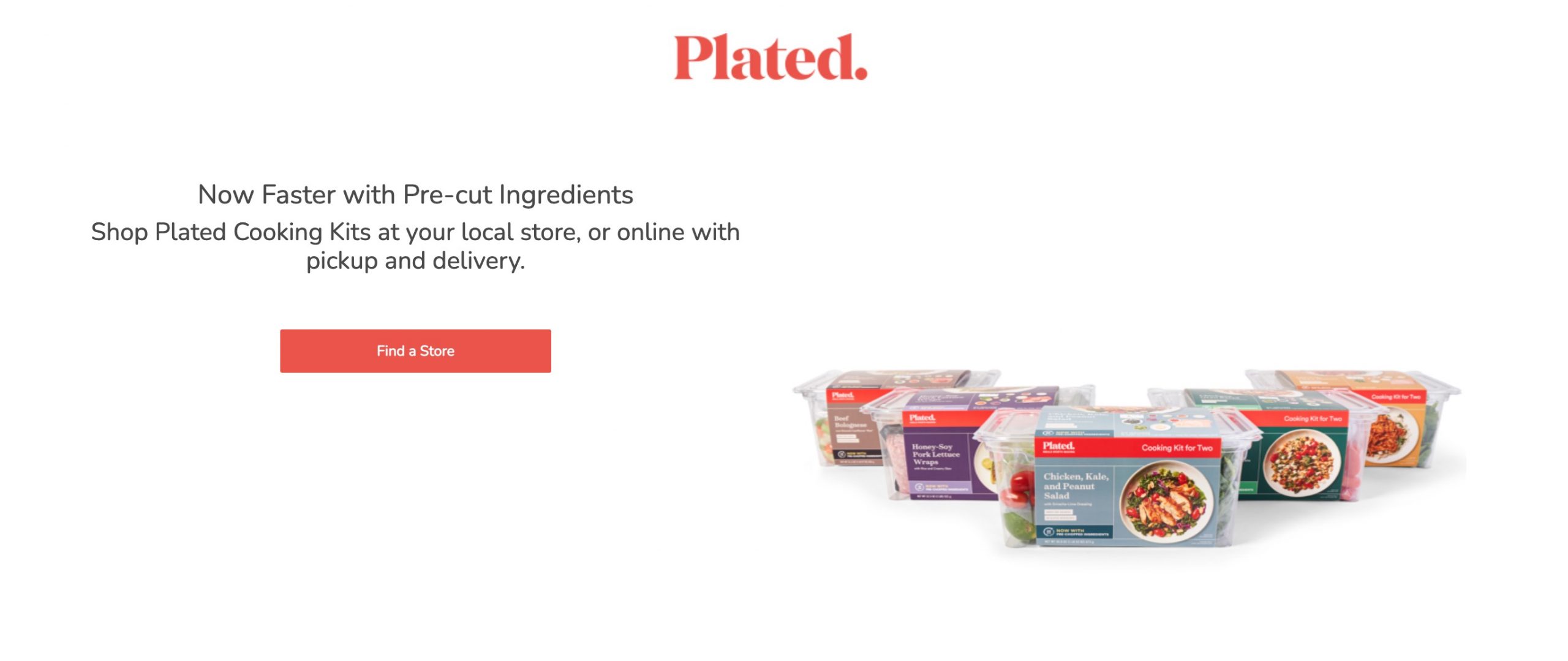 Blue Apron
In our comparison of services, where we try to discover which is better Plated vs. Blue Apron, the second offers a better organizational system. There are four types of menu, including Signature, Signature for 4, Vegetarian, Wellness. Let's take a closer look at these menus.
Signature: Vegetables, meat, fish, Beyond Meat, WW Approved products. These include classic and balanced recipes you can cook in 30-60 minutes. Some great Blue Apron's examples are Shawarma-Spiced Lamb & Couscous, Cheesy Tomato Chicken.
Signature for 4: As the name suggests, the menu is geared towards families, left-overs. Here you get balanced and everyday recipes. Examples of recipes are Cheesy Vegetable Quiche, Mexican Turkey Meatballs.
Vegetarian: The offer at Blue Apron is not that big, with 3 or 4 recipes. But One-Pan Udon Noodle & Spicy Peanut Stir-Fry sounds tasty.
Wellness: Nutritionists-approved recipes with WW Approved options.
Indeed, given this variety of meal plans, it is easy to choose something corresponding to your desires at Blue Apron. Not only does it all sound very promising, but it should also be ready in 20 to 30 minutes.
Winner: Plated
Plated convinced us with a remarkable variety of fresh and prepared foods in our comparison Blue Apron vs. Plated. Big pluses are the well-structured, easy-to-understand recipes, generous portions, and high quality of the ingredients. It allows buyers to choose from 20 proposals and covers a broader audience than the Blue Apron company.
Boxes
Once the customer has received his cooking box from both Blue Apron and Plated, all the components it contains will stay fresh and cold. Everything that buyers should have at home is basics, such as salt, pepper, oil, and the necessary cooking utensils. Also, Blue Apron and Plated post recipes which show the step-by-step cooking process and contain nutrition information.
At Blue Apron, there are no price differences between a cooking box that should be vegetarian or may contain fish and meat. Couples prefer the smaller box. However, since the portions are quite generous at Blue Apron, it is also suitable for parents with a small child. Even singles can try this variant and have two generous portions, of which they can warm up a second in the microwave later. Another Blue Apron's menu called Signature for four is aimed at three to four people and offers family dishes.
Customers get delivery boxes with frozen gel packs, with all ingredients insulated. Blue Apron tries to guarantee the freshness of products. Plated packs the ingredients in insulated bags. You will see special markings that help you understand for which dish you need specific components. It simplifies and speeds up the cooking process.
Winner: Plated
When preparing meals with Blue Apron, consider the time you spend on preparing the products. Unlike Plated, the service does not label the ingredients, and you cannot immediately understand what dish they refer to.
Ordering Process
There aren't many difficulties when ordering via Plated or Blue Apron website. There you can choose how many people and how many meals per week you want to order. Delivery takes place throughout the USA. Depending on the postcode, different time slots are available in the morning and evening.
At Plated, you may select the dishes online from twenty recipe suggestions – vegetarian variants are also possible. A program calculates the price of the order consideration. The price per serving is also on the website.
We call up the Blue Apron homepage, and with just one click of the mouse, we are in the ordering process. We enter the zip code and email address, which we use to set up our customer account. It continues with the delivery dates. Here we should specify our address and add additional information to the Blue Apron delivery company.
The Plated and Blue Apron services ensure the cooking box will arrive in perfect condition and as punctually as possible. If you want to make changes to a planned order or want to pause it, you should do that at least six or seven days in advance.
Winner: Tie
Both Blue Apron and Plated companies have put great effort into creating well-functioning websites and apps. The ordering process runs fast and without significant difficulties.
Support
Blue Apron and Plated teams are there 24/7 to support you in any situation. They offer detailed FAQ sections with answers to questions regarding the usage, subscription, and delivery. If you have a more personalized question, contact Blue Apron and Plated by email, live chat, or phone. It is best to directly contact customer service in a complaint and take a photo of the product to get a refund.
It is essential to emphasize that you take out a subscription by ordering a cooking box. You thus receive a box every week if you do not cancel the delivery six days in advance.
When we compare Plated vs. Blue Apron concerning subscription cancellation, the process is more straightforward with Plated. Why? The service allows you to cancel the upcoming deliveries using the app or the website. Blue Apron requires contacting customer support.
Winner: Plated
While both Blue Apron and Plated services treat their customers well, offering refunds for any shortcomings, the second is more user-friendly when canceling a subscription.
Conclusion
Winner: Plated
Although the difference between Blue Apron and Plated is not that great, our comparison shows that Plated has more advantages. The homepage of the service is well-designed, and customers expect a wide variety of healthy dishes. The nice thing about it is that the service has put innovative ideas into practice to be as environmentally friendly as possible.
Eating cheaper is only possible in very few restaurants – and then probably not in such a quantity and of this quality. In this respect, we are happy to make Plated the winner in our comparison.