What do we eat? The eternal question comes up every night when you open your fridge after a good day at work. The meal kits by Home Chef and Plated, delivered to your house, are there to make your life easier. No need to rack your brains to find cool recipes and, above all, a significant advantage, no need to go shopping at the crowded supermarket. Everything is delivered to you. We had the opportunity to test 2 food delivery services in our comparison, Home Chef vs. Plated.
Short Overview
Home Chef
Recipe selection per week: 17 to 19 recipes
Quality of the ingredients: occasionally organic, fresh, high-quality
Special diets: vegetarian, vegan, low-carb, low-calorie
Shipping costs: from $7.99 to $13.99
Home Chef is a food delivery service in America that promises to deliver fresh and organic produce wherever possible. All products come in separate packages to preserve their integrity. Also, customers receive step-by-step instructions on how to prepare dishes of varying complexity.
Plated
Recipe selection per week: 20 recipes
Quality of the ingredients: non-GMO, organic, fresh, no added hormones or antibiotics
Special diets: vegetarian, gluten-free, low-calorie, low-carb
Shipping costs: free shipping over $60
Plated's concept is to deliver products from trusted suppliers. The service audience also includes people with particular food preferences, such as veganism, vegetarianism, and gluten-free diet. But here everyone may choose dishes and create their balanced diet, full of healthy products.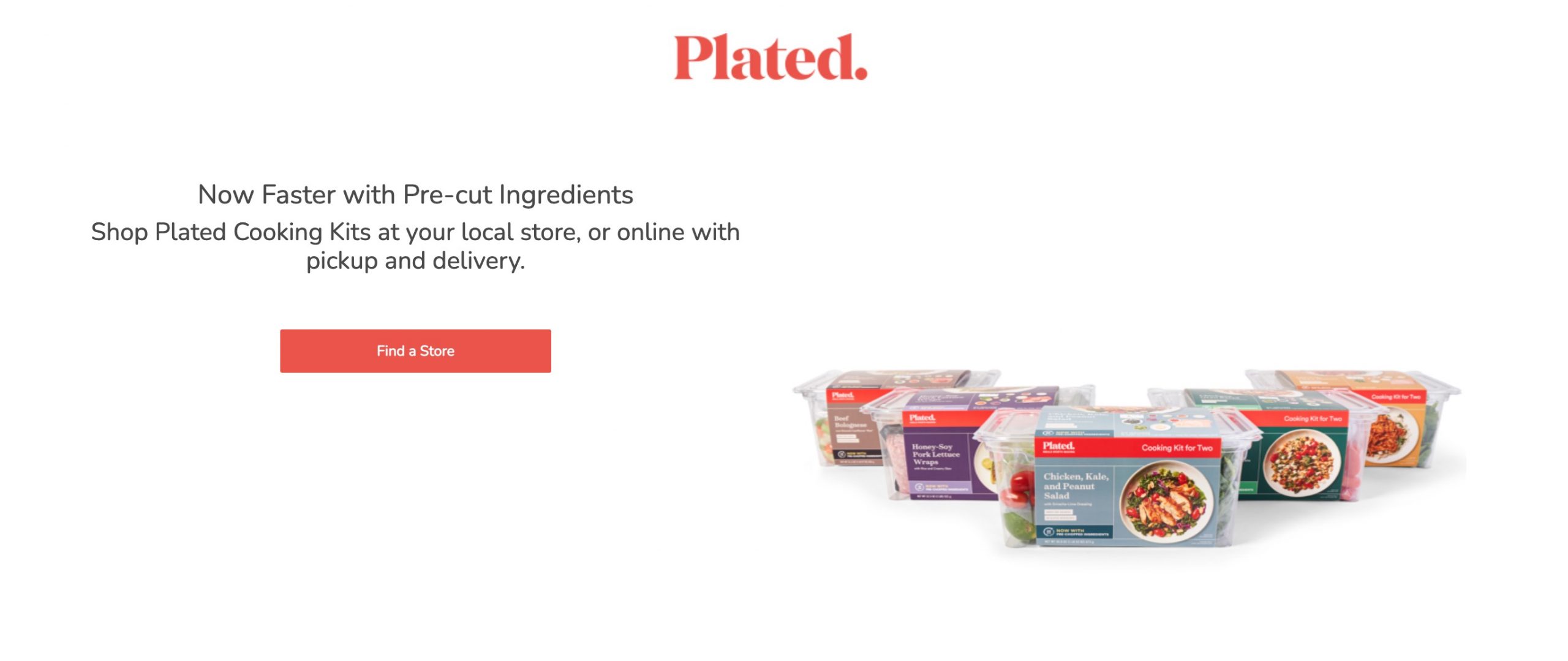 Pros/Cons
Home Chef
Pros
Meats free from antibiotics and growth hormones
Fresh ingredients from sustainable resources
Recipes inspired by several cuisines
Possibility of indicating the preferences
Recyclable packaging
Efficient online service
iOS and Android mobile app
Cons
Some preparation is required
Paid delivery
No keto or paleo diets
Plated
Pros
The ingredients in recyclable paper bags
Choose the day of the week that suits us the most
Meats without antibiotics or hormones
Good portions
Dishes full of flavors
Fresh ingredients
Low-calorie dishes ( options at less than 600 calories per serving)
Mobile app available
Cons
Minimum two servings
Paid delivery for small orders
Pricing
Home Chef
Regardless of how lavish the order is, the price is always $8.99 per serving. Users are welcome to customize their meals, which results in a higher cost. It attracts users with discounts and gifts. After the signup, we had the chance to get $10 off the second-order or earn $35 by inviting a friend.
Plated
Plated states its prices per person and meal. You can see the total cost of the box ordered online at the end of the ordering process. Also, users may add a dessert at an additional $8. Take a look at special offers if you are a new customer. You may save 25% on your first weeks.
| | | | |
| --- | --- | --- | --- |
| | 2 nights/week | 3 nights/week | 4 nights/week |
| 2 servings per night | $47.80 | $71.70 | $79.60 |
| 3 servings per night | $59.70 | $89.55 | $119.40 |
| 4 servings per night | $79.60 | $119.40 | $159.20 |
Types of Menu
Home Chef
Home Chef offers healthy and fresh ingredients. It is possible to make this number of people fluctuate from one week to another. You can also adapt it to homes of 2 to 6 people. If you invite friends or family over for dinner, you enjoy the possibility of ordering the box. Products are of high quality; some are organic. Users get pre-dosed and prepared foods to avoid waste.
Home Chef doesn't allow you to choose a meal plan. However, users are free to specify their eating desires. You have the choice between:
Omnivore
Carnivore
Pescetarian
Vegetarian
Having particular dietary preferences, you also have a choice between calorie-conscious and carb-conscious. After you get an overview of the weekly dishes, you may find vegan meals. Meals are prepared in 30-50 minutes maximum to save you time. Compared with Plated, Home Chef allows customers to buy 15 Minute Meal Kits and Easy Prep Meal Kits. Great examples of recipes are Steak and Goat Cheese-Pecan Sweet Potatoes and Roasted Salmon, and Horseradish Cream.
"Customize It" option distinguishes Home Chef from Plated and other meal delivery services. You may change or upgrade protein in the selected meals. Also, in the weekly menu, you may find snacks, lunches, extras, such as Essential Protein Pack Plus.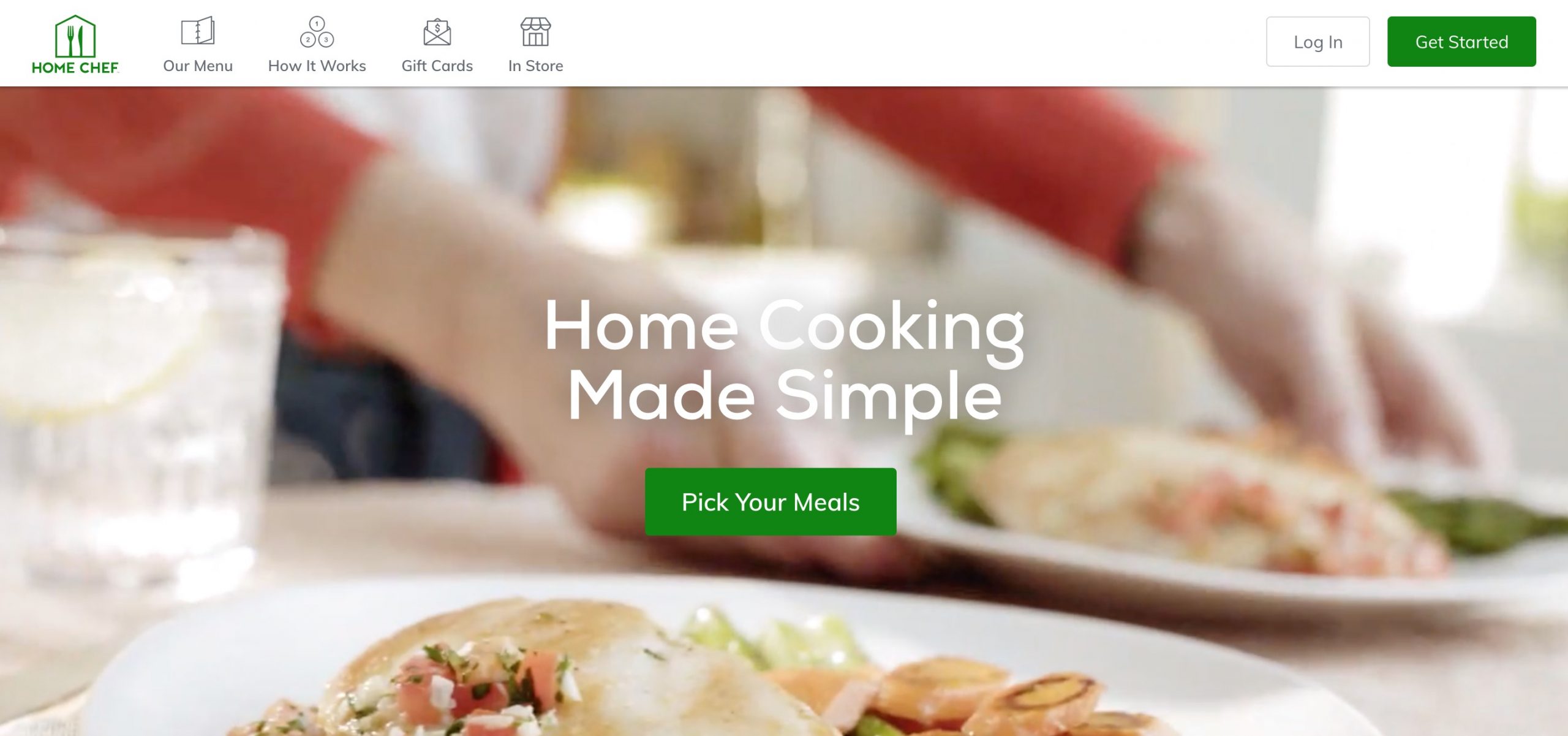 Plated
Plated supplies seasonal products from controlled and sometimes organic farming when possible. The selection of recipes at Plated is large enough. The company tries to accommodate the wishes of a large audience, offering many options for most dieters. You can even buy a dessert at $8.
Enjoy gluten-free, vegetarian, low-carb, low-calorie dishes. A list of Plated preferences helps determine whether fish, seafood, beef, poultry, pork, and lamb should be in our meals. You decide whether you want the preparation to be relaxed or as quick as possible. Also, it is about the design between traditional and unusual, hearty or relatively light, and mild or spicy.
When choosing a winner in our comparison Plated vs. Home Chef, we pay great attention to the number of available dishes to choose from. Plated publishes 20 dishes every week, from which every user will find something to their liking. When you look at the photo of the meal, it seems that cooking is difficult and time-consuming. But looking at the step-by-step recipe, you understand that it is straightforward. Plated breaks the stereotype that it is difficult to cook tasty and varied.
Winner: Home Chef
Although Plated is one of the few services that have such a flexible 20-course menu, Home Chef allows you to change some of the dishes' ingredients. Plus, they offer 17 to 19 meals a week to choose from at a more affordable price.
Boxes
Every week, you will receive a box with carefully packaged ingredients and recipe cards right on your doorstep. The products offered in the boxes of Home Chef or Plated, be it vegetables, meat, fish, or even condiments, are all of the excellent quality. There are even exotic ingredients that can sometimes be hard to find in the traditional trade.
Both Plated and Home Chef try to explain and illustrate the recipes. The recipe cards provided by them are well written and super easy to follow. They contain step-by-step instructions that walk you through the cooking process, along with photos. The dishes are worthy of a good gourmet restaurant but without being too complicated to prepare.
The boxes of Plated contain several paper bags with the ingredients necessary to prepare a meal. You have the ingredients and the recipes to keep it simple. The presentation and packaging are impeccable, and the products seem fresh.
Once you open the box, you will find that all of the ingredients are also with labels. If you opt for a non-vegetarian formula at Plated, your meat and fish will be vacuum-packed to preserve freshness. Both companies Home Chef and Plated, use recyclable plastic.
Plated and Home Chef think about their environmental impact, which spills over to the whole business. Your food is delivered in a recyclable cardboard box. They keep all the ingredients separate. Plus, there are insulated liners keeping food cold and multiple ice packs to keep your food fresh. As the box contains fresh products, it is necessary to take care of them. Separate what should remain in the fridge.
Winner: Tie
Home Chef and Plated are quite careful about the selection of ingredients and recyclable packaging. On their websites, they also give recommendations for packaging recycling.
Ordering Process
Before you can choose the dishes, you should do a little preparatory work with Plated and Home Chef. The first step is to indicate your dietary preferences to direct the teams to our favorite menus. Then, specify the number of meals to order and the number of people who will enjoy the meal. Registration with an email address and creating an account is obligatory. Write your address, specify the desired delivery day, credit card number, and start building your box.
At Plated, the menus offered are traditional but also of the "world cuisine" type. There is something for every taste. Vegetarians are free to pick up dishes suited to their diet by using the "veggie" filter. If you wish, Home Chef offers to add supplements to the order, including desserts and extras. Nothing is mandatory so if I don't want it, go to the next step.
It is possible to know in advance the contents of the desired meal kit. The menus are put online four weeks in advance. Thus, customers understand what the baskets contain, which allows them to suspend delivery if the menus offered at Home Chef and Plated do not correspond to their desires and needs.
Winner: Home Chef
Both companies offer gift cards, free recipes, and an effortless registration process. What we do appreciate is that Plated provides free delivery with orderings over $60. Home Chef has now paid delivery. However, the total cost of meals is cheaper, which makes it a winner.
Support
When we compare Home Chef vs. Plated, both providers are way ahead concerning support and customer service. If you have any questions or comments, you are welcome to contact customer support teams by email. It is also possible to contact them by phone and live chats.
Home Chef and Plated have also created separate FAQ sections on their homepages. New customers who have not yet had any experience with the meal kit delivery services take advantage of it. All relevant information is there, including an explanation of the general concept, the benefits of companies, or suppliers' introduction.
If you want to cancel your subscription to meal kit boxes at Plated, it is not that much of a hassle. Log in to your account, go to settings and unsubscribe.
Winner: Home Chef
Though the difference between Plated and Home Chef is not that big regarding the support team, Home Chef offers a more extensive FAQ section.
Conclusion
Winner: Home Chef
Our test, where we compare two popular services, helps users answer the question, "Which is better Home Chef vs. Plated?" Home Chef convinced us in almost all respects in the comparison. The offer is extensive and should satisfy every food-lover. The ordering process turned out to be very uncomplicated. It is a fair offer with an excellent price-performance ratio. Dishes are more manifold and straightforward, compared with Plated's refined and sometimes complicated recipes.
If you want to live healthily and your diet should be nutritious, contain fresh and organic foods, ordering the Home Chef box is worthwhile to make your experiences. You shouldn't have any ingredients at home with the best delivery service. Everything you need to cook exemplary dishes will arrive in the cooking box.