Cook healthy and gourmet dishes – it is what many of us want. Preparing meals on your own has many advantages: You determine and control which and how many ingredients you use. You save money because you and your family do not eat out. But let's be honest, sometimes it's just not fun to make the food yourself. On the one hand, you have to think about what you want to prepare, find the right ingredients, and buy them.
In our comparison, Home Chef vs. HelloFresh, we found out that both services follow the goal of making cooking easy and healthy.
Short Overview
Home Chef
Recipe selection per week: around 19 dishes
Quality of the ingredients: occasionally organic, non-GMO
Special diets: vegetarian and vegan, low-carb, low-calorie
Shipping costs: from $7.99 to $13.99
Home Chef pays attention to creating weekly menus that would suit a large audience with different preferences. The service takes care of the selection of quality ingredients, creating fascinating recipes and unusual combinations. Becoming a real chef is not that difficult. After several orders, you may change your attitude towards healthy food.
HelloFresh
Recipe selection per week: 23
Quality of the ingredients: no added hormones, highly sourced meat and fish
Special diets: calorie-conscious, carb-conscious, vegetarian, vegan
Shipping costs: $8.99
With HelloFresh, fresh groceries come straight to your house in a box every week. It also contains a high proportion of organic products. Since all the HelloFresh ingredients required for this have a fixed amount, you take action against food waste. It goes hand in hand with a balanced and healthy diet and a lot of time and money savings.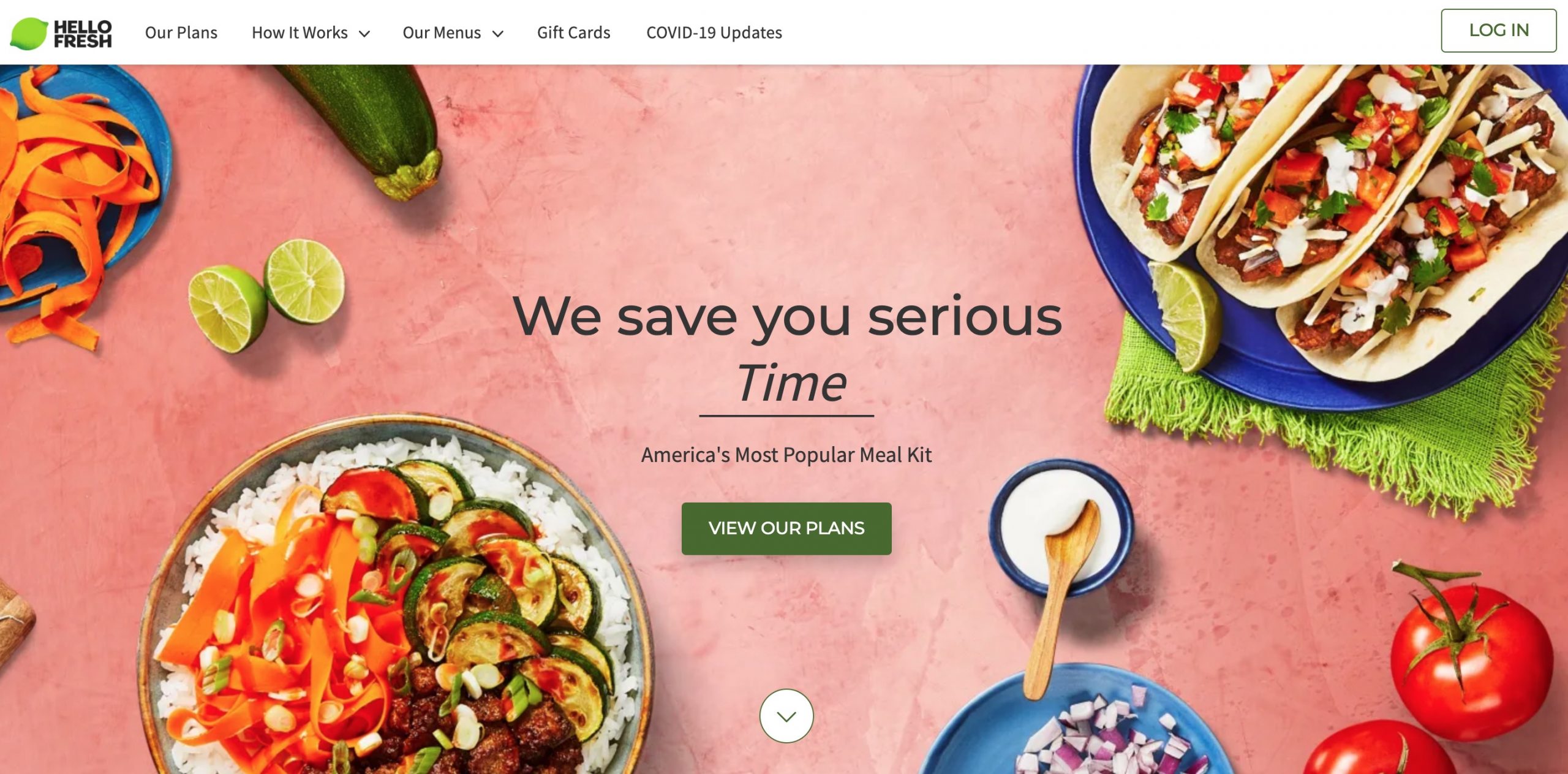 Pros/Cons
Home Chef
Pros
All-round carefree package with all ingredients and recipes for several meals
Fresh, high-quality ingredients
Meat, fish, and vegetables from organic farming
One delivery per week in special cool boxes at fixed times to the desired address
Choice of two to six meals per week, depending on the size of the household
Cons
Not all ingredients are organic
Lots of plastic packaging
HelloFresh
Pros
The wide selection of meal recipes
Convenient app and website
Takes your preferences into account
Pays attention to quality ingredients
Posts all nutritional information online
Easy-to-follow recipe cards
Cons
No keto or paleo options
No customizing feature
Pricing
Home Chef
You pay $6.99 per serving, no matter what dishes you choose. The price per shipping changes depending on the number of people and meals. If you make a large order, you pay $7.99 per shipping.
HelloFresh
When we compare Home Chef vs. HelloFresh, the delivery always costs $8.99. If you make a large order or a small one, you pay the same amount per delivery.
| | | | | |
| --- | --- | --- | --- | --- |
| | 2 recipes per week | 3 recipes per week | 4 recipes per week | 5 recipes per week |
| 2 servings | – | $8.99 | $8.99 | $8.99 |
| 4 servings | $8.99 | $7.49 | $7.49 | – |
Types of Menu
Home Chef
Home Chef attaches great importance to healthy and fresh products. The recipes are seldom repeated and become the customers' declared favorite recipes. Home Chef delivers throughout the USA. The meal delivery services use special cool boxes so that your food should stay fresh. If you are not at home during the delivery time, you can authorize the delivery driver to leave it in front of your door.
Quality ingredients don't just taste better—they can be healthier and make you feel better too. Home Chef uses organic food and sustainably-sourced meats as the backbone of its delicious recipes.
While other companies may be a bit limited with what they can accommodate, with Home Chef, you find tons of recipes to help you maintain a vegan or vegetarian diet. You can also search the recipes by meal plans, such as 15-minute meal kits or easy prep. Other possible filters include:
Calorie-conscious
Carb-conscious
Less than 30 minutes
Mushroom Campanelle, Popular Pepper Shrimp – it sounds creative and complicated, but it isn't. It takes around thirty minutes to prepare a dish. On the website, you may look at the recipes and find out which ingredients the meal contains. The vegetarian menus include great dishes and not just like everything as usual, only without meat. The "Customize it" option allows you to change the type of protein of a selected meal.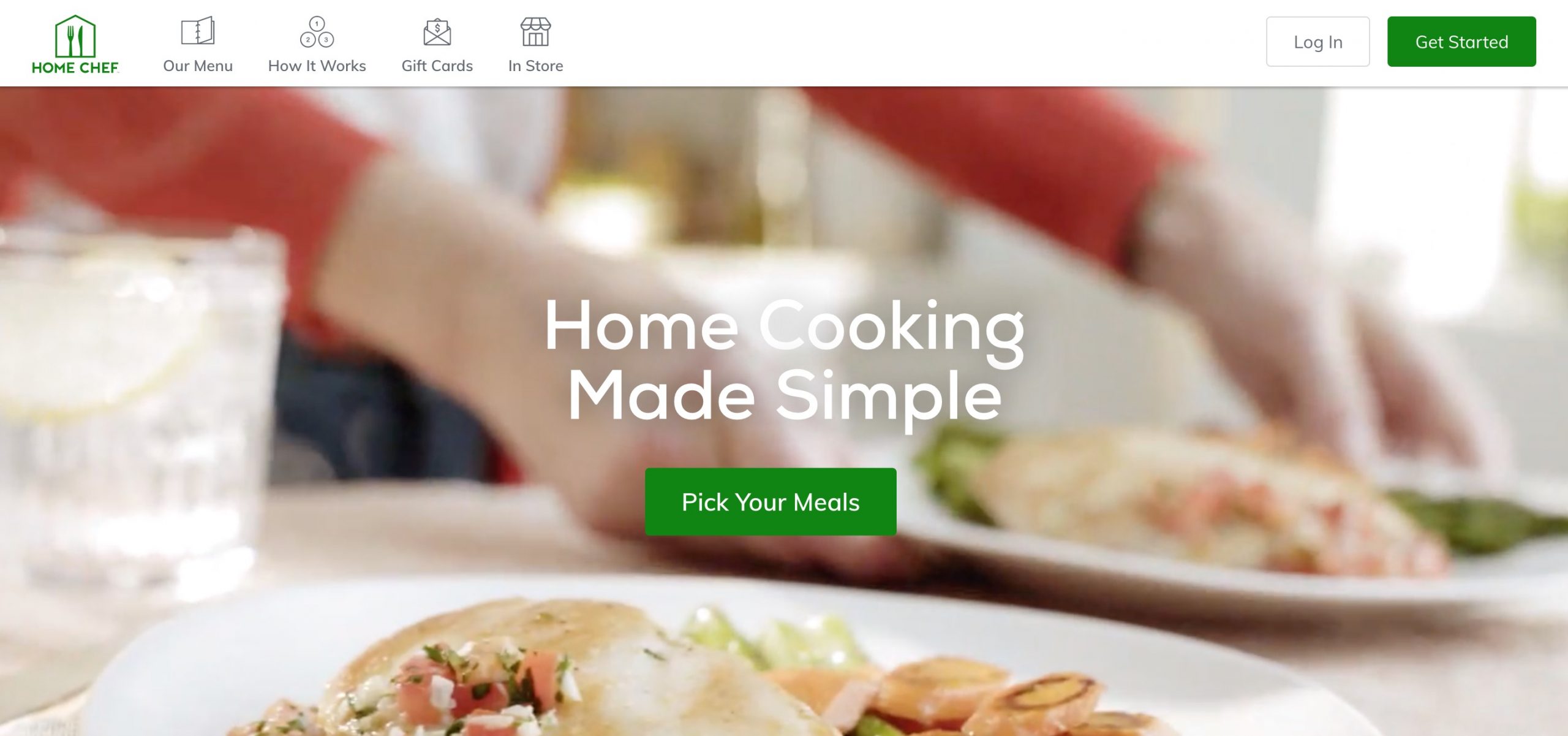 HelloFresh
Choosing which is better Home Chef vs. HelloFresh, the second one shines with flexibility. Depending on your wishes, you can have 2-4 dishes delivered per week for 2 – 4 people. You get the dishes delivered to your home once a week (on the day of your choice). For each dish, you find a HelloFresh recipe card and the corresponding bag with the ingredients. The recipes have a step by step explanation, and everything you need is there. Super practical and uncomplicated.
Despite the possibility of specifying the number of people and meals, HelloFresh offers other options for the boxes' contents. Within the standard boxes, you are free to filter the dishes according to various categories:
Meat & Veggies
Veggie
Family Friendly
Calorie Smart
Quick and Easy
Pescatarian
Take a look at a HelloFresh time-saving variant, which only contains recipes that take no more than half an hour to prepare. The offer also includes a vegetarian alternative without fish and meat. The "Meet & Veggies" option is a great choice when you enjoy the HelloFresh culinary diversity and new, unexpected meals. The fourth option at HelloFresh is eating light foods with meals less than 650 calories each.
Users get access to the menu of the respective week on the HelloFresh website or via the app. Developed together with chefs and nutritionists, HelloFresh impresses with its refined recipes. Such a combination of classic components with something unusual let everyone diversify their everyday life.
Winner: Home Chef
Home Chef boxes allow you to train your creativity while cooking. You get to know more new vegetables and new products and deliciously prepare the food than on HelloFresh. The cooking boxes help you to make your diet healthier in the long term.
Boxes
Thinking about recipes, shopping, weighing – you shouldn't do this because HelloFresh and Home Chef deliver a great cooking box to your house. They offer prepared foods and pre-weighed ingredients that make cooking easy, healthy, and fun.
No matter classic or vegetarian – HelloFresh boxes contain food of high quality, seasonal and regional. In the boxes, you find the pre-cut ingredients, including recipes and step-by-step instructions.
HelloFresh's users have more than 15 delicious dishes to choose from each week. You may order cooking boxes in just a few minutes, and it takes between 20 and 45 minutes to prepare. If you have decided on a dish, everything you should do is select a suitable cooking box size: 2 or 4 servings.
The great thing about the Home Chef or HelloFresh cooking boxes is that you can rely on the products' excellent quality. Home Chef not only advertises the use of worthy ingredients but guarantees it through ongoing quality controls and cooperation with partner companies.
Home Chef currently offers cooking boxes for two, four, and six people. Order a dish for yourself and your partner or the whole family. You get a chance to choose from 2 to 6 recipes per week. Customers are welcome to select the delivery date themselves. The ingredients arrive fresh. Food is in insulated reusable packaging. Without a doubt, sustainability is an essential issue to Home Chef and HelloFresh.
Winner: Home Chef
The thing that distinguishes Home Chef cooking boxes is their versatility. With the boxes, you learn new recipes and add variety to your food and your menu.
Ordering Process
The ordering process runs fast and straightforward at both HelloFresh and Home Chef sites. First, you choose the number of people and meals, then specify your preferences. Indicate personal details, the preferred method of payment, and delivery date.
At HelloFresh, choose from the Classic Plan or the Family Plan, which can be booked for two or four people, two, three, or four days. Despite the vegetarian dishes, the Classic Box also contains fish and meat dishes. The HelloFresh meal kit's price range starts at $7.49 per serving with an additional shipping cost of $8.99. Also, delivery takes place between 8:00 a.m. and 8:00 p.m. It is unnecessary to be at home to get the delivery (the ingredients are well packaged and are fresh).
Home Chef offers a weekly changing selection of around 19 dishes. It is excellent compared to other meal kit suppliers. The composition of the dishes from the various categories is also exemplary. The price per serving is $8.99 with a $7.99 shipping cost.
As an existing customer, you have a subscription, which means that a cooking box in the size you ordered last time comes automatically once a week. Making a new order is not a necessary step. However, an option of swapping a menu for the following week is available.
If you want to cancel the subscription, HelloFresh and Home Chef have the option of pausing. It's practical when you are on vacation.
Winner: Tie
Ordering from HelloFresh and Home Chef is very easy, both for new customers and later with a subscription.
Support
When we compare HelloFresh vs. Home Chef, the operation of the HelloFresh website is intuitive and user-friendly. With just a few clicks, you may get to know the offer. The mobile versions of Home Chef and HelloFresh also have excellent quality – you won't face any technical problems.
Most users are enthusiastic about the HelloFresh fresh ingredients and engaging recipes, while others enjoy fast and uncomplicated deliveries. If any problems occur, a responsive support team and an extensive FAQ section should accompany users in solving problems.
Home Chef lets users reach the support team via submitting a request or making a call. However, if your issue is to cancel a subscription or skip a week, go to the account settings—the same works for HelloFresh. Contacting is available using live chat and call.
Both HelloFresh and Home Chef know how to inspire their customers. With the focus on healthy nutrition and striving to be the best delivery service, every provider tries to maintain an intensive exchange with its customers. They run blogs and publish professional photos of meals to inspire people.
Winner: Tie
In the comparison Home Chef vs. HelloFresh, both food delivery services may answer all your questions and solve any problems. And most of the answers to frequently asked questions have already been published in the "Help" sections.
Conclusion
Winner: Home Chef
The difference between HelloFresh and Home Chef in prices or food quality is not that big. Both companies' approaches to producing quality food are high and commendable. The provider of cooking boxes, Home Chef, convinced us in our comparison with its overall package. It impresses with its ingenious system of varied, healthy menus and easy ordering. The delivery service is reliable and the quality of the food delivered is excellent.