You are familiar with the dilemma yourself: You want to eat healthy and balanced, but you don't have the time to pick out suitable recipes, buy everything, and cook fresh. There are many ingredients only in larger containers/packs, and if you only cook for one or two people, the rest ends up in the trash. However, the solution to this problem already exists.
Food delivery services take responsibility for providing you with fresh ingredients, detailed recipes, and convenient delivery. In our comparison HelloFresh vs. Blue Apron, we try to compare the options offered by both services.
Short Overview
HelloFresh
Recipe selection per week: 23
Quality of the ingredients: hormone-free meat, farm-raised and wild-caught fish, seasonal products
Special diets: low-calorie, low-carb, beef-free, pork-free, seafood-free, vegan, vegetarian
Shipping costs: $8.99
The famous German provider HelloFresh is available throughout the USA. It impresses with an exciting and innovative concept. HelloFresh relieves the customer of all the burdens associated with healthy eating. From choosing or creating the recipes, choosing and purchasing groceries, to convenient delivery, the company ensures efficient service. The HelloFresh recipes impress with rare ingredients and get to know new tastes. The wholesomeness and taste characterize the resulting meals.
Blue Apron
Recipe selection per week: 3-11 dishes per menu
Quality of the ingredients: no added hormones and antibiotics, non-GMO
Special diets: vegetarian, carb-conscious, diabetes-friendly, WW Approved
Shipping costs: $7.99, if more than three meals per week – free
Blue Apron has been active since 2012 in the USA. Such a long period of existence suggests the service is popular and in demand. Without a doubt, delicious recipes and selected ingredients have made many people's lives much more manageable. The Blue Apron company's concept is clear: to choose fresh ingredients, create unusual recipes and delight its customers with the simplicity of cooking.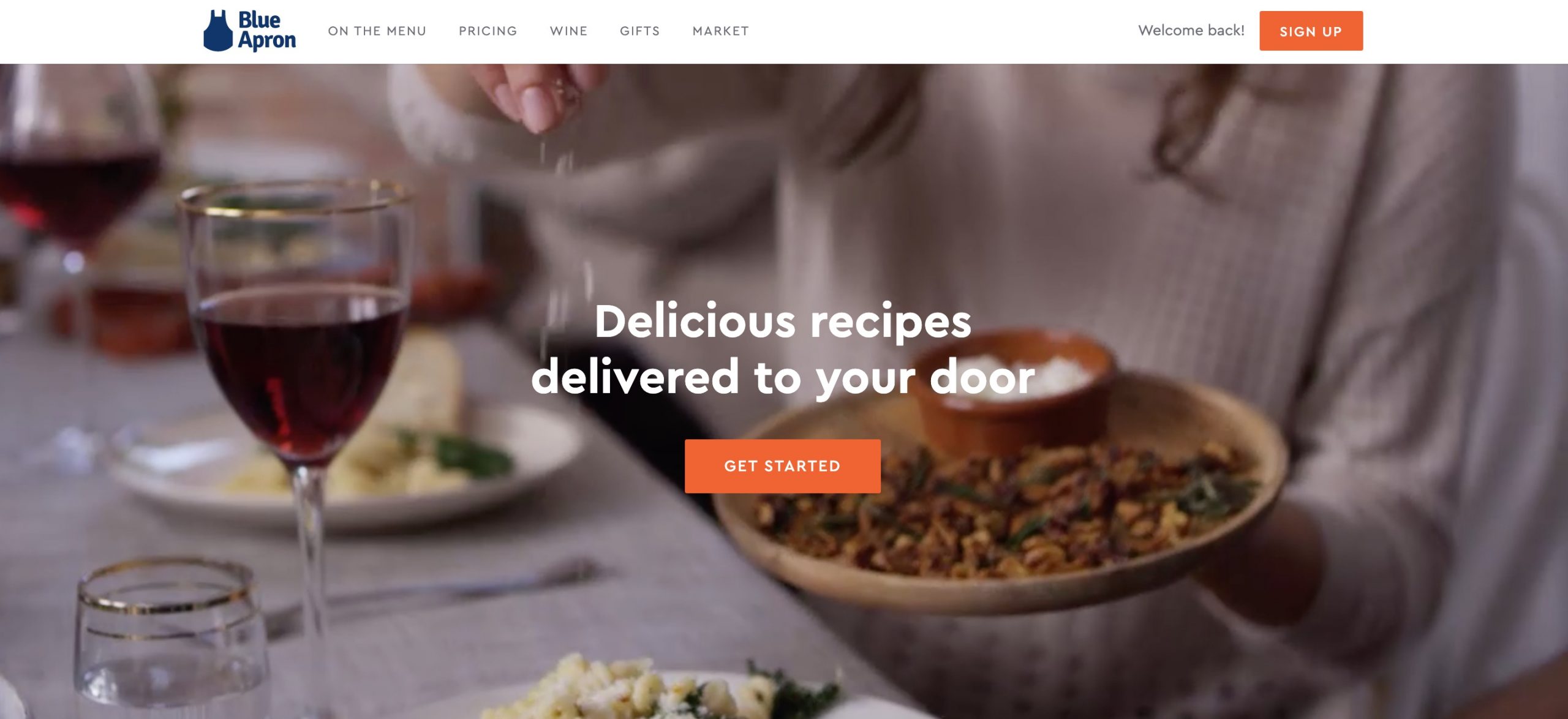 Pricing
HelloFresh
The concept is clear: the more servings you order, the less you pay for one dish. The table shows the HelloFresh prices per serving. Plus, you pay extra for shipping, which costs $ 8.99.
| | | | | |
| --- | --- | --- | --- | --- |
| | 2 recipes per week | 3 recipes per week | 4 recipes per week | 5 recipes per week |
| 2 servings | – | $8.99 | $8.99 | $8.99 |
| 4 servings | $8.99 | $7.49 | $7.49 | – |
Blue Apron
Prices are per serving. Shipping of two portions costs $7.99 at Blue Apron. If you are ordering for a large number of people, you may save on shipping. With three servings, you get a free Blue Apron shipping option.
| | | | | |
| --- | --- | --- | --- | --- |
| | Signature | Signature for 4 | Vegetarian | Wellness |
| 2 recipes | $9.99 | $8.99 | $9.99 | $9.99 |
| 3 recipes | $9.99 | $7.99 | $9.99 | $9.99 |
| 4 recipes | $9.99 | $7.49 | – | – |
Types of Menu
HelloFresh
Under the motto "We save you serious money, time, stress," HelloFresh wants to provide a remedy. At HelloFresh, you order so-called cooking boxes by purchasing a subscription. The provider delivers the foods to your home at regular intervals, containing everything you need to cook delicious dishes. It's a great solution if you are busy at work.
HelloFresh attaches great importance to the quality of the ingredients. Wherever possible, they are organic. To meet these requirements, the company works with its suppliers and selects high-quality products. Besides, it's easy to conjure up a healthy and wholesome meal on the table.
The HelloFresh philosophy is to use fresh and high-quality ingredients, increase awareness of nutrition and enjoyment. Everyone gets the opportunity to improve the cooking skills with this food delivery service. The idea of ​​sustainability also means that only the right quantities of ingredients end up in the boxes. Forget about throwing away the spoiled foods!
The following options are available at HelloFresh:
If you want to experience culinary diversity on your plate, it is a great choice.
All dishes do not contain meat or fish.
All dishes you can cook with the ingredients have less than 650 calories per serving.
All dishes need a maximum of half an hour to be ready.
An excellent combination of seafood and veggie dishes.
Even kids should appreciate these meals.
When we compare HelloFresh vs. Blue Apron, if you have strict dietary preferences, HelloFresh is more diversified. Low-calorie, vegetarian, and pescatarian diet plans are more than the offer of Blue Apron.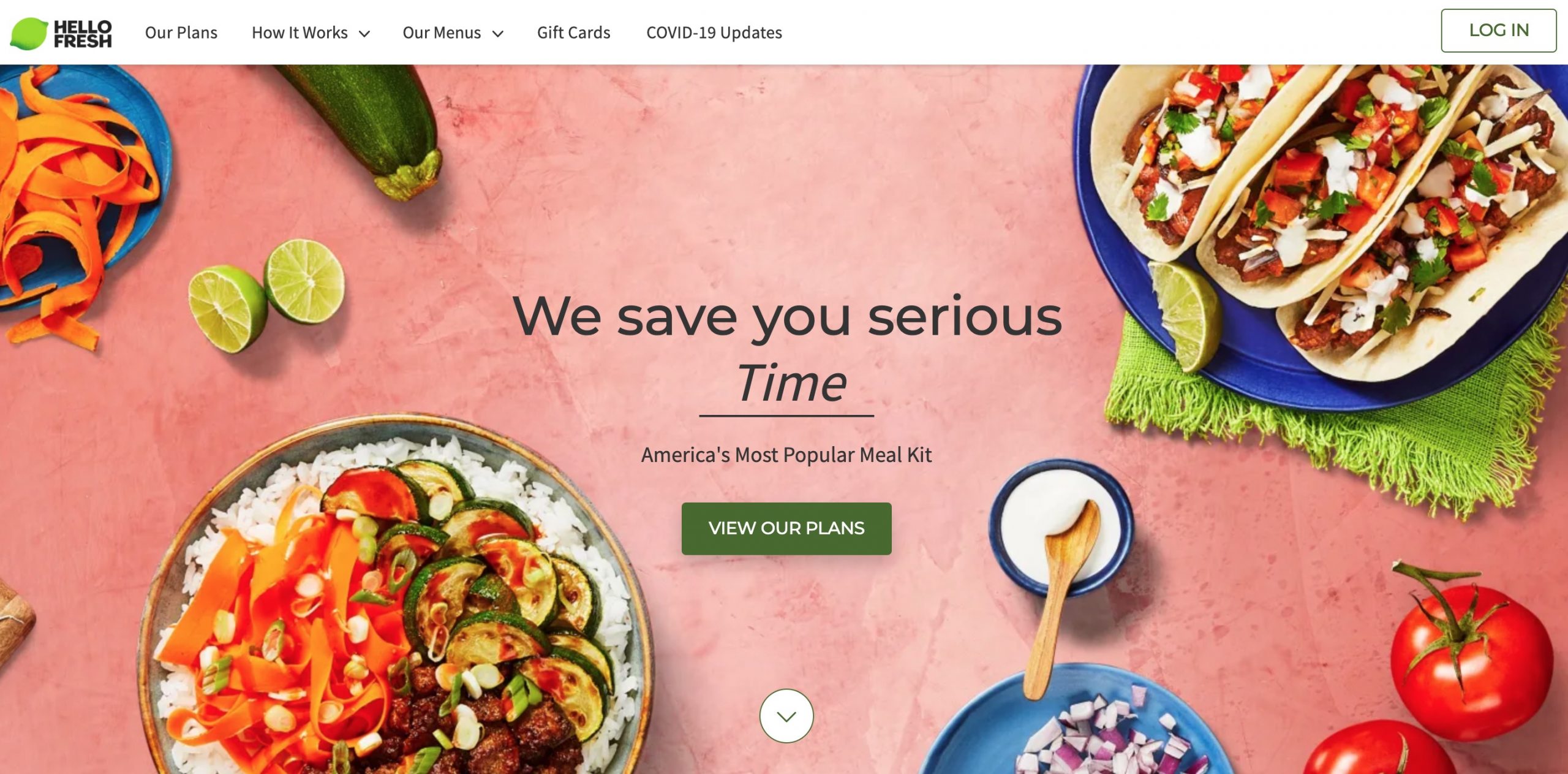 Blue Apron
The Blue Apron company always makes sure that the ingredients are fresh, high quality, and healthy. All recipes are put together by nutritionists and chefs, avoiding unnecessary flavor enhancers and preservatives. When using the Blue Apron meal delivery service, following a balanced diet is more straightforward. The exact proportion of organic food at Blue Apron varies depending on the recipe, availability, seasonality, etc.
The meal kits offered by Blue Apron don't cater to the dietary preferences. However, since you are always informed of the exact contents of the next box a few days before delivery, you have the option of buying replacements for incompatible components. A chance of deselecting some products from your meal can also help to make a choice. These options include:
Pork
Shellfish
Beef
Fish
Lamb
Poultry
In our comparison Blue Apron vs. HelloFresh, there were four Blue Apron menu plans:
Signature
Signature for 4
Vegetarian
Wellness
They suit people with different lifestyles. But the quality of the products is impressive at Blue Apron. Menus include Beyond Meat, carb-conscious, WW Approved, Diabetes-Friendly recipes. As described above, you specify your preferences and then receive appropriate recipes and ingredients. However, you may also change your subscription preferences and choose other recipe combinations at Blue Apron.
Every week there are 12 different recipes, which you can always look at on the website four weeks in advance. If you don't like some ingredients, change your preferences, recipe selection, or pause the subscription.
Winner: HelloFresh
HelloFresh wins in this aspect because its menus are more varied and unusual than on Blue Apron. Having dietary preferences, you find more suitable meals on this site.
Boxes
If you're one of those people who think you can't cook, the cooking boxes may teach you better. Everyone has many chances to learn how to cook healthy meals with the right instructions. HelloFresh boxes contain the ingredients and some prepared foods, precise instructions on how to cook dishes. The instructions have a clear structure and engaging illustrations. Even children understand the cooking steps and learn how healthy food preparation works.
The Blue Apron boxes contain various proven meals from all over the world and open your eyes to other countries' cuisine. You see more green vegetables on your plate, which allows you to lead a more balanced life. In the Blue Apron cooking box, you find the ingredients, so you shouldn't buy anything except for salt or vinegar ingredients. The best part is that the foods are weighed and packaged.
What is particularly good about HelloFresh or Blue Apron boxes is that they give you a better overview of your food supplies, and you throw away less food in the long run. Even before starting cooking, you notice how good everything is packed. Thanks to the ice pack included, the fresh ingredients stay chilled. Both HelloFresh and Blue Apron present the dishes from their cooking boxes in a very appealing way. The photos of the step-by-step preparation of meals make everyone want to cook.
Last but not least, sustainability should be an essential issue to the best delivery service. Blue Apron and HelloFresh use lots of packaging materials. They select recyclable materials to reduce the environmental impact. Concerning the vast amount of spoiled ingredients that end up in the trash every year, companies measure the ingredients based on the desired number of people.
Winner: HelloFresh
A page dedicated to recycling the whole box and its components is a big plus. HelloFresh takes the necessary steps to minimize the negative impact on nature.
Ordering Process
The HelloFresh service works with uncomplicated and straightforward processing. After selecting the appropriate box online, the customer orders the box to the address of his choice and at the same time subscribes to weekly delivery. Nevertheless, there is no compulsion because whoever wants can skip a week or pause the subscription at any time. The price per serving varies depending on the number of meals. It starts from $7.99 with an additional $8.99 per shipping.
The HelloFresh website has a good and simple structure. First, you specify whether you want to cook for two or four people, choose whether you wish to have two, three, or five meals delivered per week. Personal preferences are then determined. Decide on a box and select the delivery day and location. Specify the name, address, and preferred payment method.
Due to the freshness promise, changes in orders via HelloFresh are possible until Wednesday. If you are on vacation, you can pause or cancel your cooking box's delivery via your customer area.
When we compare which is better HelloFresh vs. Blue Apron, you also look at the dishes offered. The choice of meals is vital at Blue Apron. Whether the Signature, Wellness, or Vegetarian meals, many get their money's worth here. Each portion costs $9.99 at Blue Apron, excluding Signature for 4 with $8.99 per serving. You get free shipping if you choose more than two recipes per week.
After you made a selection, enter your name, address, zip code, and phone number. If there are any delivery instructions, there is a field of writing everything you want. Choose meals and wait till your boxes arrive.
Although Blue Apron works based on a subscription, you can cancel or pause it at any time. You do not enter into any further obligations, and there is no minimum term. When the Blue Apron box arrives at your home, start cooking. It sounds simple, doesn't it? It's how it should be!
Winner: Blue Apron
Blue Apron guarantees savings in shipping if you make large orders. In the long run, it may spare you a lot of money.
Support
Buyers and interested parties who want personal contact enjoy a live chat and a calling option at HelloFresh. Contacting the Blue Apron support team is possible via submitting a request, making a call, or sending an email. Customer services are competent and friendly. They strive to answer queries as quickly as possible.
If you would like to know general information about the Blue Apron and HelloFresh companies, sourcing ingredients, or account management, look at the FAQ sections. There you find useful advice on packaging recycling, gifts, discounts. Companies also run engaging food blogs that make you want to cook and create.
Winner: HelloFresh
HelloFresh's FAQ section is detailed and thorough. The answer to any question takes into account all the nuances.
Conclusion
Winner: HelloFresh
In our test, we paid attention to several aspects. Although the difference between Blue Apron and HelloFresh is not so significant, HelloFresh attracts us with its quality. A varied menu that changes every week, fair prices, and convenient service. The HelloFresh site has chances to satisfy a broad audience's needs and allow everyone to cook gourmet cuisine at home.
Healthy living and conscious enjoyment are the focus at HelloFresh. Without a doubt, the offer is aimed at customers who like to cook and try new things. Cooking becomes a favorite hobby.