After a hard day at work, you go to the supermarket with no idea what to cook. The time you spend on selecting recipes, preparing ingredients and cooking leaves no chance to relax. HelloFresh and Gobble offer you the possibility to have your food delivered to your home. You shouldn't come up with ideas of what to cook. You may decide what you would like to eat with a simple click of the mouse in the future. In our comparison Gobble vs. HelloFresh, we share our thoughts on both services.
Short Overview
Gobble
Recipe selection per week: around 25 recipes, including desserts
Quality of the ingredients: fresh, nutritious, balanced
Special diets: vegetarian, low-calorie, low-carb, lean-protein; some are dairy-free, nut-free, gluten-free
Shipping costs: $6.99
The Gobble service delivers meal kits throughout the USA. Customers receive the right amount of food to create a delicious meal. No wonder it reduces the time and effort involved in cooking. You save mountains of dirty dishes at the same time.
HelloFresh
Recipe selection per week: around 23
Quality of the ingredients: no added hormones, fresh meat, fish, seasonal products
Special diets: vegan, low-calorie, low-carb
Shipping costs: $8.99
HelloFresh is a German company that works in many US states and countries. A team of nutritionists and chefs plans new recipes every week, thinking above all about a balanced, healthy diet. The choice of ingredients is aimed at supporting your health. With 500-800 calories per meal and person.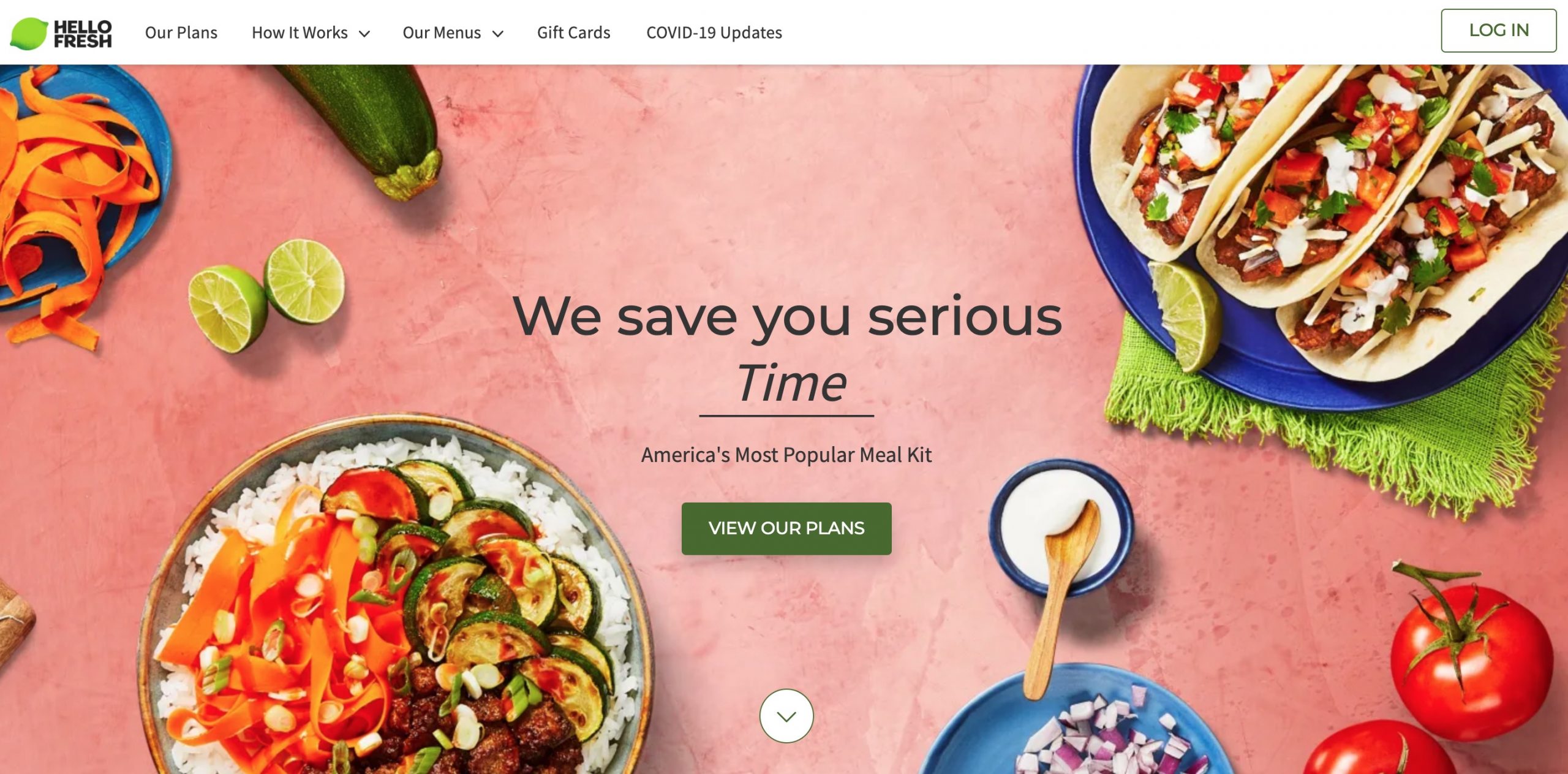 Pros/Cons
Gobble
Pros
Straightforward ordering process
Varied recipe selection
Organic food possible
Packaging concept convinces with the sustainable idea
Fresh condition of delivered ingredients
Step-by-step recipe cards
Easy cancellation
Cons
High price per serving
No mobile app
HelloFresh
Pros
Healthy ingredients
Organic quality, when it comes to meat
Creative cooking ideas
Detailed illustrated instructions
Hardly any leftovers
Vegan and vegetarian options
The number of people varies between 2-4
Cons
Sometimes complicated recipes
Significant amounts of packaging waste
Pricing
Gobble
From the table, you can see that the Gobble price remains the same with any number of servings and orders. If you've never used the Gobble service, you enjoy free shipping during the first week of usage.
| | | |
| --- | --- | --- |
| Meals per week | 3 | 4 |
| Dinner for 2 | $11.99 | $11.99 |
| Dinner for 4 | $11.99 | $11.99 |
HelloFresh
Shipping is not free – $8.99. If you order many dishes, the price per serving will be lower in the ratio.
| | | | | |
| --- | --- | --- | --- | --- |
| | 2 recipes per week | 3 recipes per week | 4 recipes per week | 5 recipes per week |
| 2 servings | – | $8.99 | $8.99 | $8.99 |
| 4 servings | $8.99 | $7.49 | $7.49 | – |
Types of Menu
Gobble
Everyone will get a desire to try new recipes when he enters the Gobble site. You also notice the care with which the provider chooses the ingredients. Each dish takes into account our daily needs and gives your body what it needs. Even low-carb fans should get their money's worth when choosing a dish.
Gobble pays excellent attention to serving lean proteins, healthy fats, dishes under 600 calories. Allergy sufferers breathe a sigh of relief. The recipes are flexible enough to replace food or left out if it poses a problem.
Gobble has two types of menu:
If you order the Dinner plan, the service's chefs do all the work to deliver you fresh, prepared foods. The Gobble team peel, chop, marinate dishes to make a cooking process faster. The Lean & Clean dinner plan focuses more on healthy products that cater to users with concrete dietary preferences.
Gobble proves that cooking can be easy and what you cook not only tastes good but is also healthy and looks fabulous. Even those who don't like preparing the dishes have no problems with these simple recipes. Those who frequently cook not only make cooking a routine with Gobble, they also improve their skills. Every dish helps you become a better cook.
Gobble offers a wide variety of recipes. There are a total of 15 recipes you can choose from every week. The Gobble cooking box's size varies between 2 to 4 people and between 3 to 4 meals per week. The price per serving starts at $11.99.
Gobble cooperates with small, regional producers and uses seasonal products. Its recipes have an international touch and offer the opportunity to try out different cuisines. The list of desserts with the list of ingredients is a useful option. Tags under each Gobble recipe help to discover the popularity or primary audience who preferred the meal. Tags include:
Vegetarian Favorite
Quick & Easy
Best Seller
Global Flavors
Hall of Fame
Kid-Friendly
Customer Favorite
Lean & Clean
Chef Pick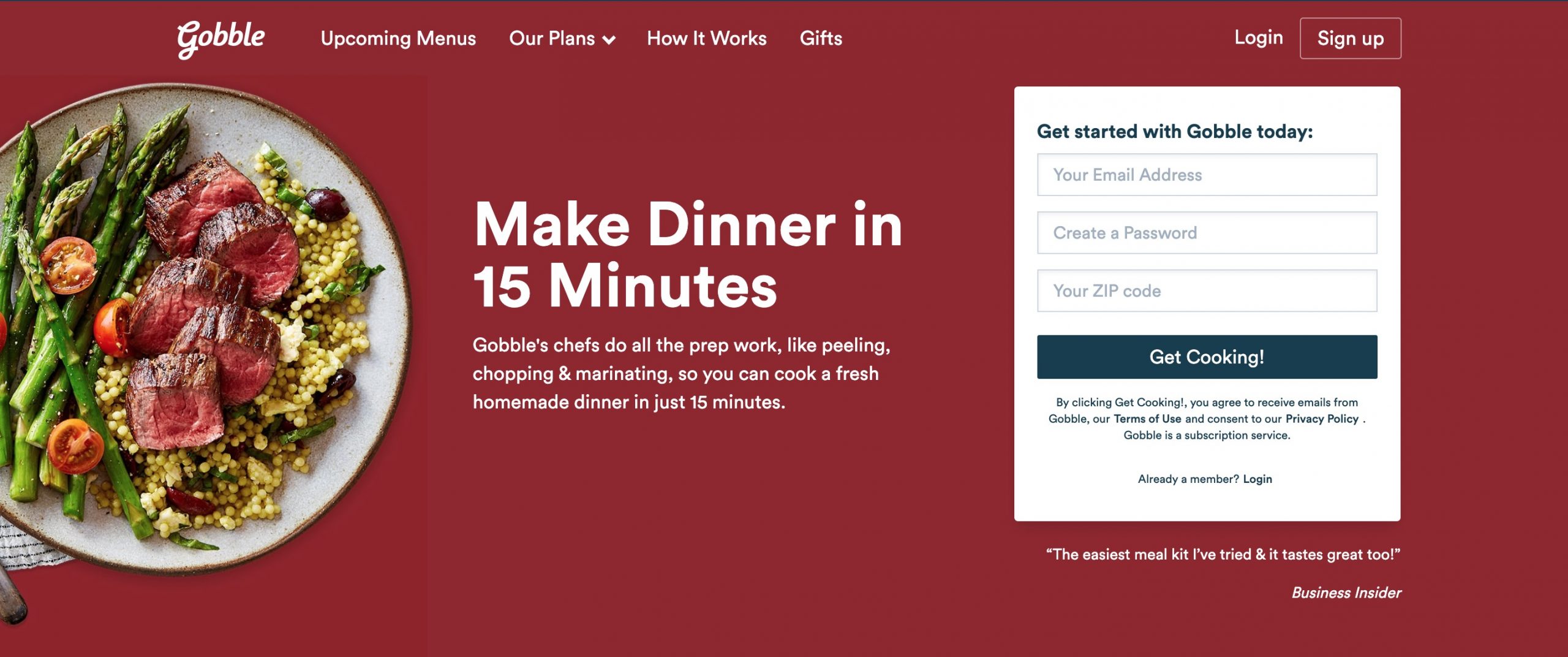 HelloFresh
When we compare Gobble vs. HelloFresh, the second service offers you a wide variety of recipes and matching fresh ingredients. Every week you may choose from the dishes and decide what you feel like cooking. Choose between vegetarian dishes, dishes with less than 650 calories, and if you have little time to cook, some dishes are ready in under 30 minutes.
The HelloFresh recipes are understandable and easy to follow, even if you are a beginner in cooking. A delicious meal is easy to prepare with selected ingredients. HelloFresh expands your eating routine and lets you know some international recipes.
A Classic box at HelloFresh contains dishes that may respond to several eating preferences customers have. It includes the following criteria:
Veggie: It includes vegetarian recipes of seasonal products. You may omit some ingredients to get vegan dishes.
Carb Smart: Those who follow a low carb diet enjoy such an option.
Kid-Friendly: Such a family formula offers quick-prepared meals, which the whole family will love.
Calorie Smart: If you perceive calorie counting as an essential factor in your diet, HelloFresh takes at your disposal a wide choice of dietitian-approved meals.
Quick: The preparation takes around 20 minutes.
Spicy: Want to add more flavors to your meals? Try this filter to find what meets your desires.
Your choice at HelloFresh is not limited to one cuisine. French, Asian, Mediterranean, Mexican, or Indian dishes add some diversity and unusual tastes to your everyday life. Great examples of dishes are Cheese Smothered Mushroom Chicken, Beef Bulgogi Bowls, and Creamy Lemon Spinach Ricotta Ravioli.
If you have any allergens, the option of skipping some products may simplify your choice. You may avoid:
Pork
Red meat
Milk
Mushrooms
Shellfish
Nuts
Winner: HelloFresh
The HelloFresh meal delivery service offers a variety of dishes inspired by cuisines from around the world. People with particular dietary preferences also have more choice here.
Boxes
Do you care about the environment and want to produce as little waste as possible? Most Gobble or HelloFresh boxes consist of 100 percent recyclable raw materials. The packaging waste goes into the paper bin. You may also recycle the HelloFresh ice packs and put them in your bag for the next picnic.
When it comes to freshness, both HelloFresh and Gobble don't spoil it and pack perishable food in a well-insulated plastic bag. The beef steaks and ricotta will be cold on arrival. Potatoes, carrots, and onions are pre-cut.
Concerning the prices, the two providers HelloFresh and Gobble, are on the same level. If you buy more recipes or more servings per recipe, the cost per serving becomes cheaper. The ingredients are all of good quality – including the meat. At least if you take a supermarket as the standard.
When choosing the best delivery service and discovering which is better Gobble vs. HelloFresh, the second one has handy recipe cards to prepare the dishes. On the front, there is an appealing photo of each dish, a small text about the recipe, and information on the preparation time, calories, etc. On the back, there is a list of ingredients. You also find information about which ingredients you should add and which kitchen appliances you need.
Winner: Tie
Both Gobble and HelloFresh favor recyclable or reusable packaging. Thus, they limit food waste by providing what is necessary to cook the desired dinner.
Ordering Process
The Gobble service operates through a system that delivers boxes every week. You start by personalizing your order. You should choose the meals among the 15 new recipes offered every week. Also, select the number of people to adjust the quantities of food products and the Gobble price per serving. Choose 2 or 4 people, 3 or 4 nights per week.
After all organizational matters have been clarified, take care of the essentials: the food. To this end, Gobble asks you about your preferences. You state whether you like poultry, beef, lamb, pork, fish, or shellfish. Choose between three Gobble plans available: Classic, Vegetarian, Lean & Clean. A few moments later, you get the recipe overview and choose between 15 available meals.
At HelloFresh, the operation of ordering the boxes is more or less the same. The boxes are available on a flexible subscription program: cancel the subscription without penalty, skip a week, change the portions or boxes chosen, etc.
The HelloFresh subscriber chooses online the number of meals and portions desired, the recipes from a list of 20 meals proposed. When you order, indicate your preferences: meat & vegetables, family-friendly, balanced, vegetarian. Ingredients to make the meals arrive at the address you indicated during registration. There are options to order for 2 or 4 people, choose 2, 3 or recipes per week.
Winner: HelloFresh
When comparing HelloFresh vs. Gobble, we should consider the price you pay for the complete box. The HelloFresh is cheaper and more varied concerning the options that Gobble.
Support
Most boxes are available by subscription, which has no minimum duration. The Gobble and HelloFresh providers should also make it possible to pause or cancel it at any time. The termination is straightforward. You may skip deliveries to four weeks in advance and cancel your subscription anytime you want.
If you have any questions or problems, contact customer support. While some food delivery services have only an email, contacting Gobble and HelloFresh is possible with one call.
Both websites have detailed FAQ sections. They cover some important questions, provide adequate answers and assist when you have difficulties.
The blogs of HelloFresh and Gobble are interactive and user-friendly. New recipes, daily inspiration, and cooking tips let you dream about your future gourmet dishes.
Download the HelloFresh app. You may click your way through the recipe database on the go and look forward to cooking.
Winner: HelloFresh
A convenient app, blog, and various contact tools speak for the HelloFresh service. If you want to get assistance, the answer will arrive as soon as possible.
Conclusion
Winner: HelloFresh
The difference between HelloFresh and Gobble lies in prices, meal complexity, quality, and convenience. HelloFresh guarantees high-quality ingredients in their FAQs, which should be fresh and tasty. A convenient app, blog, customer support should offer customers a successful experience. The variety of dishes and fair prices are important factors we paid attention to in our conclusion.
No wonder we choose HelloFresh as our winner in our comparison Gobble vs. HelloFresh. It lets you try out new things and look outside the box of your eating habits. Take a look at some other comparisons, make the first order and share your experiences with others.