Seeking recipes and writing shopping lists: it takes much time every day. No wonder many people try to spare time by seeking other alternatives. Some have already enjoyed the opportunities our modern world creates – meal delivery services.
In our comparison Freshly vs. Blue Apron, we pay attention to the services both companies offer. What is the best delivery service? Let's take a closer look at their features.
The concept of both food delivery services Blue Apron and Freshly, is to send you cooking boxes every week. You find fresh ingredients or prepared foods with explicit recipes. You no longer should spend time shopping and choosing the recipes.
Short Overview
Freshly
Recipe selection per week: around 30 recipes
Quality of the ingredients: no chemical preservatives, no artificial ingredients, no highly processed sugars
Special diets: gluten-free, soy-free, high protein, <500 Cal, dairy-free
Shipping costs: added after you specify your location
Freshly is an American company that supplies its customers with prepared foods every week. You choose the desired one from the 30 recipes available. Your box will contain delicious fresh dishes the Freshly's chef has already put together. The concept is different from other meal kit providers, but it has many advantages.
Blue Apron
Recipe selection per week: around 12 dishes
Quality of the ingredients: non-GMO, no added hormones, sustainable seafood, not fed antibiotics
Special diets: Beyond Meat, WW Approved, Diabetes-Friendly, carb-conscious
Shipping costs: 2 dishes – $7.99, more than 2 – free
American company Blue Apron delivers fresh ingredients to its customers. They are pre-weighed, cut, and packaged. However, you do the cooking process yourself. But cooking with Blue Apron is easy as the company publishes step-by-step recipes. At home, everyone has excellent chances to create a masterpiece to surprise friends and family.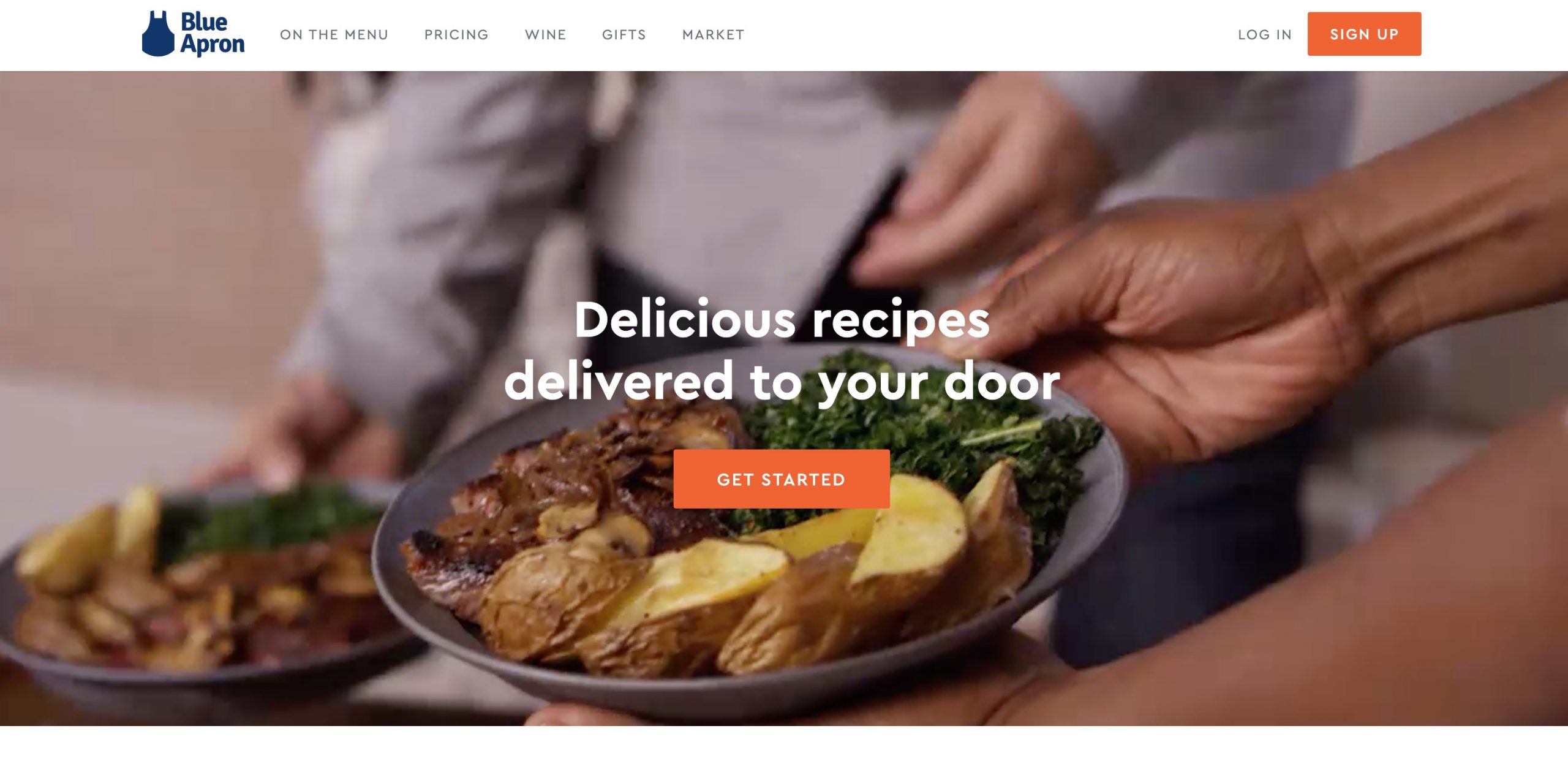 Pros/Cons
Freshly
Pros
Decide what you want to eat and when
Delicious choice of dishes
Easy preparation in a microwave
Saving time and effort
Various options to get support
Cons
No vegan or vegetarian options
Delivery price depends on the place of residence
Blue Apron
Pros
Step-by-step cooking instructions
Free shipping with large orders
Various menu plans
USDA certified organic food available
Balanced and healthy meals
Diabetes-friendly option
Reasonable prices
Cons
No customization available
Extra shipping fee with small orders
Doesn't cater to paleo or keto diets
Pricing
Freshly
When choosing the number of dishes, Freshly does not allow you to select the number of servings. The only possible criterion is the number of meals per week. The price per dish decreases when you choose more servings. The Freshly shipping cost is added after ordering.
| | |
| --- | --- |
| Meals per week | Price per meal |
| 4 | $11.49 |
| 6 | $9.49 |
| 10 | $8.99 |
| 12 | $8.49 |
Blue Apron
The four different menus you can choose at Blue Apron vary in price slightly. If you order for four people, the cost per serving is $1 lower. Concerning delivery, you get a box free of charge when ordering three or more recipes per week.
| | | | | |
| --- | --- | --- | --- | --- |
| | Signature | Signature for 4 | Vegetarian | Wellness |
| 2 recipes | $9.99 | $8.99 | $9.99 | $9.99 |
| 3 recipes | $9.99 | $7.99 | $9.99 | $9.99 |
| 4 recipes | $9.99 | $7.49 | – | – |
Types of Menu
Freshly
Freshly offers a wide variety of dishes and foods. Whether vegetables, fish, or meat, many products are available. In times of conscious nutrition, customers attach great importance to information about ingredients and nutritional values. On Freshly, you get answers to the questions concerning the dishes. An extensive table provides information about calorie value, fats, etc., with the ingredients listed.
If we compare Freshly vs. Blue Apron, Freshly provides its customers with ready-to-eat meals. The service works on a subscription basis. You order the dishes you want to get and choose the number of meals. Note that there is no possibility to adjust the number of servings. You get a one-person portion at Freshly.com. However, users are welcome to choose from 4 to 12 meals per week.
When you click on "Plans and Menu," you see the dishes Freshly offers this week. There are four menu categories, including:
Crafted Classics
Signature Collection
FreshlyFit
Takeout Twists
Choose meals you want to try. Some examples of proposed Freshly dishes are Steak Peppercorn, Cauliflower Shell Beef Bolognese, Zingy Buffalo Chicken. Meals you order via Freshy are gluten-free.

Blue Apron
When we compare meal delivery services, we should pay attention to the menus offered to decide which is better Freshly vs. Blue Apron. At Blue Apron, users receive everything they need to prepare delicious dishes in around 30 minutes. You have the choice between 12 different dishes per week. Before selecting the ones you want to order, you see pictures of the finished recipe.
You get an overview of ingredients, approximate cooking time, calories, and instructions on preparing a meal on the site. To give you an idea of what recipes the site offers, here are some examples:
Seared Scallops & Mushroom Risotto
Togarashi Chicken & Brown Rice Bowls
Sheet Pan Pork Sausage & Pepper Sandwiches
Korean-Style Beef Bowls
At Blue Apron, you can choose between four different types of cooking boxes.
Signature Box supplies you with vegetables, meat, and fish. These include classic and balanced recipes you may cook in 30 minutes. Beyond Meat, WW Approved, and Diabetes-Friendly recipes are possible.
Signature for 4 is a family box. Parents and their children get balanced and everyday recipes. The main ingredients are meat, fish, Beyond Meat, and green foods.
Wellness includes nutritionists-approved meals. The experts at Blue Apron consider balanced, carb-conscious, and WW Approved dishes.
The vegetarian box is a choice for those who lead a vegan or vegetarian lifestyle. It's a mix of seasonal, organic, fresh, and green food.
Many people pay special attention to the quality of ingredients. With Blue Apron, you get fresh and seasonal food delivery. The company does not want to disappoint its customers with low-quality meals. Since the boxes come packaged in transparent bags, you see the product's freshness immediately. In case your product looks spoiled when you open the box, please contact customer service. They refund the cost of the products.
Winner: Blue Apron
Delivery of quality ingredients to your home and cooking yourself are the advantages of the service. Its pricing policy also seems more attractive to us.
Boxes
What do you get by ordering a box at Freshly or Blue Apron services? With Blue Apron, you get weighted, sliced ​​products. They are in separate packages to help you find the right ingredients quickly. Freshly delivers ready-made meals in containers.
Since Blue Apron does not provide ready meals, you also get recipe cards in every box. On the site, you see step-by-step cooking instructions with visual illustrations.
Many users pay attention to the quality of packaging, its environmental friendliness, and recyclability. In this aspect, both Freshly and Blue Apron companies adhere to strict policies.
Blue Apron points out on its website that almost all packaging is recyclable. Since the ingredients are in separate packages, the amount of plastic in one box is quite large. No wonder the company has created an entire page explaining how to recycle all of the boxes. It has partnered with How2Recycle to be more eco-friendly.
As for Freshly, they also take care of the handling of containers, boxes, plastic bags. In the FAQ section, users can learn how to recycle materials.
Winner: Blue Apron
If you pay attention to the ingredients' quality, with Blue Apron, you can see them in separate packages. With Freshly, you get ready meals without seeing which components have been used.
Ordering Process
When you want to order a dish on any of the services, Blue Apron or Freshly, you should go through the registration procedure. You provide your email, password, name, credit card details, and shipping address. These are the details all food delivery services require.
The next step at Blue Apron is to choose how many people will eat and how many dishes you want per week. There are two or four servings possible with 2, 3, or 4 servings. Depending on how many dishes you want, the price increases accordingly. Shipping costs $7.99, but if you choose more than two servings or ordering per week, it is free.
Freshly has one serving and 2, 6, 10, or 12 meals per week. The shipping costs are added at the checkout. The Freshly price varies depending on how far away you live.
You receive the delivery to the address you indicated during the first order. Both Blue Apron and Freshly allow users to select new recipes every week. If you want to skip a week or more, go to your account settings and cancel your order at least six days before delivery.
In our comparison Blue Apron vs. Freshly, you choose your cooking box depending on the taste preferences, occasion, and budget. If you have found what you were seeking and have selected your cooking box, the one thing which remains is enjoying the meals.
Winner: Blue Apron
Blue Apron offers different numbers of servings and dinners per week. Shipping costs don't vary depending on the distance.
Support
Both Blue Apron and Freshly provide you help in any matters related to service, delivery, subscription. Websites have paid enough attention to creating detailed sections with frequently asked questions. New users can learn about all the features of delivery services, their nuances. If you have more personal questions, recommendations or suggestions, contact support services.
On the Blue Apron website, make a request, send an email or call the number listed on the website. Freshly, besides these options, has a live chat and chat with messages.
Both services have exciting blogs. There you read many fascinating articles about cooking, tips, and the choice of cooking accessories.
Since most consumers know how indispensable in life the smartphone is, Freshly and Blue Apron offer the possibility to order via an app. This step is more important for younger people because even children and students never leave the house without a smartphone.
Winner: Freshly
Freshly has more contacting options available. You may get in touch via chat, email, or phone number.
Conclusion
Winner: Blue Apron
The difference between Blue Apron and Freshly is quite significant. The first service offers delivery of ready-made meals that only need to be reheated. The Freshly portal allows you to select the desired meals you would like to cook at home. Both services are an excellent alternative for families who want to consume healthy and nutritious products but lack time to do shopping. They deliver ingredients to you in a specific quantity.
In our comparison, we chose Blue Apron as the winner. A more loyal pricing policy, a variety of dishes and recipes, the ability to cook yourself, and good service is what you get with the company. There are only a few simple steps to the finished dish, and the best thing is that everything is pre-cut. Precise cooking instructions let you prepare the dishes in around 30 minutes.