Cooking is fun, but it takes preparation, planning, and time. If you have little time, creativity, or talent in the kitchen, choose an alternative: a meal delivery service. It saves a considerable amount of time and relieves users of searching for the recipe and the food.
A cooking box is a package that contains selected recipes on recipe cards and the associated foods. It means users shouldn't worry about what they want to cook and what they should buy. In our comparison Dinnerly vs. HelloFresh, we review some of the options the services have.
Short Overview
Dinnerly
Recipe selection per week: 16
Quality of the ingredients: organic (some), grass-fed beef, pasteurized dairy products, no antibiotics in meat
Special diets: vegetarian, low-carb, dairy-free, no added gluten, low-calorie
Shipping costs: $8.99
The Dinnerly food delivery service has been active in the USA and other countries for some time. The company attracts new customers through the cheap pricing policy. Also, the concept is the same for both Dinnerly and HelloFresh providers. Customers receive ready-made cooking boxes with precise instructions and pre-weighted ingredients.
HelloFresh
Recipe selection per week: 23
Quality of the ingredients: hormone-free pork and chicken, sustainably sourced seafood, fresh vegetables
Special diets: vegan, vegetarian, low-calorie, low-carb, plant-based protein
Shipping costs: $8.99
A company from Berlin HelloFresh sends you fresh and fair ingredients straight to the kitchen every week, with the right recipes for exciting dishes. You may stay flexible with selecting your cooking box, whether vegetarian or classic, and with the selection and number of dishes.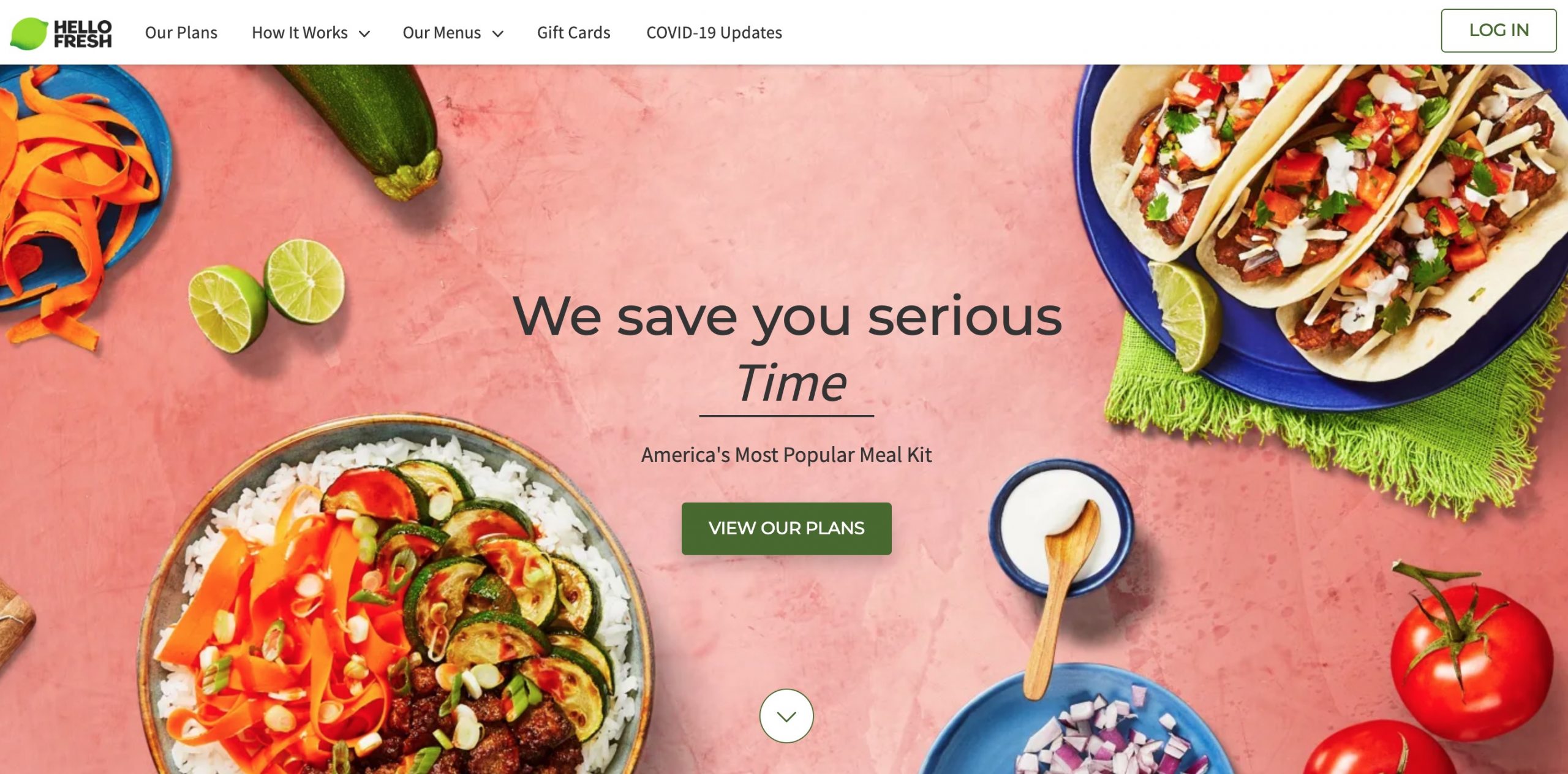 Pros/Cons
Dinnerly
Pros
Versatile menu
High quality and fresh ingredients
Prices start at $4.89 per serving
Modern and clear website
Low prices
First-class customer service
Lots of options for vegetarians and vegans
Cons
You cannot order a cooking box without taking out a subscription
No ingredients such as oil and salt
HelloFresh
Pros
Canceling subscriptions at any time
Cooking boxes at fair prices
Healthy and fresh ingredients
Customers have many different payment options to choose from
Modern and free app
Competent and friendly customer service
Cons
No gluten-free options
Additional shipping costs
Pricing
Dinnerly
The table shows the Dinnerly prices per portion. Shipping costs $8.99.
| | | | | |
| --- | --- | --- | --- | --- |
| Meals per week | 3 | 4 | 5 | 6 |
| Two-Person Box | $5.29 | $4.99 | $4.99 | $4.89 |
| Family Box | $4.99 | $4.99 | $4.89 | $4.69 |
HelloFresh
Here you also see the HelloFresh prices per serving. Additional costs include shipping at $8.99.
| | | | | |
| --- | --- | --- | --- | --- |
| | 2 recipes per week | 3 recipes per week | 4 recipes per week | 5 recipes per week |
| 2 servings | – | $8.99 | $8.99 | $8.99 |
| 4 servings | $8.99 | $7.49 | $7.49 | – |
Types of Menu
Dinnerly
Simple, fast, affordable – it is how Dinnerly advertises its cooking boxes and keeps its promise. The range is good despite the reduction of the dishes to just a few ingredients. Orders online, having no commitments, small prices, delicious dishes with little preparation effort – what could be better?
Dinnerly has the slogan "meat the affordable meal kit" and focuses on a corresponding offer. Here, you get cheap dishes to cook yourself. The company works like other meal delivery services: you choose the desired box online, order it. The box is chilled, and the ingredients stay fresh. You prepare the ingredients according to the Dinnerly recipe provided.
Taking out your Dinnerly subscription is possible for an indefinite period. However, you have the right to cancel and pause it at any time.
At Dinnerly, you order a delicious cooking box with just a few clicks. First, choose an exciting recipe and set a delivery date. You get your ingredients in a chilled box and start preparing your delicious meal. No wonder, Dinnerly may satisfy everyone who values ​​homemade food and wants to avoid a lot of dirty plates.
New menus every week with something for every taste is what you get with Dinnerly. After you look around, you find that the platform is cheap compared to other providers. Here, you get a delicious cooking box starting at $4.89 per portion.
Everything is prepared in just five steps – it's a promise from Dinnerly. The goal is easy to achieve by reducing the number of ingredients. At the same time, you have an unlimited choice of products, meals, and ingredients. There are two types of boxes:
Two-Person Box
Family Box
From General Tso's Chicken Fingers to Smoky Pan-Roasted Steak, from Steak Quesadillas to Lemony Chicken Linguine, Dinnerly offers a wide choice of unusual meals. The advantage: less cutting and other preparation before cooking.
With a selection of 16 recipes per week, you also get an opportunity to choose dishes that meet your desires and eating preferences. Tags added to each meal show what criteria it meets. You may find the following tags:
Kid-friendly
Vegetarian
Under 30 minutes
Low carb
Healthy
Dairy-free
No added gluten
Low-calorie
Seafood
Nutritious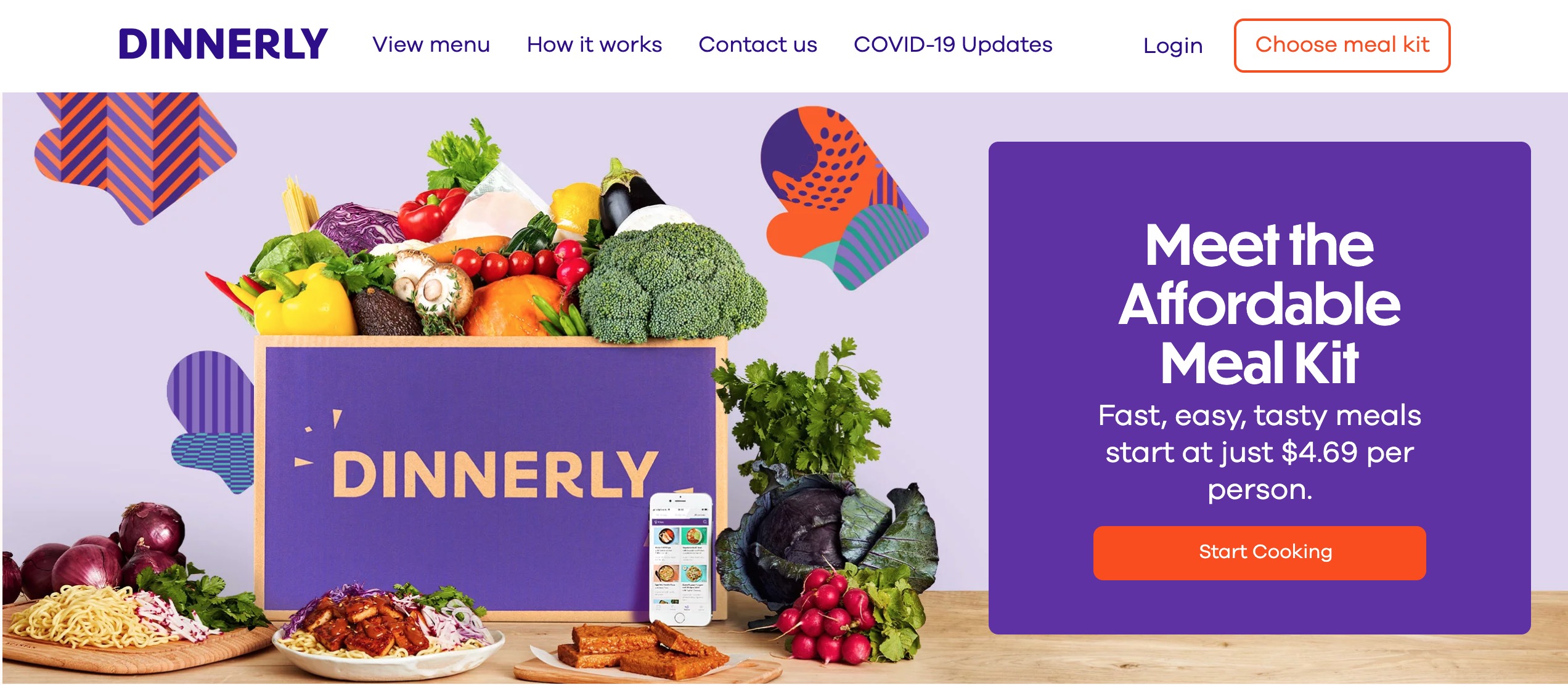 HelloFresh
When we choose the best delivery service and find out which is better Dinnerly vs. HelloFresh, the second one is more appealing in the meal variety. HelloFresh ensures variety, and you can always embark on a new culinary adventure.
Every week, customers decide what they want. At HelloFresh, you can choose from 20 different recipes each week. Users may select the dishes individually and adapt to the desired number of people. The small box is for two people; the large box contains the ingredients for 3-4 guests at the table.
HelloFresh marks recipes by using tags. Click on a recipe to find out whether it is:
Veggie
Calorie Smart
Carb Smart
Spicy
One Pan
Sheet Pan
Lightning Prep
Quick
Gourmet
With Plant-Based Protein.
Customers with food intolerances or particular eating habits see at a glance whether the desired dish is suitable. The time the cooking of each dish takes is also at HelloFresh.com.
Supplies of the products to HelloFresh should meet its core standards. The company pays attention to ecological cultivation, freshness, hormone-free pork, and chicken. If you want, contact the support team to find out where the ingredients come from.
Getting an overview of new recipes and those of the following week is possible via the HelloFresh website. All recipes have appealing pictures and the respective cooking instructions. As a customer, you also receive all recipes by email.
Winner: HelloFresh
When selecting suppliers, HelloFresh focuses on animal welfare and sustainable cultivation. It focuses on organic food and tries to prove that eating healthy is easy. Even someone with little cooking experience may cook the recipes without any problems.
Boxes
When it comes to high-quality and delicious meal kits, Dinnerly is one of the popular providers. You may choose a suitable cooking box from a wide range and enjoy a tasty meal in no time. Unlike HelloFresh, Dinnerly does everything in its power to ensure that customers have as little washing up as possible after their dinner. You spend a short time cooking, and you shouldn't tidy up afterward.
Dinnerly offers two different cooking boxes: for two and four people. There is also an option of choosing the number of dishes. What is particularly pleasant and worth mentioning about the company is that you shouldn't be a professional chef to cook Dinnerly dishes.
Many cook box providers have the problem that they do not offer vegetarian or vegan dishes or have a minimal selection. It doesn't apply to Dinnerly. If you prefer vegetarian food, numerous creative dishes await you at Dinnerly.com. Cheesy Garlic Knot Ravioli with Marinara, Creamy Tomato Soup may change your weekly diet.
If we go more into details, the difference between HelloFresh and Dinnerly is visible. The HelloFresh website has a straightforward design. Everyone finds and orders a suitable cooking box in a few steps. As soon as you click on "Our menu," you get a list of the current dishes available. If you want to make an order, click on "Our plans" to choose the number of people and recipes per week you want to get.
Currently, HelloFresh users can order creative cooking boxes for either two or four people. Despite the usual dishes with meat, there is also a wide range of vegans and vegetarians options.
Environmental protection and sustainability also play a significant role in both portals. After receiving the box, both HelloFresh and Dinnerly will surprise you: Little rubbish and reusable packaging. Portals refrain from further plastic packaging as far as possible. Supplies measure the ingredients and deliver them in the required quantity. No leftovers should arise.
Winner: HelloFresh
The HelloFresh ingredients of the box arrive at your home well packaged. It places great emphasis on ensuring that most of the packaging materials are recyclable.
Ordering Process
Ordering a dish has never been easier than it is today. Numerous providers offer delicious ingredients at low prices. In our comparison HelloFresh vs. Dinnerly, you get a closer look at the ordering process and find out which of the two food delivery services is convincing.
Dinnerly relies on digital recipes instead of including recipe cards as printouts, as well as simple packaging. The fact that the Dinnerly meals contain fewer ingredients per dish is reflected in the prices. We think it's a pleasant simplification because it also makes cooking easier. You can also subscribe to all recipes via the newsletter.
With both providers, the prices vary, depending on the number of eaters and the number of dishes per week. The more often and for the more people you cook, the cheaper it gets. Two providers have a shipping cost of $8.99.
Ordering and selecting the cooking box is child's play at HelloFresh. You register and select the appropriate cooking box size plus the delivery day. After entering the email address and zip code, you choose the desired payment method. HelloFresh makes 20 new recipes available every week. Expect fresh ideas with every delivery. The supplier delivers you a finished HelloFresh box with the ingredients, formula, and cool packaging on the requested date.
If you choose Dinnerly or HelloFresh, you have the option of skipping a delivery or even canceling the subscription. Users also don't have to worry about annoying notice periods.
Winner: Tie
Both Dinnerly and HelloFresh services have the same shipping prices. The functionality of the sites allows you to switch from page to page and make order problem-free quickly.
Support
Dinnerly is one of the cheapest and good-quality platforms, through which you also navigate without difficulties. If you have any questions, a friendly customer service representative is always available, who you can contact by email. If you are in a hurry and need immediate support or advice, you can get a Dinnerly employee.
Dinnerly has accounts on Facebook and Instagram. It attracts users with pictures of the prepared foods from the cooking boxes you may order. A plus point of HelloFresh is the appealing blog. You find many more delicious recipes, helpful cooking tips, and essential information about cooking in general.
If you have any questions about your orders, pausing or canceling, contact HelloFresh customer service either by email or live chat. At Dinnerly, users are free to send a request or make a call.
Download the HelloFresh or Dinnerly app on your smartphone or tablet. With the app, you enjoy ordering your first cooking box and plan your deliveries from anywhere.
Winner: HelloFresh
More contact options and an engaging blog makes a HelloFresh website a better choice.
Conclusion
Winner: HelloFresh
When we compare Dinnerly vs. HelloFresh, you feel valued as a customer and enjoy fresh and delicious meals with both services. All recipes require little preparation, and the effort is minimal. And they taste great too!
If you enjoy cooking and want to try new recipes, the HelloFresh box is just the thing. You get to know new recipes and cook healthy dishes you have never seen before. The box is a bit more expensive than Dinnerly offers. However, it is justified, as they pay attention to the origin of the products and the dishes' taste. Quality has its price. Therefore, HelloFresh is our winner.