If you want to enjoy a healthy and fresh organic meal delivery, the company is a good option. In the review of Sun Basket, you will learn more about its pricing, get more information about organic meal diet plans and the ingredients used in the prepared foods. Sun Basket review will cover the quality of the food delivery services, dwell upon the Sun Bucket meal options, and tell in detail about other cooking issues the company has.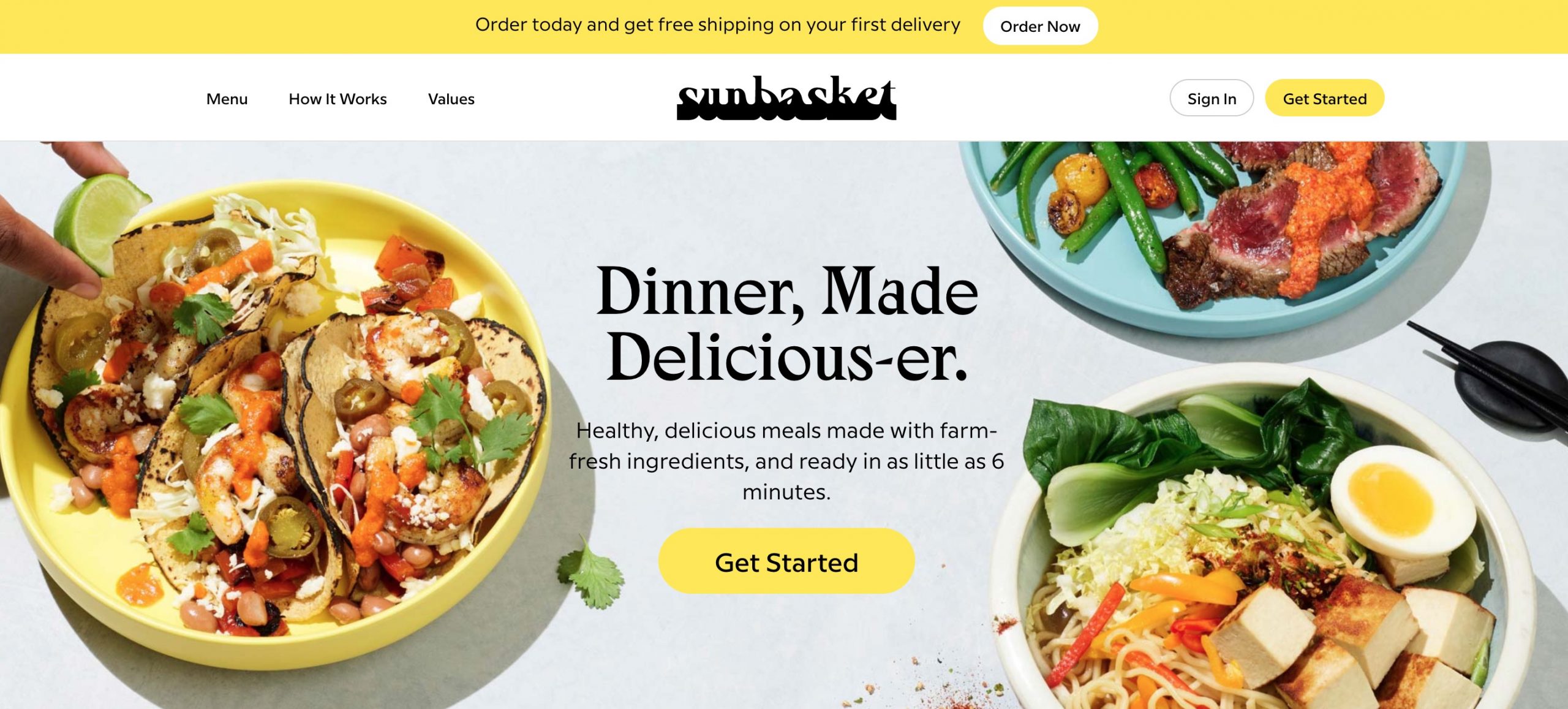 Conclusion
Sun Basket is it worth it? Let's look at the benefits of the meal prep service and draw attention to the disadvantages.
First, it is important to say why people love Sun Basket:
It offers healthy recipes made from organic products;
You can find the best option because the number of meal plans is great;
You can add breakfast or snack to your order;
The company offers unusual recipes to fit every taste;
The portions are enough to stay energized throughout the day.
But some things disappoint the customers. What are they?
Lots of people complain about shipping. It isn't free.
Some of them aren't satisfied with the packaging because it may contain plastic.
Sun Basket is worth a try. If you want to follow a healthy diet and brighten up your daily meal routine, this company is a nice choice. But be ready to pay more to get organic ingredients and the proficiency of the staff.
If you have ever tried organic food from the Sun Basket food delivery, you will enjoy reading the feedback and compare your impressions. If you don't know much about the Sun Basket meal kit, make sure to read the review until the end to learn more about the company. Some customers say it is the best delivery service. Others find some disadvantages in the work of the firm. Let's get to the Sun Basket meal kits review and answer the question, "Is Sun Basket good for your healthy choices or not?"
Pricing Policy for the Customers
If you decide to order a meal plan, you may want to learn the pricing policy for the meal. How much does Sun Basket cost? It is a simple question, but it needs the answer.
If you order a meal plan from the company, you need to understand the pricing policy. Many users who leave Sun Basket meal kits reviews admit that the pricing is a bit high compared to other food delivery companies on the market. When ordering a meal plan, you need to choose between a personal plan to fit one or two people or a family plan. The price will differ. You will have to pay around $10-12 per serving. But the final price will depend on the number of meals that you buy. You should also remember about a Sun Basket shipping cost if you order for the first time.
If you choose a personal plan for 2 people, you will have to pay approximately $12-13 per serving. If you choose a family plan, you'll have to pay less. The serving of a person will be about $11. If you want to order a meal plan for a week for 2 people, you will need to pay about $75. You will get 3 dinners per week for a 2 person plan. Or you can order breakfast as well but get no extra dinner.
Let's look at another example. If you choose a vegan plan and decide to order a meal for 4 people, you will have to pay about $12 per serving. If you choose a Paleo diet plan, you will have to pay about $11 per serving. In total, it will be less expensive than a vegetarian meal plan for a week.
There's another option to satisfy users who order a plan for a week. When you decide to purchase a meal plan, you will be able to buy additional items. You can choose any pasta, crackers, snacks, or seafood. The price will be calculated as for one serving.
What about Sun Basket Discount code options? Are there any of them? To be true, the prices aren't the lowest on the market. Therefore, lots of users writing Sun Basket reviews want to find a discount code. First of all, you need to know about free shipping for the first order on the website. If you order a meal plan for the first time, you can benefit from this feature. If you want to find another Sun Basket promo code, you will have to monitor the website or subscribe to see the updates. The company posts information about the promo codes and special offers for the customers quite often. If you pay attention to the updates on the website, you may be lucky to save some money on order with a promo.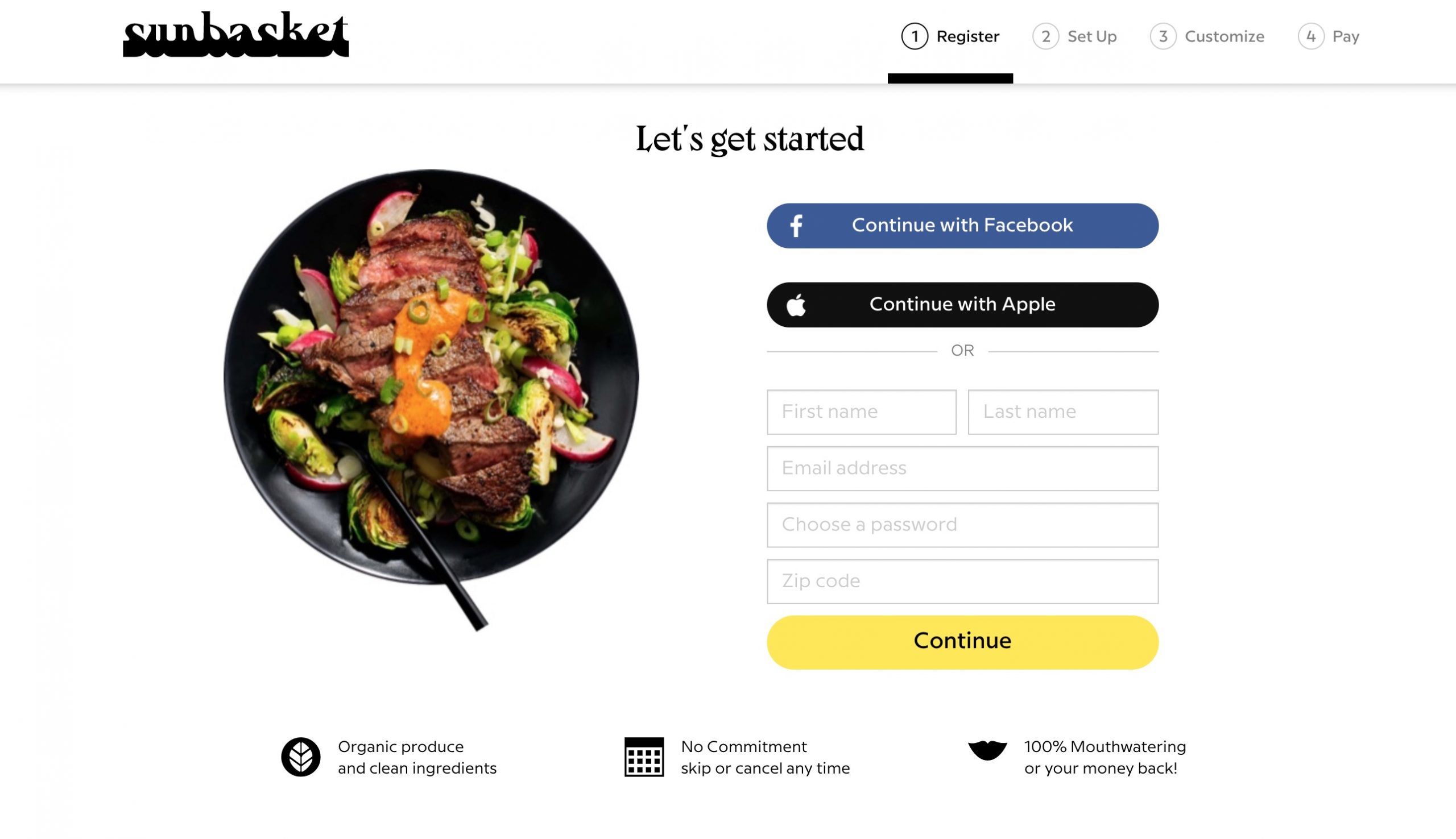 Types of Sun Basket Meal Kit Food Options
Sun Basket offers a wide range of services to fit people with different meal preferences. You can find lots of options to satisfy your health choices. You can choose breakfast, lunch, or dinner recipes for your specific taste. The company offers up to 10 different meal plans you can choose from. Let's get into them and learn what they offer.
Paleo. What is a Paleo diet plan, and why is it so popular? If you choose Paleo, you will enjoy the quality proteins. The meal plan is filled with seafood options, meats, and eggs. The products are organic and tasty. You won't experience eating food with antibiotics or hormones. The Paleo meal plan is rich in Omega-3s. You will also get good fats from plant-based foods, such as olives, seeds, and avocados. After trying turkey lettuce cups or tasty steak salad with roasted carrots, you will say, "I tried Sun Basket, and I will come again."
Gluten-free meal plan. If you can't use gluten in your recipes, this meal plan is perfect for you. All the products are organic and taste great. Gluten-free recipes will amaze you with their rich taste. Each meal plan is full of tasty and diverse sauces. You won't be bored with your regular food choices if you use the Sun Basket delivery service. Seafood and meats are hormones- and antibiotic-free. You can be safe using a Sun Basket for daily meal choices. Enjoy warm pork chops, salmon, or sweet potato fries, and follow your gluten-free diet with a Sun Basket.
Diabetes-friendly. If you suffer from diabetes, you need to follow a specific diet. But it doesn't mean that your food will be boring. You will get all the nutrients from whole grains, lentils, or meats. It will give your body enough protein. Sun Basket's diabetes-friendly meal plan won't damage your health. With tasty turkey burgers and delicious chicken, you will feel much better.
The vegetarian meal plan is another tasty option for food lovers. With a vegan meal plan, you will enjoy healthy and tasty recipes without meat. Only plant-based recipes with organic eggs. Fried rice, tofu, organic eggs, and many other delicious options for your vegan choices.
Mediterranean meal plan for seafood lovers. If you want to experience a tasty meal plan with versatile seafood recipes, this option is great for you. Salmon with potatoes or organic meat will make your day better.
A Carb-conscious plan is a good thing to try. You can always change a plan if you want to fill your body with carbs. This plan will cut most of the carbs from the recipes. You will get tasty pasta from vegetables, cauliflower mash, or seed-based crackers.
Lean&Clean. This plan is great for people who enjoy calculating calories. If you want to make sure that you're eating good food and making healthy choices with the correct calorie count, this plan is for you.
Chef's choice is good for you if you want to try the recipes from different cuisines. The diet plan will consist of various meals based on the chef's preferences.
Pescatarian food choice focuses on higher fish consumption. If you want to eat more fish meals, the company can offer a wide range of options for you.
Quick & Easy recipes are great for people used to plain food choices. Sun Basket offers easy one-pot recipes to save your time.
These are Sun Basket meal options that you can try. The recipes are tasty and full of healthy ingredients. You will receive all the ingredients to make your cooking routine easier and tastier.
Quality of Products at Sun Basket
Before making an order, you need to check the reviews for Sun Basket. The company says they use only organic ingredients to make up the orders for the clients. Sun Basket will suggest a wide range of organic food options if you want to try healthy options. The ingredients fit the season. You will get the organic products if they are available at the moment of the order. Sometimes, Sun Basket can't suggest the items you want. But you can always expect tasty and healthy substitutions for your food preferences.
Meat and seafood products are antibiotic-free. They have no hormones because the meat is raised by responsible farmers. The food is certified, so you should have no worries about safety. All dairy products are organic.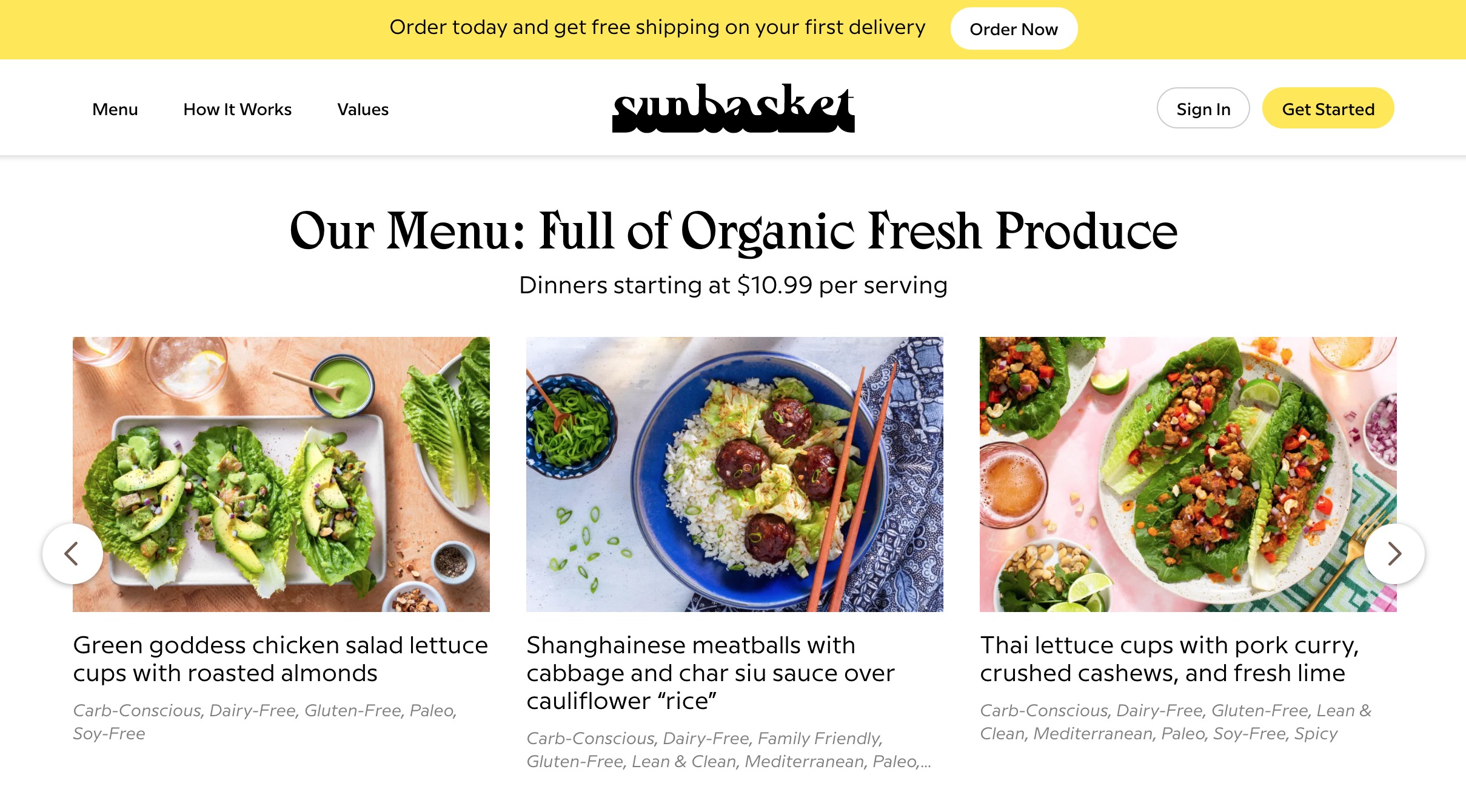 Sun Basket Ordering Process
Every client has to choose meal options. If you choose the plan, you have to opt for the recipes to complement each set. If you miss the deadline to note the recipes you'd like to cook, the company can make their choice based on your previous preferences.
To make the order, you need to open the Sun Basket website and choose the meal plan. You can opt for 2 or 4 servings. You can choose breakfast or lunch. You can also choose snacks or other food options. When you're done with the order, it goes to your doorstep on time.
Sun Basket Packaging
The packaging consists of several items. These are boxes, paper or denim insulations, ice packs, bags and cards, trays, containers, or jars. Most of the items can be reused for other purposes. It follows Sun Basket's eco-friendly policy. You can recycle boxes, cards, bags, and paper insulations. Denim insulation can also be recycled. Egg containers can be used for composting purposes. Other items can be recycled with the help of specific recycling programs. Sun Basket takes care of nature and pollution. That's why the packaging comes in paper or recyclable bags.
Support at Sun Basket
If you need to ask a question or figure out more information about the Sun Basket policy, you can contact the support managers. The company accepts requests from clients via a quick and efficient online service. If you have issues to be resolved, you can reach the managers 24/7. There are several options for users. You can ask for advice from a customer. If you want more profound help, use emails. Sun Basket answers the requests through the SMS or email address. If you have time and desire, you can make a call. There's also an option to use a chatbot. It will answer the simple questions that users commonly ask.

Similar Services
Sun Basket isn't the only meal delivery service popular among customers. There are other good options for people who want to experience fast and healthy food choices.
HelloFresh is a food delivery company that follows the same principles of work. It is a Sun Basket competitor. In Sun Basket's bad reviews, you may have seen how people compare these food services.
BlueApron offers ready-to-cook choices for busy people. People often choose BlueApron for its quality and more or less moderate prices.
Freshly has a similar policy. They offer ready-to-eat food. All you need is to heat the food and enjoy your dinner or lunch.
These are the most popular Sun Basket competitors. They are known for their quality, health options, and attention to the client.