In contemporary life's rhythm, it's tough to devote enough time to preparing meals, going shopping to grocery stores, and cooking healthily. That is why ready-made solutions in the format of meal delivery services are coming into the limelight, allowing people to avoid the fuss and save a lot of time. Here, in this review on the service Plated, we will dwell on its pluses, minuses, and other features you will want to know before making a final decision.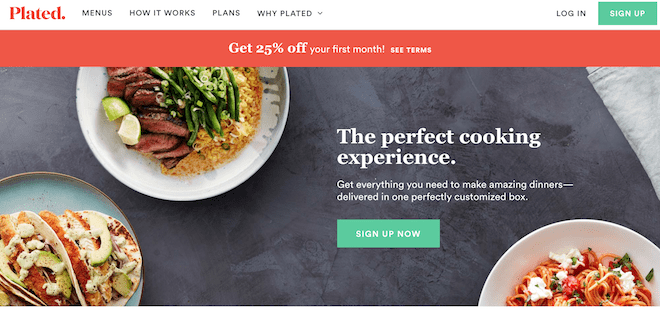 Conclusion
As a final word in this Plated meal kits review, it should be underlined that Plated plans give a great chance to maintain a healthy diet, watch your weight without extra fuss, and get special pleasure from creating restaurant meals at home to feed a whole family rather than simply reheating prepared foods. The rich menu, freshest produce, adequate prices, and the reasonable Plated shipping cost – all of this proves that Plated is the right choice.
Having read this review of Plated, you can now answer your own 'Is Plated good for me?' question. If you are a busy person desiring to save time, a mother of several kids trying to keep the household in order, a foodie in search of adventurous and inventive cooking, or a dessert lover, Plated will be just for you. Young couples who work day and night, can't cut out some time to go grocery shopping, and don't like leftovers will also find it priceless. However, it is not recommended for households managed by one person – owners could find such meals uncomfy and even irritating. The amount of food arriving could be too much for one and will unlikely remain super fresh within a few days. Plus, single people would spend on food much more with a Plated plan than normally planning meals by themselves.
Pricing: Servings and Plans
The meal delivery service Plated is known to charge per one serving. If you are wondering 'How much does Plated cost?', meal plans normally consist of 2-4 servings twice or more times a week, which is enough for 2 adults or a small family. Some bigger plans, such as a table set for four people, including 4 servings 2-4 times a week. A standard meal for two starts at $11.95 for one, and this price is doubled if you choose a dinner for two and so on. What is especially convenient, Plated gives an option of a three-person plan (which is impossible with other food deliverers) with an average serving worth $9.95. The offer also turns out expedient for families of 4, with the price per single serving remaining the same. Hence, a whole family plan covering four nights a week will vary in price from $96 to $160.
Here are some more details about different Plated subscription plans and prices per servings for you to choose the most fitting option.
Costs go down as you increase the servings number.
While the Plated meal kit is not the cheapest one out there, a whole dinner will not turn out pricier than a meal bought in a cafe. Besides, it's a great opportunity to save up for big families – if the usual portion cost starts at $11.95, the price of 'bulk' servings will go down to $9.95.
Free delivery starts at orders over $60.
Again, this is a beneficial offer for families who buy in bulk – a week's meal provision and free delivery is what you get from Plated at once. In contrast to this, meal boxes under $60 ship at a price of $7.95.
A Plated promo code could reduce the price by a big part.
Searching for a promo or a Plated discount code is a tried and true way to get additional savings. Even for novice users who like seeking special offers, there are nice perks such as free delivery, coupons for minus 50% or minus 60% off one order, or five orders in a row. The options that have gained popularity in the recent days include discounts sitewide, promo codes to any Plated plan subscription, as well as 2 free plates coupons.
Types of Meal Kit Food Options at Plated
Since the service tries to please different customers taking into account their needs, habits, and lifestyles, among Plated meal options, you will find multiple subscription options so that everyone could choose something worthy. Meals for vegetarians and vegans, omnivores and those sensitive to certain ingredients (such as gluten), seafood fans or individuals doing sports, those who need a low-calorie diet or prefer to eat low-carb – Plated definitely nailed it concerning different dietary needs.
What first catches the eye is the grouping of meal plans not by the type of food but based on the headcount. After you choose the number of servings and the frequency, you can pick the 'filling' of the plan.
Plated obviously had the protein-fat-carb balance in mind and included well-composed recipes in its customer meal plans. On the website, there are nutritional values mentioned along with other important details about the recipe; yet, seeking it out takes extra time, which is a minus for information organization. Again, if it's okay for you not to stick to certain directions concerning protein, fat, or, for example, salt consumption, take the recipes and enjoy them. On the other hand, if you are an athlete or try to minimize fast carbs, be prepared to spend some time on measurement and weighing ingredients to match the exact portion size needed.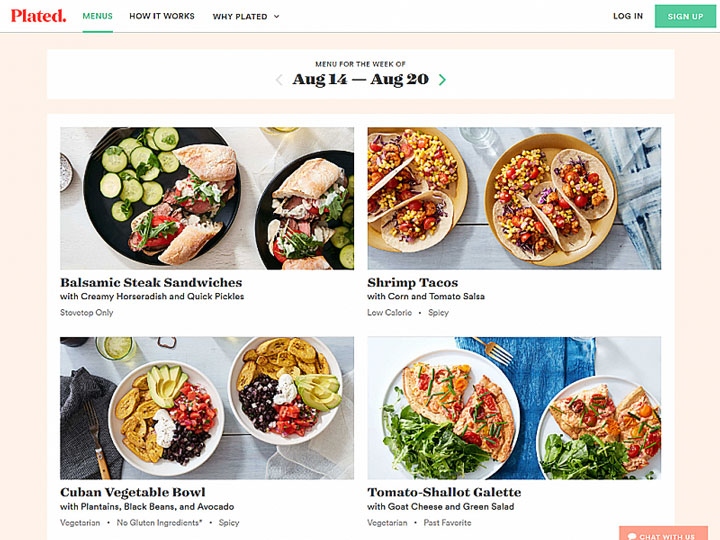 Quality of Products in Plated Meals
In this part, Plated food delivery confidently gets the best 5/5 score: ethically grown meat coming from respectful sources, mostly organic food, including veggies and greenery, seasonal fruit, fresh seafood – the choice here is rich and well worth its price. Even despite a few public complaints about the food and service and controversial Plated meal kits reviews, Plated still manages to improve food quality, prioritizing customers' satisfaction and fitting everyone's needs.
Let alone Plated bad reviews coming every now and then; the meal delivery company collects high ranks written by excited customers who plan to stay at the chosen plans in years to come.
In a nutshell, if we compare Plated with other similar services, we will see that the produce meets the expectations and requirements of the best restaurants, and its dinners taste just like freshly cooked elite meals. Proper packaging and conditions of delivery guarantee that meat and fish, as well as veggies and ingredients to make desserts, will come in a garden-fresh state and retain the vital vitamins and minerals.
Ordering Process and Convenience
Plated works in a pretty simple way. Right after registering an account, they ask you what type of food you and your family prefer, how many people you plan to serve, and how many servings it will make each week. In the choice of recipes, you get the absolute freedom to choose from meat and fish dishes or vegan dinners, but the maximum duration in one week to eat Plated dishes would be four days. The user-friendly Plated website will show you how much your plan will cost in total and will leave the space to juggle recipes and decide on a more budget-saving version if you need it. Or, you could swap the recipe for a more veggie option and flexibly comprise the menu for 4 days.
After that, think of the time when you are comfortable with receiving the package. Plated sends each order right to the door so you can save even more time and get down to cooking right away. If you sign up for a meal plan for the first time in your life, you will get a generous bonus in the format of a -25% discount for the first month of the Plated's menu.
Packaging and Delivery
Plated meals come in neat, fully recyclable packages with separate bags for different product groups inside. If you could doubt their reliability during transportation at first sight, once you open them up, you clearly see that the paper bags let no leaks happen and successfully prevent the smells from these bags from coming out. As necessary complementation, here you will find cards with list-like recipes and photos of the ready meal, some info about serving size, as well as an ingredient list. Many of these recipe cards are praised by customers in reviews for Plated.Recipes change every week, so you will be genuinely surprised how many new dishes one can discover in a month! Even if you're far from being a chef, or, honestly saying, a flop in the kitchen, those steps are easy to follow regardless of your cooking skills.
Instructions like this are easy to follow and can be saved for later if you lack ideas of what to cook. As a result, most reviews say, 'I tried Plated meal kit service, and I think they are the best.'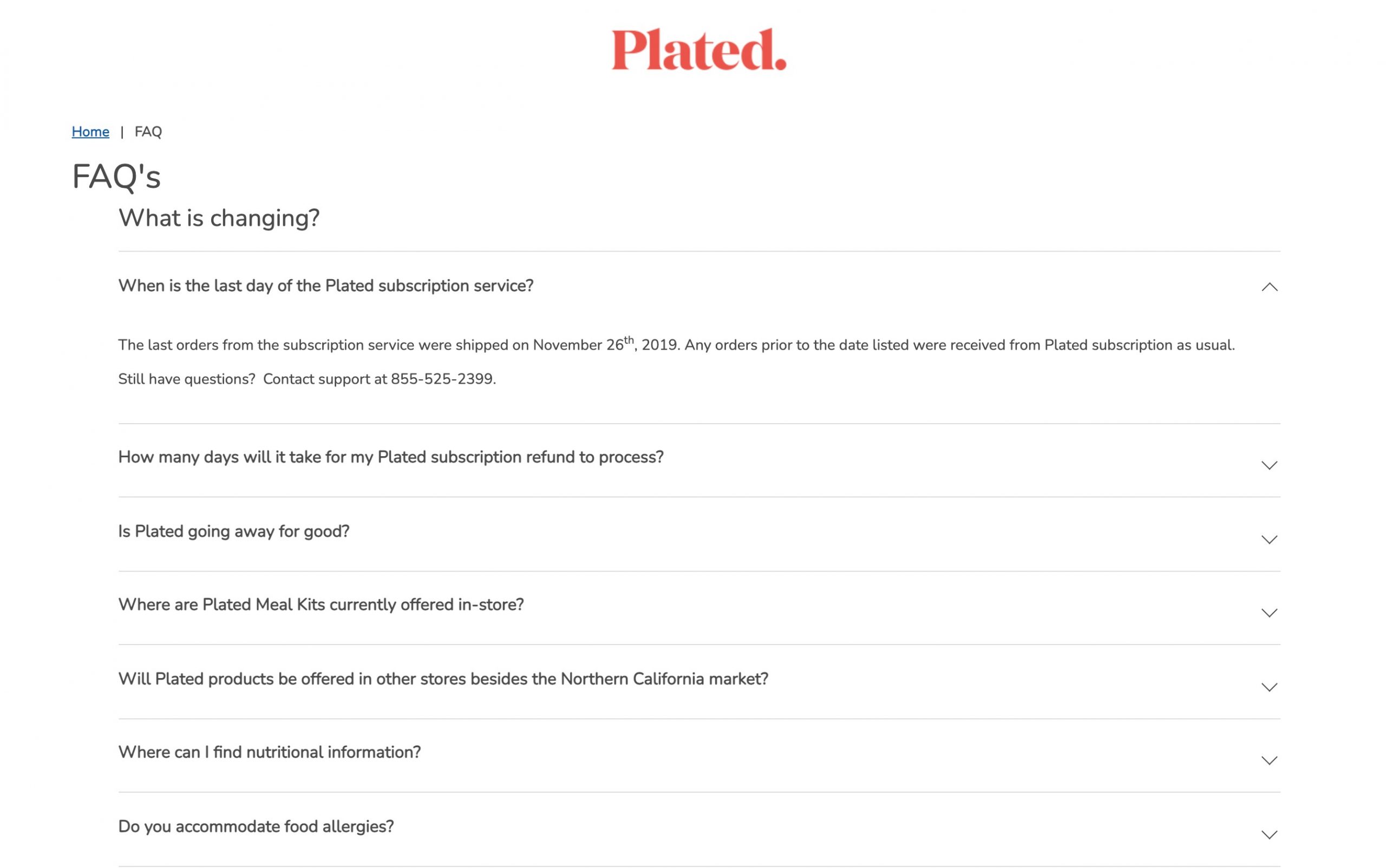 Customer Support
Based on numerous Plated reviews, customers say that the service gives timely assistance with both choosing the plans and the actual cooking process. And this is an indicator that clearly shows that the company workers are truly interested in their work, understand every step of the process, and can guide a newbie on the way. Whether you experience some confusion with the ingredient or have a hard time because of your cooking utensils, contact the customer support team via telephone or e-mail to receive quality help. If you are unfamiliar with how the account functions, using the customer support line, you could also cancel the chosen plan (until the box is not marked as 'Confirmed').
Except for the help with cooking with these fabulous recipes, customer service doesn't stop at answering calls and e-mails. The company goes above and beyond for the everyday service to match the high standard – improve packaging for being delivered in all weather conditions, work at the size of portions, analyze clients' feedback, and are steadily getting better. What is more, the company keeps offering discounts and special prices for both new and old clients, which is priceless for building client-provider relationships and makes subscribers want to stay here longer.
Similar Services – Plated in Comparison to EveryPlate, Home Chef, and Blue Apron
In this Plated review, it is also significant to look at the service from the perspective of other food delivery services. So, this paragraph will be mainly about the question, 'Plated is it worth it to subscribe or should I go for other services?' Needless to say, every service has its own style of recipes, philosophy, and management techniques. However, we will take a close look at the main points uniting similar food delivery services – how they treat customers, how different the prices appear, which meal options are presented on the menu, which the service is best for, etc. Let us see where it wins and loses!
| | | | | |
| --- | --- | --- | --- | --- |
| | Plated | EveryPlate | Home Chef | Blue Apron |
| Price | $9.95-$11.95 per serving | $4.99 and up (for premium class dishes) | $9.95 per serving | $7.49-$9.99 per serving |
| Types of meals | Meat, gluten-free, fish, vegetarian, Paleo diet meals, high- and low- calorie dishes, meals for kids | No meals for diets with special requirements (but there are 10+ recipes that frequently change during the week) | Meat, fish, high- and low- calorie dishes, vegetarian options, weight-loss plans | Meat, fish, vegetarian dishes, flexible recipes |
| Best for | Newbies at cooking, people with different dietary peculiarities, clean eaters, vegetarians, those trying to lose weight or seeking more variety in nutrition, big families | Those looking for tight-budget meal plans, people with no special dietary requirements | Busy people, those trying to bring more variety into their eating, foodies who admire cooking at home, vegetarians | Busy people with families, people who often receive guests, foodies who like trying out new inventive recipes, wine appreciators (there is a separate wine subscription) |
Identifying which of them is the best delivery service is not the primary goal this Plated review is written for. Judging from the many customers' reviews and seeing all of its pros and cons, now you can decide whether you need it or not. Anyway, choosing to plan your meals with the given service, you will get excellent quality food at a fair price, learn to cook exquisite dishes and keep these skills with you for a long time and improve your family's health thanks to organically grown veggies, free-range meat and fish, and fresh greenery.