This is a well-known meal delivery service that specializes in healthy meals and incorporates recipes from over thirty different world's cuisines. Their meals are quick and simple to prepare and include the most loved meals as well as kids' menu, salads, lunches, desserts, and more.
This Munchery review focuses on the Munchery meal delivery company and reveals the details about its main features.
Short Overview
The company was founded back in 2010 and derived from a desire of parents to find a healthy alternative to fast food to feed the family. This view is shared by many other families, especially the ones who want to maintain healthy eating habits while being busy.
Currently, the company includes famous professional chefs who work at the development of the menu. Meals are designed to contain fresh and healthy ingredients and, at the same time, are very fast to cook, with some of them taking just 15 minutes to preheat in the oven. A lot of Munchery reviews and feedback from clients say that the service is a very cost-effective option for healthy meals.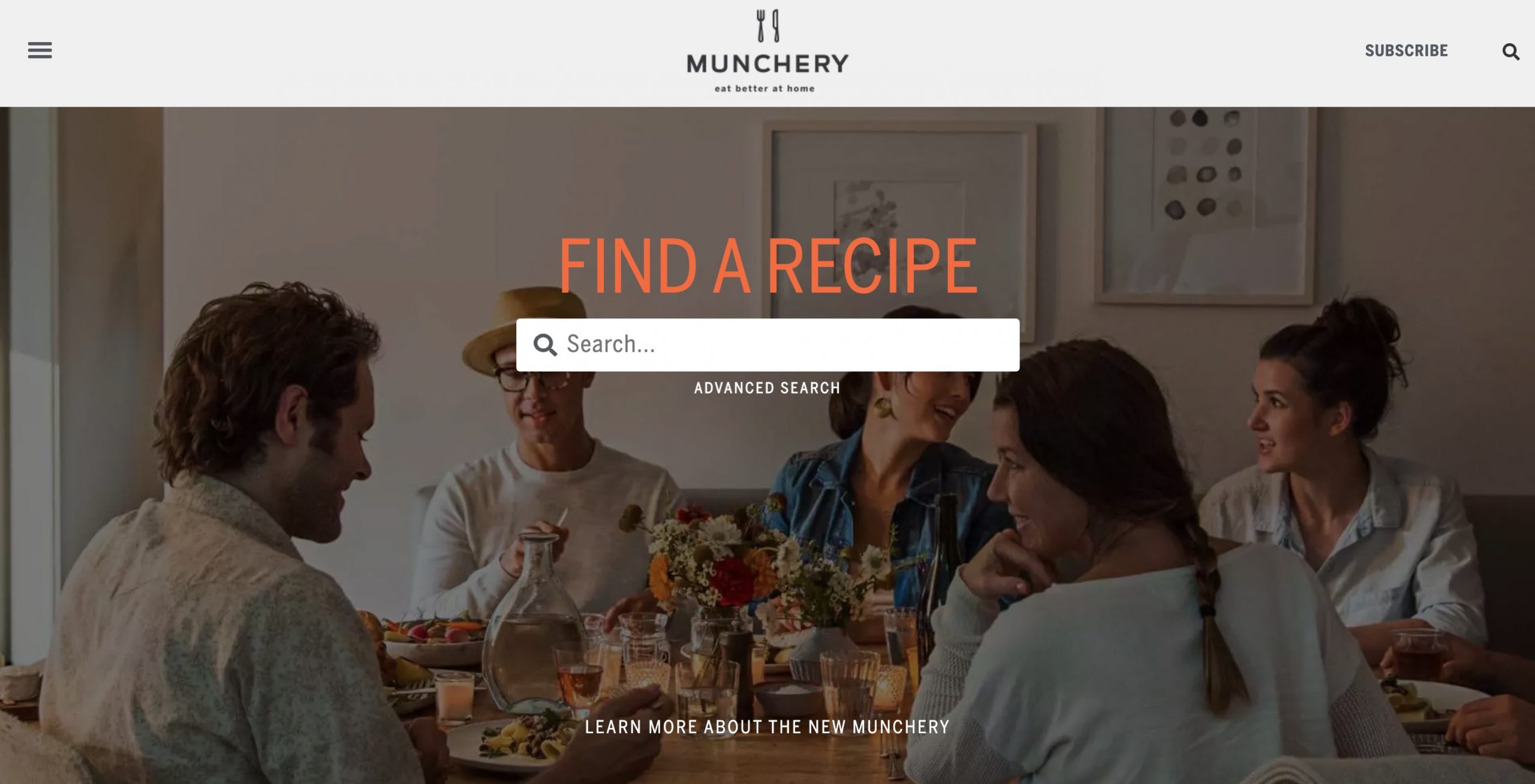 Pricing
The special feature of the company is that there is no obligation to subscribe to whole Munchery plans. Instead of the typical plan system like every other meal delivery service has, here you can choose between a membership and being a guest.
So, now let us get closer to the key question 'How much is Munchery?' Membership costs 4.95 USD per month and provides a good 15-percent discount on every item on the menu. Special offers and additional perks are also privileges of a club member. As for being a guest, it is a convenient way for newbies to try out several dishes and see how it goes without the 'must' component.
An average full-scale meal on the menu is valued at 15 USD, whereas children's dishes, desserts, or add-ons will be just around 5 USD. However, the Munchery prices are flexible, so some dinners can be under 10 USD while other luxe restaurant-like dishes can be worth 18 USD. Deliveries of meal kits are free. Still, same-day deliveries could be charged nearly 3-5 USD.
Another good thing about Munchery pricing is that return customers often get a unique Munchery promo code or special offer to save up a bit.
How Munchery Works
The basic principle behind ordering from Munchery is receiving the pre-measured and prepared foods for super healthy meals, which don't require any additional manipulations. All you will have to do is to follow the recipe. Each of them is a carefully written instruction with simple and do-able steps that are easy to perform even for starting cooks. At the same time, recipes have some room for developing your creativity in cooking. They somehow contain a chefs' touch, which you can copy at first and later come up with your own gastronomic masterpieces.
How Easy Are Munchery Meal Kits to Prepare?
The previously made meals by this service are easy to make up. Instructions are clear about heating the meal or cooking the meal kit.
What we really like about the Munchery recipe cards included in each meal kit is that you have everything mentioned there, starting from cooking equipment and finishing with extra ingredients in case you would like to add a special charm to the dish. By the way, these ingredients won't be the hard to reach ones like some exotic spices or ostrich meat; they are the common products you can find in any product shop in your area.
Based on our opinion on many Munchery meal delivery reviews, we have the impression that this service is more than just a healthy meal provider. It also does an excellent job making every beginner believe they can cook well.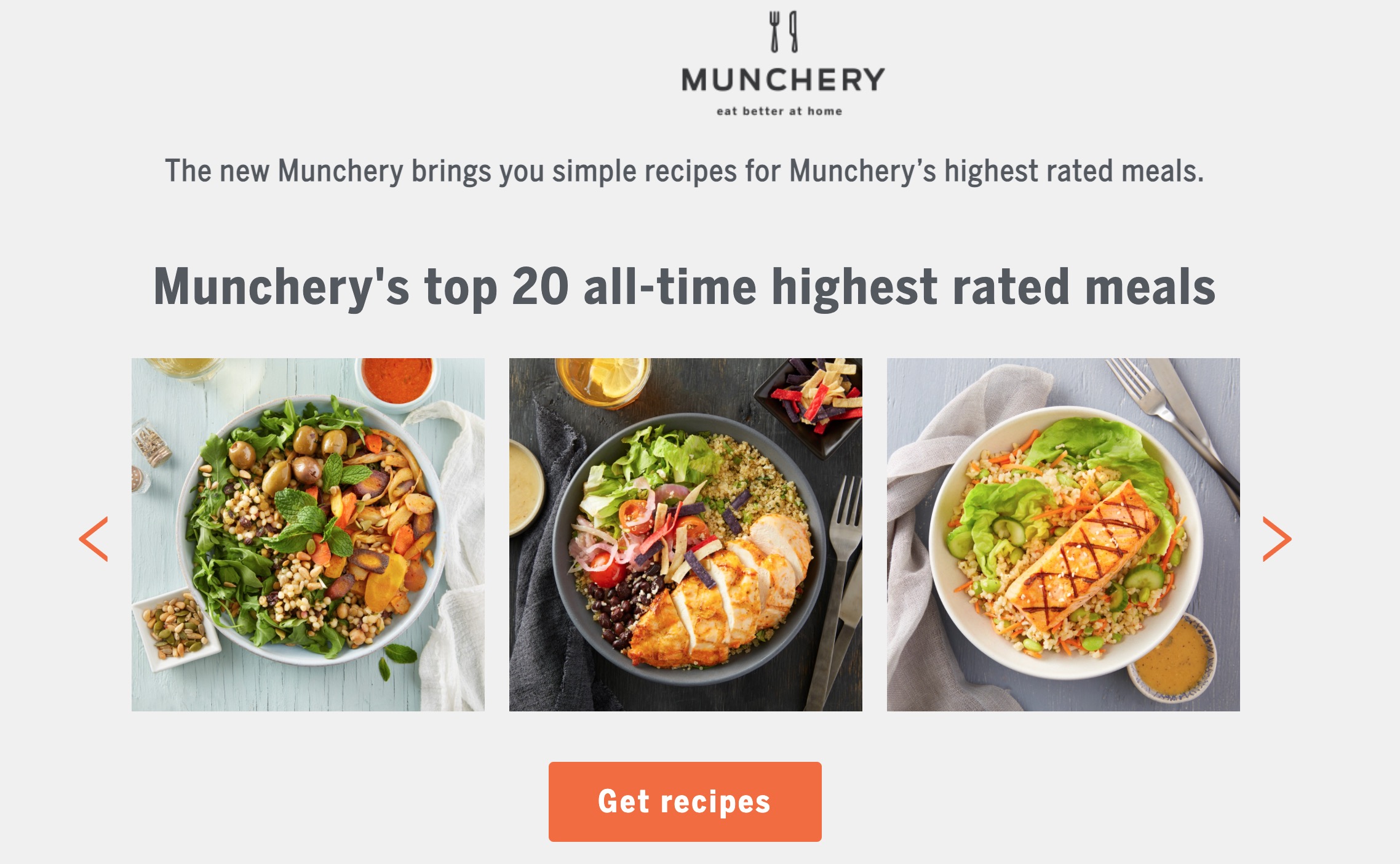 Who Is Munchery Good For?
Basically, Munchery food delivery is the best delivery service for the lifestyle of busy families. Different types of them can benefit from ordering Munchery meal kits: families with children, couples working the full day, or other households where owners can't afford to go shopping very often or spend 3 hours in the kitchen every day.
Being so easy to prepare, Munchery meals make a wonderful solution when you want to introduce your kid to cooking. If a five-year-old gets bored when trying to help you cook in a traditional way from scratch, a meal kit like this will be a quick and exciting thing to do.
Who Isn't It Good For?
Trying very hard to find a category of people who wouldn't benefit from cooking with Munchery, we have come to the conclusion that the only such category is, perhaps, the all-organic lovers. Food chosen by the company is always responsibly grown and mostly locally sourced, but if you seek purely organic food, you will not find it. This finds proof in multiple reviews for Munchery meal delivery.
Munchery Packaging: Its Eco-Friendliness and Reusability
Good food and delicious dishes are not the only benefits of Munchery. Its whole approach is grounded in responsibility and ethical attitude to sourcing their ingredients and packing them up. Besides focusing on sustainable production and the support of the local food industry, Munchery is concerned with the impact of their packages on the environment.
To be precise, the plastic included in some kits is biodegradable and already made from recycled plastic items. Today, the company aims to avoid plastic where possible and rely more on paper packages.
Changing and Canceling Order
You can order your meals either online or in the app using your Apple device. This will require entering your email and zip code.
Beware that the delivery area is a little limited and now mostly includes the West Coast region. Those living in small towns can also be disappointed as the service sends meal kits only to major cities of Colorado, California, Oregon, Washington D.C., New York, Nevada, Idaho, Wyoming, New Mexico, Maryland, and Arizona.
To change or cancel your order, you need to make a phone call to speak to a representative. Another way is to do it by email. To cancel your membership, help the representative locate your account and provide some personal info for that. After this, wait to receive the email confirming your cancelation.
Customer Service
According to reviews of Munchery, client care is available via phone. This can help customers solve big and small service issues and receive timely help with their account settings.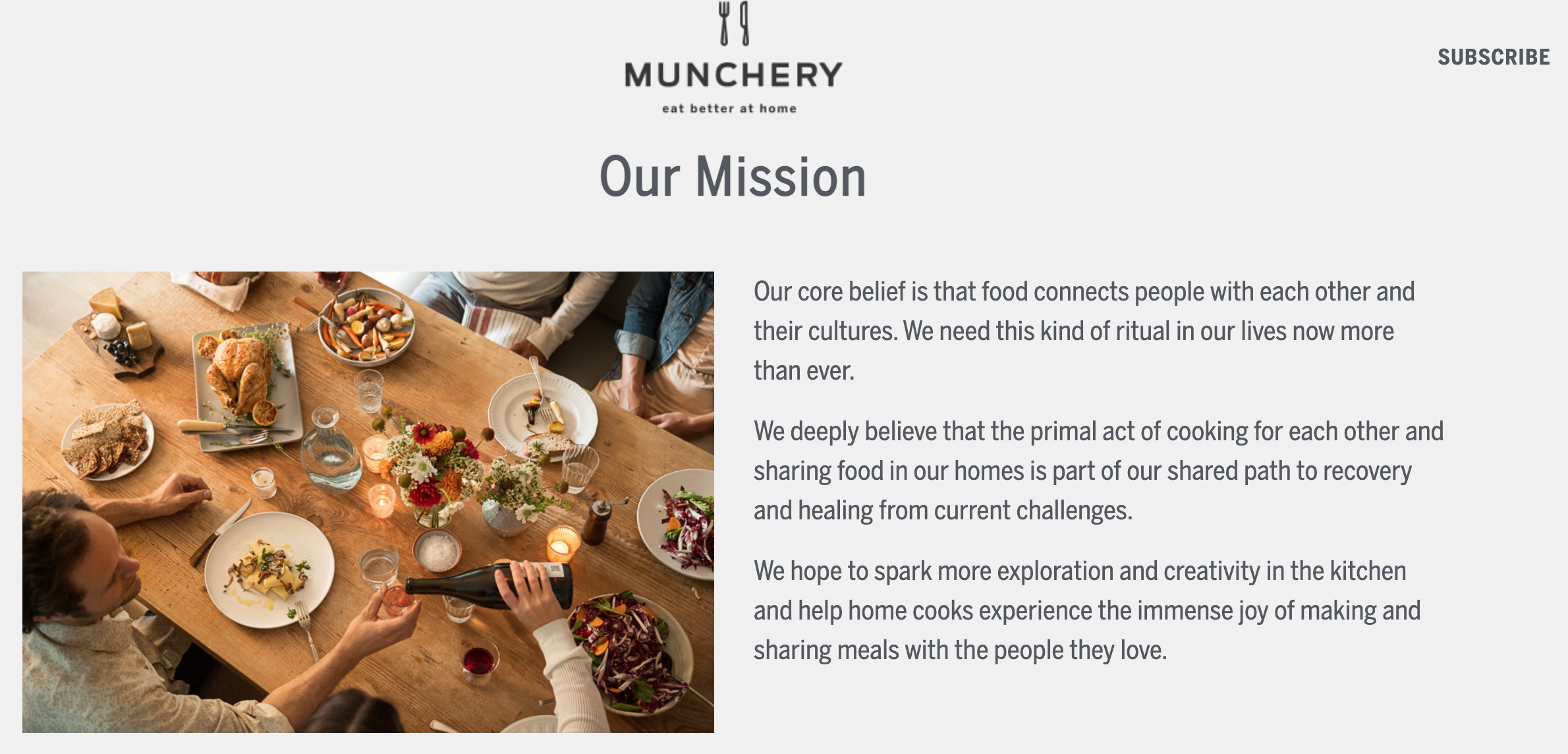 Munchery Alternatives: Munchery vs. Blue Apron vs. Sun Basket
Very often, reading Munchery meal reviews is not enough for making a good decision. To help you define the best option for a meal delivery service, we have compared Munchery to a few other similar companies and services.
Price Comparison
So, looking at Munchery cost and the prices of Blue Apron and Sun Basket, we can instantly see that Blue Apron is a more on-a-budget version of healthy meals and offers more discounts, coupons and includes a lower fee for delivery. The average main course at Blue Apron will make 9.99 USD for a two-person plan. A weekly set of Blue Apron meals will be worth nearly 45 USD for two people and four recipes with menu add-ons.
In contrast, Munchery offers approximately the same meal number for 2 at the price of 61 USD. Sun Basket is closer to Munchery in its price: you will pay around 71 USD for 3 meals a week for two persons (already with a discount of 6 USD).
Menu Comparison
If Munchery pricing was beat by Blue Apron, now let us look at how Munchery menus differ from their competitors. Munchery dishes include recipes for people with special dietary requirements like gluten-free meals as well as basic recipes. It's great for vegetarians but not vegans.
Blue Apron, in its turn, features almost the same yet provides good vegan meals and aims to zero-waste the entire cooking process. Sun Basket includes dishes for even stricter diet followers with lots of options for both main courses and desserts and appetizers.
Cooking Time Comparison
To compare the cooking time, Munchery is the quickest (15 minutes), while Sun Basket and Blue Apron meal kits will take up to 30 minutes to prepare.
The Verdict
So, it is time we drew a conclusion on this Munchery meal delivery company and Munchery meal kits review. Based on the objective research and seeing multiple Munchery ratings, we can say that Munchery is a nice option for busy young people who don't want to neglect their health or sacrifice their jobs and social life. It provides a variety of healthy and nourishing meal types, easy recipe cards, convenient ordering, and support, as well as responsibly sourced ingredients that come to your door fresh and nicely packed up.
Yet, if you look for a more cost-effective meal option for the long run, perhaps, it would be wise to pay attention to its competitors such as Blue Apron.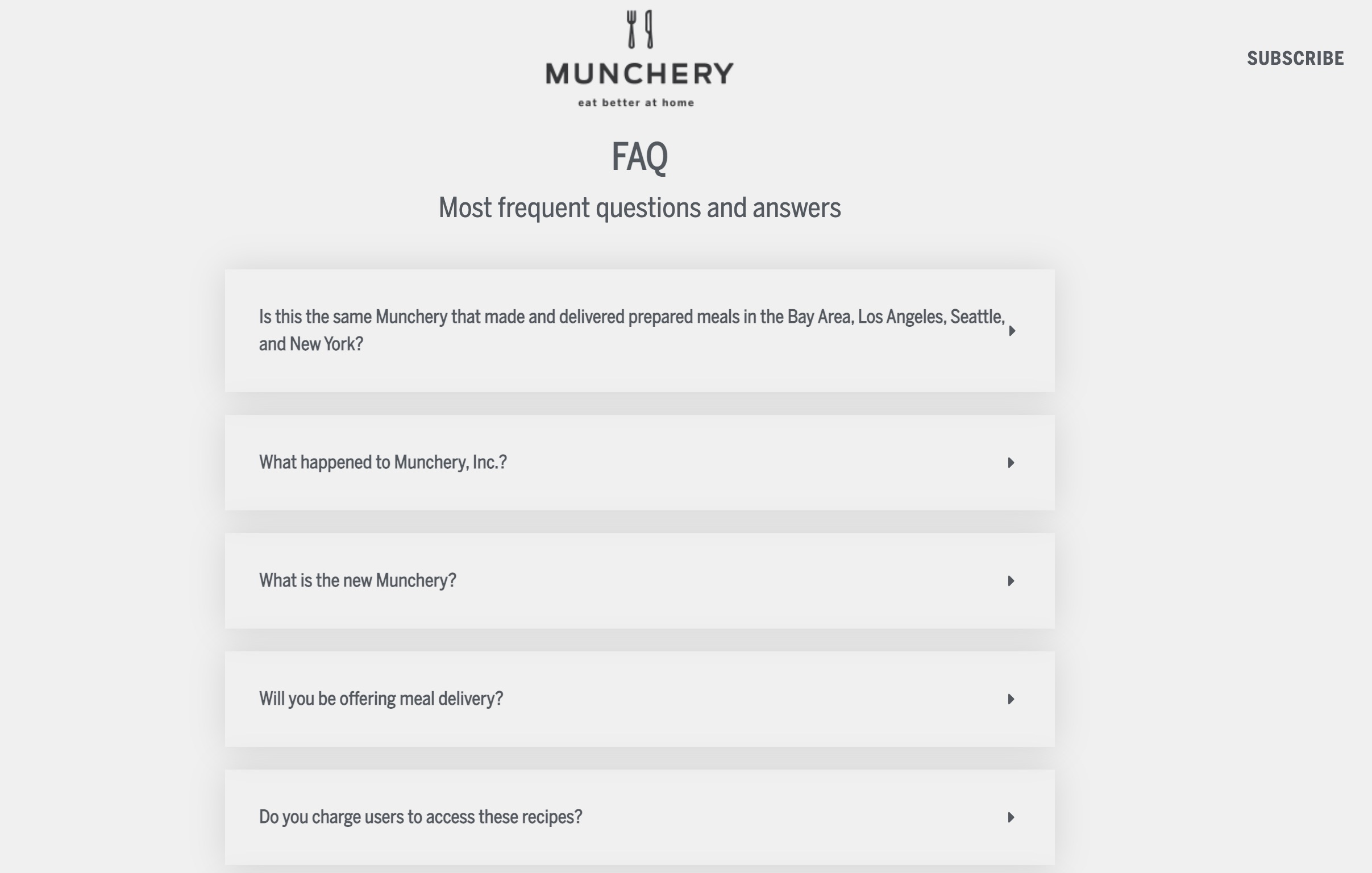 FAQ
Can I Try Munchery for Free?
Yes, there is a trial period lasting 30 days for you to try the Munchery membership for free.
Is the Tracking Ever Wrong?
According to real Munchery meal kits reviews, tracking and delivery are okay.
Does Munchery Have Coupons for Existing Customers?
Yes, there are many options of coupons for both types of clients, including site-wide discounts and coupons as rewards for referring to friends with invitations.
Is Munchery Easy to Cancel?
Yes, you can cancel your membership with the help of a single email or phone call.