Do you work long hours and lack time to cook healthy foods for the whole family? Or maybe you prefer to spend valuable time on some more important things rather than cooking food? Today, you can eat healthy and tasty foods without spending hours cooking. Instead of this, you can choose a food delivery service and order foods in several clicks. Check Mom's Meals review to know whether it is exactly what you are looking for or not.
Short Overview: Pros and Cons
Mom's Meals delivery service is known for its fresh and healthy foods. The service provides an opportunity to choose foods according to your personal preferences and dietary restrictions. According to numerous positive Mom's Meals reviews, you will enjoy the following advantages if you use the Mom's delivery services.
Pros:
A lot of various Mom's Meals menus for different tastes and health conditions;
Fully prepared foods – no need to spend much time cooking;
Healthy foods that are customized according to your personal dietary restrictions;
Mom's Meals prices are affordable (the initial cost per serving is $6.99).
Many positive Mom's Meals meal kits reviews from satisfied customers.
What cons do customers mention in reviews of Mom's Meals?
Cons:
Not much information about ingredients;
Those who keep to keto, vegan, and paleo diets may find the menu limited.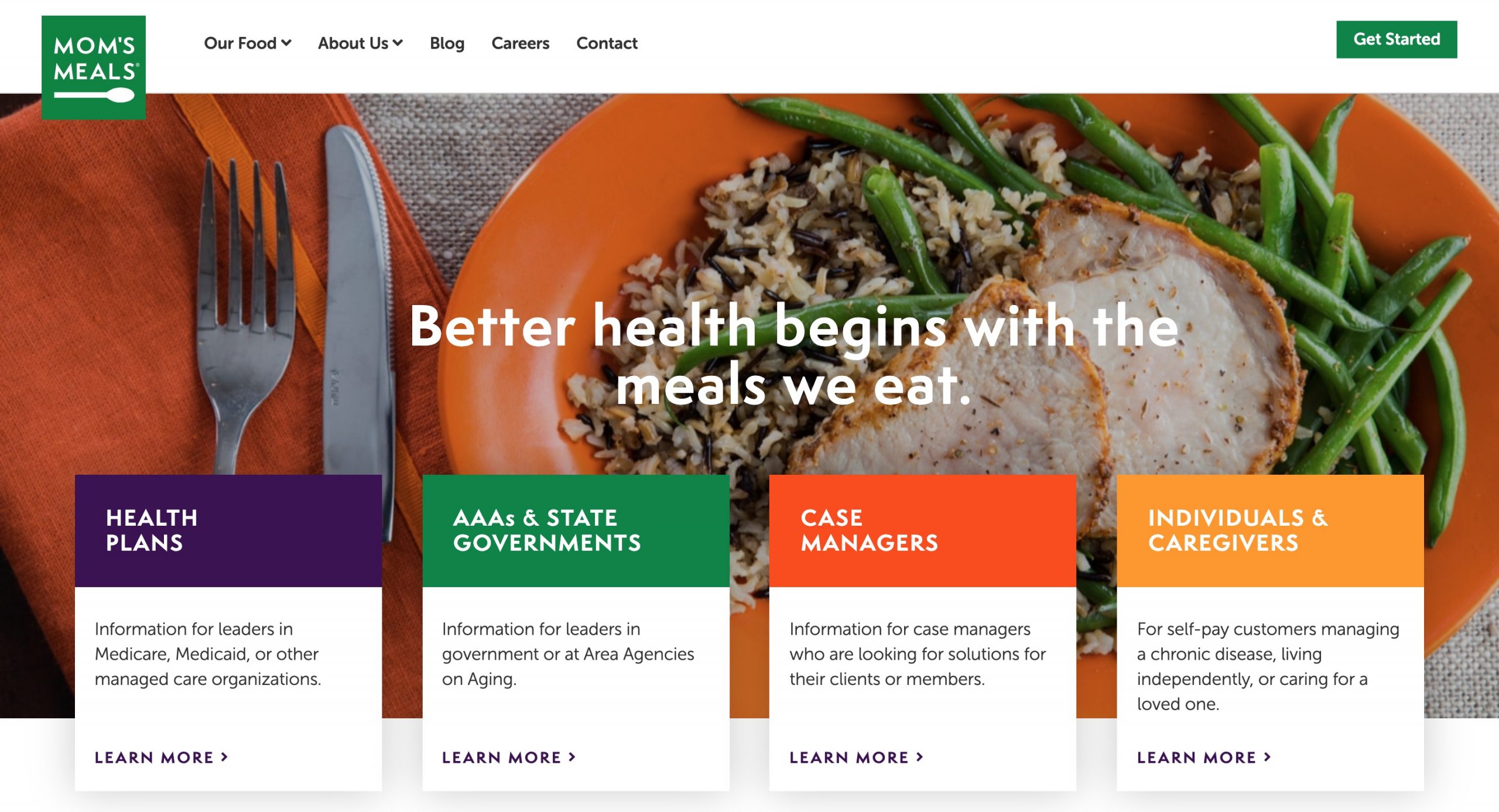 Pricing
The very first question most customers ask is "How much is Mom's Meals?" as it is one of the crucial factors for making a choice of delivery service. So, what about Mom's Meals cost? It varies depending on the menu you choose. The initial price for most dishes starts from $6.99 per serving.
But if you want to order gluten-free or some other specific menu options, you should be ready to pay a bit higher price. The cost per Mom's Meals serving will be $7.99. Take into account that the cost for the order includes shipping and handling. When you proceed to the checkout, you will see the fee of $14.95 added to your order.
How Mom's Meals Delivery Works
According to numerous Mom's Meals meal delivery reviews, the delivery service works smoothly. It has its own chef who cooks dishes according to specific nutritional needs. There are several menus that are designed for people with different health conditions. The service offers many plans, among which are those that cover menu options for general wellness, vegetarians, those who have been diagnosed with diabetes, cancer, renal dysfunction, heart diseases, and other chronic health conditions. Just choose every dish you want to eat, customize Mom's Meals menu options, if necessary, and get them delivered to your doorstep.
It's possible to order from 10 to 21 dishes weekly. The good news is that Mom's Meals provides an opportunity to choose each dish individually. If you find it difficult to select meals, you can check dishes recommended by the chef.
It is worth mentioning an opportunity to customize your Mom's Meals menu and exclude ingredients you don't like or that don't meet your dietary restrictions. Let's proceed to the information about food plans in our Mom's Meals meal kits review. Take into account that there are no Mom's Meals recipe cards. The company delivers foods that are ready for consumption. You need just to reheat a dish.
How Easy are Mom's Meals Meal Kits to Prepare?
Mom's Meals food delivery makes it possible to save much time for cooking. The company delivers fully prepared foods. The only thing you need to do is to reheat the prepared dish and enjoy fresh and delicious foods made by the talented chef. It's possible to freeze dishes delivered by the service for two weeks after you get the order.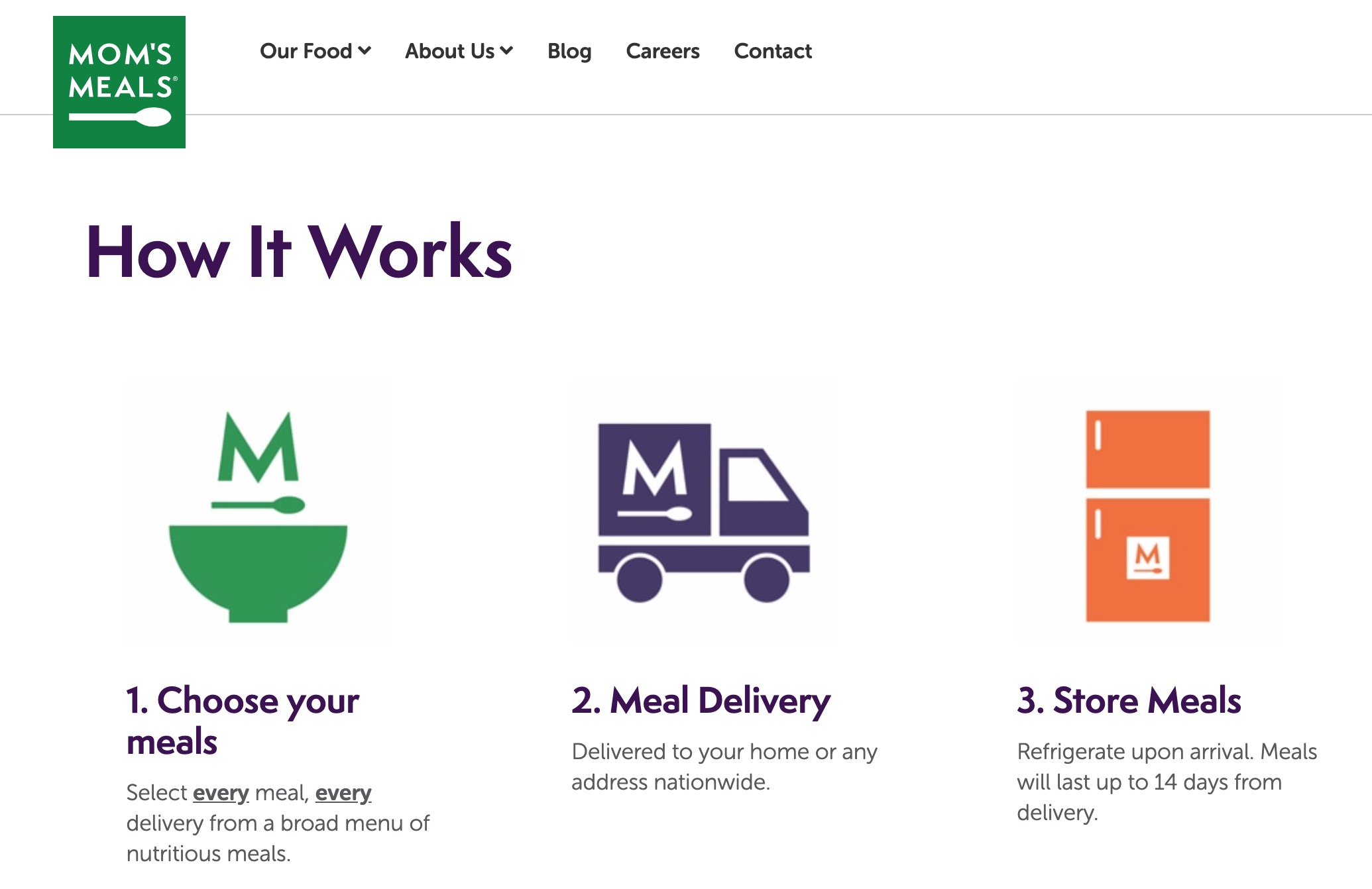 Who Is Mom's Meals Delivery Good For?
It's a great choice for those who have certain health conditions. Among them are heart and kidney diseases, diabetes, and cancer. The service has a chef who designs menu options taking into account the all nutritional needs of those who have different chronic health conditions.
The delivery service is good for people who search for the possibility to order customized food options. The delivery service offers customers to choose what ingredients they want to include or exclude. The company also serves clients who are covered by government programs. These are Medicare and Medicaid programs and programs under the Older American Act. Also, it is good for individuals who are searching for self-pay Mom's Meals plans.
Who Isn't It Good For?
Those who keep to keto, paleo, or a weight loss diet may be dissatisfied with the variety of menu options offered for these categories of individuals. If you don't have any specific health conditions or chronic diseases, you can choose another delivery option with a wider assortment that would meet your personal dietary requirements.
Mom's Meals Packaging and Environmental Friendliness
According to Mom's Meals meal reviews, the company uses environmentally-friendly packaging for its food orders. You'll receive well-packaged food in the container. The delivery service takes care of food freshness and creates all possible conditions to prevent spoilage of the food. It is possible to store food for 14 days after the delivery if you follow storage recommendations and freeze food in the refrigerator.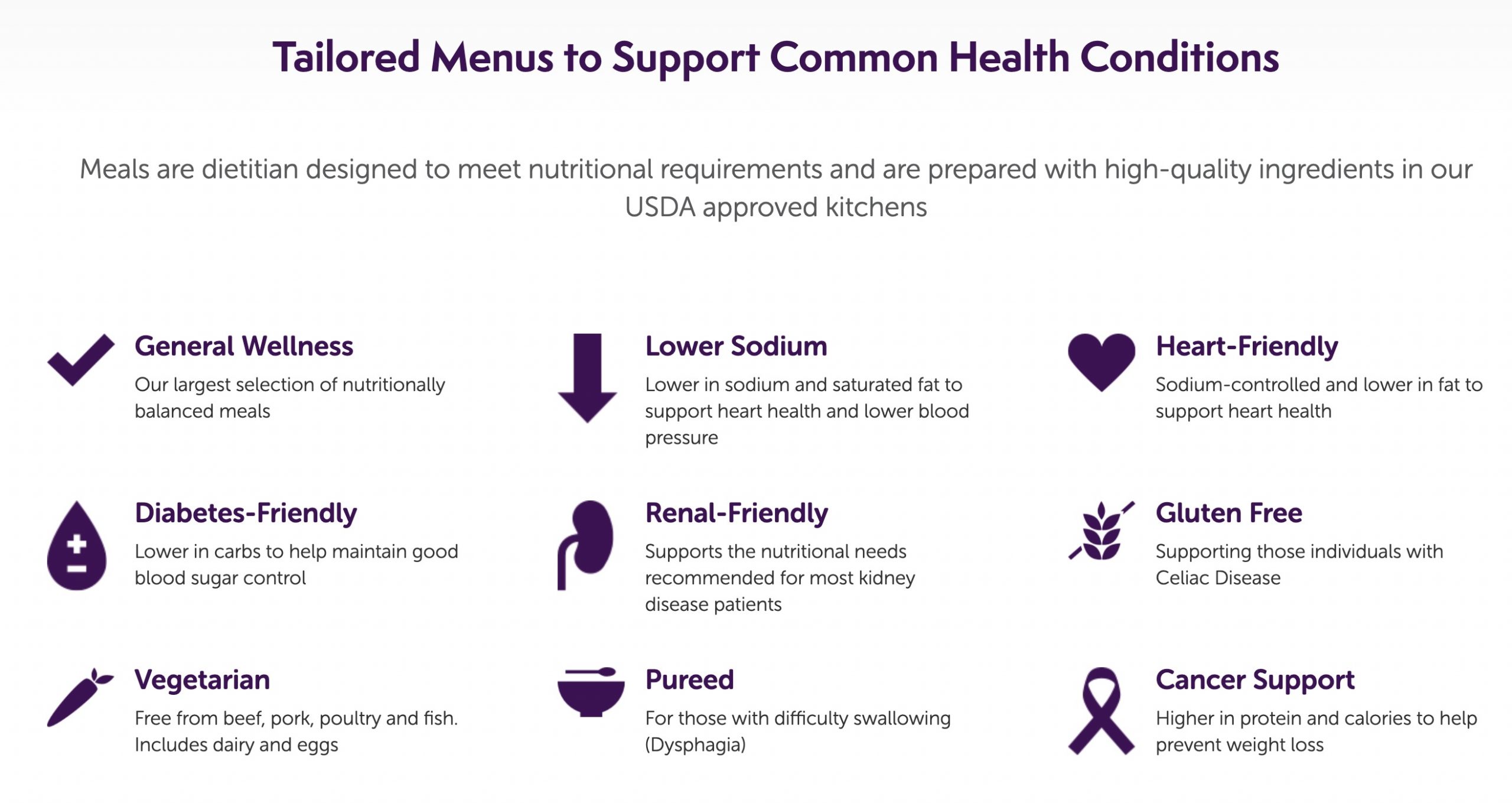 Changing and Canceling Order
If you want to cancel the order or change it, you need to do this before a certain timeframe. For this, you can either enter your personal account or contact customer support. The cancelation rules may vary depending on the delivery schedule you have chosen. If you decide to cancel your subscription, you need to inform customer support about this before your next order arrives. Think about cancelation or any order updates beforehand for the company to have time to process all changes. You won't face any issues if you don't want to use the services of the company anymore.
Customer Service
According to reviews for Mom's Meals, customer support is helpful. Specialists process requests within 48 hours maximum. It is possible either to call customer service and share your problem or leave a request on the website. You can fill in all the details and send a request being sure that they will deal with it at the earliest convenience. Customer support takes care of their clients and comes to the rescue if there is an issue with your order.
Mom's Meals vs Bistro MD
Mom's Meals has competitors in today's market. Those who need to meet specific dietary requirements mention Bistro MD as one of the main competitors. It has many similar features. The service delivers healthy organic food that can meet nutritional restrictions. All dishes are fully prepared exactly as Mom's Meals delivers. The main difference between these two delivery services is that Bistro MD has higher prices. The cost per serving starts from $9.50.
Moms' Meals vs Top Chef
One more delivery service that can be considered a competitor of the Mom's Meals delivery is Top Chef. The company offers a customization option and menu for people with chronic health conditions. The initial price per serving is $6.25 here. Top Chef offers to order dishes from the menu or buy foods in packages. The delivery service has a wider selection of low carb, low sodium, and other specific menu options.
Conclusion
Mom's Meals ratings are high among older people (the rating is 98%) and those individuals who need to meet specific dietary restrictions. This subscription-based Mom's delivery company fits those who are on a tight budget as there is an impressive selection of affordable healthy foods. It's also the best delivery service for individuals who don't like cooking or are busy at work but want to eat foods that taste homemade.
Mom's Meals pricing for organic food is competitive. You can enjoy heart-friendly, diabetes-friendly, gluten-free, and other organic food menu options designed by an experienced chef at an affordable cost. Leading a healthy lifestyle and meeting dietary restrictions is easy with the delivery service.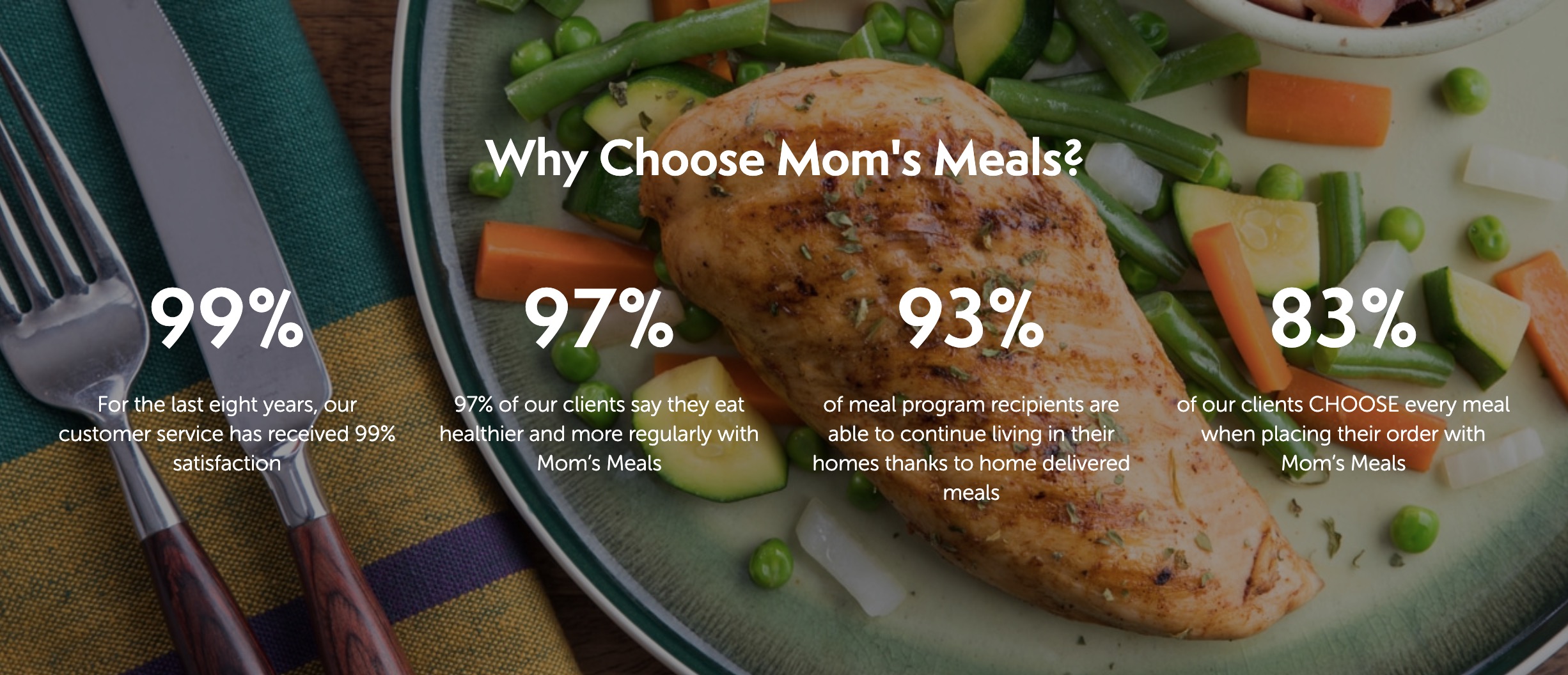 FAQ
Are Mom's Meals Healthy?
Mom's Meals uses only fresh and healthy ingredients for their dishes. On the site of the delivery service, you will find information about the ingredient list for each serving. Meals don't contain nitrates, hormones, or any other harmful ingredients. But the service admits that some preservatives may be present in the ingredients the service buys.
Can I Try Mom's Meals for Free?
You can find a Mom's Meals promo code on different websites and apply it when placing an order. The promo code makes it possible to get a 10% discount on your food order. This refers to new customers and those who have already subscribed to get food delivery services. Don't miss a chance to use coupons and enjoy healthy foods at a lower price.
Are Mom's Meals Worth the Money?
Definitely, yes. Mom's Meals makes it easy to keep to specific diets when you need to meet nutritional requirements. The food delivery service helps those who have chronic health conditions to lead a healthy lifestyle by spending minutes cooking. The service provides a possibility to eat high-quality foods at a reasonable cost, spending little time and effort.
Does Example Have Coupons for Existing Customers?
Existing customers can also use a promo code and get a 10% discount to buy their favorite menu options. You can find discount codes every time you place an order and apply it successfully. Just search on the websites that offer codes to purchase different delivery services, including the reviewed one.