Nowadays more and more people tend to follow a healthy way of life. This modern trend makes people eat healthy food and visit the gym on a regular basis. And if with the latter point there are no problems while the number of available gyms is enormous, finding fresh and healthy ingredients for your meals may become a real challenge.
Although nowadays there are lots of versatile food delivery services, their assortments can't always be described as healthy. Unfortunately, the modern food market is overflowing with poor quality and sometimes even dangerous items. No wonder the Moink meal delivery service compares favorably with its rivals. The firm provides its clients with first-rate ethically sourced meat.
Short Overview (Pros and Cons)
The major thing you have to realize about Moink food delivery is that it's not an online grocery store. It's a big mistake to think that it's a single farm. Moink cooperates with farmers who supply it with top-quality foods and products. The selection criteria are rather strict. It means that the clients may always count on excellent meat without antibiotics, GMOs, or chemicals.
These days, Moink cooperates with 100+ farms. The residents of 50 states have a perfect opportunity to receive delicious packages on a monthly basis. Moink was launched in 2017. Since then, it has been gaining huge popularity among real meat addicts.
Main Advantages
This Moink review can't but mention the most significant pluses of the company. They include uncompromisable quality, awesome assortment, and excellent customer support service.
Main Disadvantages
Moink meal delivery reviews can't be full without pointing out the minuses of the platform. The main disadvantage is that it's not a perfect solution for those who follow a vegan diet or try to minimize the consumption of meat.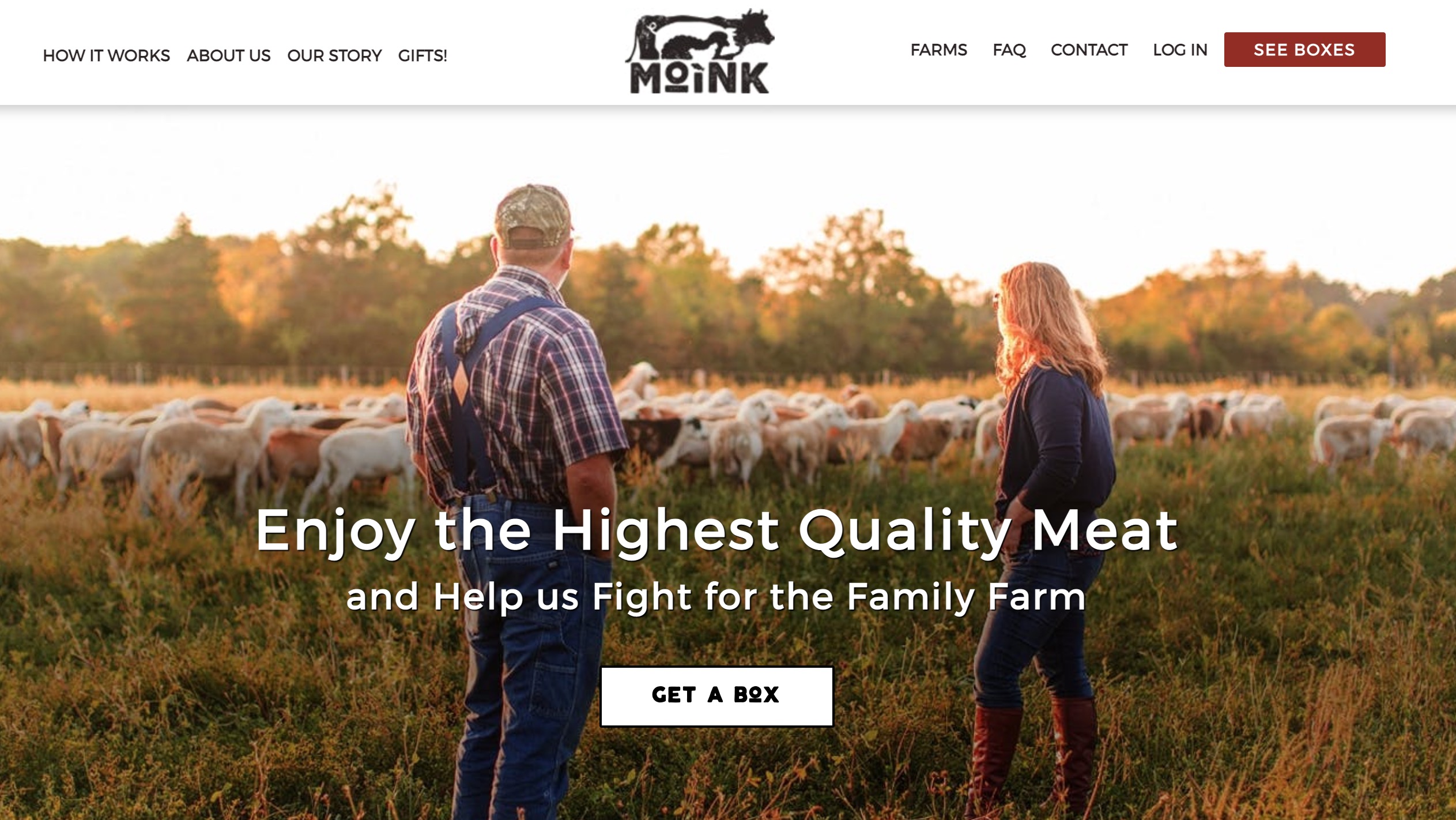 Pricing
It's necessary to highlight that Moink menus are not constant. The available options may vary depending on the products the firm receives from its suppliers. There are five main components that make up the menu. They are beef, pork, lamb, chicken, and salmon. It means the assortment is rather rich and meets the needs of a wide range of potential buyers. There is one significant thing you should remember about the service. The managers can't 100% guarantee that the clients always receive exactly what they order. It depends on the peculiarities of the supply chain of the firm.
In this Moink meal kit review, it should be noticed that every box contains from 8 to 10 items depending on the chosen option. It's enough for cooking about 35 to 40 servings. There are 6 available boxes. Each of them includes a specific set of products. It's possible to see the content of each box before placing an order. It's up to you to customize boxes. You may replace or exclude some ingredients.
The answer to the question "How much is Moink?" will satisfy many clients. Moink prices are reasonable and stable. It's necessary to pay $159 per box, no matter whether it's customized or not. Moink pricing policy is even more than fair. You always know what you are paying for.
How Moink Works
Reviews for Moink highlight that the service is user-friendly. You don't need to fill in endless forms or quotes to get access to the available options or to place an order. All the operations may be completed on the site of the company.
There are several steps that should be taken to get your first Moink box. They are the following:
Register your account on the service;
Pick up the preferable options;
Clarify the numbers of deliveries;
Define payment details;
Provide the platform with your address;
Savor awesome meat dishes.
Moink meal reviews denote that the company makes everything possible to please its clients. The option of gift boxes is cool. You may order one of the available meat boxes for your friends or family members. The boxes differ in size and price. It's also possible to reduce Moink cost while there are always special offers on the website. With the help of the Moink promo code, you save money and make the process of purchasing even more pleasing.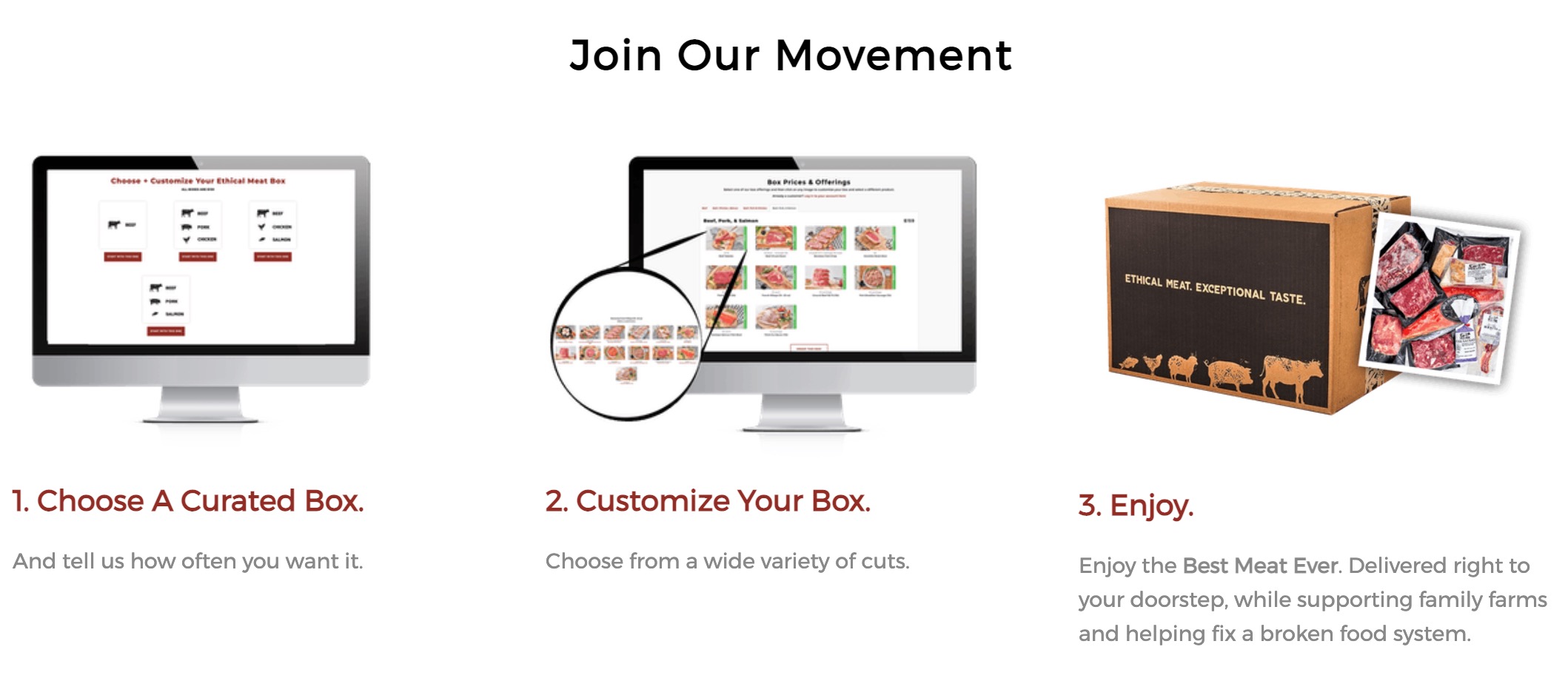 How Easy Are Moink Meal Kits to Prepare?
Moink reviews highlight that the platform differs from a traditional meal service while it doesn't provide you with prepared food. You get a box with a set of meat items. It's up to you to decide what you are going to cook from them. It's possible to store the products in the fridge until the next box comes.
If you do not know what to cook, the website of Moink is ready to help you. On its pages, you are to find exclusive receipts of yummy dishes. Detailed and simple instructions make it possible for everyone to savor mouth-watering servings. Every receipt denotes how much time you are to spend while cooking the dish.
Who Is Moink Good for?
There are lots of people who find Moink plans cool. The whole family appreciates the quality of the products and the taste of the dishes they prepare from them. Moink ratings show that the platform is good for large families who want to eat tasty and organic food every day. It's also good for sportsmen who need to get natural proteins.
Who It Isn't Good For?
Although the meat and seafood people get from Moink are awesome, there are still some audiences that won't appreciate the Moink menu. First of all, it's not a perfect solution for humans who do not eat animal-based products. Vegetarians may try seafood options, while vegans can order nothing to meet their needs. If you are going to lose weight, you should either look for other alternatives or customize box content.
It's also not the perfect variant for people who are not good at cooking. While there are no Moink recipe cards in the boxes, you may be confused with the products you receive.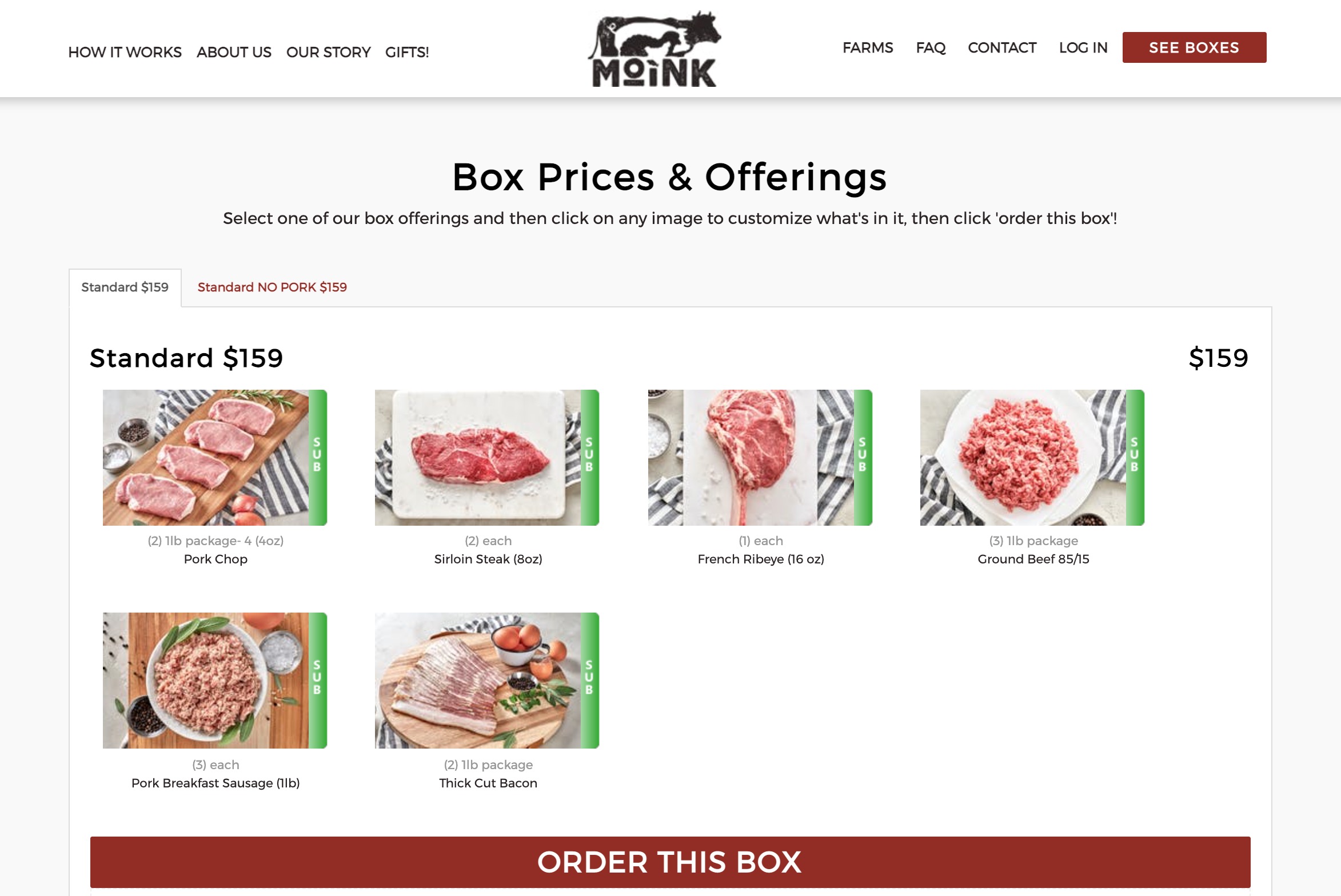 Moink Packaging Peculiarities
Dealing with meat and fish is always challenging. It's necessary to deliver products fresh and intact. It means proper packaging is a must. Moink pays special attention to the transportation process of the boxes. Everything is packed in dry ice. It allows withstanding the transportation period even if it is a day or two late.
Changing and Canceling Order
The managers of Moink know how demanding customers may be. They try to meet the needs and expectations of each of their clients. If you need to add alterations to your subscription plan or cancel your order, there are two possible ways you may experience it.
When it comes to the cancellation of your order, you can do it in your account or by calling the managers of the company. There are deadlines you have to follow. It's possible to cancel delivery till the Wednesday that precedes the delivery term.
Customer Service
Clients always have thousands of questions about the meal delivery service. The platform allows users to get the needed information in several ways. It's possible to fill in a special online form on the website. You can also call the firm or send an email. Managers try to answer all the questions as soon as possible, but you should be ready to wait about a couple of days before you receive them.
It's also a good idea to visit the FAQ section on the site before contacting a customer support service. You are to find lots of useful and helpful information.
The Competition or Alternatives
Butcher is the greatest competitor of Moink. This firm is also specialized in the delivery of meat boxes. Reviews of Moink indicate that the companies have both similar and distinctive features. Thus, they both offer top-quality products. Although the assortment of Butcher is wider, Moink is a winner when it comes to pricing policies and coverage area.
Another promising competitor is HarvestBox. It's a small meat delivery firm. It has almost a similar assortment. The clients of HarvestBox can also order venison patties. Yet, one box allows you to savor only about 19 servings in comparison with up to 40 of Moink. Moreover, Harvestbox is more expensive.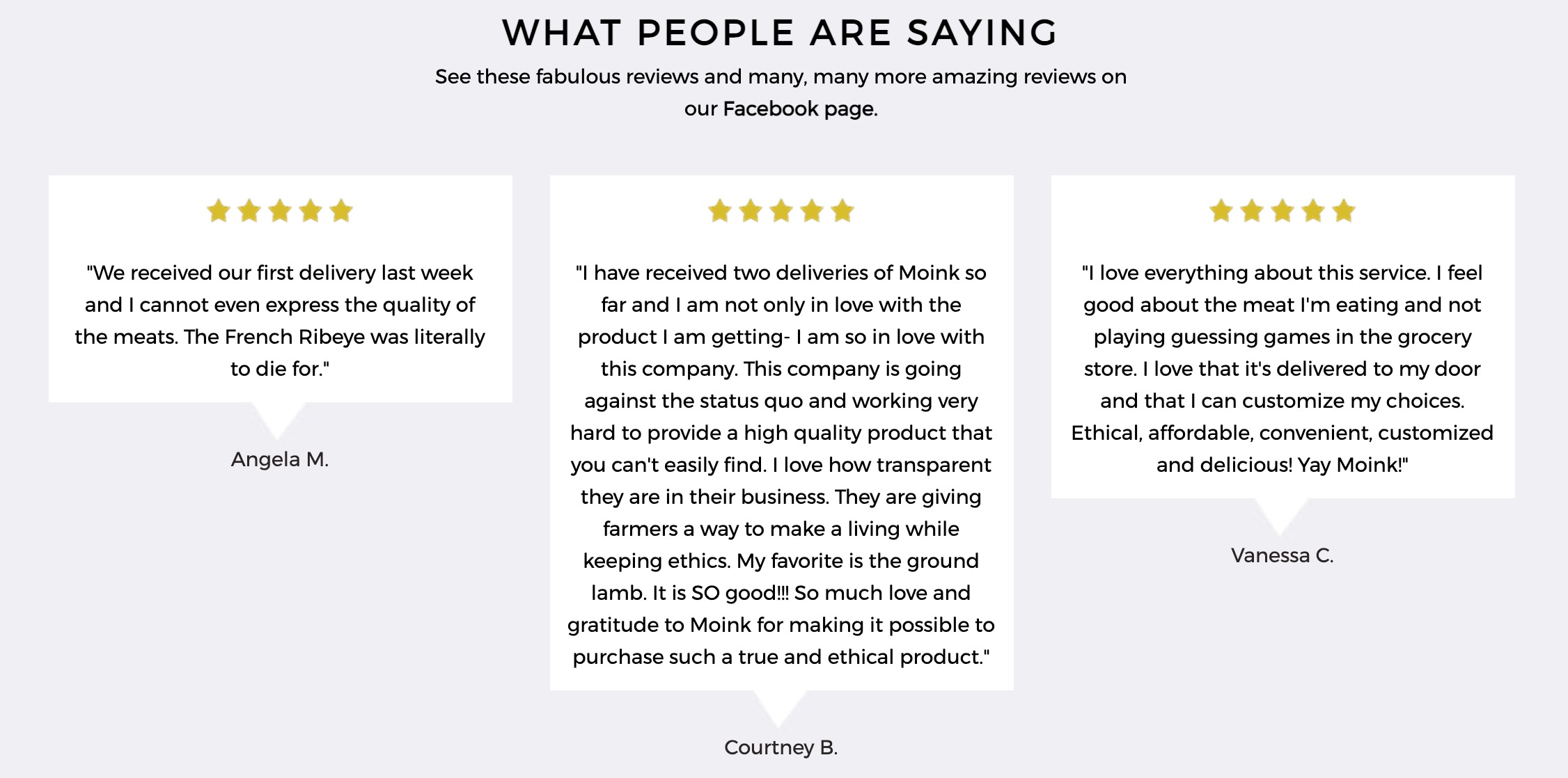 The Verdict
To conclude, it should be noticed that Moink is the best delivery service when it comes to ordering organic products. Any item on the menu corresponds to the international standards of quality. You don't need to waste hours trying to catch beef or pork at the nearest (or even the most remote) farmer market in your area. You get the needed meat box regularly. It's continental and easy to make purchases online.
FAQ
Are Moink Meals Healthy?
Everyone who is fond of organic food appreciates the assortment of Moink. The service pays attention to the quality of each pound of meat they supply to their clients. There are no harmful or dangerous elements in the products.
Can I Try Moink for free?
Every service should be paid for. Especially when it comes to high-quality service. It's impossible to get a top-quality meat box for free. Yet, you are provided with a wide range of discount options. It's possible to save money when using the Moink delivery service.
Does Moink Have Coupons for Existing Customers?
Moink likes its customers and offers a wide range of promotions. When placing an order on the website, you are to apply a special discount code. It helps to save money. The next option you can't but appreciate is the possibility to get a discount for each new client you bring to the service. Both a new customer and you get discounts.
Is Moink Worth the Money?
Moink meal kits review proves that the food the customers receive is worth the money they pay for it. One package allows you to cook copious dishes for a couple of dozens of servings. You are always sure of the quality of each piece of your order.