Homemade food is becoming less common because people can't waste hours every day shopping, deciding on their menu, and then cooking. Instead, people would rather buy takeout, semi-manufactured goods or take something on the go. Recently, the majority started to take advantage of food delivery.
This is where FlexPro can be helpful, as this meal delivery company provides healthy and delicious menus. Read our FlexPro Meals review to find out more about the pros and cons of this service and whether it's tailored to your needs.
FlexPro Meals Food Delivery Short Overview: Pros and Cons
FlexPro is a health-focused food delivery service that aims to help you achieve your daily nutrition goals without having to sacrifice flavor. Let's take a close look at this prepared food delivery.
Pros of FlexPro meals reviews:
Premium food delivery service
Low-calorie and keto-friendly food
FDA-certified kitchen.
25 various options on the menu.
Great discounts with FlexPro Meals promo code.
28 active coupon codes.
Cons of FlexPro meals meal delivery reviews:
No free delivery.
No discounts for students.
This way, in our reviews of FlexPro Meals, we've found more pros than cons. All the cons are connected largely to the service of this meal delivery, while the pros are all about food quality.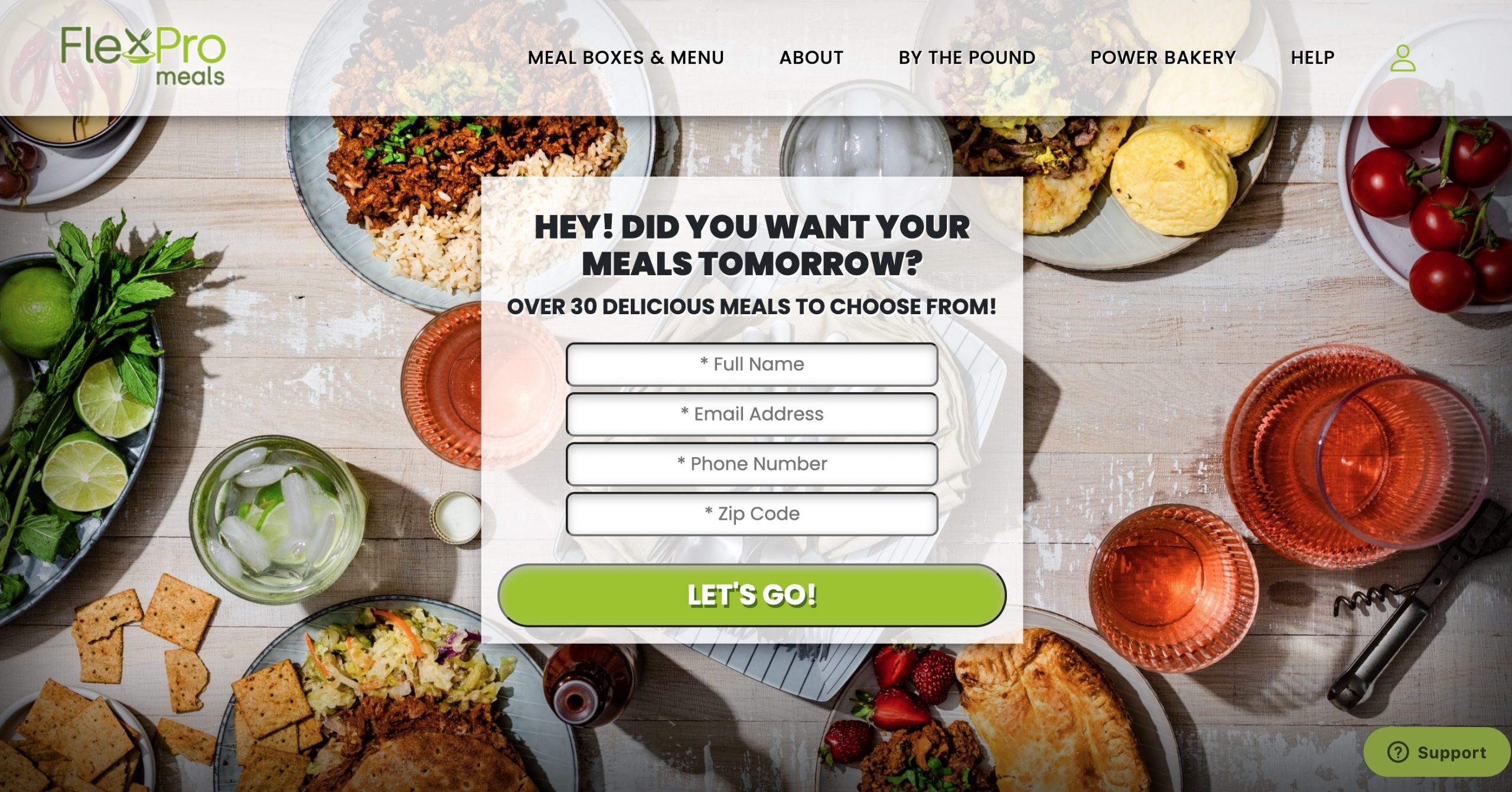 Pricing of FlexPro Meals Menus
The company is famous for its FlexPro Meals recipe cards, tailored to your needs. There's a package for everyone, both for those who are looking for a regular plate or anything you may have from time to time. So, how much is Flexpro Meal Kit?
FlexPro meals prices are the following for various meal options every week:
7 servings: $86.93
10 servings: $114.90
15 servings: $163.60
18 servings: $189.82
21 servings: $209.29
The company has other additional options referred to as Mario's food box every week:
10 servings: $114.90
15 servings: $189.82
21 servings: $209.29
The company teamed up with Mario Lopez to make their famous Mario Lunch Box. They pair every order with food to send it to the kids CLub of America. This way, you're sure that your bucks are going to do good things.
If you choose this box, you can pick the special plates you want. There're two different portions for each package:
Fat Trimmer.
Lean Muscle.
You can choose whatever you want, depending on your personal preferences and goals. You have to pay a bit more for Lean Muscle compared to the first option.
Let's face it, FlexPro meals pricing doesn't come cheap. Each option is kind of expensive. But frankly, nobody uses food delivery services to put aside some money. All delivery services like FlexPro are geared towards making your life way easier and making you healthier!
How FlexPro Meals Delivery Works
FlexPro Meal reviews show a ton of variety in their menus that allow them to cater to a variety of different people and their unique needs and objectives. They offer boxes that vary from 7 to 21 plates per box and weekday delivery options every 4 weeks.
If you have trouble figuring out the best delivery schedule for your needs, the FlexPro team provides guidance. And helpful tips to help you optimize your deliveries and stretch your money to the next level.
Once you have chosen the number of packages you would like and how often, you can go to the fun part — choose your food!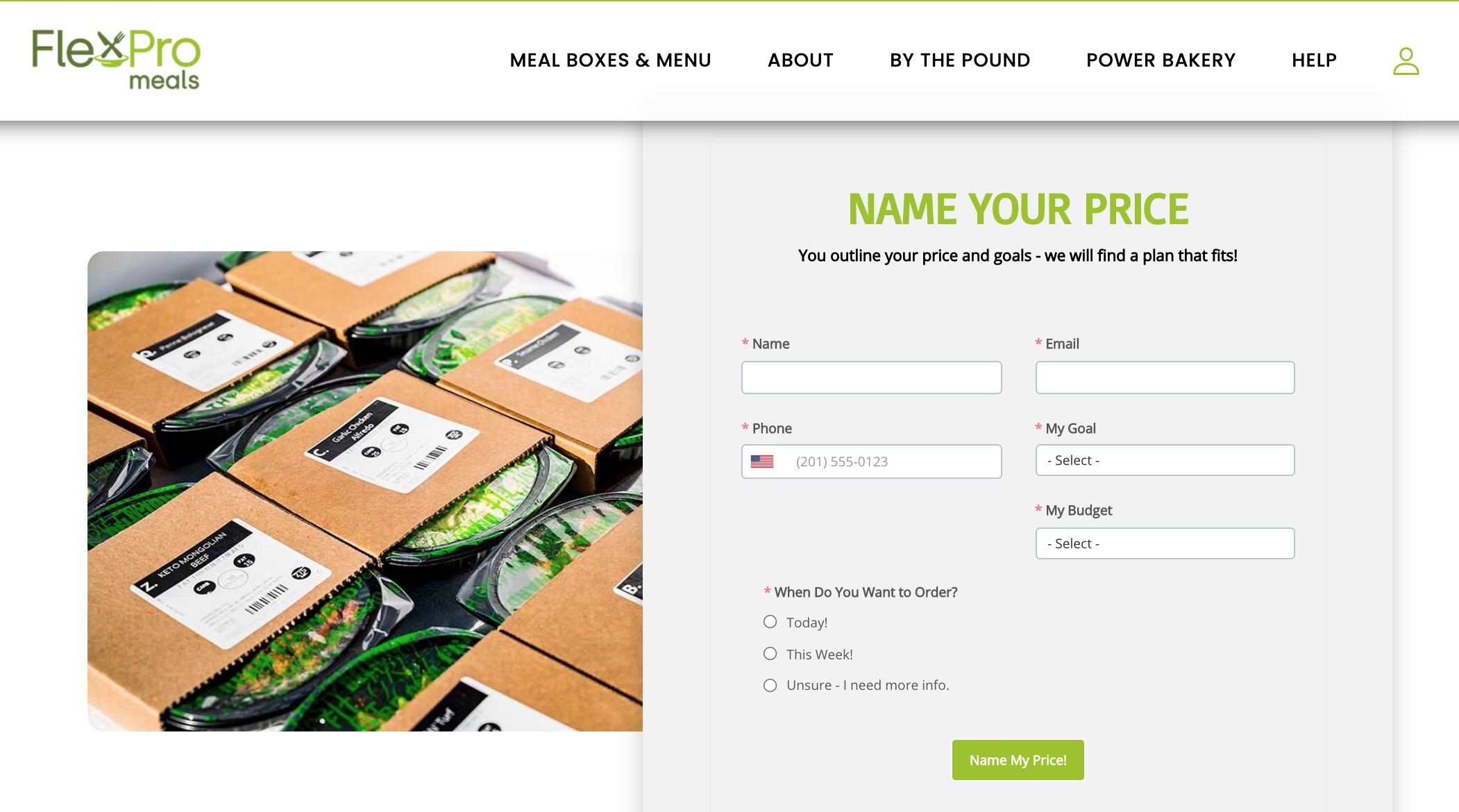 How Easy Are FlexPro Meal Kits to Prepare?
All packages are prepared by experienced chefs. Every plate is created to fulfill a range of nourishment and vitamins. They're made up of nutritionist experts who know better what you want to accomplish with your order.
The most exciting thing about prepared food delivery is that you don't need to do any preparation or baking work at all. Just get the box and use the microwave to heat it. A healthy lifestyle just can't be easier if you use FlexPro Meals meal kits review!
Who Is FlexPro Meals Good For?
FlexPro was designed to make healthy food more fun and exciting for everybody. Often the time to follow a diet comes with a stigma of not being appetizing or tasty attached to it. All of them are prepared to achieve our health goals without sacrificing flavor.
It's a great place to eat if you're:
Health care avid.
On a ketogenic diet.
Paying more attention to the servings.
Trying to reduce calories.
On the journey to lose weight.
You may feel good about your choice to buy FlexPro meals as only natural products are used to deliver their prepared food. No added preservatives, chemicals, or other undesirable additives are present. This is a simple, complete, fresh prepared food full of nutrients you need to maintain a healthy lifestyle and achieve your weight loss goals.
Who It Isn't Good For? Reviews for FlexPro Meals
Their website doesn't contain detailed nutrition information. That may be a problem for some people. Also, no free delivery policy is available. So, it can be a red flag for those who prefer free delivery.
Besides, some of the FlexPro Meals ratings about the brand and the quality of their food and services are somewhat negative. The brand is in a new direction and is working hard to reverse all the problems around, with even more valuable promises in the coming months.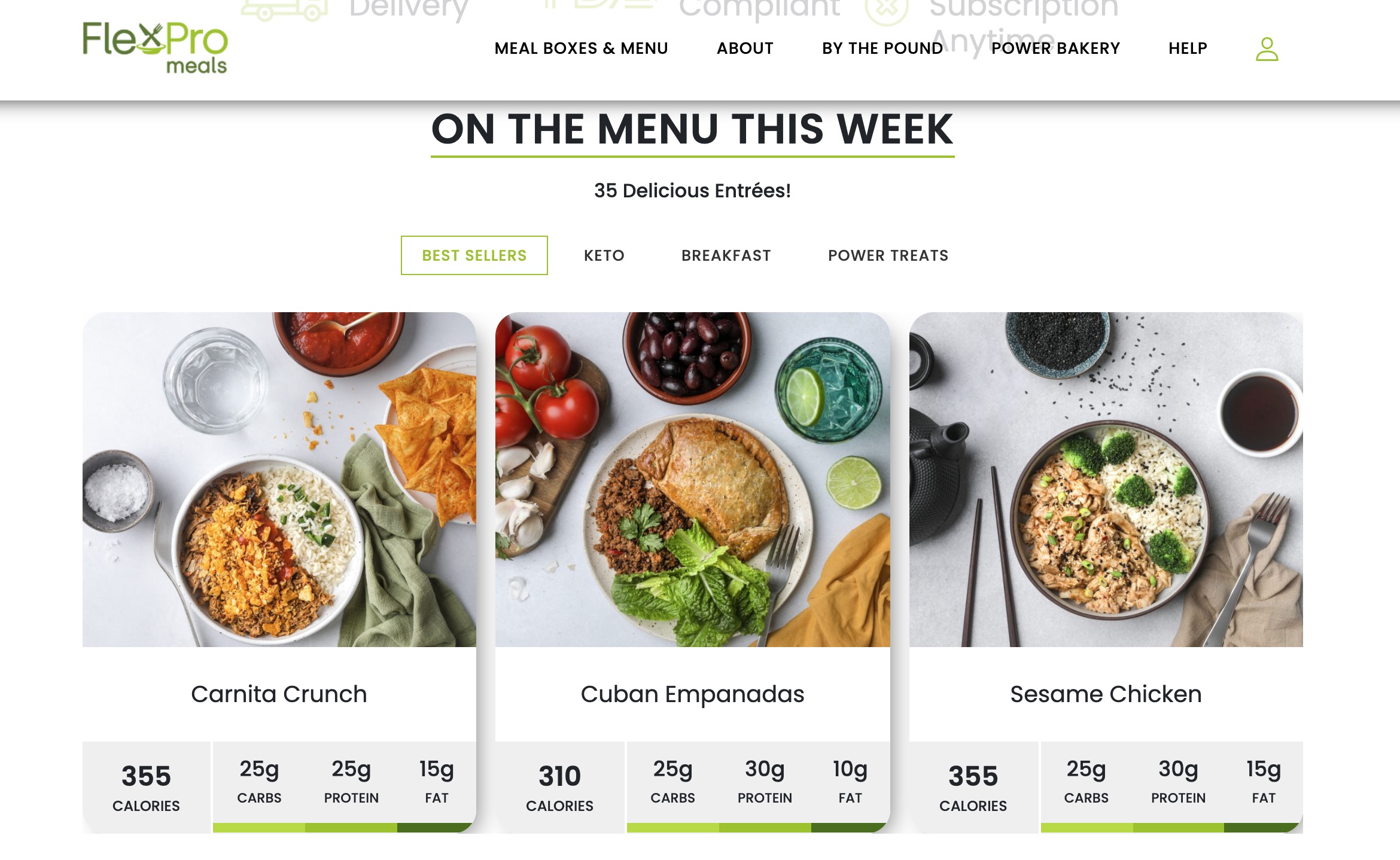 FlexPro Meals Packaging and Environmental Friendliness
Your frozen foods come packaged in a separate box, with biodegradable containers and dry ice. You can store your packages in the refrigerator or freezer, and the company itself recommends that you always thaw your food for 24-48 hours before preparing them.
There're instructions on how to store and prepare food on the inside flap of your lunchbox. You can heat the entire container, including the head film.
Flexpro Meal Kits Reviews Changing and Canceling Order
As a member of the FlexPro family, you have direct access to:
Update your choices and amounts of lunchbox entries.
Add a favorite treat.
Miss a week or change your shipping frequency at any time.
You can access their Customer Service Team directly.
Recurring billing for FlexPro Meals plans occurs on Saturdays. You can just call and cancel your lunchbox before Friday. The deadline for making changes, like updating your preferences, skipping your next order, canceling your order, changing your address, etc., is Thursday. All orders are final after Tuesday, with no exceptions!
An automated email will be sent to you on Thursday to remind you if you need to make any changes before your order is finalized.
Customer Service FlexPro Meals Review
The company is super friendly when it comes to the Customer Service Team. They'll be more than happy to assist during business hours!
The Alternatives: FlexPro Meals Review Competitors
Here's a brief comparison between similar companies based in the USA that offers meals prepared with the right ingredients to specifically build muscle and get lean.
FlexPro Meals vs. Factor 75
Factor 75 creates vegan plates with grass-fed meats without antibiotics or hormones, low glycemic carbohydrates, organic products, and no artificial sweeteners or added sugar. The company claims that they're 100% gluten-free and soy-free.
Packages range between four plates a week at $60 and 18 packages a week at $198. It's way cheaper compared to FlexPro. Factor 75 may include dietary considerations and allergies; food is always fresh. The menu changes every week and refers to Keto, Paleo, without dairy or spicy products, just as you can see in FlexPro.
FlexPro Meals vs. Meal Pro
Contrary to FlexPro, Meal Pro offers three different packages designed by nutritionists: muscle building, low-carbohydrate, and high-protein. Every package costs $10.99 and lists serving size, nutritional value, and ingredients. The prices are way more affordable than in the FlexPro delivery. Buyers may choose a two-course package or a ten-course package. Meal Pro uses a rotating menu and provides Paleo selections.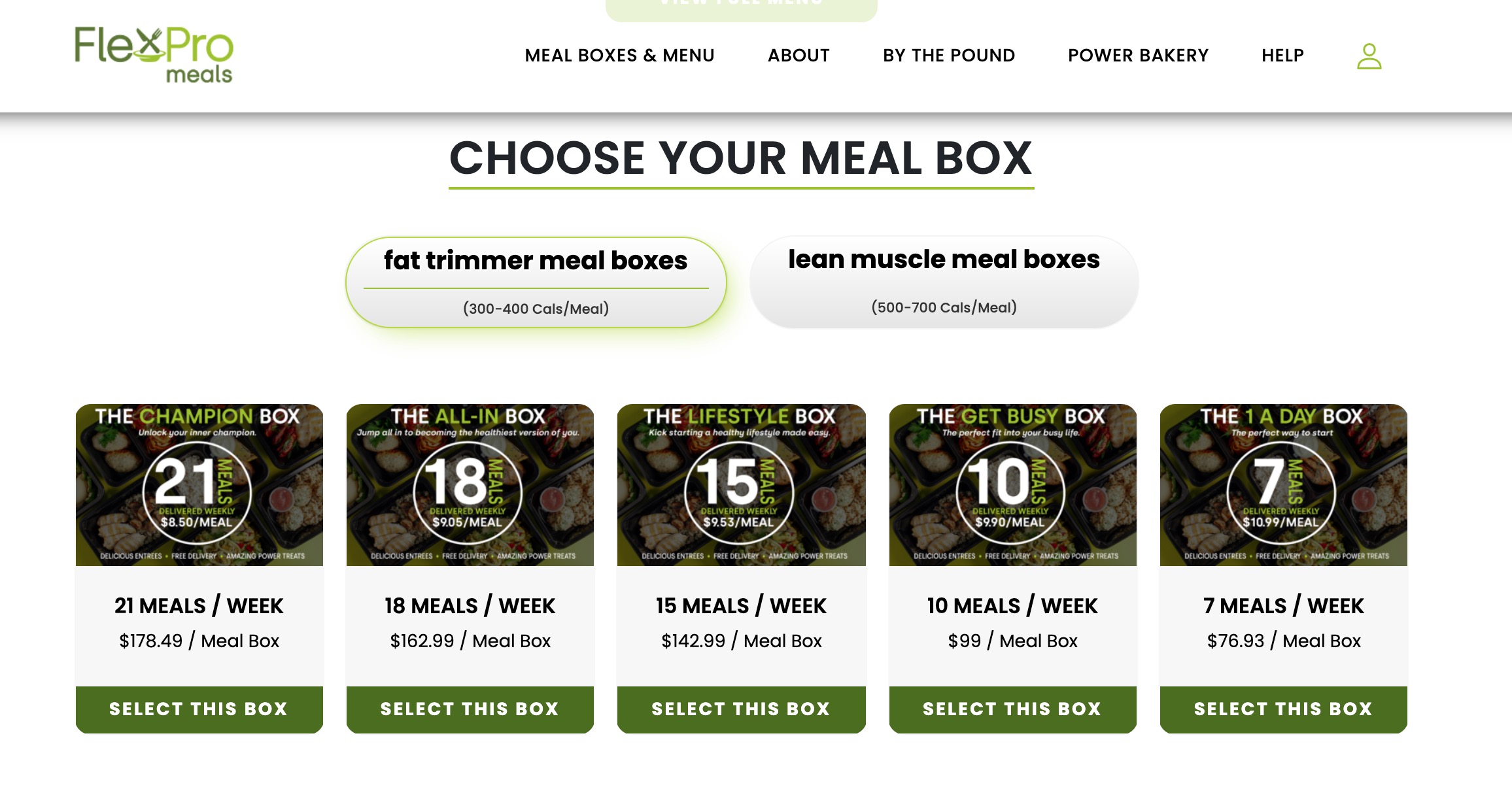 The Verdict on the FlexPro Meal Kits Review
Diet can cause mental and physical exhaustion, especially if you're somebody who likes eating. The one-time idea of giving up everything to be in good health is simply not rational. FlexPro meal service proves to you that you can enjoy your food, not adding cheese to everything! Though FlexPro Meals cost isn't so affordable, and it may be not the best delivery service, it's still worth it.
If you live a busy lifestyle like many people out there, preparing and cooking weekly packages isn't a good idea to spend your spare time. In this FlexPro Meal review, you've seen that you can make the most out of a single subscription. From that moment, relishing tasty and healthy organic food is right at your fingertips.
FAQ
Are FlexPro Meals Healthy?
FlexPro uses all-natural and whole food ingredients that do not contain any preservatives or added chemicals. Having whole foods regularly in your diet is a great way to get tons of nutrients, antioxidants, and fiber.
If you have digestive problems or long-term acidity, trying Flexpro instead of shop-bought food can help reduce this problem. Having a diet based on whole foods can reduce the consumption of calorie-rich foods.
Is FlexPro Meals Worth the Money?
All meals are made by professional chefs and are made up of natural ingredients. Every meal is designed with a superior flavor in mind. Food diet doesn't have to be dull, boring, and tasteless! This results in meals high in protein, low in sugar, and adapted to your nutrition and food requirements.
Are FlexPro Meals Easy to Cancel?
You can request to cancel your subscription due to any specific concerns you have encountered. The company is determined to address this situation. Be aware that any order already invoiced before the cancellation is an order that'll be delivered to you and that may not be refundable. Contact your account manager through the support widget accessible on any page on the site or make a call or send a text message.