Meal plans tailored solely on your preference, and dietary restrictions? Alongside dozens of popular food delivery services, Eat This Much stands out for generating the best dishes to help one take control of their nutrition. You can use a calorie calculator, or browse tasty options from your favorite restaurant – one goal is on target – to meet people's expectations regarding diets without making them throw money down the drain. Read the Eat This Much review to get familiarized with the offerings.
Short Overview (Pros and Cons)
When overlooking Eat This Much meal delivery reviews, you can see that it differs from most meal delivery companies. It is a smaller service that aims at facilitating clients' planning, shopping and cooking for meals. It may act like your personal nutritionist who can guide you through your eating habits, or craft customizable recipes. You can review your previous progress, like weight loss, muscle gain, and simply track calories.
On the other hand, Eat This Much is just an assistant to the nutrition world since they do not prescribe any diet. You alone build your meal plan by telling your goals, dietary restrictions, as well as foods you would like to avoid.
Pros of Eat This Much:
Caters to several diet preferences including Paleo, Vegetarian, Vegan, Ketogenic, Meditteranean among others;
Helps one lose weight or gain muscles;
Involves online calorie calculators;
Instacart/AmazonFresh integrated deliveries;
Convenient mobile apps for both iOs and Android;
Branded, simple and restaurant food recipes depository.
Cons of Eat This Much:
Some dishes will be time-consuming in cooking;
0$ plan lacks features.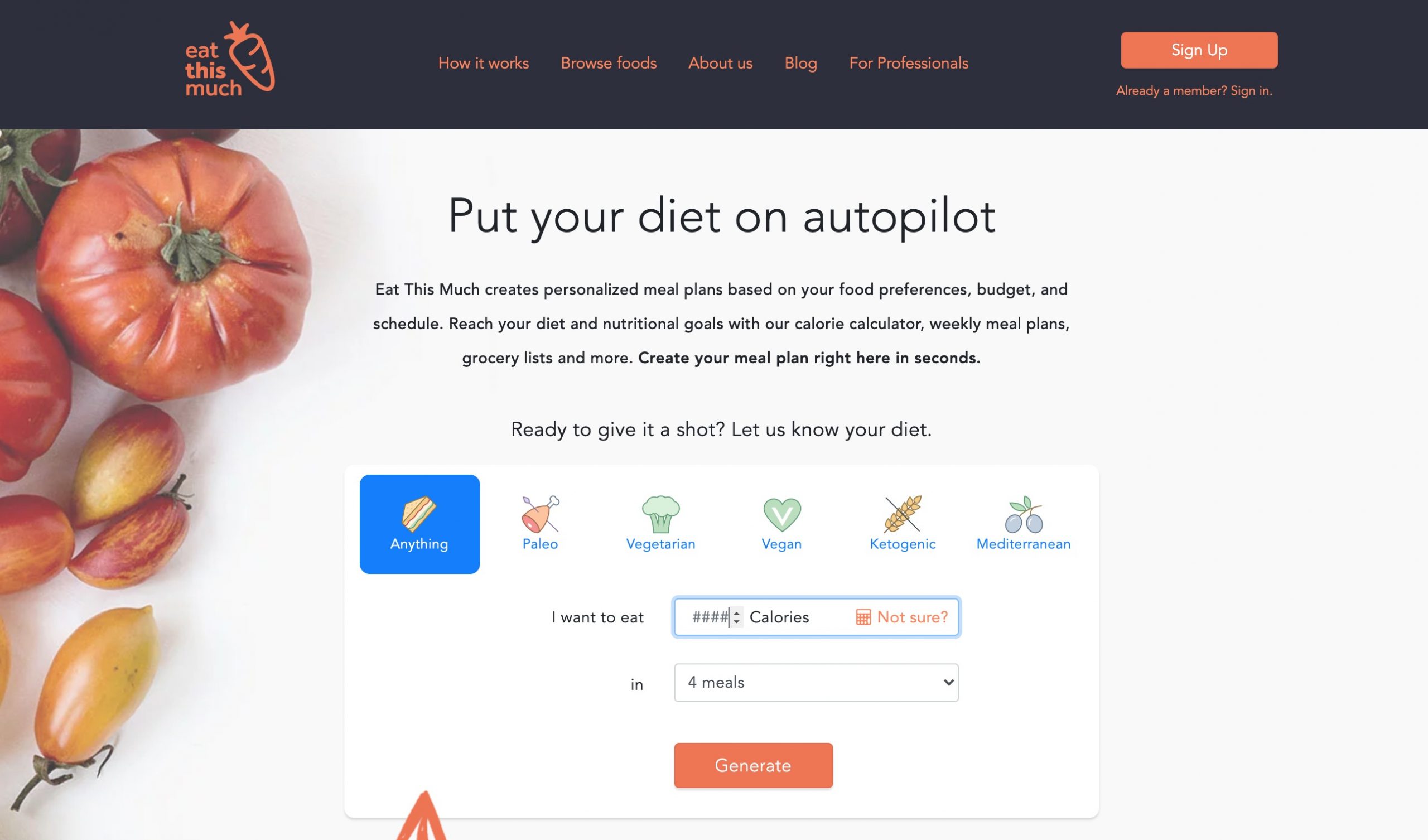 Pricing
Reviews for Eat This Much show that people choose this diet generator as an alternative to the best delivery service they usually refer to. It means that it is not a simple company that will deliver dishes for you. No, it is a tool that just hints you at recipes and grocery lists which you should alone find and craft per your liking.
It leads to the understanding that you literally do everything alone.
How much is Eat This Much? The Eat This Much prices are the following:
A free plan – $0 per month
With this plan, you can generate daily food plans, track your eating habits, craft custom recipes, personalize the diet generator, and schedule your recurring meals. On the other hand, you are limited in options for generating automatic grocery lists, and leftovers, customizing your meal days, as well as printing and emailing plans.
A premium plan – $4.99 per month
With this Eat This Much cost, you receive all the features. You can also set up the system to bill you annually. Yet, it is worth saying that the company strives to help clients get acquainted with their offerings, hence, they recommend signing up for 14 days free trial. After that, you solely decide whether you want to proceed with their fully-packed Eat This Much plans.
Now, let's move to the actual Eat This Much menus. As was hinted above, everything caters to the customization of tastes and preferences.
You can set up the system for eating – Anything, Paleo, Vegetarian, Vegan, Ketogenic and Mediterranean diets. Each of them can be aimed for muscle gain, weight loss and simple maintaining of your wellbeing. Then, all these plans are adjusted per your possible allergies. You can inform them that you do not eat gluten, nuts, soy, or eggs. Finally, their plans are customized per your price expectations. For instance, you can set a limit of $10 per day only. Upon filling in all the necessary information about your meal preferences, and your physical metrics, the system will automatically generate your nutrition targets.
Some of the current healthy meal offerings for those who want to lose weight without having any allergies look the following way:
Big PB&J Sandwich
French onion soup
Fruit salad
Peanut butter and jelly
Blue cheese & veggie salad
Chicken caesar salad
You just get recipes on them and prepare your grocery list to have your cooking time.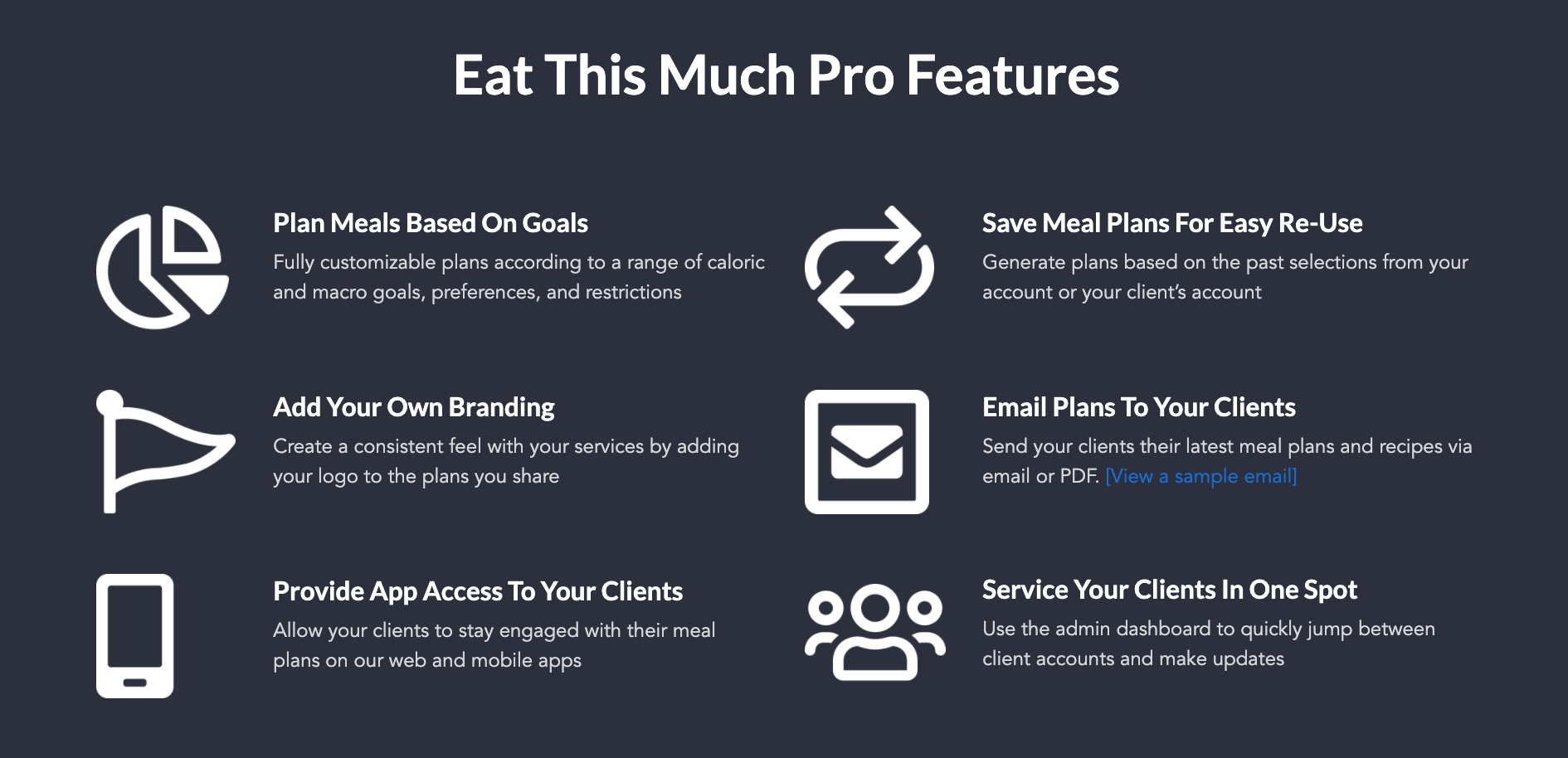 How Eat This Much Works
Reviews of Eat This Much confirm that the functionality of their app is as easy as ABC. For clients' convenience, they also post the scheme on how to use the service to get the most for their set goals. Everything leads to three simple steps – Plan, Prepare, and Progress.
You have to sign up for the system. During the registration, you tell the diet generator your preferences, goals, foods to avoid, as well as allergies, and pricing expectations. After that, you stick either to prepared food/pre packed meals or favourite restaurant recipes found in their database. Otherwise, you can always download your custom recipes. Finally, you prepare for cooking with their nutrition information.
On a weekly basis, you will receive a complete grocery list, and some Eat This Much recipe cards/instructions for ingredients cooking. You can also substitute some fresh and organic ingredients from that list if needed. You take the list to your nearby store or have everything delivered to your door if you have a premium plan.
During your compliance with the set healthy diet, you have to update the progress. Overlook your weight and nutrients.
How Easy Are Eat This Much Meal Kits to Prepare?
As you could guess with Eat This Much meal reviews, the cooking process is not complex at all. First off, everything depends on your free time and dedication to sticking to your offered diet.
Based on some users' feedback, several recipes can be time-consuming regarding their preparation, hence, it is hard to speak about Eat This Much as a service for 3-minutes reheating. Upon crafting your diet plan, you get all the detailed instructions whether it is a Ketogenic meal or one recipe inspired by the restaurant. You just follow the instructions and enjoy your meal.
Then, it is worth saying that the cooking process with this meal service may be also delayed by your extra touch to the dishes. On some occasions, clients like to substitute the ingredients or add other ingredients to make the dish tastier. Therefore, you can spend some time combining everything too.
Who Is Eat This Much Good For?
Even when you read dozens of Eat This Much meal kits reviews, there might be some hesitations on the company's worthiness. To help you understand better the Eat This Much relevance, check the events when you should use their diet generator:
Eat This Much is good for:
People who want to lose weight, maintain their wellbeing, or gain muscles;
People who want to access a free trial prior to contributing money;
People who have many dietary preferences;
People who want to craft the recipes alone, and spend time on cooking without prepared foods.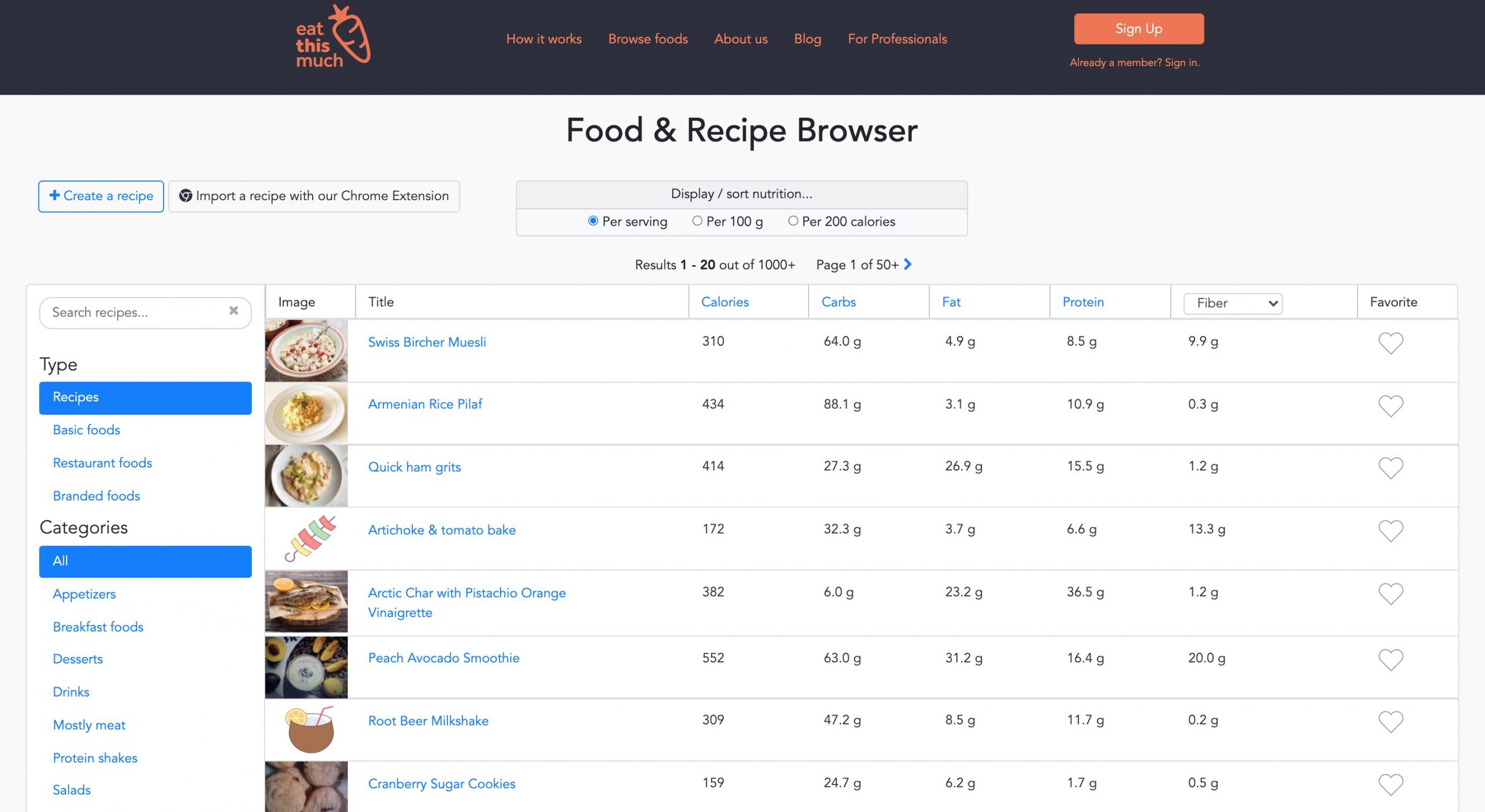 Who It Isn't Good For?
There are some pitfalls with Eat This Much food delivery too.
Eat This Much is not good for:
Those who seek organic food, and prepared meals delivered straight to their doors;
Those who are not into calculating calories, and tracking their progress alone;
Those who are not into visiting groceries on a daily basis.
All in all, this service is a diet generator, not a regular meal kit delivery company that will do all the work for you. You pick recipes, cook them alone, and do not rely on chefs' mastership.
Eat This Much Packaging and Environmental Friendliness
Since Eat This Much is an online app that you rely on in full to get hints on your nutrition plans, and a depository of tasty recipes from the Internet, and restaurants, you do not receive any boxes. If you care about sustainability, and environmental friendliness, you can additionally ask them about their approaches regarding that. Yet, it is impossible to speak of handy and reusable packaging when you do not receive anything.
Changing and Canceling Order
The process of canceling orders is not applicable with the app because it does not deliver anything to you except plans. If you want to cancel your subscription, you have to go to your smartphone/tablet settings and find the Subscriptions. Find there Eat This Much, and cancel.
If you are unable to do so, you are recommended to contact the company directly.
Customer Service
Eat This Much meal kits review of their customer support team stands for the next pillars – you can easily contact them through email, or social media. Otherwise, they have a convenient Live Chat Button where you can address your inquiry directly. The team will be more than happy to assist you.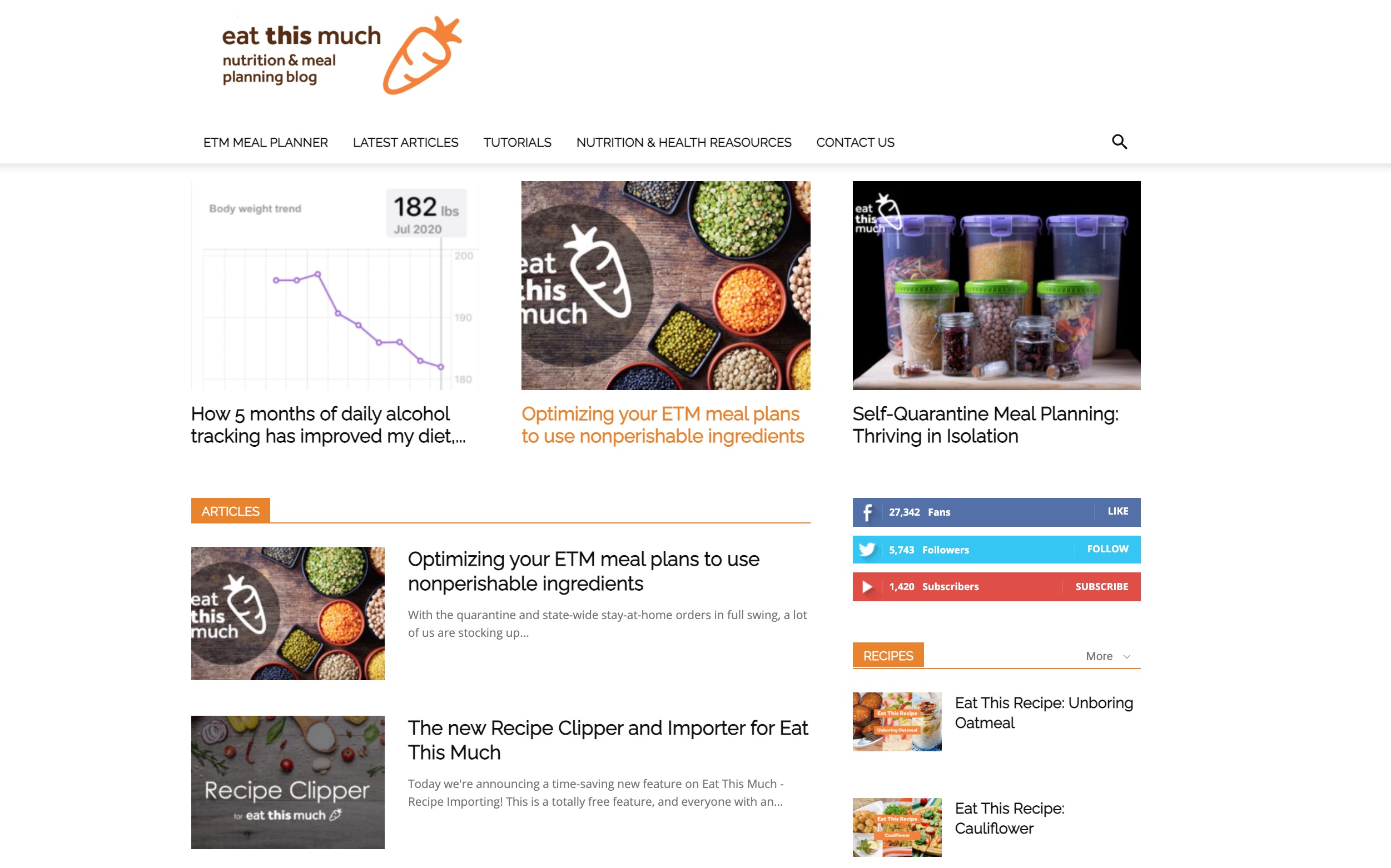 Alternatives
Based on the Eat This Much ratings, this company has fewer competitors if taking into consideration their role as diet generators. Let's take Mealime and Paprika.
| | | | |
| --- | --- | --- | --- |
| | Eat This Much | Mealime | Paprika |
| Main perks | Recipes from restaurants, and a free trial of Premium plan for 14 days. | Recipes for under 45-minutes cooking; | Save recipes to your account directly from the web; |
| Pricing | | | $4.99 – $19.99 per month; |
| Availability | | | |
Which one to choose is fully up to you, however, the free trial, and a huge depository of recipes is the best with Eat This Much.
The Verdict
Eat This Much is a great pick for people who are tired of receiving prepared foods and want to craft recipes alone. This online platform alongside a convenient app helps people build plans to both lose weight, maintain their current weight, as well as gain muscles. There are lots of recipes for any liking, and dietary preferences. Eat This Much pricing is also decent, with $4.99 per month, and a 14-days free trial.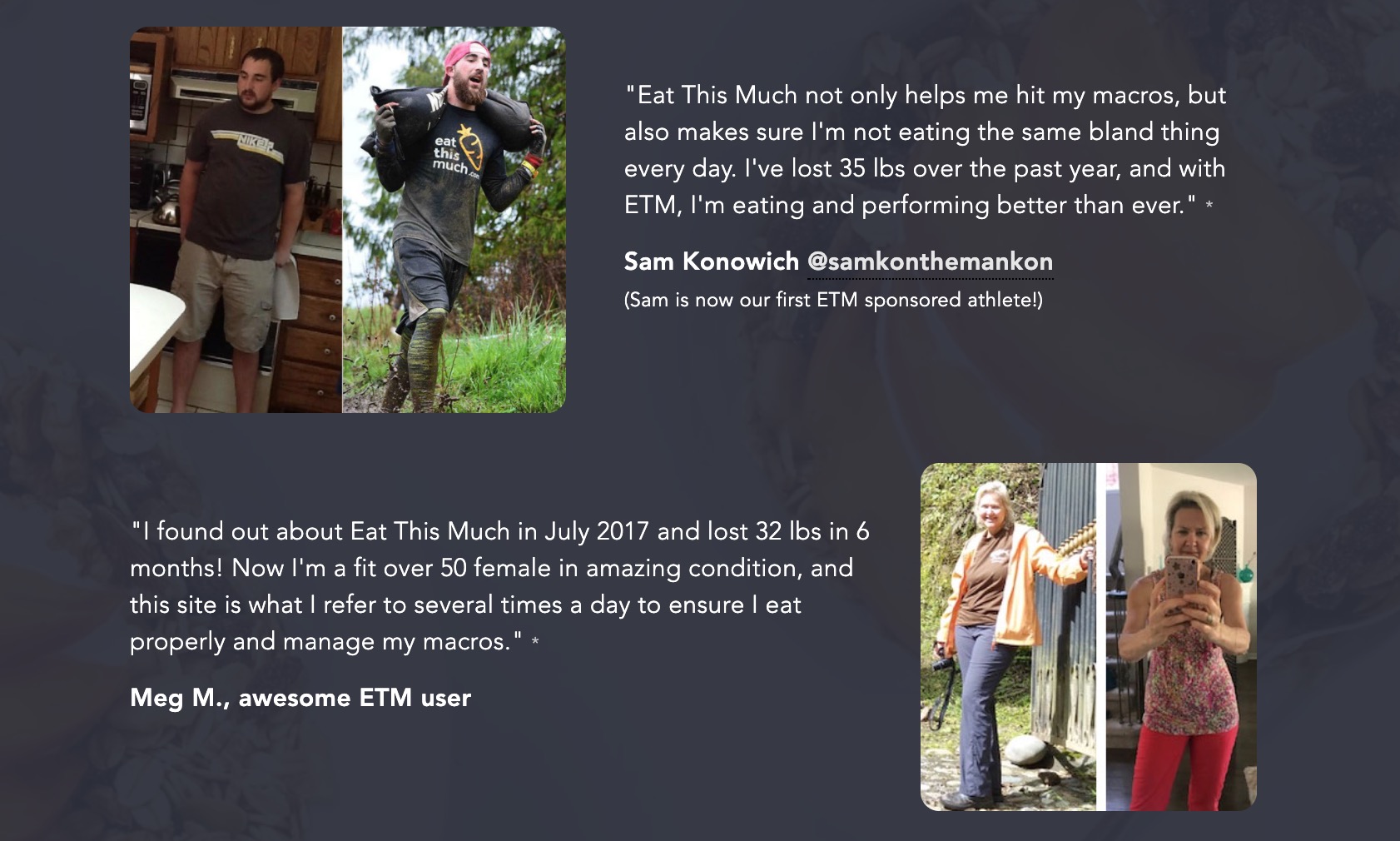 FAQs
Can I try Eat This Much for free?
Yes, Eat This Much offers a 14-days free trial of their Premium plan which you can sign up for prior to contributing your cash. Otherwise, read these Eat This Much reviews to understand the worthiness of the company.
Does Eat This Much have coupons for existing customers?
Yes, an Eat This Much promo code or discounts can be found with third-party websites. For instance, you can grab $20 OFF to cut the price on the annual subscription.
Is Eat This Much worth the money?
Only you can decide so, however, based on their pricing, online convenience, and a number of recipes, Eat This Much is a go-choice for people who want to balance their nutrition affordably.