It's not wrong to say that the modern pace of life is crazy. Humans have to combine an active social life with the necessity to build a successful career. No wonder there isn't always time for such everyday things as cooking. Food delivery services are an awesome solution for people who prefer to eat at home but lack time for cooking. You just have to place an order on the company's site, and you get the necessary set of ingredients exactly when you need it. The only problem is to pick up the best delivery service that meets your needs and expectations.
If you know for sure that it's of prime importance to eat right in order to stay healthy, well, and productive, this Diet-To-Go review may be rather helpful. Get acquainted with the main peculiarities of the service and make the right choice of healthy and yummy courses.
Short Overview (Pros and Cons)
Diet-To-Go is a company with a long and rich history. It entered the market of meal delivery services in the late 1990s. At the time, the concept of healthy eating was not so powerful and trendy as it is today. Diet-To-Go was a real game-changer that offered customers not only yummy but also healthy food.
These days Diet-To-Go is still the number one meal service for those who desire to lose weight in a tasty way. Yet, numerous reviews of Diet-To-Go indicate that there are both fans and opponents of this company. They allocated the following pluses and minuses of the service.
Diet-To-Go Advantages
A cool selection of available variations.
If you are afraid that you will be bored with one and the same set and on products, here good news comes. The experts make up versatile menus.
Diet-To-Go reviews indicate that it's easy to place an order and pick the delivered boxes.
Although there are only four Diet-To-Go menus available, it's possible to customize your kit. The experts evaluate your needs and offer the most winning solutions for you.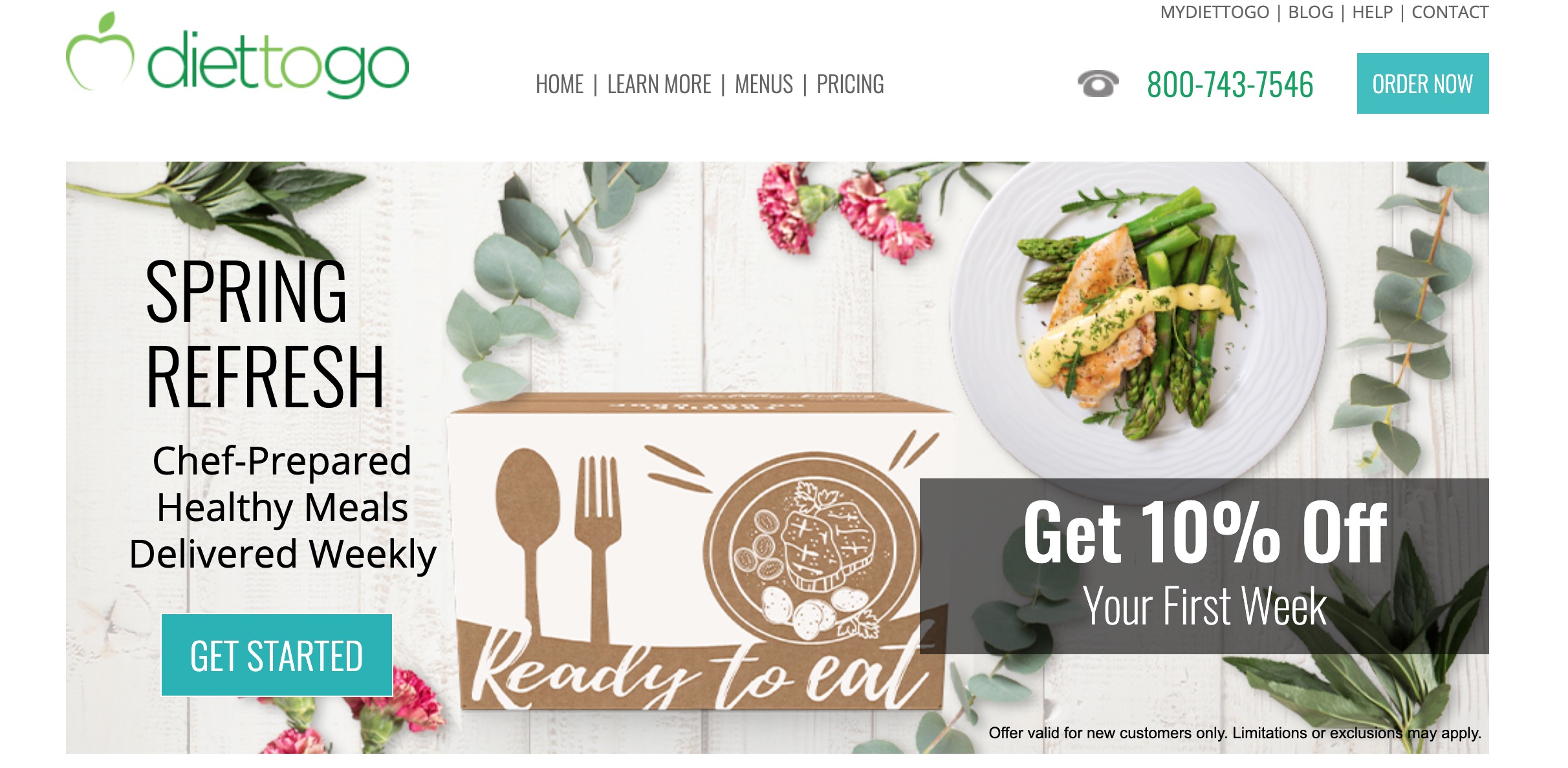 Diet-To-Go Disadvantages
On the market, it's possible to find cheaper alternatives for Diet-To-Go. Yet, reviews for Diet-To-Go highlight that you pay for top-quality products which are always fresh and healthy.
The necessity to control the quality of the arrived meals.
While the major part of ingredients is time-sensitive, it's necessary to control the quality of the delivered kits. You should unpack them as soon as possible or place them in the fridge.
If you order Diet-To-Go kits for the whole family while only one person is going to lose weight, other members may stay hungry and unsatisfied. One portion of the Diet-To-Go menu contains only up to 1600 calories.
Pricing and Menu
The service offers four major types of menu. They are:
It's one of the most popular options you are to find on the website. It includes a wide spectrum of various courses that may fit the desires of copious clients. The daily menu contains about 1200 calories for females and 1600 calories – for males.
It's a perfect solution for you if you suffer from diabetes.
This Dirt-To-Go plan follows a ketogenic, Atkins-style diet. You are to get about 1300 calories per day. Thus, the sample menu may include cheese omelet, fiesta burger, and pork chop Pomodoro.
With this plan, you won't suffer from the lack of proteins. You will get them from dairy, eggs, soy, or beans.
Everyone desires to find out the answer to the question, "How much is Diet-To-Go per portion?" The average price per meal is about $12,20. You should be ready to pay about $122 per week if you order 5-day options. 7-day options are more expensive. They cost about $180. Thus, Diet-To-Go pricing is reasonable.
How Diet-To-Go Works
Diet-To-Go is a user-friendly service. It has a cool website where you can get acquainted with the full information of the company. To start receiving meals, you should register on the site and place an order. You have to define the following information:
Preferred type of menu;
The number of desired meals per day (2 or3) and per week (5 or 7);
Your address and delivered details;
Customize menu.
Moreover, the service allows you to consult with specialists about your dietary needs.

How Easy Are Diet-To-Go Meal Kits to Prepare?
Many customers can't help but appreciate the fact that the Diet-To-Go cost is rather affordable. One of the most exciting things you should consider is that you don't even need to use Diet-To-Go recipe cards while you obtain already prepared foods. Everything you should know is to heat the meal for 2-3 minutes and savor delicious courses.
Who Is Diet-To-Go Good for?
Diet-To-Go meal reviews highlight that the service is good for both males and females. The major goal of the platform is to help people to lose weight. Yet, it doesn't mean that the platform is good only for humans who adopt a diet. If you desire to eat fresh and healthy food, Diet-To-Go is ready to provide you with a wide spectrum of yummy and low-caloric courses. Moreover, there is a special diabetes menu. It's a perfect option for clients who are pre-diabetic or suffer from type 2 diabetes.
Diet-To-Go meal delivery reviews state that one of the most frequently asked questions about the service is "How many pounds can I lose with the help of Diet-To-Go menus?" There is no one definite answer. The results depend on your weight, height, and health condition. Yet, the greater part of clients is to lose up to 10 pounds per the first month. It's possible if they strictly follow the plan. Moreover, the specialists recommend adding physical loadings to achieve better results.
Who Isn't Diet-To-Go Good For?
Diet-To-Go meal kits review highlights that although this service pleases a wide spectrum of clients, it's not good for everyone. Thus, if you are allergic to definite products, you will be aware of ordering standard plans. At the same time, it allows you to customize every meal. Thus, you may exclude some ingredients. Moreover, Diet-To-Go doesn't offer gluten-free options.
Packaging Usability and Safety
The experts do everything possible, so you get meals fresh and in good conditions. All the options are delivered in insulated boxes with cold packs. Moreover, dry ice is used. In order to avoid the spoilage of organic food, it's necessary to pick up your orders on time.
Changing and Canceling Order
Diet-To-Go ratings show that the service allows you to change or cancel an order without great effort. You may customize your plan or alter it just on the site. If it's necessary to cancel an order, you should contact the company via phone or email.
Diet-To-Go Customer Service
The Diet-To-Go food delivery platform is user-friendly. The managers of the company make everything possible to make the experience of each client as pleasing as possible. It's possible to contact a customer support line via email or phone. It's also possible to fill in an online form on the site.
Moreover, it should be highlighted that customer service is not only about a competent call center where people can get answers about the menu or pricing. Every customer has a perfect opportunity to contact a competent nutritionist or a meal coach. It's very helpful when it comes to altering your plan if it doesn't work.
The Competition
There are several alternatives to the Diet-To-Go service you should know about.
Fresh n Lean meal delivery service is a perfect solution for those who look for organic and gluten-free dishes. The prices are lower than in Diet-To-Go, but the choice of meals is specific. It's not able to meet the needs of a wide spectrum of people. When it comes to easy weight loss, Veestro is a nice alternative to Diet-To-Go. Yet, Veestro plans are vegan. Yet, it's fine only for huge families. The minimum number of meals per week is 10.
The Final Verdict
To sum it up, it should be noticed that Diet-To-Go meal kits reviews show that the service is a brilliant and convenient solution for those who desire to lose weight but do not want to waste time counting calories or spend the whole weekend trying to catch fresh and healthy food offers.
The specialists help you to pick up the most optimal meal plan for you. Your task is just to grab kits on time. The meals are not extra complicated to prepare. They taste good and meet the needs of various people. Yet, if your major goal is to lose weight, it's necessary to strictly follow the meal plan the experts provide you with.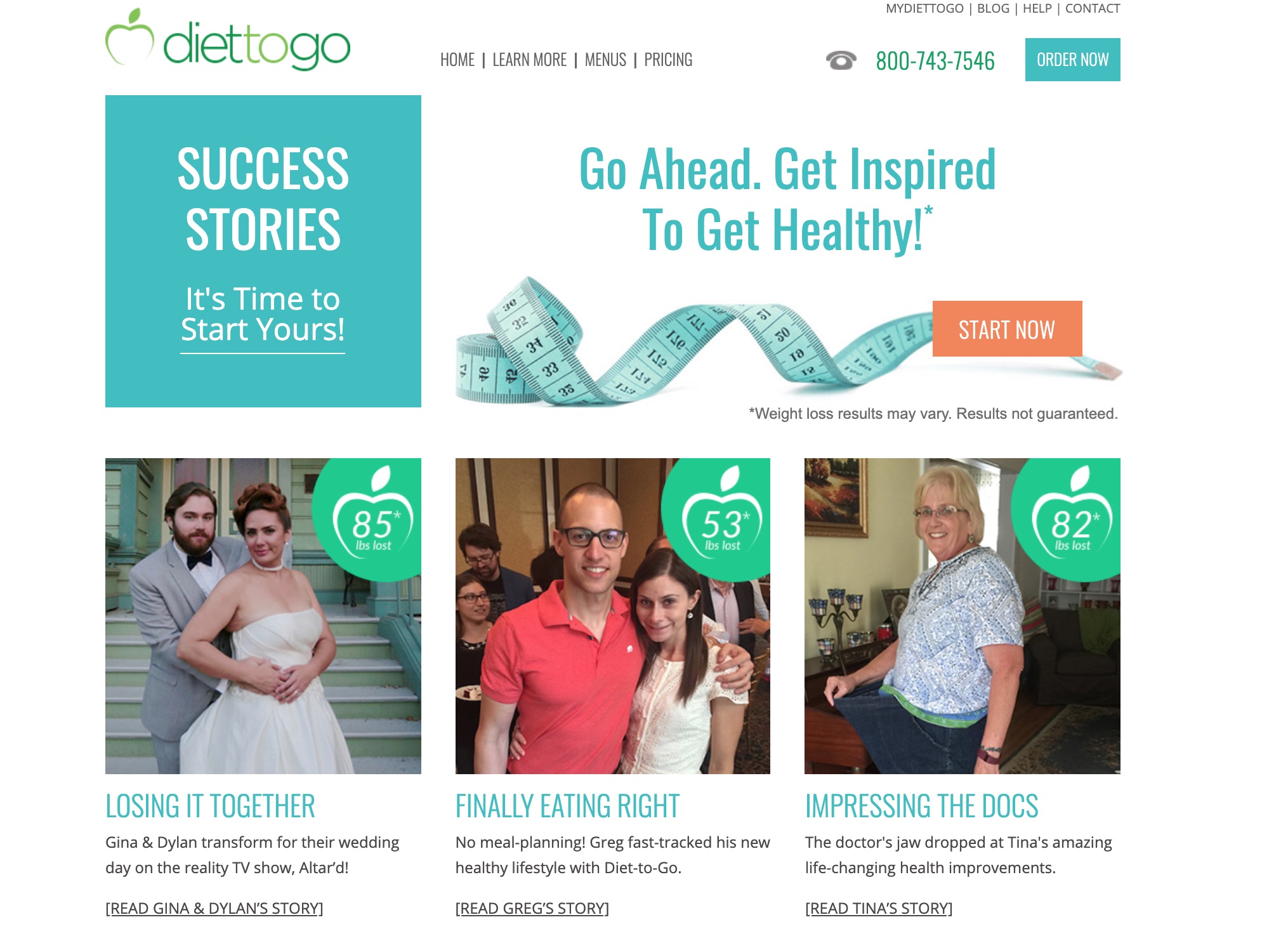 FAQ
Are Diet-To-Go Meals Healthy?
The specialists of Diet-To-Go pay attention not only to the number of calories in each meal. The quality of the ingredients is strictly controlled. With the exception of sauces and dressings, the majority of the products are natural and organic.
Does Diet-To-Go Have Coupons for Existing Customers?
Although Diet-To-Go doesn't offer coupons for existing customers, there are still many money-saving options you may explore. Thus, the newcomers are to get a 15% discount for the initial order from Diet-to-Go. If you sign up for the newsletter on the Diet-to-Go site, you will get helpful tips on how to reduce costs. You can find the Diet-to-Go promo code there. It's also possible to become an affiliate member of Diet-to-Go.
Is Diet-To-Go Worth the Money?
The Diet-To-Go prices are higher than in some other meal delivery services. Yet, you pay for the top quality of every single ingredient in your box. All dishes are created by competent specialists who pick up winning solutions for individuals who desire to lose weight or stay fit.
Is Diet-To-Go Easy to Cancel?
No matter what Diet-To-Go plans you order, sometimes it's necessary to cancel the subscription. You can't do it on the website of the platform. It's necessary to call the customer support service or send an email. It takes a short time to cancel your order. Yet, you should do it before Friday at 12 noon EST. There are no fees you have to pay for the cancelation.