When it comes to the best delivery service that offers something more than prepared foods, clients are continuously gaining access to more and more parties. There is no longer a trite approach to packing frozen ingredients for reheating. Yet, it is all about exclusivity. One of the meal kit services that offers outstanding dishes crafted by renowned, even Michelin-star chefs is CookUnity. Read more with this CookUnity review to determine its relevance for your pocket.
Short Overview (Pros and Cons)
CookUnity is recognized as the first chef-to-consumers meal kit platform. In simple terms, it helps clients access renowned chefs' recipes for the high-end eating experience. It can be young or experienced chefs whom CookUnity tries to promote because of their uniqueness in the industry. You have an option to sign up for a weekly subscription with a rotating menu with handcrafted dishes for any liking and most diet preferences. Then, their meals are all cooked; hence, reheating is the only step required. Finally, CookUnity is one of those companies that collaborate with charities and contributes donations to put an end to poverty in New York.
Pros of CookUnity:
Handcrafted meals from over 50+ famous chefs;
Featured by many reliable magazines and newspapers;
Rotating weekly CookUnity menus;
Sustainably-sourced ingredients;
SMS notification reminders on your deliveries;
Easy skipping, canceling, and rescheduling of orders.
Cons of CookUnity:
Not covers the whole USA territory for the deliveries;
Not big portions if you want to have some leftovers.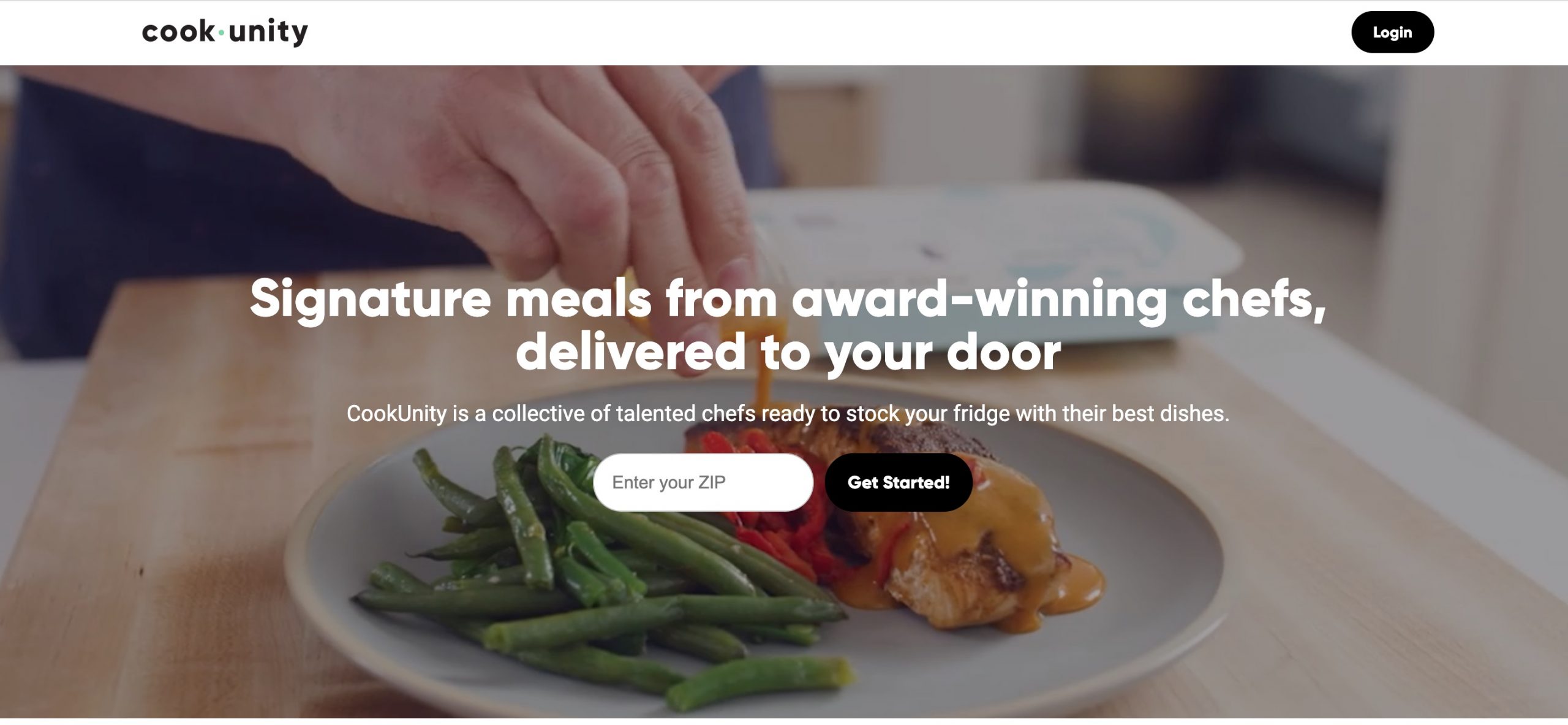 Pricing
First off, reviews of CookUnity do not specify separate menus like a KETO MENU or VEGAN MENU. It all comes with plans that are the following – 4, 6, 8, 12, and 16 meals per week with their certain CookUnity cost. The company also does not go very much into diets but is glad to meet some dietary restrictions. For instance, a client can flag their allergy or an ingredient they do not eat, and the system will automatically find meals that match that criteria. As per their official website statement, they have a weekly menu that balances:
Low-calorie fresh meals (<500): over 40
Low-carbohydrate meals (<35g): around 40–50
Dairy-free dishes: around 30–40
Plant-based dishes: around 30-40
Keto dishes: around 30-40
Paleo dishes: around 50-60
How much is CookUnity? CookUnity plans:
4 dishes per week – $13.49 serving, and $53.96 in total;
6 dishes per week – $11.99 serving, and $71.94 in total;
8 dishes per week – $11.49 serving, and $91.92 in total;
12 dishes per week – $10.99 serving, and $131.88 in total;
16 dishes per week – $10.49 serving, and $167.84 in total.
There is free shipping. Delivery covers certain east and west parts of the USA.
Beyond that, the system will ask you to choose your wellness goal, including weight loss, muscle gain, just eating delicacies, light meals as well a boost of overall well-being.
Some of the examples of CookUnity Recipes are:
Muy Rico Stuffed Peppers;
Spicy Moroccan Fish;
Grilled Chicken and Mushrooms;
Turkey Bolognese.
How CookUnity Works
For clients' convenience, CookUnity enlists the process of ordering with them. Below, you can check the guidelines.
You pick a plan. Add, pause, skip your deliveries, or go for changing the plan at any time preferred;
Choose your desired meals for the week. Otherwise, fully rely on the system to pick dishes for you;
Receive your chefs' handcrafted meals chilled in only recyclable containers;
Reheat the dish and enjoy. Each order comes with CookUnity recipe cards for microwave or oven;
Customize flexible scheduling if needed.
That's pretty it. The company notifies that they do not use any chemical/artificial additives for their recipes; hence, meals are expected to have 4-7 days of refrigerated shelf life. Still, you'd better eat everything once received.
How Easy Are Cookunity Meal Kits to Prepare?
Similar to other meal delivery services, CookUnity does not bother customers with the hard-to-approach cooking process. First off, they ensure to enlist all the ingredients for one or another meal online. There, you will also find nutrition information, rates, and particular ingredients. Note, their meals are produced in facilities that can use milk, shellfish, and peanuts. All the other ingredients are considered mostly organic.
To prepare your received dish, you have to only reheat it using the microwave or oven. On most occasions, the best reheating is achieved with a few minutes in the microwave. After reheating, you can add sauces or extra ingredients, which come with the dish. Or, you can always add your own oil, etc.
All in all, CookUnity meal kits are extremely easy to prepare without any necessary knowledge of cooking behind.
Who Is CookUnity Good For?
If you still hesitate whether CookUnity may fit your particular liking and preference, let's investigate who it is good for.
People who seek recipes from world-recognized chefs;
Those who crave handcrafted meals that cater to meeting certain dietary preferences/restrictions;
Those who have a tendency of skipping and pausing the deliveries and want it as easy as possible;
Those who look for organic food ingredients sourced from sustainable-friendly farms.
Who Isn't It Good For?
To be completely honest, and based on the CookUnity meal kits reviews, it is not the best option for:
People who seek the utmost affordability and want to order cheap meals;
People who love big portions of foods;
People who want frozen meals to be delivered.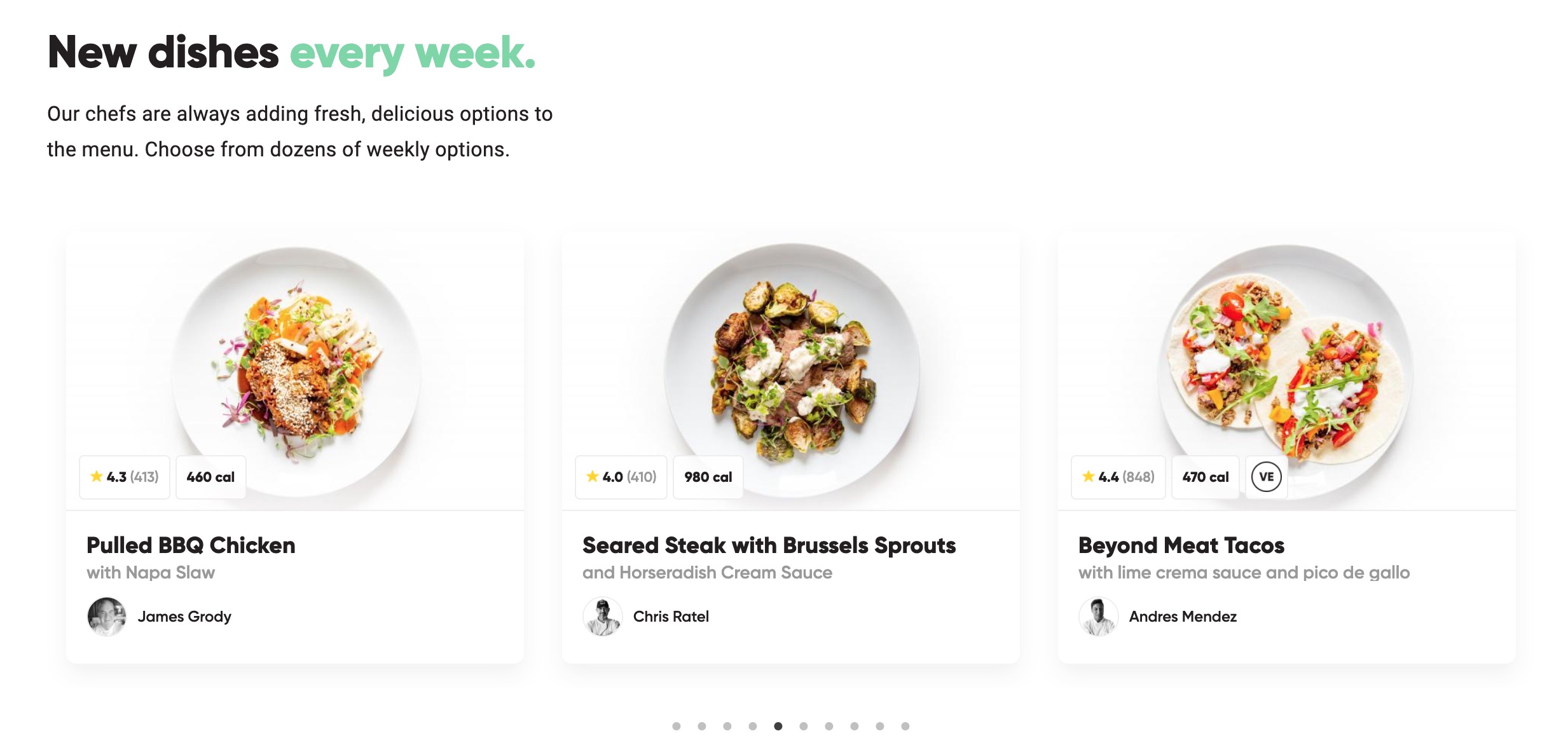 Cookunity Packaging and Environmental Friendliness
CookUnity, as per their statement, loves the environment and goes the extra mile ensuring their packaging is eco-friendly. Depending on the customers' location, they provide different types of packaging.
Paper bags for 4 and 6 meals;
Insulated reusable bags. You can ask the company to pick it up for you and reuse it for new orders;
Boxes that are fully recyclable;
The company designs the packaging the way it can keep your dishes cold for 2 days of shipment.
Note, some containers and bottles are handy and fully reusable if you want them for further application.
Changing and Canceling Order
With CookUnity, you are always welcomed to modify and change your orders. The only requirement is to stick to certain deadlines established by the company. They call them – cutoff time. If you make changes after the set cutoff time, there won't be any effects on the delivery for the upcoming weeks. As of now, you can change:
Amount of meals;
Delivery days;
Delivery address;
Diets and meal preferences;
Time-slot.
As for the cutoff timeline, stick to the following:
NY: 3 days prior to your expected delivery day until 5 pm;
Northeast: 4 days prior to your expected delivery day until 5 pm;
LA & San Diego: 3 days prior to your expected delivery day until 5 pm;
Bay Area: 4 days prior to your expected delivery day until 5 pm.
As was hinted above with this CookUnity meal kits review, you can also receive SMS notification reminders on your deliveries; hence, ensure your mobile number is valid and active.
To pause or skip the subscription and delivery, you can do it all with the Account Settings.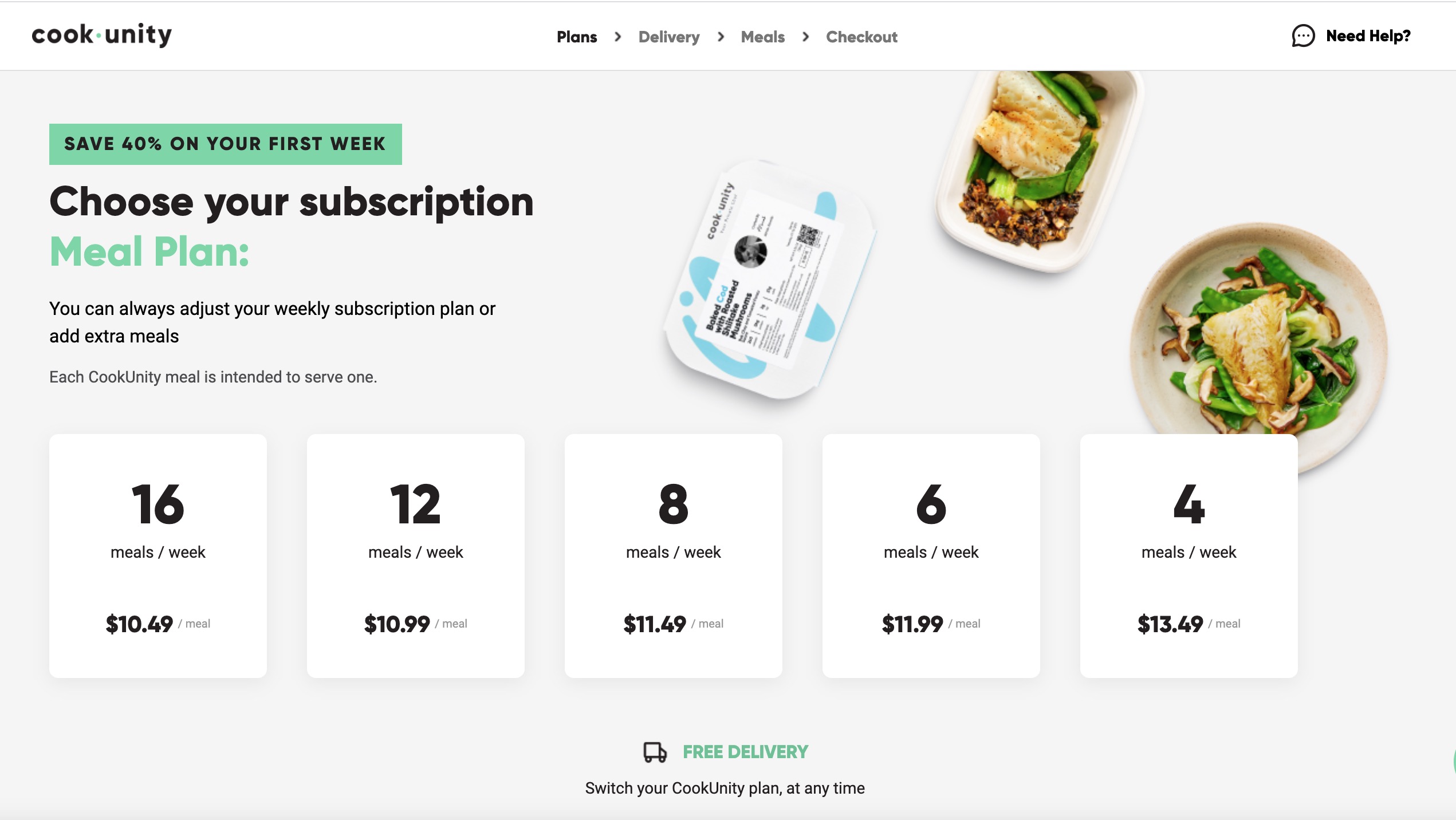 Customer Service
As of now, there is no Live Chat button where you can address your inquiry and get prompt answers. The only means of communication with the service is via email. Yet, based on customers' feedback and CookUnity ratings, their representatives are pretty professional and are always more than happy to guide you through your bothersome questions.
On the other hand, with reviews for CookUnity, it is worth saying that their designated FAQs page is detailed. Therefore, you do not even need to contact them to learn something new.
Alternatives
CookUnity
Sprinly
BlueApron
Prices

4 dishes per week – $53.96 in total;
6 dishes per week – $71.94 in total;
8 dishes per week – $91.92 in total;
12 dishes per week – $131.88 in total;
16 dishes per week – $167.84 in total.

6 meals is $109 weekly;
12 meals is $199 weekly;
18 meals is $289 weekly.

2 recipes -$47.95/week;
3 recipes – $59.94/week;
4 recipes – $119.84/week;

Menus
No designated menus but options for various meal goals like muscle gain, weight loss, overall wellbeing boost.
Plant-based, good for vegan people, and gluten-free meals.
Vegetarian, signature meals, and wine pairings.
Shipping/Delivery
Free shipping. Only a few states are covered for the delivery.
Free shipping, not available for all 50 states.
$7.99 – shipping fee. Delivery to the contiguous USA.
Note, these three meal kit companies cater to particular clients. You should consider Sprinly if you are a 100% fan of plant-based meals or vegan because it is hard to find delicious options for your category of clients. Blue Apron is definitely a go-choice for people who want to have delicacies paired with wine from renowned vineyards. And, our reviewed pick, also relying on many CookUnity meal delivery reviews, is just an option for people who want to access non-trite handcrafted combinations of ingredients from top-world chefs.
Conclusion
Now, it is high time to sum it all up. CookUnity food delivery is an unusual option. It stands out compared to the other food delivery services with its unique approach of offering meals from over 50 chefs. It is not like one chef runs the company, but a mix of them who all can bring something new in terms of taste and flavor. There are no designated menus that fully fit for Keto/Paleo or vegan people. Yet, the company strives to meet basic dietary restrictions. Beyond that, CookUnity meal service asks all clients about their meal goals like weight loss, muscle gain, light dish cravings. As for the CookUnity prices, let's be honest – they are not the cheapest party in the industry; hence, affordability is doubtful. All the rest criteria found with the CookUnity reviews, including customer service, packaging, everything is on top.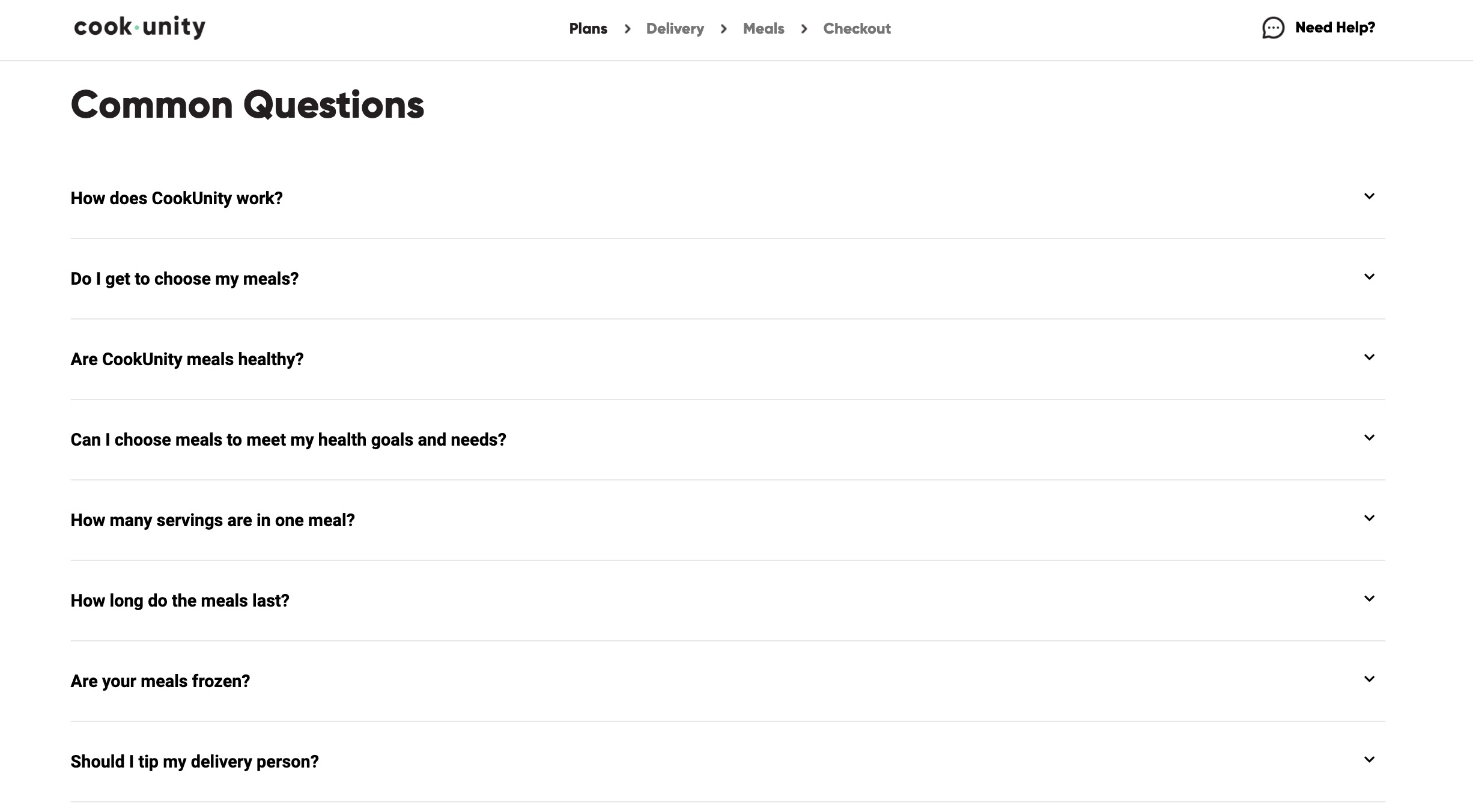 FAQs
Are CookUnity Meals Healthy?
Yes, CookUnity meals are extremely healthy and nutritious for various tastes and likings. Hardly every ingredient is organic or sustainably cultivated. You can find dishes with low calories, high protein value, or gluten-free options that all cater to a yummy experience. Therefore, picking it for healthy-foods-addicts is a must.
Can I Try CookUnity for Free?
No, there is no such option as a free meal or free trial. Yet, the company offers free shipping and different CookUnity pricing, which you can stick to and enjoy some kind of savings for your pocket.
Does CookUnity Have Coupons for Existing Customers?
When overlooking third-party websites or CookUnity meal reviews that offer discounts and coupons, you can get some rewards. You can find $50 off for the first delivery or one or another CookUnity promo code, etc.