Have you tried cooking dishes with the authentic flavors of the South? We suppose that it should be simple for the residents of Georgia to prepare the most prominent plates! And what about the customers of other cultures that want to try? We've found a convenient solution – a food delivery!
If you're interested in southern United States healthy cuisine that can be home prepared, look at our PeachDish review and be ready to make your first order!
Short Overview: Reviews of PeachDish Pros and Cons
PeachDish food delivery is distinguished by its flavors of the south kitchen. Let's take a closer look at the PeachDish meal kits review.
Pros:
All ingredients are delivered in colorful and reusable bags.
Sells à la carte items in the marketplace.
The minimal order consists only of 2 servings and up to 24 for certain recipes.
PeachDish promo code is available from time to time.
Cons:
Some states have unreasonably high shipping costs.
The restricted choice for vegans and vegetarians.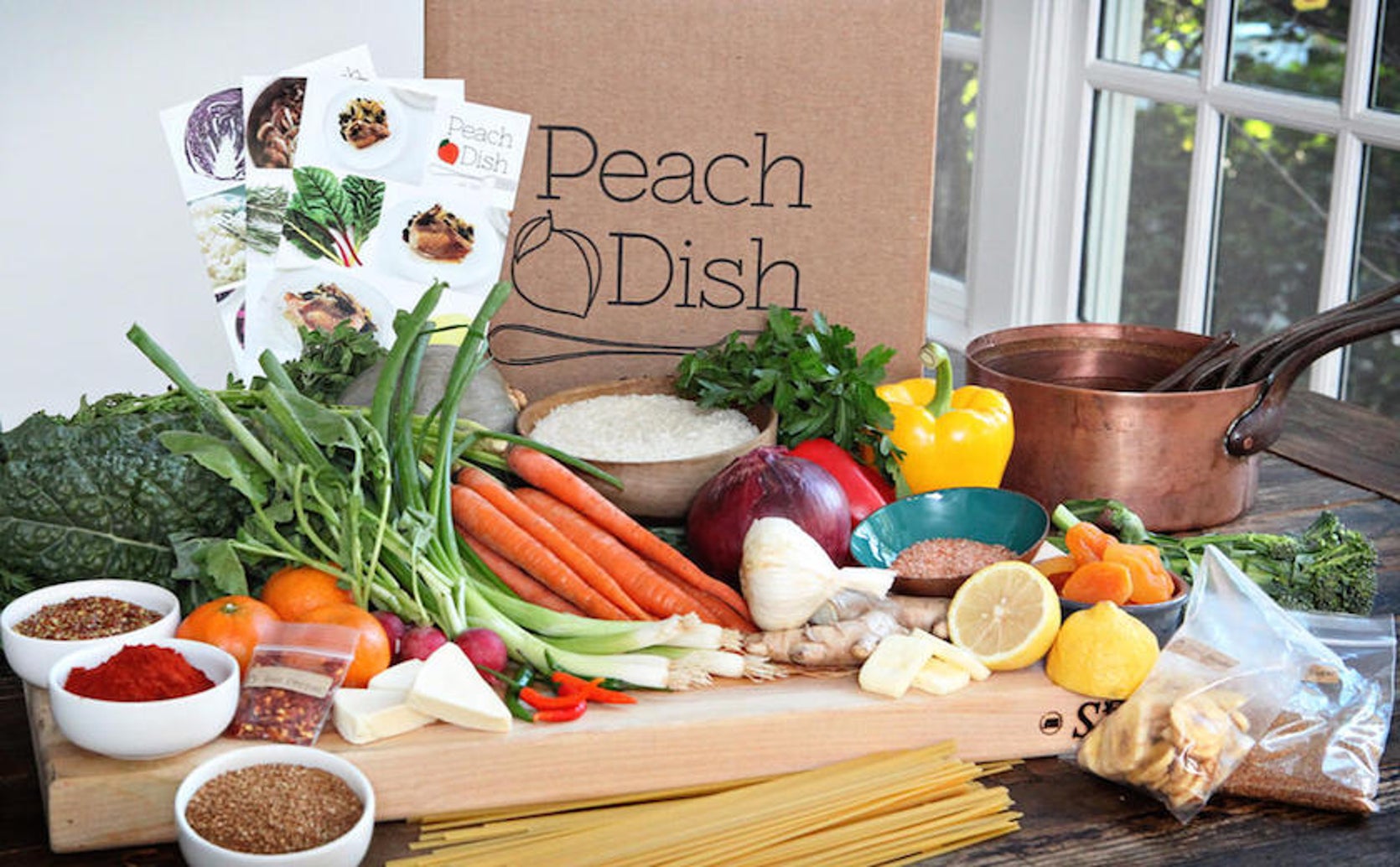 Pricing: PeachDish Prices for Meal Plans
The food delivery proposes recipes each week without breaking into the plans. Every week, you have three seasonal packages and six, which change from time to time. You must order on the account as a subscriber or guest (extra shipping fees!). Be sure to check their website first.
This service is unique because of its optional dinners of 12 services! If you have friends for dinner, or you are a large family, then don't hesitate. The special guide for planning family reunion packages can help you!
PeachDish pricing for subscription and shipping charges are different depending on the subscription choice. However, the PeachDish cost of meals is the same for all customers – on average, for two servings, you'll pay about $25 ($12.50 per serving). The minimum fee is $45, which means that by ordering two courses for two people, you can place an order without any doubt!
Not every dessert or diet plan at the same PeachDish prices. Ribbon plate with unique ingredients always comes with a higher price as well as dishes with extra meat protein!
How much is PeachDish?
| | | |
| --- | --- | --- |
| Number of Meals | Meals Kit Price | Price per Serving |
| 2 | $25 | $12.50 |
| 4 | $50 | $12.50 |
| 6 | $75 | $12.50 |
How PeachDish Works
Our PeachDish meal kits reviews say that these food delivery services, like many similar meal kit delivery services, are intended to facilitate the daily routine of customers by providing wholesome plates for the whole family!
To make your first PeachDish plans order, you need to follow these steps:
Look through our menu and pick the meals.
Add to cart.
Checkout.
Wait for the delivery right at your doorstep.
Get your box, prepare the food, and enjoy.
PeachDish meal delivery reviews assure that there isn't any commitment! Although membership is required, placing an order each week is not!
How Easy Are PeachDish Meal Kits to Prepare?
After creating an account and selecting the products for the first shipment, its chefs prepare the ingredients. They measure them by recipe, then package them in an insulated container! One day before the expected shipment day, the delivery expert will pick up your package, and before you even realize it, the package is waiting at your door! Cooking depends on you, but that would usually take less than an hour.
Customers can look at the PeachDish recipe cards online and on the reverse side of the printed recipe cards that are packed in a lunch box! The PeachDish menus contain directions and cooking guides to help you prepare a plate effortlessly.
Who Is PeachDish Good For?
Peculiar cuisine is what can be loved by many customers. Amazing flavors of the South American kitchen are what sets the company apart from any other food kit delivery service on the U.S. market!
Some recipes are made to be cooked slowly for almost three hours – imagine what those flavors and scents do with all your senses! It's a bonus for those who don't like the hustle of cooking.
Its broad "sweet line" is another fantastic feature compared to other dessert menus!
Who It Isn't Good For?
If you like to make changes in your daily nutrition plan, some PeachDish meals remain the same. The PeachDish plans are made up of the same rotating meals! This strategy ensures different weekly menus, but eventually, it could become dull for some customers.
If you're vegetarian or vegan, you'll find limited ingredients. Weekly menus on PeachDish meet vegetarians' needs, but they're virtually no options. Only a couple of recipes are vegetarian, and at least one of them is classed as a vegan.
PeachDish Packaging: Handy and Reusable
PeachDish meal reviews make sure that it's handy and reusable, though not so budget-friendly when it comes to packing and shipping!
It's shipped across the contiguous United States, excluding Hawaii, Alaska, and Puerto Rico. Shipping costs are subject to account type and location. Subscribers must pay between $0 and $15 per shipment, while guest customers' shipping costs range between $12 and $27!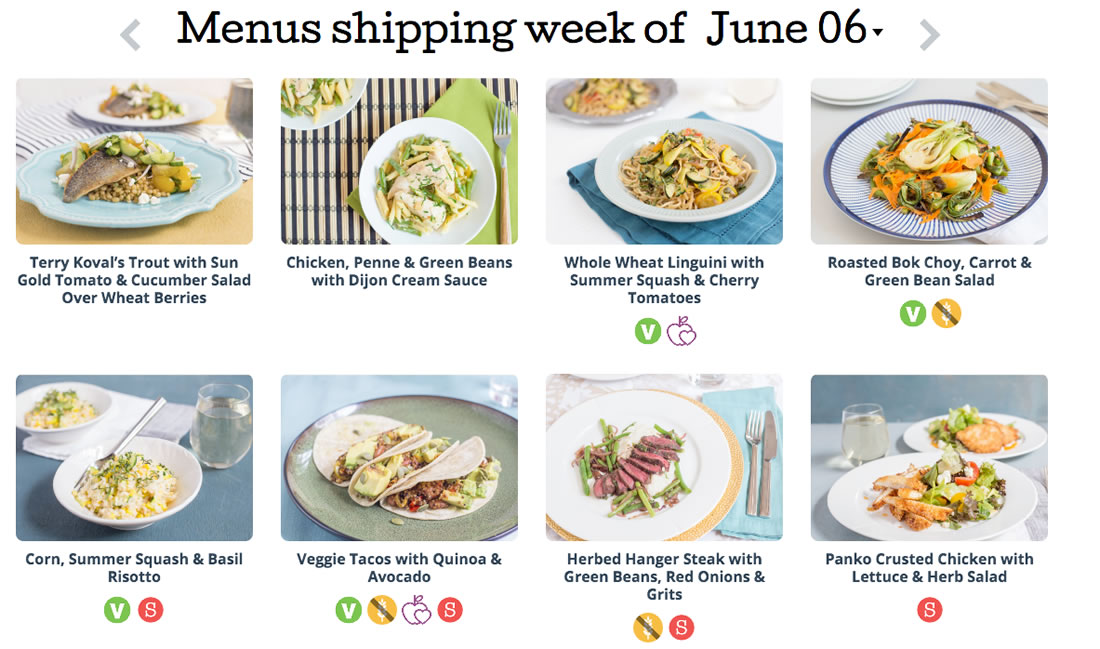 PeachDish Reviews on Changing and Canceling Order
According to PeachDish reviews, customers retain the right to skip, discontinue or cancel the membership at no charge. As long as the change is completed before the time limit, the planned meal package may be rescheduled or canceled without penalty. All changes and cancellations must be made by 11:59 PM EST on Sunday.
Reviews for PeachDish Customer Service
PeachDish Customer Service can help you in the following cases:
Change plansю It's easy to change plans, from a seasonal meal to a traditional meal. You can make a call or visit the website.
Cancellation. All changes or cancellations must be made no later than 11:59 p.m. ET on Sundays.
Refunds. You can return the dissatisfied items, and you will receive a refund.
You can contact the meal service to address these issues.
The Alternatives of PeachDish Food Delivery
After many years of dedicated work and thousands of meal kits delivered in the U.S., PeachDish has closed its doors! To assist their customer magnets to find the most appropriate meal kit delivery subscription. Our team made this comparison between this company and other services alike to it in its proposition.
PeachDish vs. Blue Apron
If you have a few dietary restrictions, probably none of them are right for you. Even with tailor-made meals, you don't have enough weekly options. The main advantage of Blue Apron is WeightWatchersReimagined Menu, and you can also order the best-quality wines that perfectly match Blue Apron dishes!
The pricing range is affordable:
Delivery fee: $0.
Average daily meal cost: $9.53.
The delivery doesn't include all the states, so you need to check this info.
Blue Apron Menus are influenced by other kitchens, but again, the menus don't meet specific diets. Besides the vegetarian menu, for others, such as gluten-free meals, you will need to look at the ingredients of the recipe yourself and see if it suits you. On the flip side, PeachDish is very to the taste of the south and has some meals, which are in season and always on the menu.
PeachDish vs. Home Chef
Home Chef recipes are created by creative chefs who can incorporate ingredients and flavors from around the world. It's simple enough that everyone can prepare them in 30 minutes. On the other hand, PeachDish has a very southern flavor, yet there are no specialty menus. Each menu of the week includes three seasonal meals, six meals, shifting from time to time, and the category "Sweets."
It's also cheap, offering delivery to 48 states:
Shipping cost: $0.
Average price per meal: $8.97.
Home Chef offers every week a variety of evening meals, 5-minute breakfast recipes, fruity add-ons, and a section on their website for all kinds of kitchen utensils! The cost of breakfast meals is $7.99 per serving, and supplements you can get for $4.95 per serving! They can serve up to six people by ordering two to six times a week! Each $49 order comes free!
PeachDish Delivery Verdict
It's may not be the best delivery service, but PeachDish has attracted our attention for numerous reasons. First of all, we love their top-quality ingredients and full transparency about suppliers. Second thing, we appreciate their fast recipes and their amazing series of sweets! There are some servings per meal set that is difficult to compete with the United States market at this time. We like how effortless it is to order its meal kit.
We tried to give you PeachDish ratings with both drawbacks and benefits!
FAQ
Is PeachDish Easy to Cancel?
To create your account, you should first determine what option works best for you – subscriber or guest! As a client, some spending is a bit higher (for example, extra shipping charges). Canceling subscriptions is fairly simple. It applies to both accounts! With PeachDish, you can set up the membership by visiting your account. You don't need to contact customer service by cell phone or email.
Are PeachDish Meals Healthy?
PeachDish isn't a USDA-certified meal kit, and it's transparent about it. About 80% of the product comes from Atlanta farms and ranches located less than 40 miles away! Its policy is to procure certified healthy and organic food wherever possible, even if, in most cases, customers obtain fresh ingredients that are not GMOs. "Ribbon Series" dishes are more expensive because the recipe includes unusual, unique, and problematic to find ingredients!
Is PeachDish Worth the Money?
In general, yes, it's worth what you pay for. You get a wide selection of add-ons. PeachDish makes it easy to buy food products, as they come with meal kits! Many desserts are also included in the large selection. Special diet options are available. The SuperFoods line of specialty foods includes organic, low-calorie, sodium, and saturated fat meals. "No Added Gluten" is a diet menu for people who have gluten intolerance.