Cannot make up your mind which delivery service to choose? There are plenty of these industry representatives, including HelloFresh, Sun Basket, Blue Apron, etc. Freshly is one of their competitors, and here you may learn about its services and meal options in detail. Off we go!
Freshly Is It Worth It?
Freshly is one of those meal kit companies with its pros and cons, though advantages in the form of delicious dishes, quick-cooking, and non-exorbitant prices prevail. Freshly deeply cares about the quality of food, the packaging form, and the material, as well as their clients' satisfaction. The customer support team is very friendly and ready to guide every person throughout the services and any inquiries. Is Freshly good compared to other similar food delivery services? Yes, it may painlessly compete with them, and it is totally worth money if you want to receive recipes from professional nutritionists who know how to properly nourish your body with healthy food. All in all, trying out Freshly is a must to find a golden mean within other delivery services for your liking, paying capacity, and utmost delicious and healthy experience.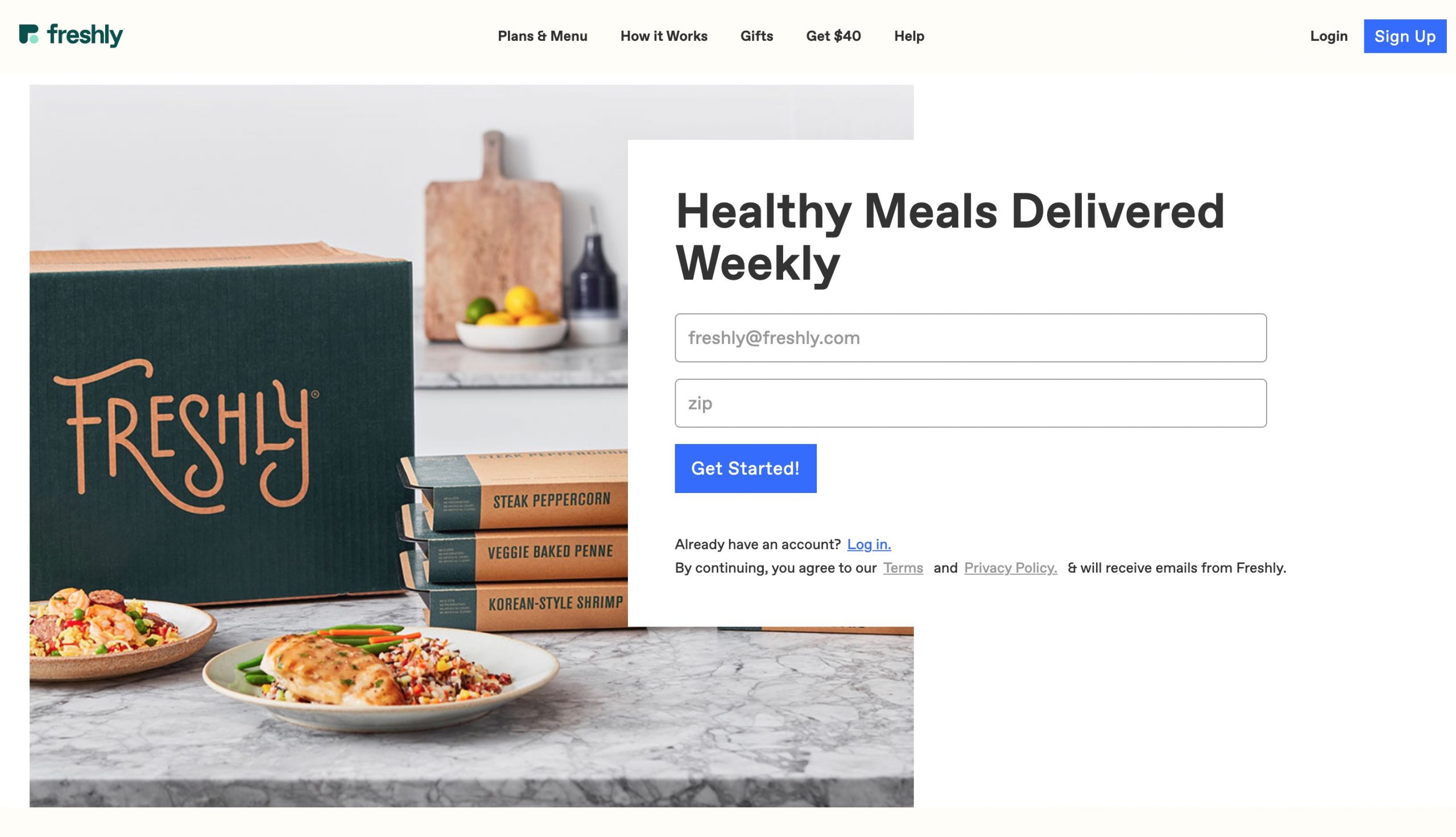 How Much Does Freshly Cost?
Freshly belongs to the meal kit services that are not known for their cheap rates, though they won't definitely charge one with exorbitant prices. The prices greatly depend on the number of meals you would like to get weekly; however, they all correspond to the quality. Today, there are 4, 6, 10 as well as 12 meals per week possible to order either for individuals or the whole family. Based on that, the prices are as follows:
4 meals/weekly – $11.49 (per 1 meal);
6 meals/weekly – $9.49 (per 1 meal);
10 meals/weekly – $8.99 (per 1 meal);
12 meals/weekly – $8.49 (per 1 meal).
Freshly shipping cost is possible to see by checking out the website; however, it may differ based on the meal plan you are subscribed to as well as your location where you want to have your food delivered. The average cost is $5.99.
Alongside this pricing policy, every customer may get additional bonuses, including a Freshly discount code of $40 if one refers the service to friends, and they start to order with the meal kit company as well. Beyond that, there are plenty of online services offering Freshly promo code; hence, there is no limit in savings. Ensure you use only trusted third-party services that would provide you with valid codes.
All in all, Freshly might be an excellent choice for those who do not mind paying a little bit more compared to other providers and receiving top-notch quality meals that are worth every bite.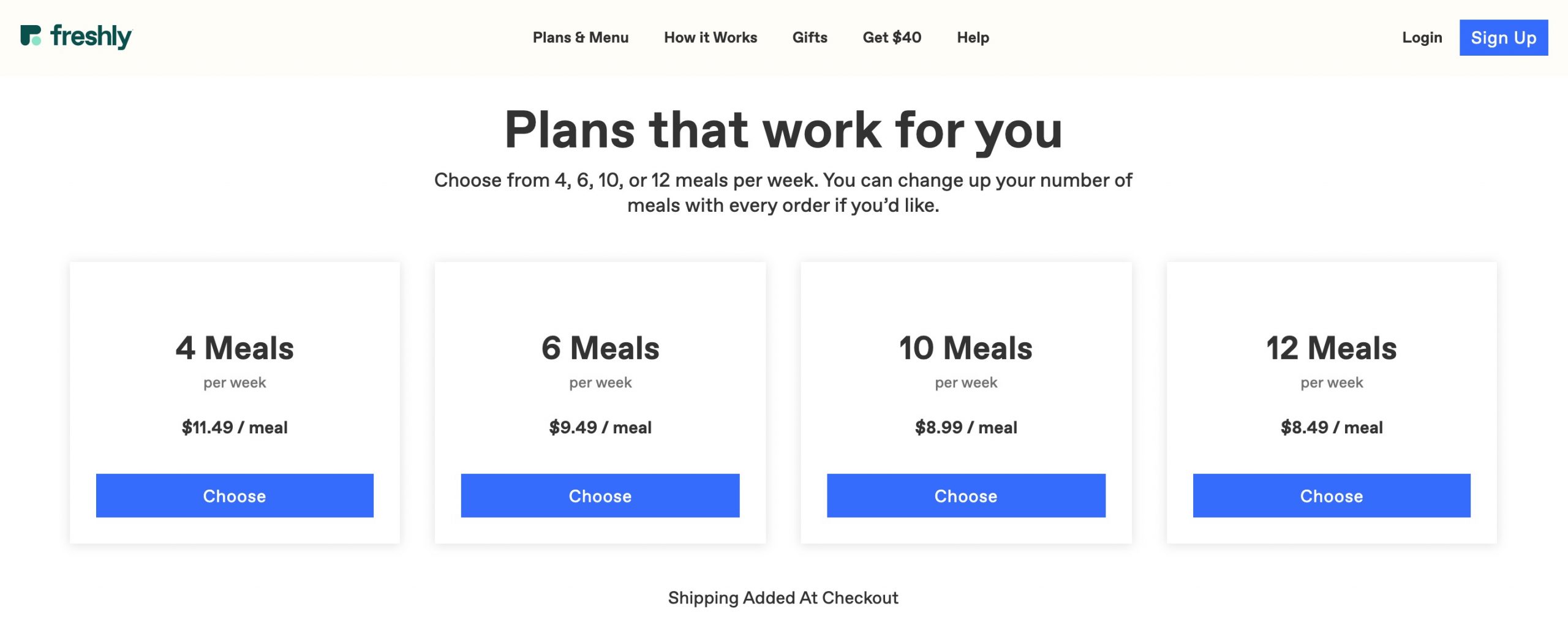 Freshly Meal Options
By reviewing the Freshly meals, there are lots of options for any liking. Let's first refer to their website's statement. As per Freshly's representatives, they DO accommodate a variety of diet options, and it is pretty common with most of the similar meal kit services. A company offers customers to check out the individual ingredient list found with each dish or contact their customer support team to receive detailed consultation about possible allergies and available diets. Finally, those who are unable to find dishes that fit their preferences are recommended to overlook their website from time to time, as they are continuously adding new dishes. Therefore, what may you expect in terms of their healthy prepared foods?
There are options for vegan, vegetarian, pescatarian, Keto as well as Paleo diets. To be more specific, you may nourish yourself with the following meals:
Beef Bolognese;
Homestyle chicken;
Pork or chicken teriyaki;
Enchiladas;
Sausage and peppers;
Roasted Cauli.
These are the options available for January 2023. Let's also mention some perks concerning their meal preparation, expiry conditions, etc.
The company extremely cares about the quality of its fresh ingredients and organic food. The meals do not contain artificial preservatives; hence, they may last in your refrigerator for approximately 4 to 5 days on average. If you plan to eat them straight away, you should heat them using a microwave. With every dish, there is an instruction guiding you on how to prepare it. Nevertheless, the whole cooking process does not take more than 3 minutes, which is quite fast and does not make you stand in front of the oven craving for food. Those who still want to reheat foods using ovens or stovetop may proceed with it as well, though their containers are not safe for that purpose. You have to be extremely careful.
Review of Freshly Products Quality
Nowadays, one may find lots of Freshly meal kits reviews, dealing with all of this company's aspects, including their prices, pros, and cons, meal options, etc. Not the least bit important is the Freshly quality of organic food. The company follows some nutritional pillars to satisfy every customer, including adding less sugar, processing foods less, and working with more nutrients. Beyond that, their kitchens are certified by the Gluten Intolerance Group (GIG), which means that all dishes are prepared in gluten-free cooking areas (note, it does not mean that there are all foods for gluten-free people).
As for GMO options, they are not certified as an organic company that produces only non-GMO meals; however, they again care about abstaining from artificial ingredients as much as possible.
Finally, for FreshlyFIT meal options, the company's nutritionists ensure the dishes are carbohydrates-smart and contain enough protein to nourish your diet. Besides, they ensure such options are tasty and have non-trite combinations. For instance, instead of putting everywhere rice, they add cauliflower, as well as instead of ONLY chicken, they will offer you turkey. You won't come across rice with simple chicken, as you may prepare it on your own. You pay for exclusively delicious mixes taken from different cuisines.
I tried Freshly, and I want to say that their quality of food is stunning, as tasty combinations could provide me with much energy, and I did not roam around my kitchen looking for more bites. Therefore, if you are afraid of remaining hungry after trying out the Freshly options, it won't happen. One dish may make you feel full enough.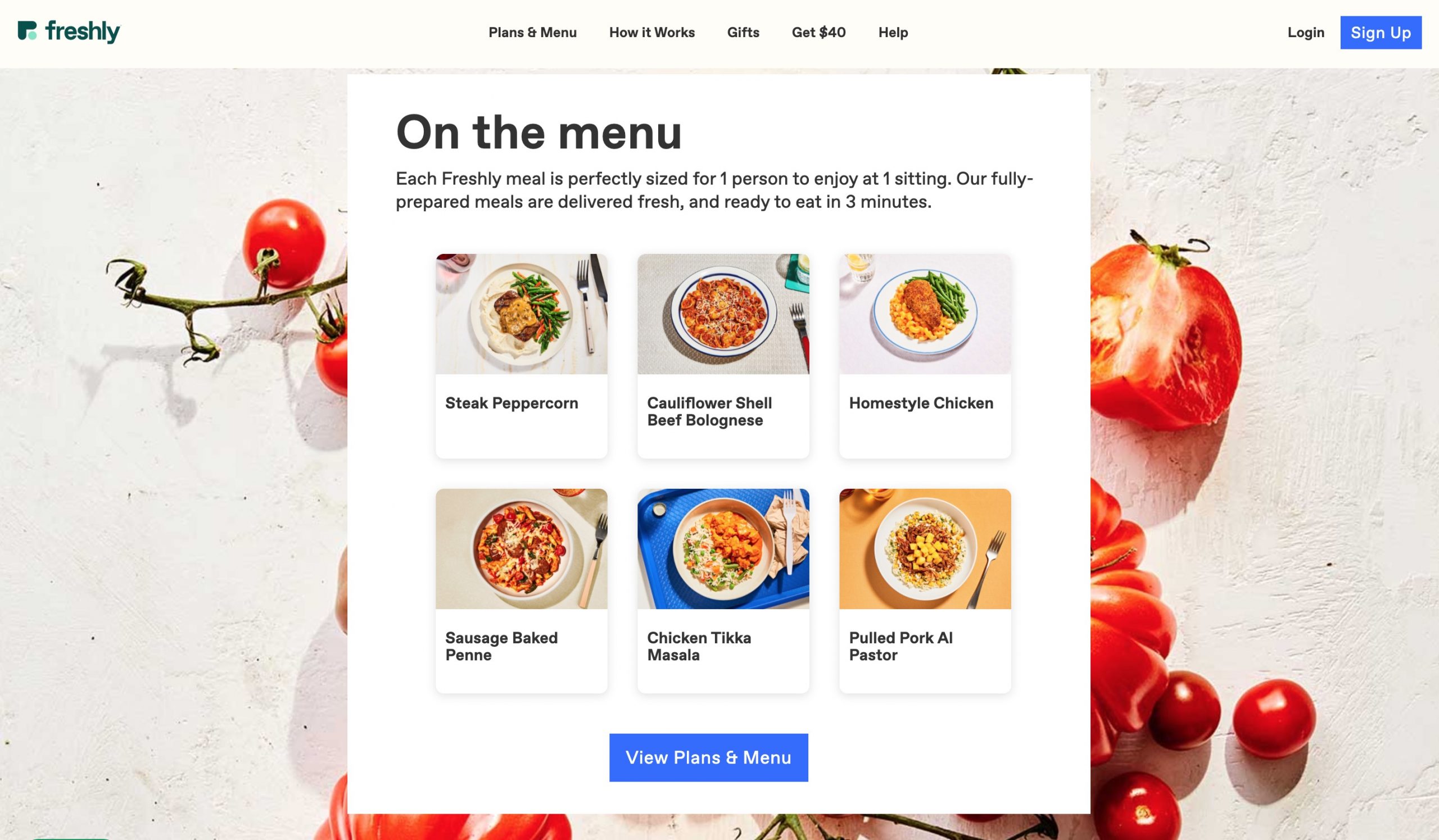 Freshly Meal Kit Ordering Process
To order with Freshly, you simply need to fill out the necessary information with their official website. You choose the preferred plan, indicate your email and ZIP code, choose the delivery date, and start picking up the meals. Afterward, you are redirected to the checkout page, where information, including delivery address, mobile number, are specified. That's pretty it. The ordering page is very user-friendly, and the whole process takes about 5 minutes or less if you know what meals you plan to order. As for the payment method, the company accepts most bank cards, including Visa, Master, American Express, Diners Club, JCB, Discover, as well as PayPal, Venmo, and Apple Pay. Note, they do not accept Google Wallet or prepaid cards.
Now, let's answer some of your probable questions regarding Freshly ordering and delivery processes:
You cannot change your order after completing the checkout. Once you paid for it, you may only overlook it without making any amendments. Freshly offers to make changes only for future orders.
You cannot cancel your order if the status shows – PREPARING or DELIVERING. If there is no such status, you have this possibility; hence, you should contact their support team or press the SKIP button.
You may track your meals. When your package ships, you receive a link to your email with a tracking number.
You can order 2 or more servings of the same dish, as Freshly understands everyone's cravings.
If you do not make any amendments for future delivery, you will receive default meals. Think in advance if you want anything new.
That's it. If you have more questions about this meal delivery service, you may find their FAQs page or contact their customer support team, who will guide you through the ordering process painlessly.
Freshly Food Delivery Packaging
The best delivery service providers do care about packaging and its recycling aspect, and Freshly is no exception when it comes to the environment "health." Beyond that, you won't find Freshly bad reviews claiming their packaging is not worth it, or they harm nature with their business. Everything in Freshly is supervised smoothly.
The service uses modified atmosphere packaging for delivery, which is capable of enhancing the shelf life of their prepared foods by 200% on average. This modification allows minimizing the oxygen levels, which, in turn, lowers the growth of aerobic organisms that may potentially harm the food. Furthermore, such packaging helps foods withstand approximately 60 hours of travel without implementing additional measures to keep them fresh. Delivery service also uses recycled denim insulation/non-toxic gel packs that keep all foods cool until you place them for preparation. Freshly regularly organizes "trials" to ensure the packaging is safe and environmentally-friendly.
If speaking of the size of the Freshly packaging boxes, they vary depending on the number of servings you order. For instance, 4 meal plan boxes will weigh 16.1 pounds and be sized 16 x 13 x 9.
All in all, Freshly did a good job to deliver fresh and cool prepared foods to your door; hence, you won't come across any damaged or tasteless dishes.

Reviews for Freshly Customer Support
Like many other healthy food delivery services, Freshly has a designated SUPPORT page where they provide customers with FAQs and important information about their standing and services. You may learn there about their meals, payment process, app, delivery, and shipping details. Beyond that, the company has an online chat where you may send your inquiry about any issue. Otherwise, you may always contact them via email. Their customer support team works 24/7 and will be happy to answer all your questions. Based on multiple Freshly reviews, their team is very friendly and dedicated to ensuring every person understands how they work and what they should expect from them. Therefore, they are worth 5 stars concerning the support service.
Freshly Review of Similar Services
If you have never tried meal kit delivery services, you should know that Freshly daily competes with such giants as Home Chef, Hello Fresh, and Sun Basket, though there are many more of them. Let's overlook the basics of these competitors.
Home Chef is a delivery service known for its affordable prices for foods. One meal may start from $7.99. Plus, there are many dietary restrictions met with them. They offer FAST to prepare foods that are delicious and organic. Every week you have a choice from 18 dishes, including ones that take less than 5 minutes for cooking as well as smoothies to help you digest them better. Based on the rating, Home Chef is believed to be the second among the most popular meal kit services in the US, following HelloFresh.
HelloFresh is also a company that may boast relatively low prices for their prepared foods, as they start from $7.87 only. They care about personalization and customization; hence, every potential customer may access a menu divided per diet, including veggies, pescatarian, family-friendly, as well as calorie smart. Beyond that, they do think about recycling in full. The dishes themselves are delicious and non-trite as well.

Sun Basket is less popular than those two, and Freshly, though, it has its own place under the sun. Their prices start from $8.99 to $12.99 per serving. About 18 dishes per week are available, covering the needs of vegan and meat lovers. They are delicious and fit both families with kids and just those who love enjoying organic food alone. It is worth mentioning that Sun Basket is also a company that is deeply concerned about the environment; hence, their packaging is recyclable as well.
As you may see, these three companies are a big deal, and one may occasionally go for them instead of Freshly, but they do also have their disadvantages. Try to compare them, taking into consideration your criteria, including price, dietary restrictions, and the client's feedback. Otherwise, rely on this Freshly review, as it uncovers exceptionally independent opinion without being paid for promoting the service.