If you feel that you cannot manage everything: work, family, cooking, – Factor75 is a service for you. Get fresh meals whenever you need them. Warm up and enjoy a tasty and healthy meal. With Factor75, cooking is over. And this Factor75 meal kits review and the description of their service will help you check what benefits you get.
Conclusion
Today, leading a healthy lifestyle is a trend adopted by many people. Eating healthy food is critical in such a lifestyle. But for many reasons, not all people can devote a lot of their time to preparing healthy food. Factor75 is an excellent alternative for people that don't have the time to cook at home.
The uncomplicated Factor75 food delivery service will suit almost everyone. The food that this delivery service offers is healthy. Hence, anyone who looks after their health shouldn't have any concern about Factor75 meal options. The food is fresh and organic. It also accommodates different diet requirements. Hence, if you have special demands, you can be sure there will be an option for you.
For the quality of the food, the prices are fair. The Factor75 meals are cooked by professional chefs. You just need to heat them. No cooking is needed from your side. Can it get more practical than that? To know more details about this service, read the following Factor75 review. It is an honest and unbiased assessment of the service and its products. Therefore, among the different reviews for Factor75, this one will give you a more accurate portrayal.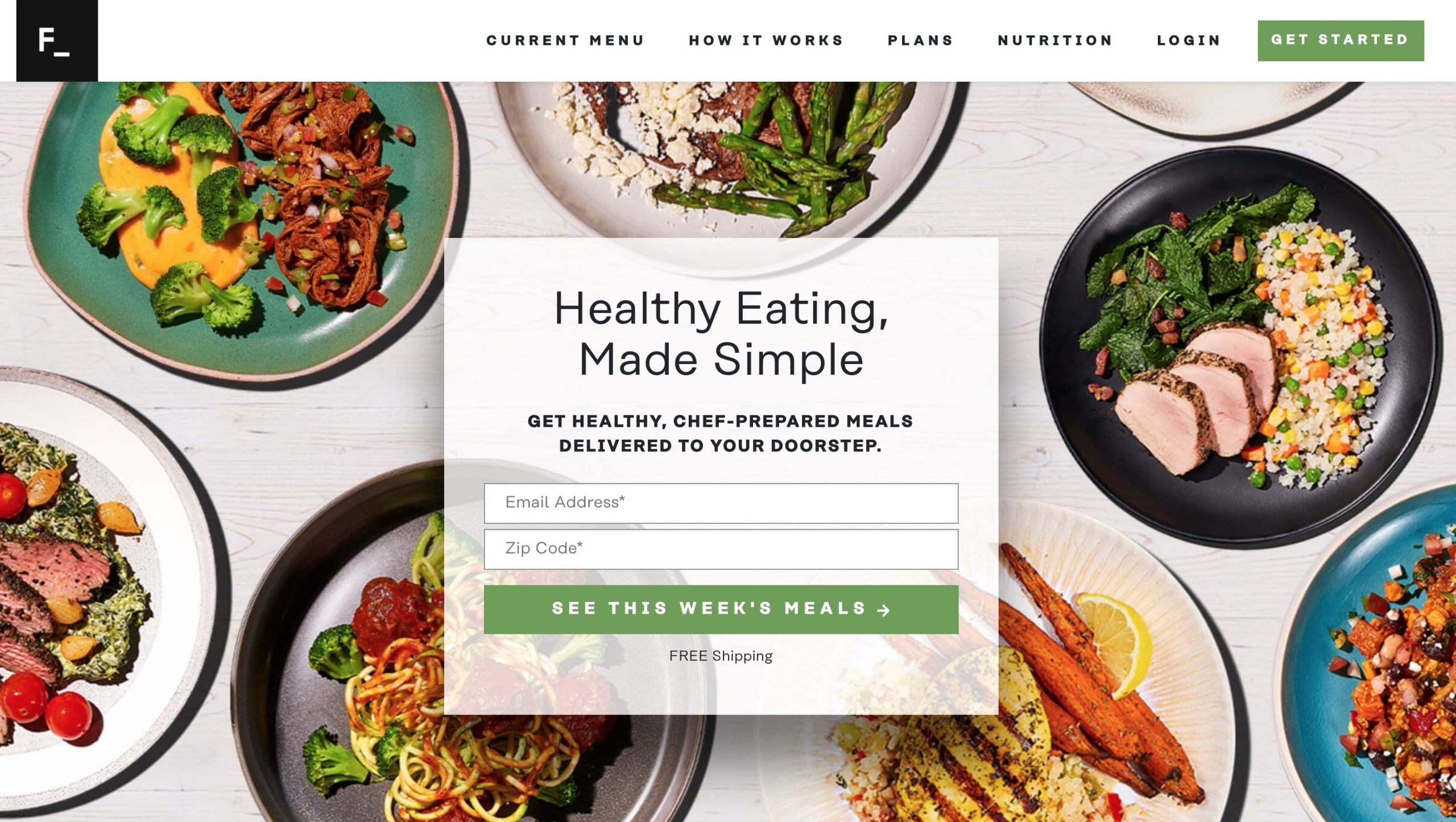 Pricing
In comparison to other meal delivery services, Factor75 is on the pricey side. In general, each portion will cost you slightly more money than ordering from other services. But you have to consider that Factor75 delivers prepared foods, whereas others just the ingredients. Hence, the slightly higher prices are justified. This alternative suits people that are too busy and don't have the time for cooking. All you need to do is heat the food up in an oven, and you'll have your serving ready.
What's more, unlike other food delivery services, Factor75 shipping cost is zero. Yes, no shipping fee at all. You may read different opinions about pricing. Some people state, "I tried Factor75, and it was not so cheap." Others seem to disagree. So, how much does Factor75 cost? The following list will give you a clear idea:
$15.00 per serving if you opt for 4 meals a week;
$12.83 per serving if you opt for 6 meals a week;
$12.30 per serving if you opt for 8 meals a week;
$11.50 per serving if you opt for 12 meals a week;
$11.00 per serving if you opt for 18 meals a week.
These prices may be indeed a bit higher than offered by other services. However, with all the different plans listed above, you get specific food for a healthy diet. You can get vegan food to comply with your Ketogenic diet, Paleo diet, and any other special dietary requirements. Hence, if you take into account all the benefits, the price per serving is a good deal.
What's more, you get the opportunity to discuss with a nutritionist the best diet for you. This way, you can select the most convenient Factor75 meal kit. The session is 20 minutes long, in which you get professional advice. What is the cost of this extra service? Nothing! It is completely free. So, Factor75 is it worth it? With so many benefits, it's hard to imagine what else one can reasonably expect.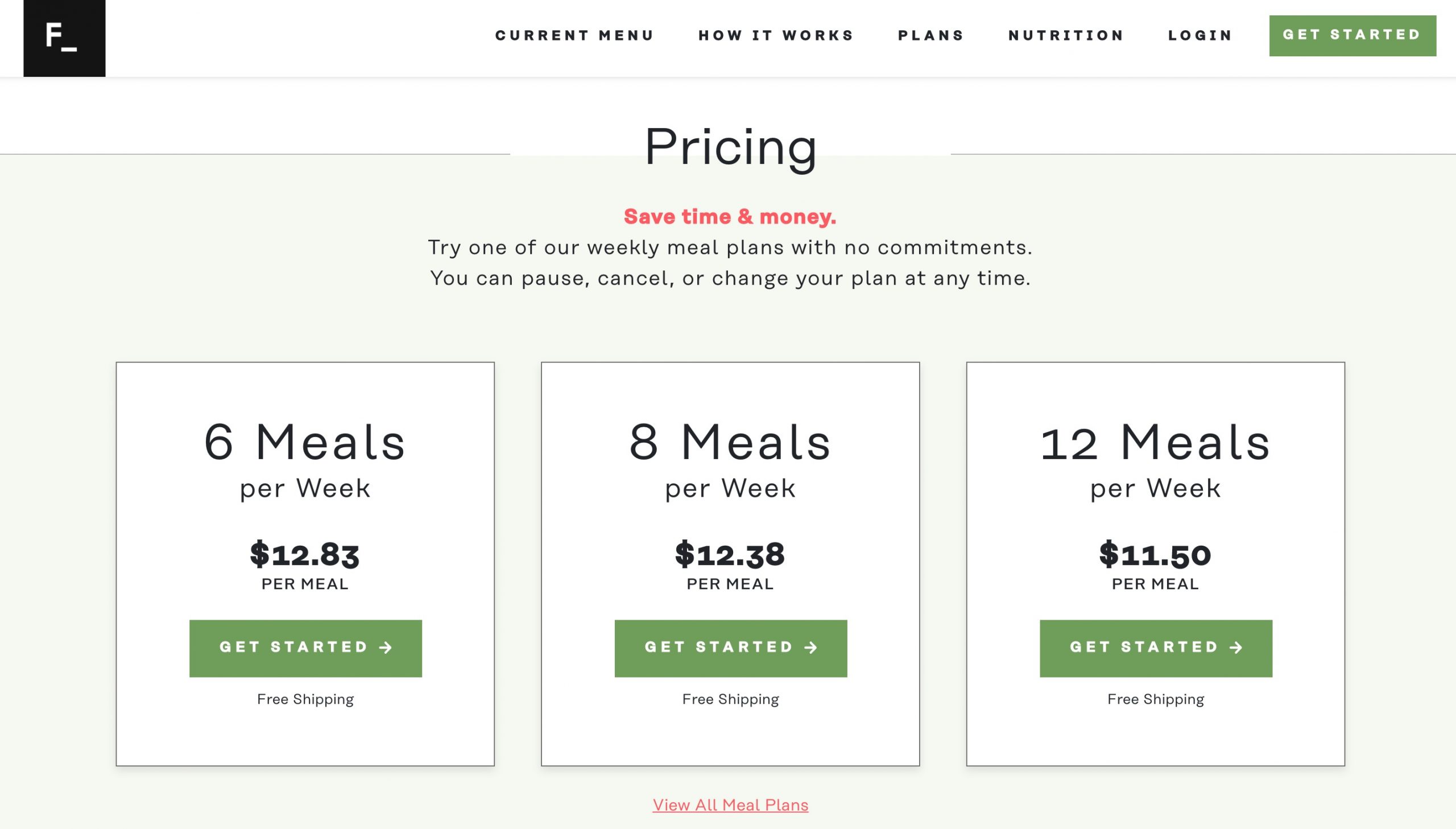 Types Of Meal Kit Food Options
You will never complain about the variety of food offered by Factor75. There are plenty of options. In a week, you can select between 18 meal kits. All of them are very tasty and healthy. They include high protein, vegetarian, low calories, and several other options. There are also spicy options if that is your thing. For those with a type of food allergy, there is dairy-free and plant-based food available.
No wonder Factor75 meal kit reviews are generally positive. You can enjoy fresh organic food with minimal effort on your side. As mentioned, you don't need to do anything but warm the food up. When you choose the food for you, the system assists you with different filters. This way, you can select more specifically the food that adapts to your taste and diet. To make it more intuitive, the system uses different icons to identify each type of food.
If you don't find an option that you like in the standard menu, Factor75 offers another 12 options. They are referred to as Factor+. They are upgrades with higher-end seafood (shrimp, for example) and meats. There are also protein shakes and desserts in these upgrades. The concept is excellent. You can enjoy salmon, fillets, and more. The sole drawback is the price. The Factor+ options are expensive. However, you get what you pay for.
So, in conclusion, the impression of each Factor75 meal kit is positive for the standard menu. The price is fine, and the different options available are delicious. The Factor+ meals are made with more exotic ingredients. They are also prepared following more elaborated recipes. However, the price can be high for the average consumer. Therefore, these options are more suitable for special occasions.
Quality of Products
The ingredients that Factor75 uses to prepare the different food options are top quality. By tasting the food, one can immediately realize that the ingredients are fresh. This allows you to store your meals in your fridge for some additional days. The portions are enough to be full after eating. All your dietary requirements will be properly met. For instance, if you need a higher intake of proteins, your meals will have the right amount thereof.
You can be sure that each meal was prepared with a lot of care. You can tell by the final taste. Thus, if you don't have the time to cook at home, Factor75 will do it for you. The quality will match and even surpass any homemade meal. Is Factor75 good for everyday meals? Absolutely! It is the best way to have tasty and healthy food on your table.
Ordering Process
Now, you probably are eager to begin using this service. It is quite easy. First, you have to sign up. You can do it directly on the website of Factor75. For starters, you have to provide your email address. Your zip code will be necessary, too. After entering these data, Factor75 will show you the different plans available. You could see them in the 'Pricing' section of this Factor75 review. New customers get a Factor75 discount code. This can be redeemed in your first purchase.
The signup process is very straightforward and without any complication. In just a few minutes, you'll be ready to place your first order. First, you have to choose the meal plan that is more convenient for you. Then, you can select the specific dishes of your preference. Factor75 will ask whether you want to upgrade via the Factor+ plan. As discussed above, this is an attractive upgrade, but it is expensive. Hence, it's up to you whether to upgrade or not.
After making all these selections, you can finally create a password. Then, you have to provide your address and phone so that Factor75 can deliver your meals. Complete your payment and just wait for your meals. Something interesting about Factor75 is the GPay payment option. There are not many businesses that accept this digital wallet as a payment option. You can pay with a regular debit or credit card also. If you have a Factor75 promo code, you can also redeem it at this stage.
Also, you can change your default payment option at any time. If you want to cancel your subscription with Factor75, you can do it directly on the website. You don't have to talk to anyone. Just find the corresponding button and click on it. Just remember to cancel your subscription before another order is charged. So, do it before Wednesday at midnight.
Factor75 delivers on Monday, Tuesday, and Wednesday throughout all 48 contiguous US states. Your delivery day depends on your zip code. Factor75 has to plan the optimal routes to ensure the best delivery service. Notice that you get one delivery day a week only. In comparison to other food delivery services, this is a little bit constraining. It is not a big problem, though. You can store all your meals in your fridge for up to 7 days without any issues.
In the Chicago metropolitan area, Factor75 uses Chicago Messenger. If you live in a different part of the US, your meals are sent via FedEx. The food is sent in insulated boxes. Hence, there is no problem if you don't put it immediately in the fridge. So, you don't have to be at home to receive your package. However, it is recommended that you create a FedEx Delivery Manager account. It has no cost and allows you to track your package more easily.

Packaging
As it has been hinted in this review of Factor75, the packing of the food is done very carefully. Factor75 uses plastic containers. However, the plastic is of the type CPET, which is safe to store food. It is also safe to be put inside a microwave oven. If you are concerned about the future of our planet, you must know that CPET is recyclable. Hence, you don't have to throw the containers in the trash. Put them in the recycling bin instead.
For safe transportation to your home, the food containers are packed inside insulated boxes. Factor75 will put gel packs to guarantee that the food is kept at the right temperature. Rest assured your food won't spoil. The Factor75 packaging technique has been tested in different climates throughout the year. There has never been a single problem with food spoilage during transportation and delivery. Different Factor75 reviews praise the effectiveness of the packaging technique.
Some users have reported that the gel packs were not fully frozen upon arrival. Factor75 explains that it should not be a source of concern. It is normal for the gel to melt slightly. However, as soon as you open the insulated box, you must transfer the containers to the refrigerator. As mentioned previously, your meals will remain fresh for the next 7 days. There is also a label on each container indicating the expiration date. The meals are sent fresh. But if you don't plan on eating them within the next 7 days, you can freeze them.
Support
You won't have any problem contacting customer support. Factor75 has a presence in the main social networks (Facebook, Twitter, and Instagram). Thus, you can contact them on those platforms. You can also call or send them an email. Texting is also possible, and it may be the fastest way to get a response. The customer support staff is friendly and helpful. They will not hesitate to do everything they can to sort your issue. They work from Monday to Friday, from 09:00 a.m. to 05:00 p.m. CT.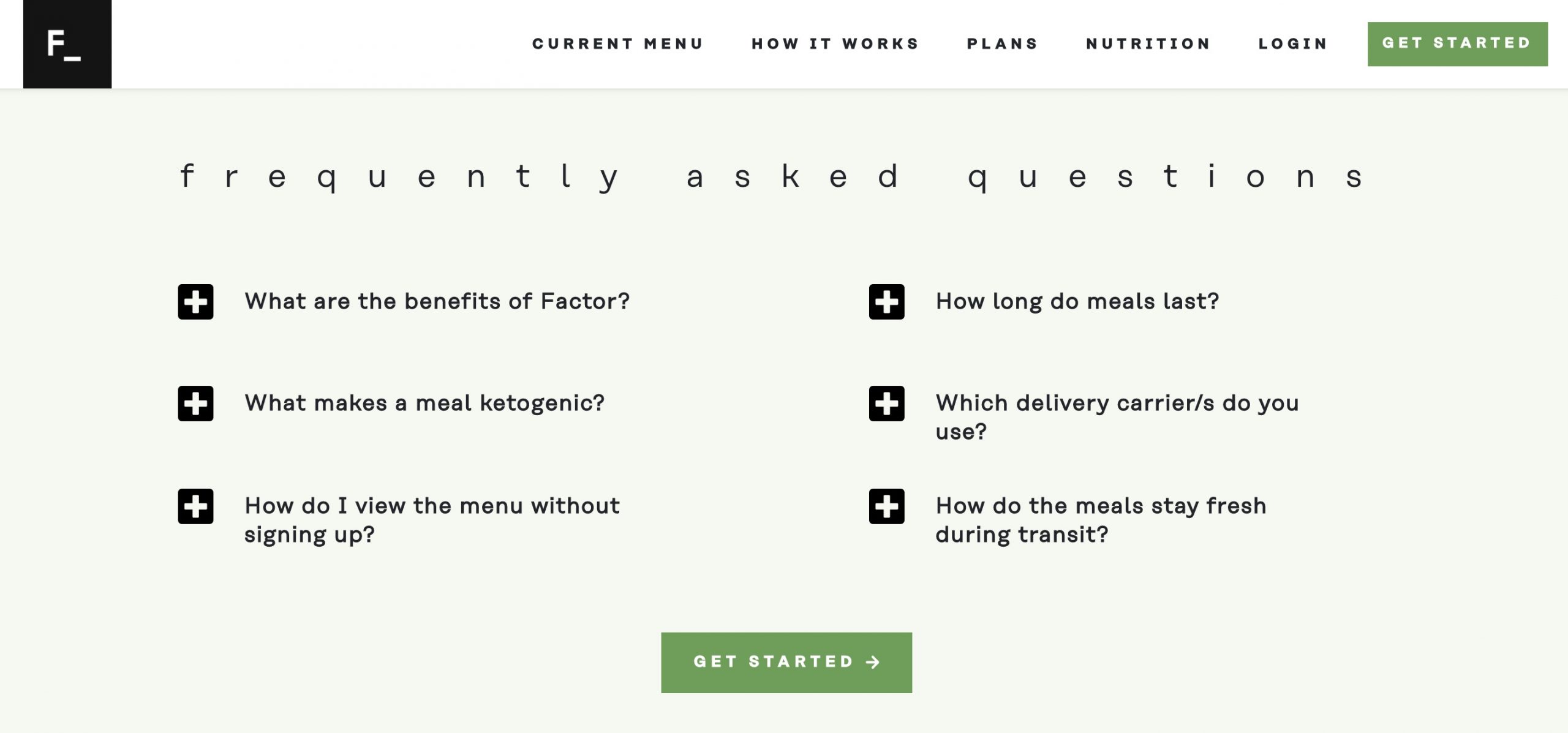 Similar Services
Factor75 is by no means the only service that delivers healthy meals in the US. Some other companies do it with slightly different business approaches. There are a few Factor75 bad reviews online, which result from the comparison of this service with its competitors. It is not completely fair. With its approach, Factor75 provides an excellent service. Its main competitors are:
Freshly, which offers plans of 4, 6, 10, and 12 meals per week. If you opt for the latter, each serving will cost you $8.49;
Diet-to-Go, which also specializes in food that meets many different dietary requirements;
Blue Apron, which delivers the ingredients along with the recipe to cook a healthy meal.
As mentioned, Factor75 tends to be pricier than the competitors listed above. However, the quality and freshness of the ingredients justify the extra cost. Freshly has 6 delivery days a week, and Diet-to-Go has 2. It is an advantage. However, Factor75 guarantees that the food remains fresh for 7 days. So, there is no problem with having just one delivery day a week. For some people, this is even more convenient. Blue Apron has the disadvantage that cooking is required. It will not be suitable for people with little time to prepare their food at home.