Meal and meal-kit delivery services are true saviors for busy people. They differ by your cooking skills level, dietary needs, budget, etc. Here, we're going to talk about one of the most affordable and adequate services – EveryPlate food delivery. The company offers high-quality American comfort food.
The platform offers a rotating weekly menu and brings ordered ingredients for the meals you choose the right to the door. It works just like other meal kit services. You choose the number of meals you'd love to get for this week, the number of people who will eat, and what food you want to prepare. Everything you need is packed in a box that is later delivered to your doorstep.
While the price is the main advantage of EveryPlate that makes it better than competitors, there are other benefits:
American crowd-pleasing comfort food, suitable to serve during gatherings;
Some pre-made sauces available to make cooking with EveryPlate even easier;
Convenient and eco-friendly packaging, minimum plastics;
EveryPlate promo code program available for students and first-time customers.
But as with anything, there are some cons you should consider before choosing EveryPlate food options:
The food isn't suitable if you're extremely health-conscious as there isn't a massive amount of vegetables;
There are few to no vegetarian or vegan options on the menu;
No dietary requirement filter on the website, so you have to choose manually what fits;
There is an allergy-determining program, but it takes 2 steps to complete.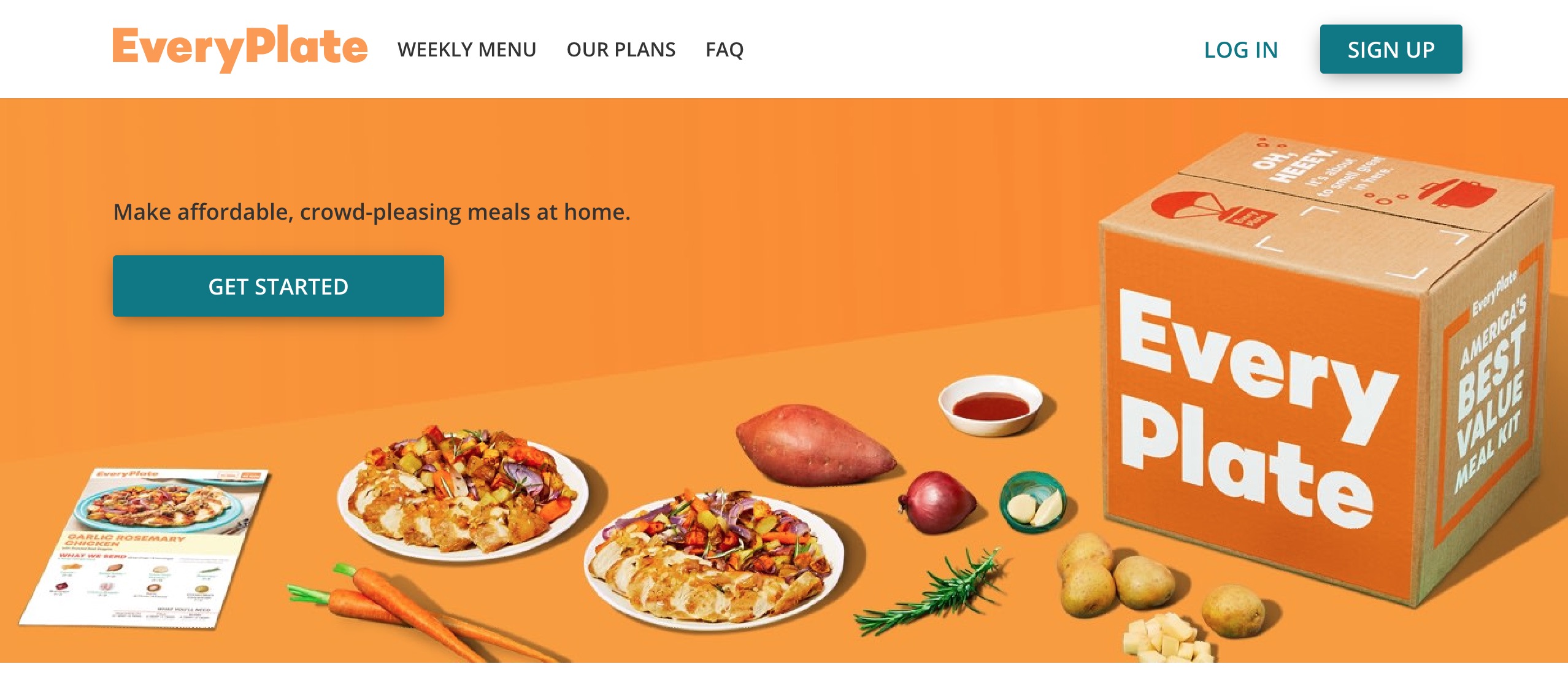 An EveryPlate meal kit is suitable for:
People with basic cooking skills.
Every beginner can cook EveryPlate food without a problem. It's fun and easy, and the company provides some pre-made sauces. So, it's difficult to screw up these meals. The directions are easy to follow, and the ingredients you get are already divided into portions.
People who don't have time.
A lot of people want to make their own meals but have no time to go grocery shopping, looking for recipes, etc. While eating bought sandwiches every day may sound like fun, it's better to read this EveryPlate review and buy a subscription to have meals delivered. You get to prepare your food but in 3x less time. EveryPlate saves time you would have spent shopping, portioning, and actually cooking. As the cooker starts, you can go back to your business for 20 to 40 minutes.
People who live on a budget.
If your budget is tight, EveryPlate's affordable weekly menus will be a major help. You won't have to think about how much food to buy to eat in time. Buying enough food to feed a family a whole week or just for your relaxed weekend won't cost a fortune.
Now, let's get to a more detailed EveryPlate meal kits review.
Conclusion
Overall, EveryPlate is an interesting, convenient, and affordable option for meal delivery. The cost is its main advantage over other services, so if you have a tight budget and no health concerns, get your EveryPlate discount code and get your first subscription.
I tried EveryPlate and was pretty much satisfied with the conditions and quality of the products. The food doesn't cater to vegetarians, vegans, or people with dietary restrictions, but I didn't need any special food. High-quality, delicious meals with a few prepared sauces at an affordable price per meal are just what I was looking for.
Pricing
Most reviews for EveryPlate praise the prices of the company. The average price per meal is $4.99. The website's shipping cost is $8.99, but you get the first order with a bonus of free shipping.
There are different programs, depending on the number of people and EveryPlate meal options you want to order:
3 dinners a week, 2 people are $38.93 with shipping;
4 dinners a week, 2 people are $48.91 with shipping;
5 dinners a week, 2 people are $58.89 with shipping;
3 dinners a week, 4 people are $68.87 with shipping.
There are many more options if you order a two-serving program. You can get a discount for the first order as a welcoming gift, plus if you're a student, meals are down to $3.99. To enroll, create an account and verify that you're a student by providing proper documentation.
Types of Meal Kit Food Options
EveryPlate meal kit reviews state that the rotating menu for a week is very convenient to use. It offers up to 13 meals due to the EveryPlate rotation. This is good for people who get bored of the same food very quickly. Choose the number of meals you need (up to 5 per week)
The website offers a rotating menu once a week, holding 13 different meal choices. Everyone can find something to their liking. You can order 2 to 5 servings per week, and the service will notify you how much time is needed to cook them. The information about the spiciness is also on the page of every meal. It's worth mentioning that you will get several spice sachets, so it's possible to change your liking degree.
Skipping or canceling weekly food isn't a problem. Make it in advance, though, if you don't enjoy one or more of EveryPlate's meals or if you're going to cook something special yourself. The cancelation is done in several simple steps:
Log into your EveryPlate account;
Go to the section where you usually choose the meals;
Find the "Skip" button;
Press it;
See if there's any confirmation.
If you can't do it or there's no sign that the week is skipped, you can contact EveryPlate customer support.
Canceling your account also isn't difficult. Log into it, go to Account Settings, and find the "Cancel My Account" button.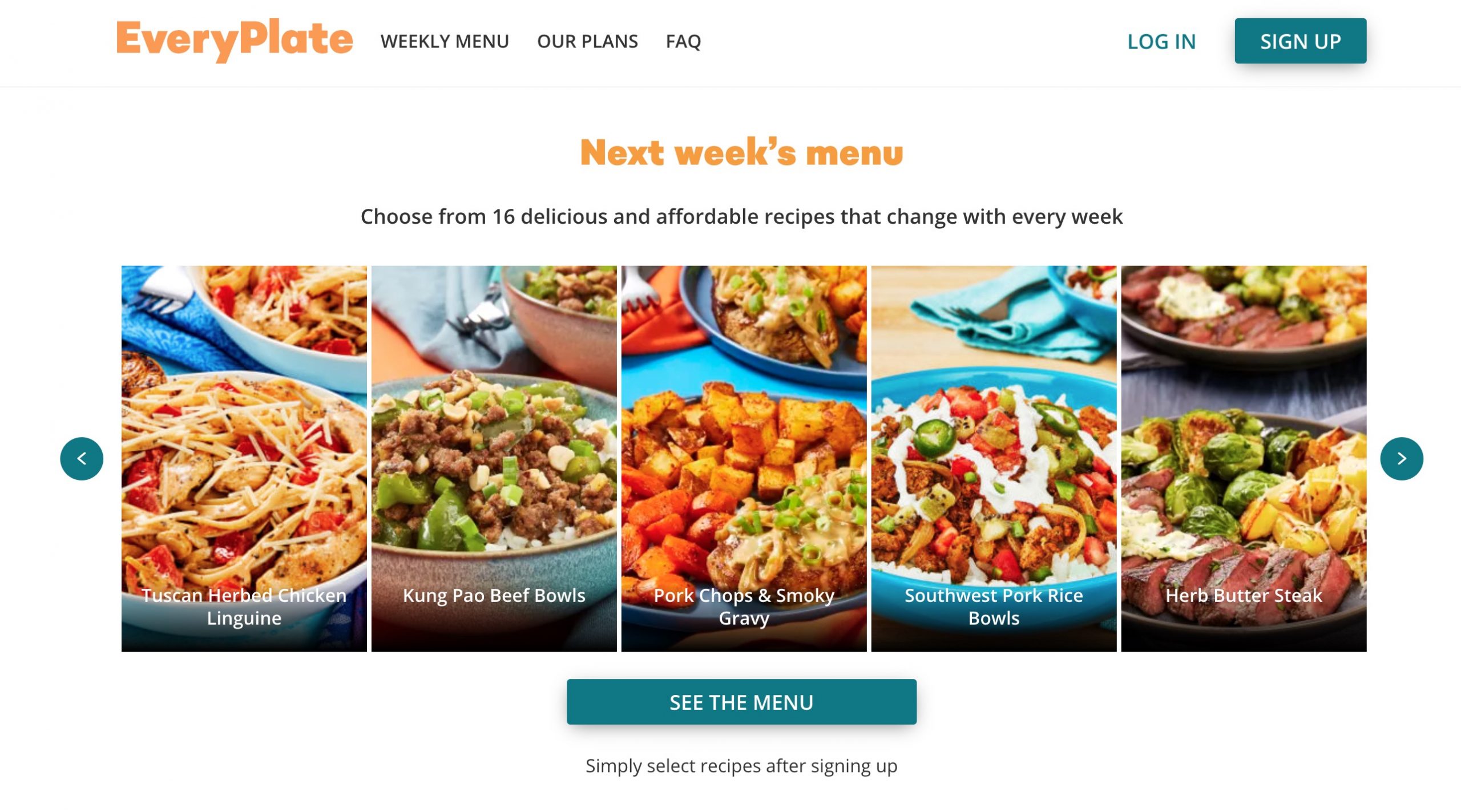 Premium EveryPlate Options
Most EveryPlate reviews mention that the food is quite tasty, relatively healthy, and organic, but also simple. If you want to get something special for the evening, the service offers one or more best premium options for a week. This category contains more complex and sophisticated meals for special occasions or fun couple evenings. They cost around +$2.99 per item, depending on the option of your choice. So, EveryPlate premium food isn't expensive either.
The recipes for both regular and premium meals are very easy. You get a set of cards with step-by-step instructions, walking you through every stage of meal preparation. This makes EveryPlate a great beginner option.
Quality of Products
The product quality is impressive, given the pricelist the company offers. You always get something new to eat, so it's easy to diversify everyday menus. Although EveryPlate doesn't necessarily suit vegans and vegetarians' needs, it's possible to find something suitable in every week's set.
The variety of taste is also represented by the spice amount you get with the food. Every meal has different variations, depending on how much you add, which contributes to the meals' overall diversity.
Ordering Process
As soon as you find out how much does EveryPlate cost and what the options are, it's time to order. The process is quite easy; you can find a detailed step-by-step below:
First of all, you have to create an account. Find the EveryPlate's "Get Started" button, and you'll be redirected to a page with the plan list. Select the number of people you want to feed using EveryPlate and how many meals are needed.
Enter your e-mail and think of a simple password for you to remember yet difficult enough for anyone to guess. Adding capital letters and numbers will help complicate it a bit.
Fill in a form with your basic information like a phone number, delivery address, name, etc. As EveryPlate saves the info as a part of your account, you don't need to enter it with every order.
Choose the day of the week when it's most convenient for you to receive a delivery. Write as many details as needed, such as the door to which the package should be delivered, directions to your house, etc.
Enter your payment information. EveryPlate accepts both credit card and PayPal payments, which are the two most secure and popular ways to pay in America. If you have a coupon for a discount, enter it near the payment information. This info will also be saved, and you won't need to enter it every time.
Choose your food from the selection of about 13 options available this week. Keep in mind that EveryPlate doesn't have special menus for vegetarians, vegans, gluten-free people, and those requiring a special diet. You can choose lighter or heavier food, but if there are health concerns that don't allow you to eat certain foods, consider another service that will cater to your needs.
Wait for the delivery!
In this EveryPlate review, it's important to mention the flexibility of delivery the service offers. There's an automatic choice based on your ZIP code, but the settings can be changed anytime. You can choose multiple deliveries per week as well. EveryPlate is available every day, except for Sunday and Monday.
To change any setting, go to your account and do it.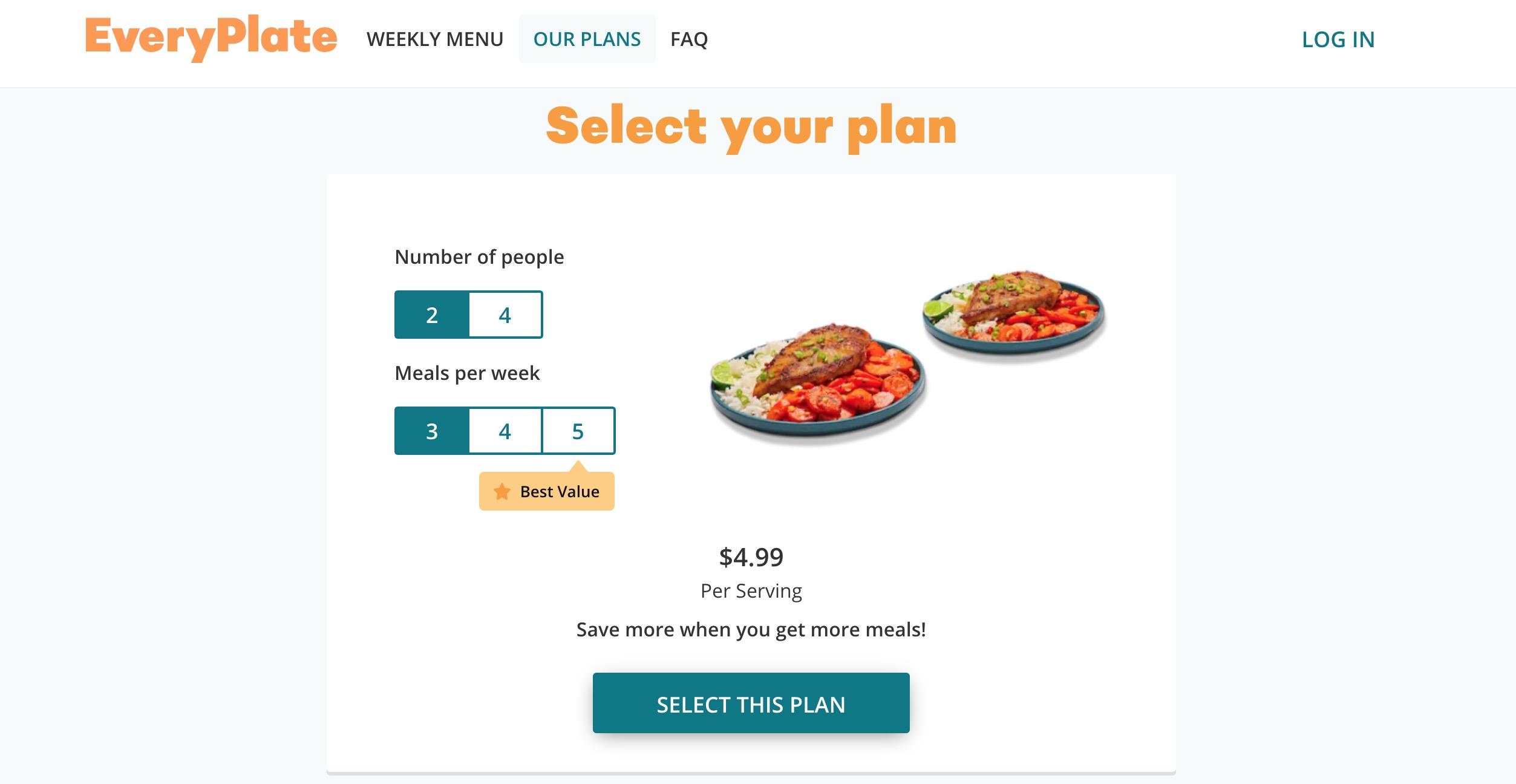 Packaging
Is EveryPlate good? Looking at the packaging it uses, yes. Every ingredient is well-organized and put in a convenient package. The materials are eco-friendly and recyclable. It's one of the most important factors for many people when it comes to choosing a meal delivery service.
EveryPlate uses as few plastic elements as possible, so you won't have to throw away large amounts of plastic bags and styrofoam. Most delivery services still use plastic containers and bags as the main type of packaging, but EveryPlate decided to move forward quickly. Your job will be to find a way to recycle what's left.
Support
There are several ways to get support from EveryPlate:
Read the FAQ section.
There's a comprehensive FAQ section on the website that answers the most common questions about the service, delivery options, meals, accounts, etc. Read it before contacting the support team because there's a lot of useful information, especially for new customers.
Live Chat.
If there's no answer to your question in the FAQ, find the Live Chat icon in the lower right-hand corner of any page of the website. Customer support through chat is available 24/7, which is very convenient. If you don't see the icon, check if your Adblocking extension or application is off. You can also add the EveryPlate website to the "white list" of websites in the blocker app.
Phone.
Reach the company by phone if you find it more convenient. The number is +1 (973) 210-4915. It's available on business days from 6 am to 11 pm EST.
Some people send EveryPlate bad reviews due to the unsatisfactory work of their support. This isn't a frequent issue, but some reviewers say that the operators aren't as friendly as they should be.
As you may know, every review of EveryPlate and other services left on Trustpilot and similar platforms depend on subjective experiences. One review might be the opposite of the other, and both will be true.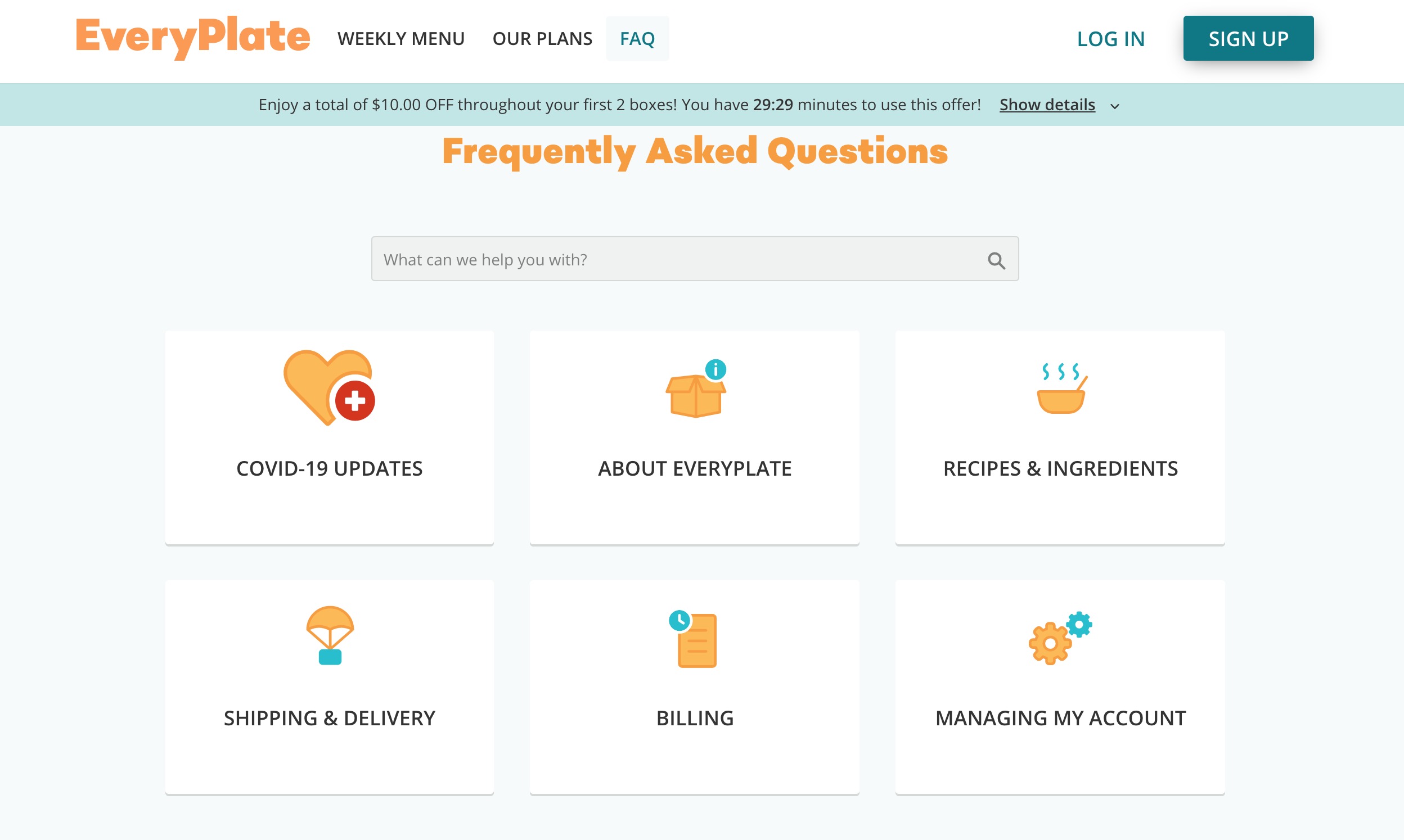 Similar Services
So, EveryPlate, is it worth it? Yes, because this is an affordable option with delicious food and easy recipes. There are similar companies you can check out as well:
Home Chef.
Home Chef is very similar to EveryPlate in the choice of meals. There are no options catering to people with special dietary needs. One advantage is that there are more vegetarian meals. The price, though, is a bit higher – $6.99 and more for one serving. The limit for meals per week is five.
Freshly.
Freshly is a good option if you need only one serving. Containers with ready-to-heat meals are delivered to your door. Throw them in the microwave and wait for the food to heat. The price is $8.49 and more, but you can buy as many as 12 meals for a week.
HelloFresh.
HelloFresh offers simple cooking, fresh ingredients for your meals, and interesting flavors to spice up an everyday routine. The price starts at $7.99 and depends on the number of meals you order every week.
While all of the above are decent services, if you live on a budget, EveryPlate should be number one on your list.