Every day people have to spend their precious time cooking. Not everyone is fond of this process. If you are one of those who like yummy food but are not eager to prepare dishes after a long working day, you can't help but appreciate convenient meal kit delivery services. Companies offer you a wide range of easy-to-cook but nutritious and fresh kits. Dinnerly and Everyplate are two bright representatives of this business. They are two of the most popular and sought-after platforms. Each of them has its pluses and minuses. If you can't decide which one meets your needs and desires, explore the Dinnerly vs Everyplate review you find below.
Short Overview/Delivery Area
Both Dinnerly and Everyplate are considered the most affordable meal delivery services. You are to pay on average $5 per one kit. Both firms are able to please Americans throughout the country. Dinnerly possesses 3 fulfillment depots in New Jersey, Texas, and California. It allows delivering kits to most of the contiguous US states. Everyplate is a daughter's product of HelloFresh. Yet, it has more affordable and favorable pricing policies.
When you compare Dinnerly vs Everyplate, it should be highlighted that the time needed to prepare dishes is minimal. It takes only from 10 to 45 minutes to prepare delicious meals. The main goal of the food delivery services is to make yummy meals closer to everyone. The experts of both firms try to please their clients and attract as many new buyers as possible. Both companies pay attention to the security of the products. All the orders come in insulated packages. It's a must when it comes to responding to Covid-19 issues.
While they both have copious common traits, it's not easy to decide which is better – Dinnerly vs Everyplate.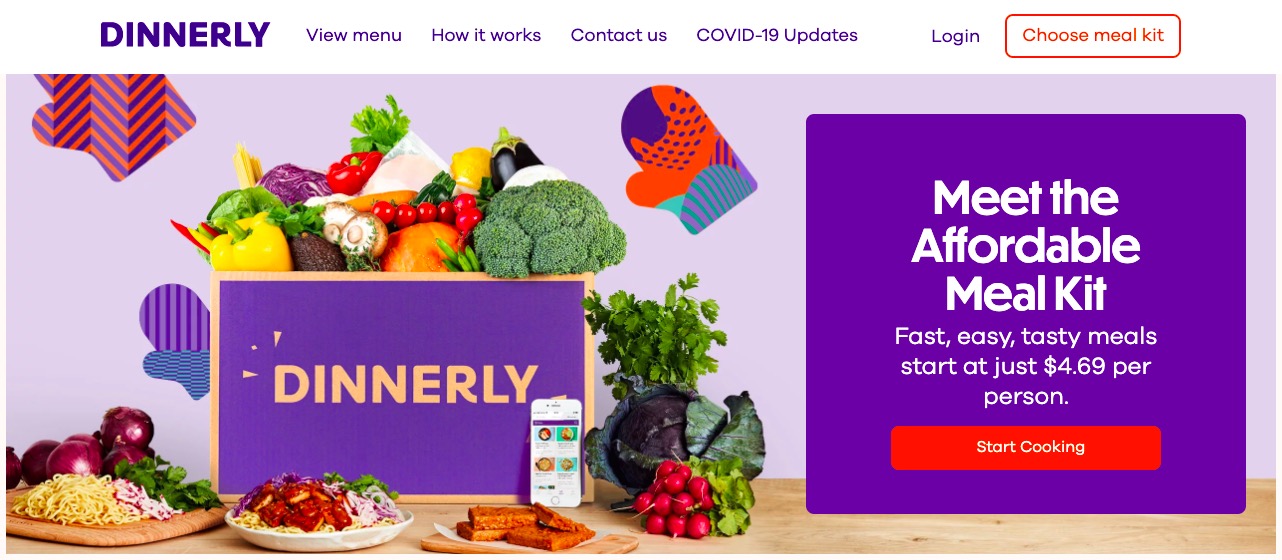 Pros/Cons
Both Dinnerly and Everyplate have their fans and opponents. Before you decide to join this or that group, you have to realize what are the major advantages and disadvantages of each service.
Dinnerly Pluses and Minuses
Essential advantages of Dinnerly encompass low prices, simple receipts, and a wide assortment of available dishes. It's also possible to customize receipts. The greater part of the options includes only 6 elements or even fewer.
Dinnerly takes care of each of its customers and tries to find proper ways to enlarge the audience. Thus, the company allows you to purchase vouchers for your friends. You can also send them a box as a gift.
There is one significant drawback that makes the use of Dinnerly not so convenient. You do not receive a receipt with your box. If you do not know how to cook this or that dish, you have to look for it in an app. The next disadvantage is that Dinnerly is not about 100% organic food. Moreover, you may be disappointed with the fact that it's necessary to add spices to your meals. They are not added to your box.
Everyplate Pluses and Minuses
Everyone who wants to consume more homemade foods but doesn't have enough time to go shopping for proper ingredients likes the Everyplate services. With their help, it's possible to eat versatile meals each day. All the elements are healthy and nutritious.
Printed cards you get with boxes provide you with clear and accurate instructions on how to prepare this or that dish. There is a great plus that the most complicated meal takes only 6 steps to be ready. Moreover, such cards contain all the needed information about potential allergens.
If your aim is to lose weight, Everyplate is not an ideal solution for you. Although on the site, you are to find descriptions of each meal. It's a good idea to read them in order to pick up the most appropriate variants. Yet, only a few of them are low-caloric.
Pricing
No matter whether you choose Dinnerly or Everyplate, you obtain boxes at affordable prices. They both were created to provide people with cost-effective prepared foods.
At the same time, you should keep in mind that an eye-catching price of $4.99 per portion is only an effective marketing method. You are to pay about $43.50 per 3 meals for 2 people per week if you choose Dinnerly platform. If you prefer Everyplate, you are to pay about $54 per 4 meals for 3 people per week. Although the prices are almost the same, those who value every coin should pick up Dinnerly. The difference is not significant, but you are able to save a couple of dollars every week.
Both firms have special offers. They may vary. Yet, it's possible to save up to 40% with Everyplate and up to 30% with Dinnerly.
It's necessary to highlight that both firms charge money for shipping boxes. Dinnerly shipping cost is $8,95, while Everyplate shipping cost is $8.99.
Types of Menu of Dinnerly and Everyplate
Dinnerly vs Everyplate comparison shows that both firms offer food that is familiar to ordinary consumers. It's possible to pick up everybody's favorite cheeseburger or grilled chicken. Yet, platforms do not cater to people with such limited options as keto or paleo dishes. It doesn't matter that the assortment is poor. It means that the best delivery service is ready to provide you with nutritious meals, and cooking is not going to drive you crazy.
It's easy to pick up the most suitable Dinnerly options with the help of special tags. The creators of the Dinnerly menu cater for such variations as "Poultry", "Kid-Friendly", "No Added Gluten," "Healthy", and some others. Yet, before you place an order, it's necessary to get acquainted with ingredients, while not all tags are accurate. Thus, shaved steak and Chuka soba stir-fry by Dinnerly are considered kid-friendly variants. You may order those dishes you like.
If you do not eat meat and need vegetarian meals, Dinnerly is a perfect solution for you. It offers some vegan options that you can't find on the menu of Everyplate.
Everyplate offers 14 versatile recipes. Moreover, if you are looking for an amazing selection of dietary options, the platform of Everyplate is not the best place for you.
There is one important aspect to be mentioned about the Everyplate menu. It changes every week. It's a perfect solution for those who want to make nutrition not only healthy and easy but also interesting. With the Everyplate menu of the upcoming week, you can get acquainted on the website of the Everyplate company.
Everyplate has fewer tags to choose from. All the assortment is divided into spicy, veggie, premium, or protein Everyplate packs. No water which one you choose, Everyplate surprises you with service.
Both Dinnerly and Everyplate pack their boxes with both organic and non-organic ingredients. Dinnerly and Everyplate pay attention to the choice of the right food suppliers in order to provide their clients with meals of perfect quality. Yet, if you consume exceptionally organic food, you have to select dishes carefully. Not all the options by Dinnerly and Everyplate are organic.
Everyplate vs Dinnerly comparison denotes that both firms are not an excellent solution for those who are to experience one diet after another. Yet, Dinnerly is characterized by more diversified variations of meals.

Boxes
Dinnerly caters to clients in several boxes. The option of a two-person box is to provide you with 3-6 meals per week. It's also possible to order a family box for 4 people. It also includes from 3 to 6 meals per week. The latter variation is an amazing solution for large families. When placing an order, you are to select the option "Make my box vegetarian."
Everyplate also caters to users two possible variations of boxes – for 2 and 4 people. It's possible to obtain from 3 to 5 meals per week. It's a good solution for small families. If you compare Everyplate vs Dinnerly, the latter option is a better solution for large companies. If you are planning some family gatherings, it's possible to save time and get rid of the necessity to spend hours on cooking.
Ordering process
When it comes to the process of placing an order, the difference between Everyplate and Dinnerly is not huge. Everything you need is Internet access and a digital device. You should pick up the preferable delivery days and meal kits. Let's take a closer look at the ordering processes of each platform.
The website of Dinnerly has a user-friendly interface. Even if you visit it for the first time, it's clear how to act. The first step you should take is to define the details of the plan you need. Actually, there are two possible variants – for two people and for a family. The number of meals per week varies from 3 to 6. The next step is to define location. It's enough just to enter your zip code to clarify whether the Dinnerly service covers your area or not. Sometimes you may experience some difficulties when it comes to the choice of the delivery day. It happens because there are only three fulfillment centers, and couriers are not able to cope with all the orders. The last step is to indicate the most convenient payment methods.
If your plans are changed, and you need to conceal your order, both Dinnerly and Everyplate allow you to do this at any time. Yet, Everyplate has several restrictions. You are to make changes up to 5 days before the delivery term. Moreover, it's possible to make only 4 alterations.
Support
Every person who has ever used online services knows for sure that sooner or later, the necessity to contact support managers arrives. The reasons may be different. Yet, everyone expects to get a solution to his or her problem as fast as possible.
Dinnerly provides their clients with 4 possible ways to get answers to the questions they are interested in. They are the following:
Phone. It's the fastest way to solve the problem;
Email;
Online inquiry. It's possible to fill out a special form on the site. The managers contact you ASAP;
FAQ section. It contains lots of useful and helpful information about the service and its options.
Everyplate has a similar help center. Yet, it offers fewer options. You may experience the following variants:
Phone. It has limited working hours;
Live chat. It's available 24/7;
FAQ. The most common issues are gathered in one place.
Conclusion
So, Dinnerly is a leading meal delivery service that has something special to please copious clients. Although Everyplate is a worthy rival, there are still a couple of aspects to be improved. It's up to you to make the final decision, yet, Dinnerly meets the needs and expectations of a wide range of humans.