Do you lack the time for cooking after a long working day? Today, you can save much time by ordering healthy meals from reputable meal delivery services. Gobble and Blue Apron are known as good meal delivery companies that can meet diet preferences on the top level. However, they have certain differences that may influence your choice. Read this Gobble vs Blue Apron review to learn what delivery service can meet your personal requirements best. Let's compare Gobble vs Blue Apron according to the main criteria that play an important role in choosing the meal delivery service.
Short Overview/Delivery Area
Have a quick look at Gobble and Blue Apron to have a clear idea about what companies these are.
Gobble
Gobble is a meal delivery service that is famous for its quick and tasty meals. The Gobble company has a wide variety of options, but they will fit your meal plan if you don't stick to the specific diet. The main distinctive feature of this service is that it delivers washed and peeled foods. What about Gobble's prices? They are a bit above average, but at the same time, the shipping cost is lower compared to many other delivery services. Gobble delivers meal kits in almost all states of the US.
Blue Apron
Blue Apron is one of the most popular services nowadays. The delivery service provides an opportunity to become a good cook, spending little time cooking unique dishes daily. The company delivers meals with recipe cards to follow. Besides meals, they have a wine delivery. The delivery area of this service covers almost all the US states. To find out whether your area is on the list, you need to check the zip code on the official website of the company.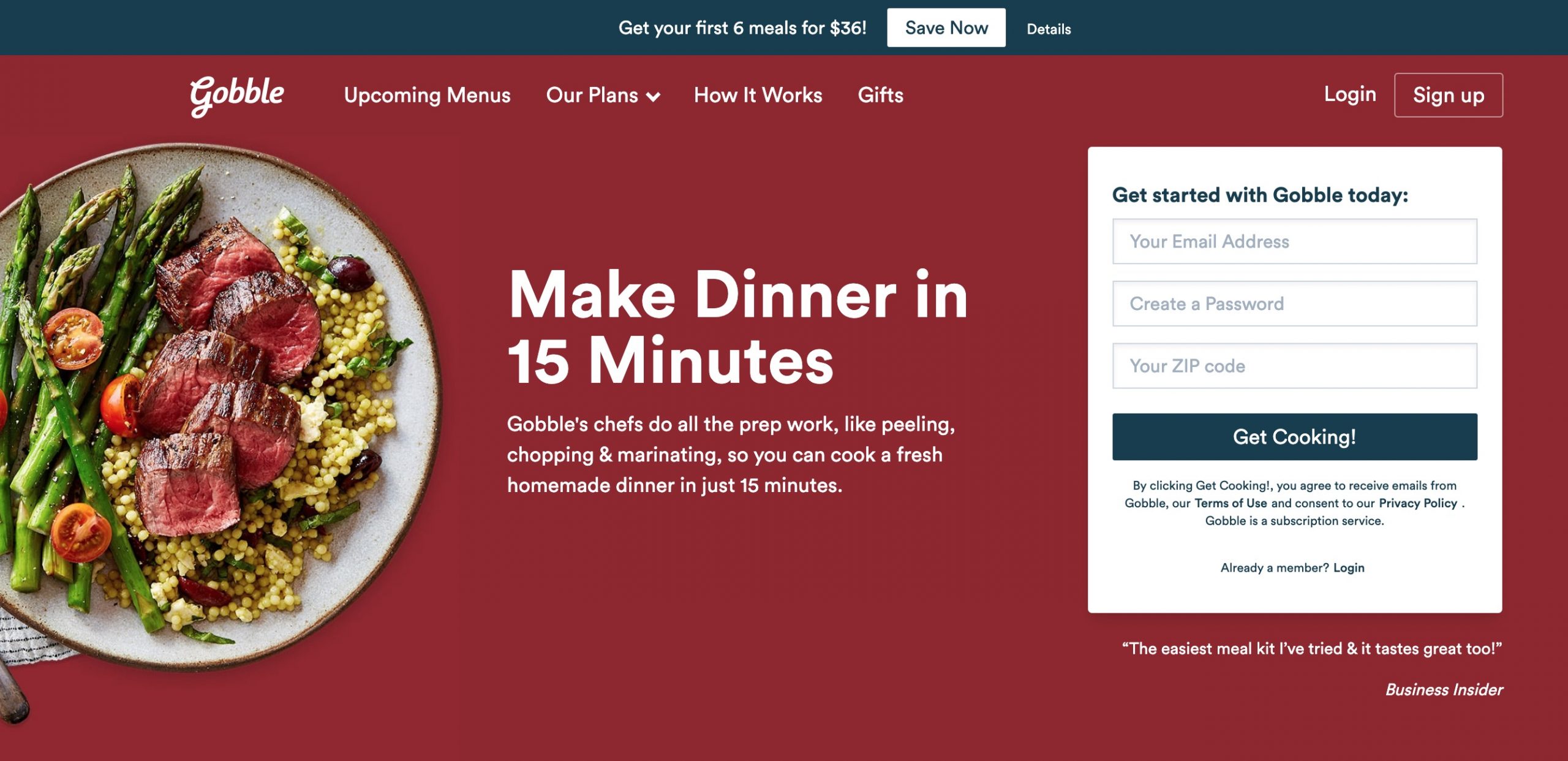 Pros/Cons
Check the pros and cons of Gobble and Blue Apron below.
Gobble
Pros
Easy and quick recipes. Get all the ingredients ready for cooking and spend less than 90 minutes preparing 6 recipes.
Healthy and tasty dishes. Gobble is well-known as a gourmet meal delivery service that has a wide variety of recipes for adults and kids.
Lots of options to add to your Gobble meal plan. You can choose delicious adds-on to your regular meal plan, among which are cookies, breakfast recipes, etc.
Cons
The prices are a bit expensive. Gobble isn't the most affordable service. Its prices vary from $11.99 to $13.99 per serving.
Fresh but not organic ingredients. Take into account that meals delivered by Gobble don't contain organic ingredients. However, they are of top-notch quality.
Blue Apron
Check what pros and cons the company has:
Pros
Fast and easy recipes – any cooking level is fine. Even if you aren't an experienced cook, you'll find it easy to follow Blue Apron recipes with user-friendly step-by-step instructions. There are not only written recommendations on how to cook the dish but also pictures for a better understanding of each step.
Unique recipes. There are many interesting recipes for sophisticated cooks who want to impress their guests with mouthwatering dishes.
Affordable prices. On average, the price per meal is from $7.49 to $9.99.
The presence of the plan for weight control. If you want to keep fit, stick to the weight watchers plan offered by Blue Apron.
Cons
You can't cancel orders online. If you want to cancel the order, you should contact customer support instead of doing this on your own from your personal account. Some consider this feature not the most convenient one.
Specific diet plans are absent here. Do you keep to Paleo, keto, or gluten-free diet plans? Then, this delivery service isn't the best choice for you.
Which is better – Gobble vs Blue Apron? Both delivery companies are a good choice. But Blue Apron has more benefits as they offer delicious meals that are easy to cook at a more affordable cost. Moreover, Blue Apron is a good helper for those who want to lose weight and eat tasty foods at the same time.
Pricing: Blue Apron vs Gobble
Pricing is one of the criteria that play not the last role in making a choice. So, which company has more reasonable prices for meal kits: Gobble or Blue Apron?
Gobble. The price per serving here starts from $11.99. As for the Gobble shipping cost, it is $7 for a meal kit.
Blue Apron. The cost here varies, depending on the number of servings. If you order a menu for 2 people, the cost per serving will be $11, but if you buy a menu for 4, the cost per serving will be lower – $9. Take into account that the company delivers meal kits for free.
No doubt that Blue Apron is the winner here. Gobble delivery service is a bit pricey meal delivery service.
Types of Menu
What is the difference between Blue Apron and Gobble menu options?
 Gobble
Gobble delivery service offers a wide selection of delicious dishes. You can be sure that the quality of the products is on the top level as Gobble cooperates with trusted suppliers. They have recipes for kids and adults, interesting recipes for those who follow a vegetarian diet, love plates of seafood, or fresh ingredients from the ranch. You can find a large variety of soups, salads, cookies, and other options at Gobble's site to choose from. Order a box for 2 or 4 people weekly. Both delivery service plans are priced at $11.99 per serving. Keep in mind that the cost per serving may increase if ordering not more than twice a week. In this case, you'll pay $13.99 instead of $11.99. Gobble delivery service offers clients to include or exclude ingredients according to their preferences.
Blue Apron
The delivery service Blue Apron is well-known for its weight-loss program and wine list, where wines fit their recipes perfectly. You can order high-quality food for the whole family and be sure that all recipes are free from GMOs and hormones. Order food for 2 or 4 people. Take into account that the cost per portion in the family plan costs cheaper here. The customization option is also present here. Blue Apron delivery service has a certification that proves the top quality of products.
Both meal delivery services are great choices, but most would prefer Blue Apron for the presence of the wine menu. Another reason to consider choosing Blue Apron delivery service is that the price per serving decreases if you order meals for the whole family weekly.
Boxes and Packaging
Let's check how companies take care of the packaging.
Gobble
You can be sure that you will get fresh meal kits as Gobble takes care of the packaging. The company uses boxes that can store foods in heat and cold weather. There are ice packs, and all the Gobble boxes are insulated.
Blue Apron
The delivery service makes sure that clients enjoy fresh ingredients by taking care of the insulation. All the ingredients are pre-portioned and packed properly. Like Gobble, Blue Apron puts ice packs in the box to maintain the necessary temperature for the meals, regardless of the temperature outside.
Both companies treat the packaging process responsibly and take care of ingredients' freshness and top quality. But Blue Apron delivery service is the winner in terms of delivery as the company has free shipping.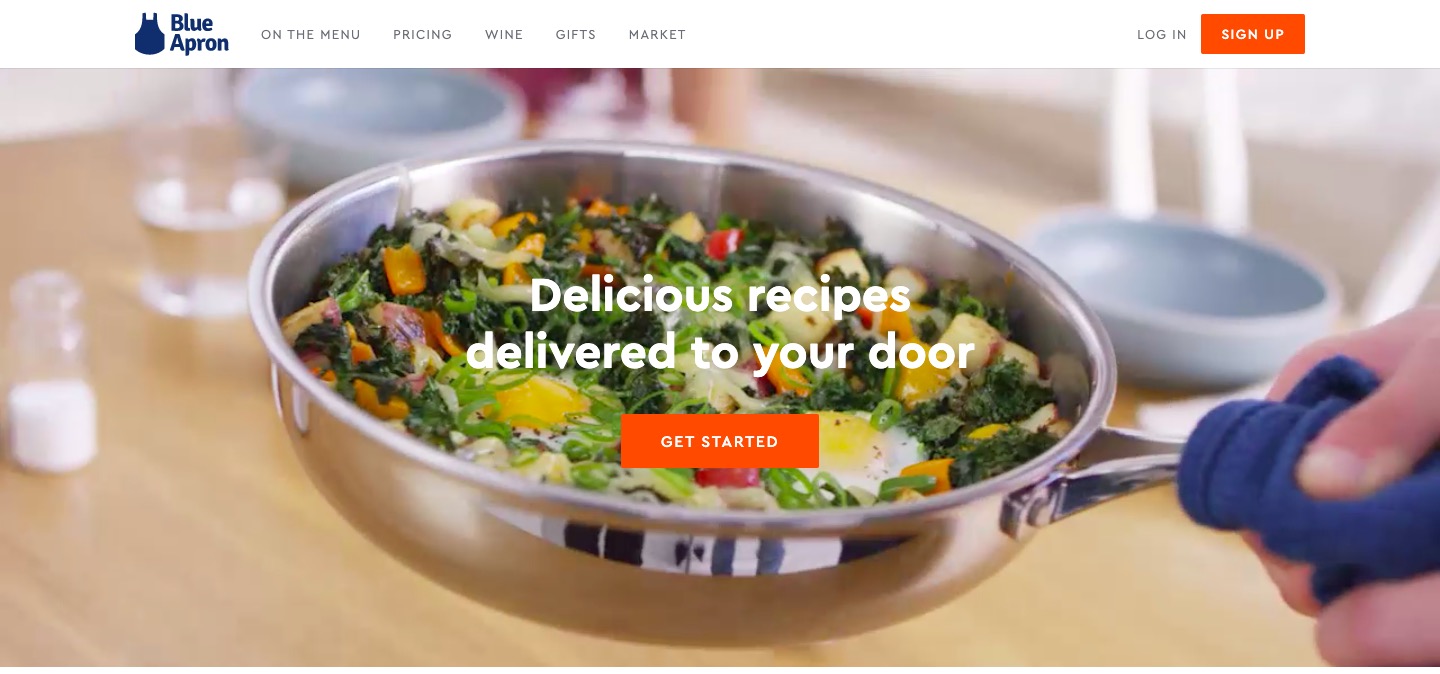 Ordering process
The ordering process for both Gobble and Blue Apron is the same. First, you should enter the site and register. The next step is to check menu options and select the diet plan that fits your needs best. Choose when you'd like to get food and fill an order form online. When you are ready with the ordering process, customer care contacts a client to confirm the order. That's it. Now, you need to wait for the box with the tasty meal kits you have chosen. The whole ordering process is as easy as ABC. There are no leaders here. Both companies have made it simple and user-friendly.
Support
Does customer support work properly? Let's compare how services take care of their customers.
Gobble
The company has effective customer support. Clients can switch diet plans from their personal accounts easily. You won't face any problems if you cancel the order and request a money refund. The only thing to take into account is that you should contact customer support within a week from the delivery day. Gobble welcomes new clients with a 30% discount for their first order. New customers can also save on shipping on the 1st week. One more great feature is an option to customize a diet plan. Reach customer support either via email or telephone call and tell about your individual wants and needs. Specialists will help you deal with any situation promptly.
Blue Apron
Blue Apron has friendly customer support that reacts to customers' requests instantly. If you want to switch plans, customize meal kits, or cancel the order, don't hesitate to contact customer support. In case you want to get your money back, reach customer care specialists and explain what you are dissatisfied with. They will help you deal with the issue and give your money back. The good news is that you can try meals from Blue Apron for free. The company offers a free trial for new customers.
As you can see, both companies take care of their clients on the top level.
Conclusion
Do you still doubt which Gobble or Blue Apron to choose? According to the review, Blue Apron is a 100% winner. Both services have positive testimonials from satisfied clients who find their recipes appealing. But we know for sure that Blue Apron takes certification of products responsibly. When you order food from Blue Apron, you can forget about any worries regarding the quality of goods. They are GMO-free and all-natural. You can check the information about where the company gets their products. As for Gobble, they say they are from local farms, but there is not much information, and they don't have a quality certification.
Blue Apron is also a winner in terms of a pricing policy. The cost per serving is cheaper compared to Gobble, and the shipping is free. If you want to lose weight, but you don't have time to count calories, subscribe to the program for weight loss developed by professional nutritionists from Blue Apron.