According to Daily Harvest reviews, this is a popular food delivery service that offers a variety of ready-to-eat food bowls, smoothies, flatbreads, soups, and snacks. The company adopts a policy to deliver healthy and delicious meals, adding more fruits and veggies to your diet. Take a closer look at Daily Harvest ratings.
Daily Harvest Short Overview
As for the Daily Harvest plans, the company started as fast delivery of prepackaged, frozen smoothies. Now, the menu includes snack options for any time of the day. The company prides itself on using fruits and veggies as the foundation of each of its products. Why do people love Daily Harvest food delivery?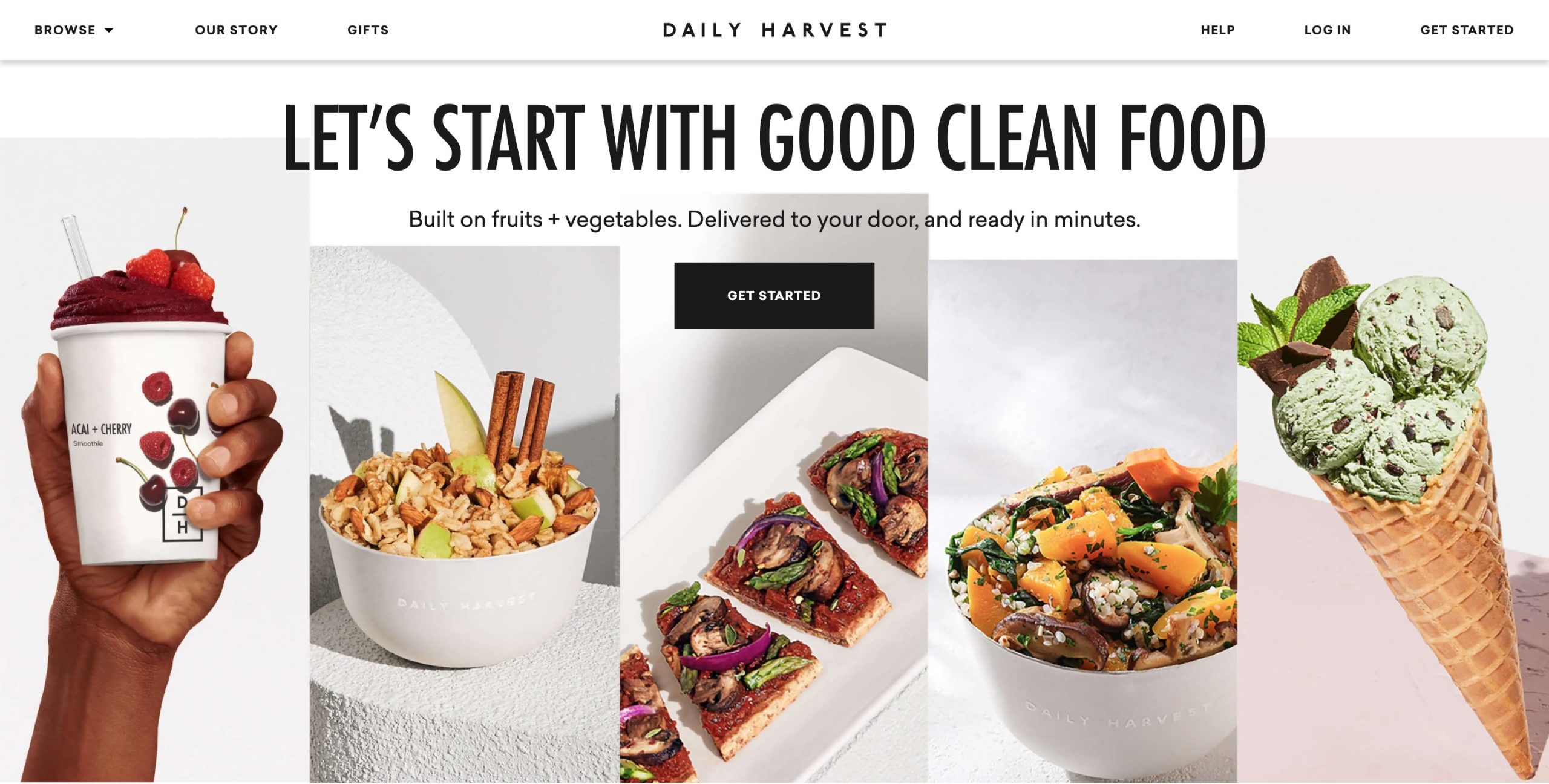 Benefits
Convenient: The meals are delivered to your doorstep.
Customizable: You can make each box your own and switch things up with each order, so you never get bored.
It's fast and easy food: The meals require no prep, are ready in minutes, and most can be eaten with one hand (a nice benefit for new parents who always have their hands full, literally).
Ingredients you can see: The ingredients and nutrition are listed on the cup, as well as Daily Harvest recipe cards.
Fresh and frozen: Ingredients are picked ripe and delivered frozen. You can keep your food in a freezer for up to 3 months!
Good taste: Daily Harvest meal kits reviews are super tasty.
Drawbacks
How much is Daily Harvest? The service is relatively expensive compared to alternative food deliveries.
Meals may not be filling enough for all adults.
Unsuitable for people with food allergies or those on special diets.
Daily Harvest Menu & Pricing
The company currently offers more than 80 menu items to choose from. Daily Harvest meal reviews provide a detailed description of smoothies, breakfast bowls, harvest bowls, and soups. You select the menu items you want, and it arrives on your doorstep, completely frozen.
Daily Harvest Menus
More than 80 chef-crafted options include:
fresh smoothies;
fruit and veggie cups;
oat cups;
soups;
harvest cups;
snack bites;
fruit ice creams;
lattes.
Daily Harvest Pricing
Daily Harvest cost is based on which meal kit you choose and how many items are in. Discounts are offered on larger orders. A Daily Harvest promo code you can find on special websites can help to cut the price for $5 or more.
Item prices range from $5.99 for oat and chia bowls to $8.99 for harvest bowls, flatbreads, and pints of plant-based ice cream.
However, the more items you order, the more money you save on your full order:
$5 off if order of 9–11 items
$10 off if order of 12–23 items
$20 off if order of 24–26 items
Shipping and taxes are included in the base price of each course, so there are no surprise costs in the Daily Harvest pricing policy.

How Daily Harvest Works
What's foremost in the Daily Harvest review, the company has a weekly or monthly plan where any food you receive is already perfectly portioned to blend or heat. How does Daily Harvest food delivery work?
Step 1
Sign up for Daily Harvest, build your own food box by selecting how many cups you want. The options are 9, 12, and 24. Pick how often you want your courses delivered.
Step 2
Scroll to check the menu, read reviews for Daily Harvest food, choose something to eat from the menu option. There are 80 options to choose from.
Step 3
Pick the date and the day when you want to receive your first delivery. Don't forget to give your address for shipping details. The price of your order is based on how big your order is.
When your order arrives, check the recipes for each course, and enjoy!
How Easy Are Daily Harvest Meal Kits To Cook?
The best for cooking your meals (with minimal preparation) Green Chef
Cooking with Daily Harvest meal delivery reviews is the easiest you've seen. It doesn't teach you how to cook! By delivering easy-to-follow recipes and freshly-chopped ingredients to cook with, you can end up with a blender or microwave.
All the parts of your meal come portioned in a cup. You simply have to add a liquid (like milk or water) and then pop it all into a blender, soak or heat it, depending on the dish.
An important thing to note is that consumers need to add their own liquids to the dish. For example, you'll need plant-based milk to make a smoothie or your own broth to reheat one of the soups.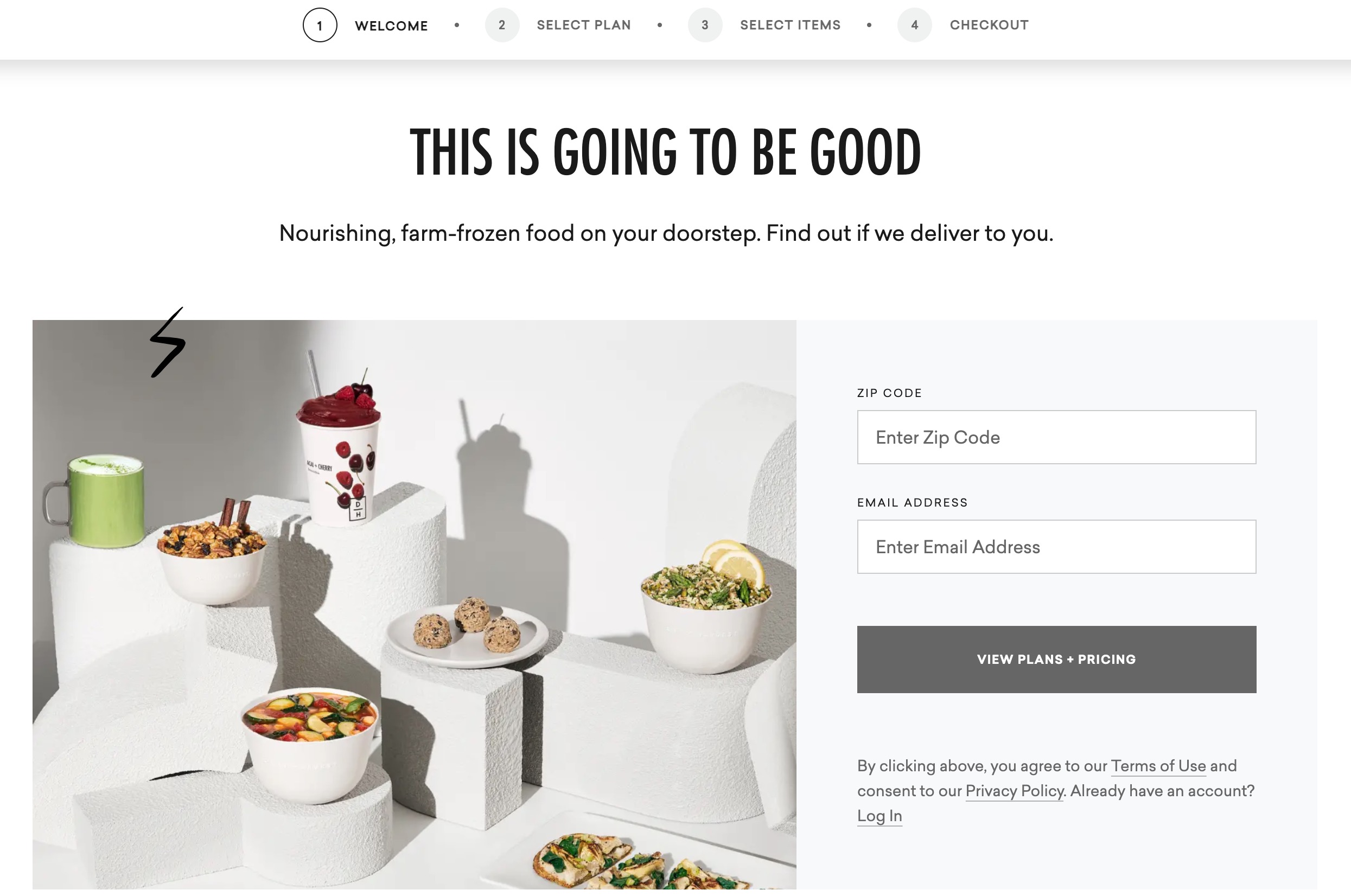 Who Is Daily Harvest Ideal For?
The reviews of Daily Harvest food boxes show how comfortable this food is for you if you are looking to eat more healthy veggies, low-carb and keto-friendly meals without finding yourself in a kitchen. This may be a perfect variant if you want easy breakfasts, lunches, or snacks to enjoy throughout the week. How good is the Daily Harvest course for you?
It Is Diet-Friendly
All the meals, snacks, and lattes are plant-based, vegan, gluten-free, and made to support a balanced diet. Many of the items are too high in carbs to be suitable for keto or other very-low-carb diets.
It Helps in Weight Loss
Daily Harvest meal kits review shows how much this delivered food helps people to eat healthily. Most courses contain 400 or fewer calories, so some individuals may find themselves losing weight by using this food. You have an option to pick the dishes according to your current calorie intake, replacing them, and building up your own healthy diet.
Who It Isn't Good For?
It's also important to note from the Daily Harvest review that most of the meals are generally lower in calories and protein. As a result, they may not be filling enough or provide adequate calories and nutrients, depending on your individual needs.
Fast-delivery food may not be a good fit if you have severe food allergies.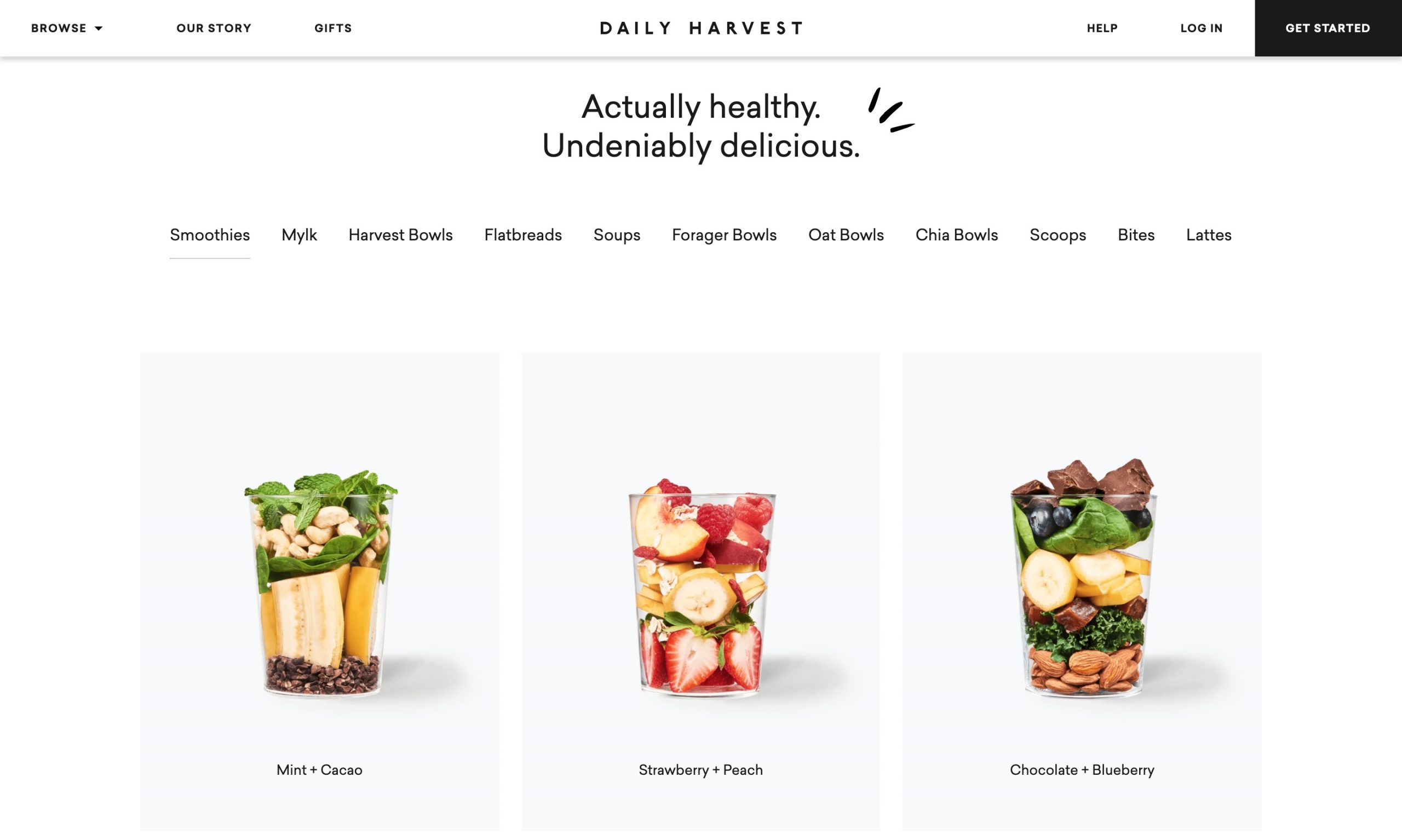 Daily Harvest Packaging And Environmental Friendliness
Since the material used by Daily Harvest food delivery for packing is recyclable, you can take the cleaned containers to a recycling center.
Their boxes are made from paper and 100% curbside recyclable.
Their custom bowls and pods are made from molded pulp and are 100% compostable.
Their cups are made from water-resistant paper and may be recycled at a local drop-off center or bin.
Their flatbread tray is made from paper and 100% curbside recyclable.
Changing And Canceling Order
You can choose your dishes from a wide variety of menu options after going through the signup process. Feel free to change the findings in your box any time before the weekly cutoff (6 p.m. on Sundays).
To fully cancel your plan, click the "Edit" button next to "Plan Status" once more, and then select "Cancel My Plan." You will be asked to complete a brief survey.
If you cancel your order after the weekly cutoff, you will still receive, and be charged for, the next week's shipment.
Customer Service
Consumers expect immediate access to customer support when they have an issue with a late order, poor quality product, pricing dispute, or delivery complaint. The company's call center vendors offer scalable customer support solutions for new and expanding clients and companies.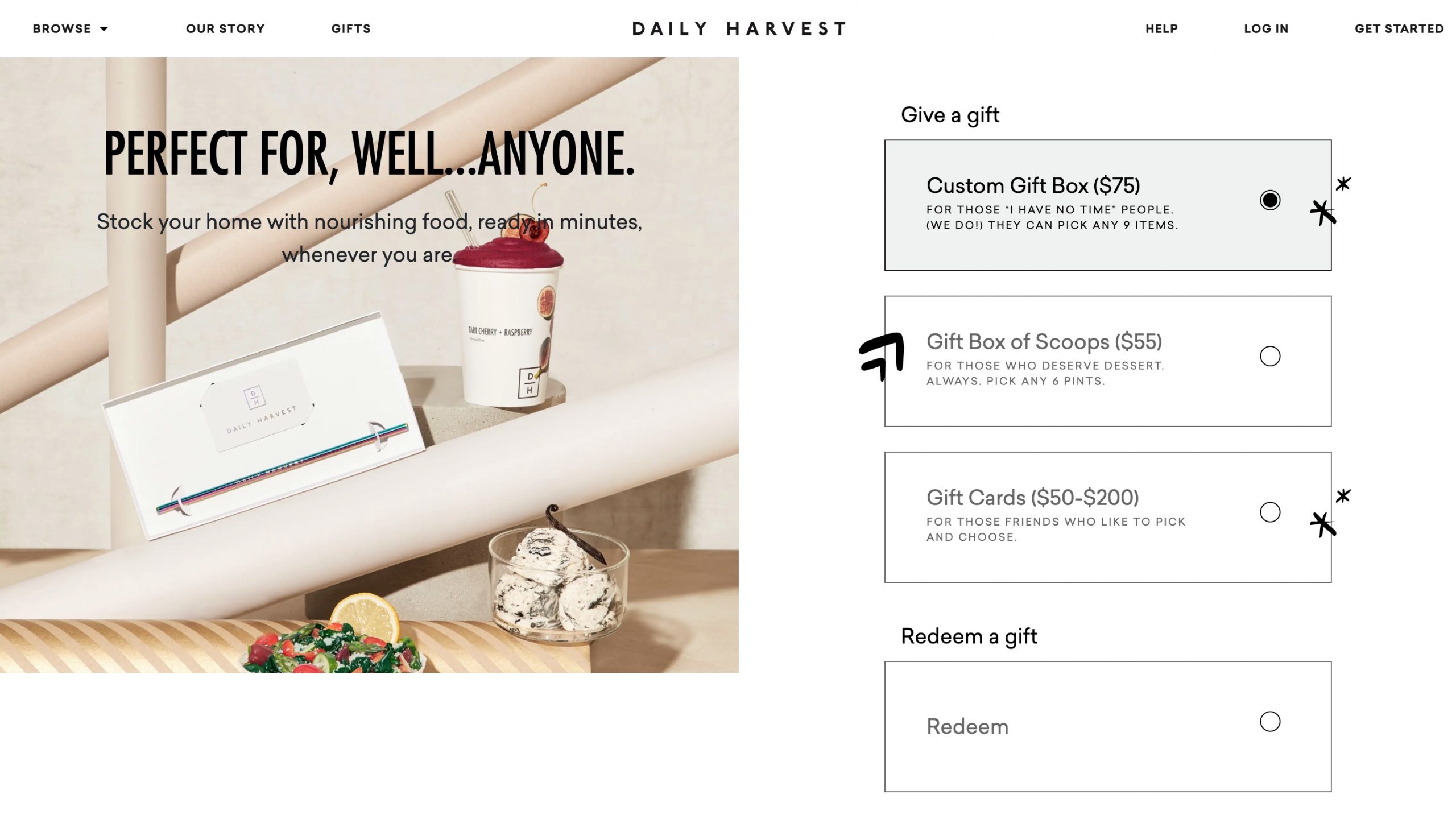 Daily Harvest Alternatives
Everyone wants to achieve higher levels of wellness. Therefore, it is important to know what to eat, where to buy it, and how to prepare it. Daily Harvest food delivery and other popular smoothie subscriptions are here to help.
Daily Harvest VS Frozen Garden
Similar to Daily Harvest, Frozen Garden ships frozen, pre-measured smoothie ingredients. Frozen Garden's smoothies are nutrient-dense and made without any powders, supplements, or additives.
Unlike Daily Harvest plans, Frozen Garden gives you way more flexibility with their optional subscription, allowing you to receive shipments everywhere from once a week to once every 12 weeks!
Daily Harvest VS Splendid Spoon
In this case, you'll get pre-blended smoothies ready to open and enjoy.
Whether you need a grab-and-go breakfast or a superfood-filled dessert after dinner, Splendid Spoon has plenty of smoothie options to keep you covered. That's $13 per smoothie, which is definitely on the expensive side. Daily Harvest prices are more attractive for clients.
Conclusion
The food shipping company provides delicious, high-quality courses and snacks that arrive frozen at your address and are quick to prepare. It offers a variety of vegan and gluten-free courses. This makes the service a convenient option for those looking to incorporate healthier, vegetative foods into their diet.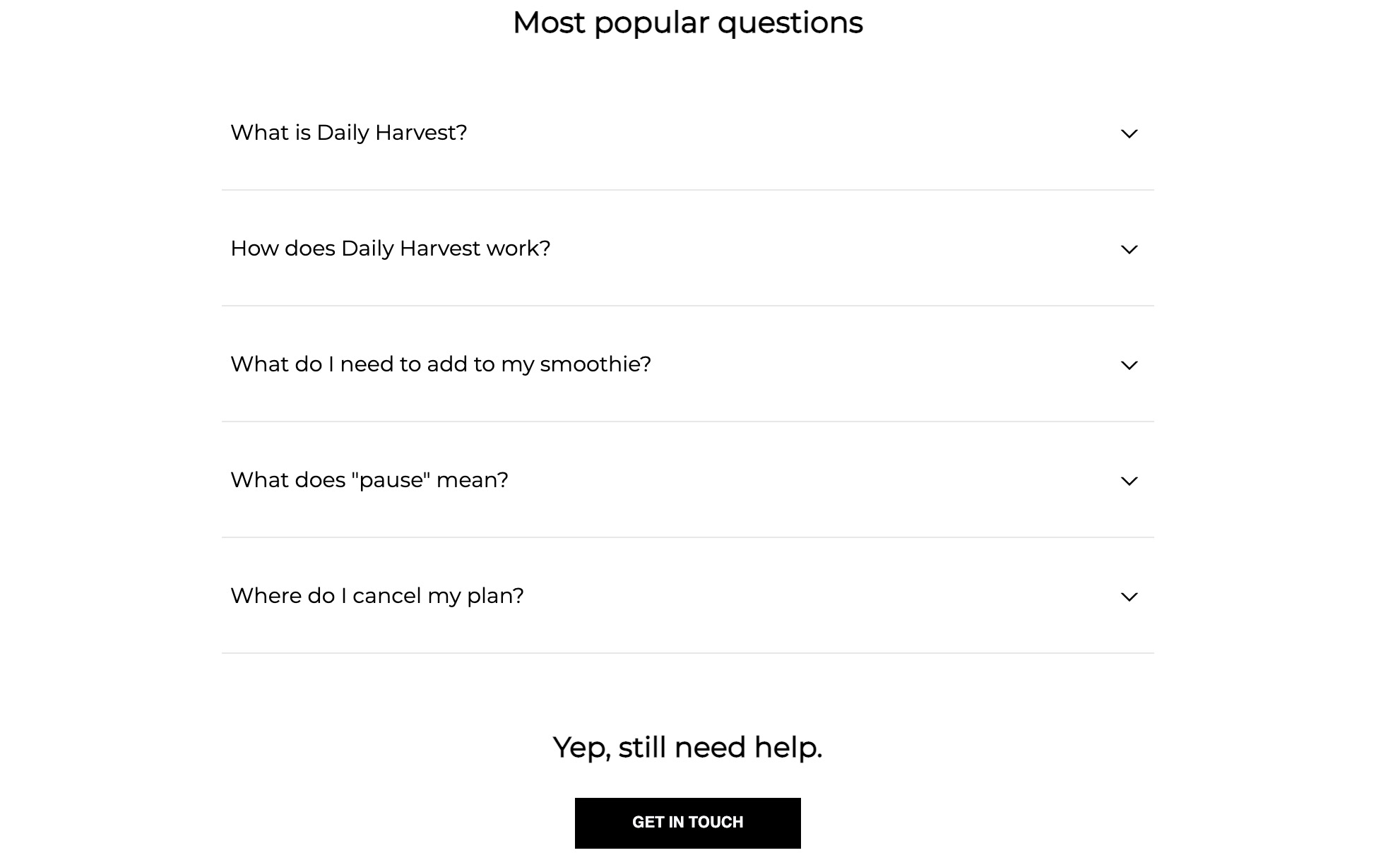 FAQs
Are Daily Harvest Meals Healthy?
Daily Harvest menus consist of natural herbal ingredients, exclusively cultivated and specially selected. The food is free of additives, preservatives, and fillers. The company describes its ingredients as being thoughtfully sourced. It says it works closely with farmers and food suppliers to ensure optimal quality.
Is Daily Harvest Worth the Money?
As the reviews of Daily Harvest show, the food is totally worth the money. Between the convenience, amazing quality, and fair price – it seems like a no-brainer! The options vary, and you can order food that you think has the most value to you.
Is Daily Harvest Easy to Cancel?
There are a few things you must know about canceling subscriptions. They include the following:
Once you subscribe to a plan and you don't cancel it manually as you subscribed, that plan will renew automatically because you gave them permission.
When you subscribe for a trial period, and then you cancel, you run the risk of losing that trial content altogether.
You must remember to manually cancel a subscription 24 hours before the trial period ends.