Ordering meals has become a common practice for many people these days. The tendency towards the use of food delivery services is getting more points due to the convenience. You don't need to go shopping for food, spend hours in the grocery store and think about the next dish for the family dinner. Prepared foods make it all easier.
You can get all the necessary ingredients from your healthy and organic food. No need to make up the recipes and look for alternatives. By ordering food from the best delivery service options, you can still follow your diet, go vegan and enjoy the dishes.
Today, we are going to cover two of the most well-known meal delivery services. Sun Basket and Blue Apron provide fresh and organic ingredients, offer various menus and provide healthy food choices for the clients. Let's figure out why cooking with these companies is a nice and rewarding experience.
Short Overview and Delivery Area
When we talk about Sun Basket vs Blue Apron competition, it must be noted that the two companies offer high-quality services. Their food is always well-certified and has the highest rates among the users. When ordering meal kits from online services, you will receive ready-to-go recipes, all needed ingredients, and meal kits ready to cook in the oven.
The process of cooking the meals at home becomes easier both companies. This article focuses on the differences between Sun Basket and Blue Apron. By reading the comparison, you will get insights about which company fits you more. Both Sun Basket and Blue Apron offer food to cook and eat at home. You can benefit from a wide range of meal delivery services. And the list of menu options is also impressive. However, there are specific differences that you might like to know beforehand.
First, let's talk about the delivery area. The services are available for US citizens. If we first take Sun Basket, you should know the list of states it deals with. In short, there are 47 states on their delivery list. There are some exclusions. But the choice is huge, and you are most likely to get your order at your door. Blue Apron offers a wide range of delivery options. You can get your order to any of the contiguous US. The choice is yours. But if you have the chance to get your meal, make sure to try both services.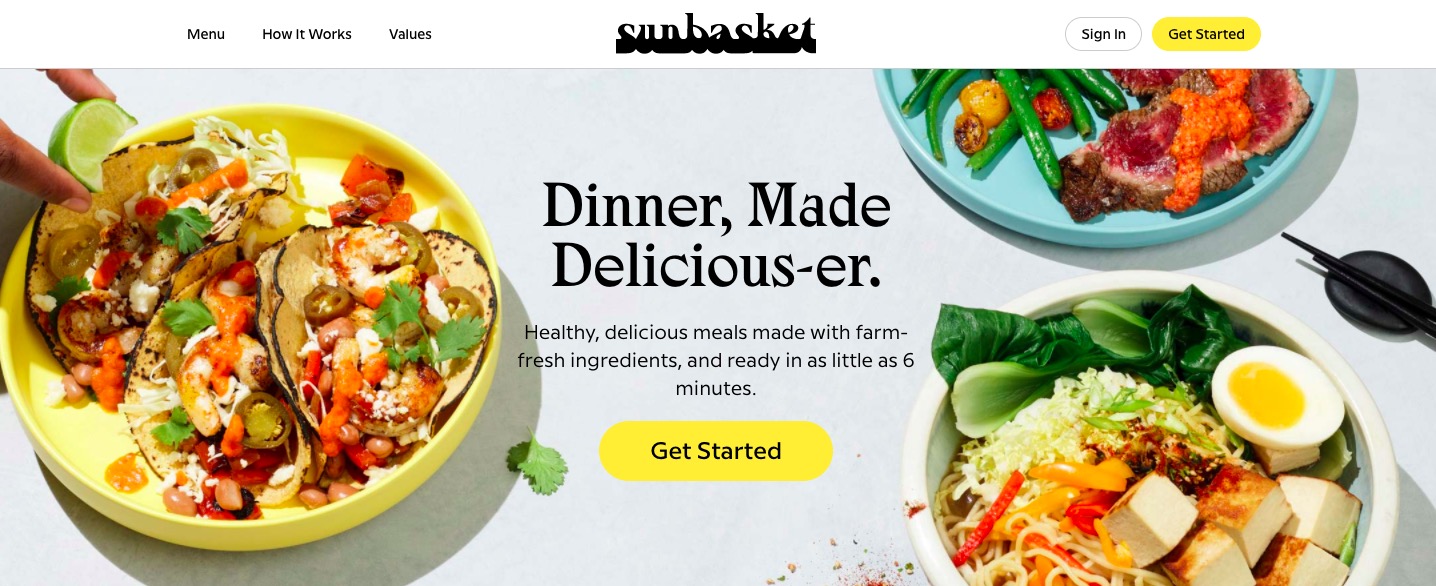 Pros and Cons
Now let's get to a more detailed Blue Apron vs Sun Basket comparison. What are the pros of using each of the companies? How should you make your choice? First, we will take a look at the strong sides of each meal delivery platform.
Sun Basket Pros
When you decide to order a meal from Sun Basket, you should consider the following benefits you can receive from the company:
Sun Basket offers organic meals. You will meet your diet plans with a range of different recipes for your breakfast, lunch, and dinner.
There are 2 or 4 servings available to the clients. You can also benefit from the Sun Basket versatile recipes. The menu is rotating. You can order a huge variety of dishes on the website.
The recipes are effective if you follow a particular diet goal. The meal kits will help you reach your goals and can promote weight gain and loss due to the ingredients in the recipes.
Another great thing about Sun Basket is its organic choices. You can benefit from organic foods. The ingredients are claimed to be fresh and healthy. Furthermore, the food is packed in recyclable containers. No need to worry about the environment when you order at Sun Basket.
These are some of the most vivid strong sides of the company. Sun Basket also offers different levels of preparation. So, you can consider this as another strength of the platform.
Blue Apron Pros
We have covered the strong sides of Sun Basket company. Now it is time to move to Blue Apron and figure out its strengths:
When working with Blue Apron, you are sure to receive easy recipes that you should try at home. There are also different plans for a week.
You can choose between 12 meal options. Blue Apron also offers vegetarian, high in carbs and proteins menu kits.
When eating the food from Blue Apron, you can still follow your meal plans, lose weight or gain muscles.
Another great thing about the company is its partnership with the local suppliers. Furthermore, their package is recyclable.
Ordering food from Blue Apron is nature-friendly. Furthermore, it can offer its clients fresh food from local suppliers, which is great for the customers. However, Sun Basket offers more menu options for a more versatile diet plan.
Sun Basket Cons
What's wrong with the service? What do users dislike in the work of the service?
First of all, the food is more expensive. You should pay more for the recipes.
The second reason is a shorter list of options for restricted diets. Furthermore, you won't tolerate some of the meals if you are allergic to some foods.
If you are ready to tolerate the weak sides of the company, you should try the food. However, if you have some strong allergies or a highly specific diet, you should be careful and choose properly.
Blue Apron Cons
Now let's see what weak sides Blue Apron has. The company has high rates online. But there are spots even on the sun, so it is better to check the weaknesses, too:
Not all the food from Blue Apron is organic, which may be a bad choice for some users.
If you have any food restrictions, you may find it difficult to fit your diet.
When you order from Blue Apron, you still need to check the ingredients. If you are allergic to something, you should be ready to meet different menu restrictions.
In total, you can now compare Sun Basket vs Blue Apron. Each company has its pros and cons. If you want to try organic choices, Sun Basket should be your choice. However, you will need to pay more. On the other hand, Blue Apron is less expensive and takes care of the environment by using recyclable packages.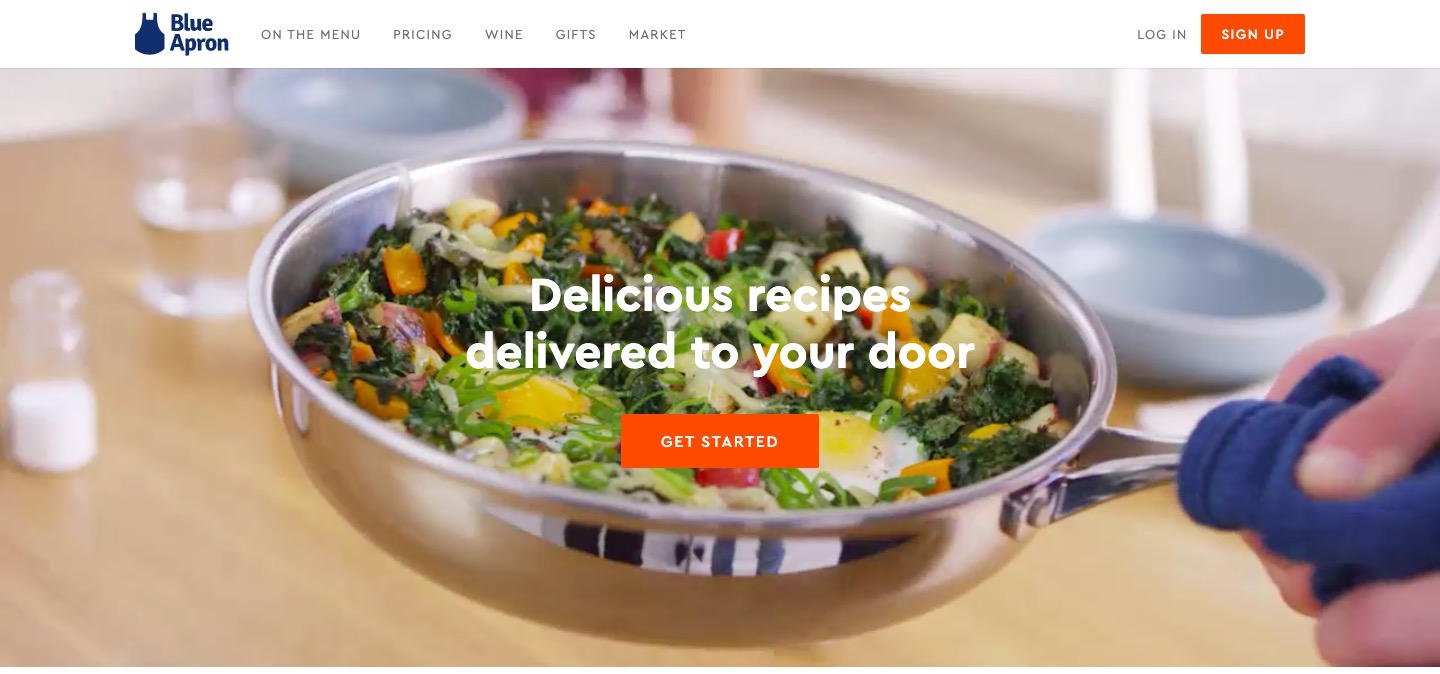 Pricing
Sun Basket prices are thought to be higher. If you order fresh meals that are ready to eat, you will pay about $10 per single serving. If you choose meal kits, you will need about $14 per serving. But make sure to add the shipping fee to the order. As you can see, the price here is more than the average cost on the Internet. The probable reason is the organic choices of the company.
Blue Apron offers less expensive options. Signature for 4 will cost you about $8 per serving. The prices at Blue Apron vary from $8 to $10, which is less than Sun Basket requires. Thus, if you need a cheaper option, choose Blue Apron.
Types of Menu
At Sun Basket, you can order organic meal options. It offers breakfast choices, lunch, and snacks. You can benefit from the Paleo Diet plan, Low Calorie, or Gluten-free plan. Sun Basket also provides Vegan and Diabetes-friendly choices.
Blue Apron has fewer menu options, and it doesn't provide organic foods. You will find Vegetarian, Carb Conscious, or Low Calories diet plans on the website. There are also meal plans for people who watch their weight or enjoy foods with less amount of meat. As you can see, the choice is wider if you choose Sun Basket.
Boxes
Sun Basket boxes may contain various allergens that may cause considerable issues for people with severe allergic reactions. However, the boxes are recyclable. The delivery is performed in well-refrigerated boxes at Blue Apron. You will have your food packed with ice, so the ingredients are fresh longer. Furthermore, the boxes from Blue Apron can be recycled, which is great for the environment.
Ordering Process
When it comes to the ordering process, you may wonder which is better – Sun Basket vs Blue Apron. To be true, the process of ordering a meal, these two services have a lot in common. Whether you choose Sun Basket or Blue Apron, you need to open the website and register. If you are going to order more plans, you need to have an account on the website.
The next step is choosing the meal. You can find different options and make your choice. Got any questions? There are always managers online to answer your questions. When the order is done, it is time to pay and wait until the food is at your door. The delivery time depends on your location and may take some time.
Support
If you don't know how to place the order or have any other issues with the request, Sun Basket offers online support on their website. You can contact customer service easily using an email address, a phone number, or text the message on the website. Furthermore, you can receive expert help from the experts about the delivery issues or some problems with the ingredients.
When you order from Blue Apron, you can also benefit from the support team. On the website, there are different ways to contact the managers. You can address your question to the Blue Apron support team and receive a prompt answer.
Conclusion
When you decide between Sun Baskаet and Blue Apron, you should consider all the details that companies have. If you are ready to pay more, you should try Sun Basket. It offers organic food choices, and the order is packed in recyclable boxes. Furthermore, you can benefit from a huge variety of meals.
If you want to pay less, Blue Apron is a nice choice. You will meet lower prices. But be ready that the food isn't 100% organic. And there are also fewer meal options than on the Sun Basket website. The choice is yours. It is time to look through the article one more time and look at the aspects that bother you more.