Meal deliveries are great helpers in our busy lives where devoting some time to cooking from scratch is already a feat. Most of them allow preparing easy dinners in some 20 minutes, offering healthy recipes and fresh ingredients. This article compares Home Chef vs Blue Apron and aims to decide which is better – Home Chef or Blue Apron?
Short Overview and Delivery Area at Home Chef and Blue Apron
The chosen healthy food delivery companies work in the same way. Blue Apron and Home Chef offer customers to order kits according to their preferences and gastronomic needs. Both of them deliver to most US contiguous states. Here is what is included in their meals:
Choosing from options based on your diet and tastes.
Adjusting serving sizes and the number of meals per week.
Getting detailed instructions (recipe cards) in every box to make healthy meals of your choice.
Fresh ingredients in convenient portions.
Flexible delivery when you're out of the city without canceling subscriptions.
This is written to compare Home Chef vs Blue Apron in the aspects such as types of meals, pricing, ordering, meal box organization, and support. There is actually a lot to delve into, though the services appear similar at first sight.
Pros of Home Chef Meal Delivery Service
The meal ordering at Home Chef is a subscription-based service that allows you to save time and avoid going shopping to the store or supermarket, delivering prepared ingredients right to your door. Let us first look at the greatest benefits of ordering from Home Chef.
Sufficient number of recipes changing each week.
Home Chef allows over 30 weekly choices, every of which can be customized. The menu contains dish variations for vegetarians and meat-eaters, calorie-conscious meals, entree salads, desserts, breakfasts, and dishes with eliminated carbs. Besides, the choice of dishes contains healthy meals from different cuisines – Italian, Korean, Japanese, Thai, and others.
One of the most reasonable prices for a serving.
No matter what dietary pattern you stick to, even the most luxurious dish here will cost around $9.99 per serving. The price for an average dish starts at $6.99. Home Chef also offers extras such as protein packs of different sources at an affordable price.
It's such a wonderful feeling when you can discover the meal delivery service without being obliged to follow it later. Such a non-intrusive approach makes you free and gives you another good reason to stay.
Having a range of fast-cooking dishes.
Oven- or grill-ready meals are an absolute joy to those who need cooking to be less time-consuming. They are easy to search with the '15 minute meal kit,' 'fast and fresh,' or 'less than 30 min' tags. Perfect for busy mornings or huge get-togethers!
Flexible size and ingredient-swap solutions.
What is especially valuable in the healthy meals by Home Chef is that each recipe is open to upgrading, changing one or several ingredients, doubling up these ingredients, or changing animal protein for plant-based. Here you can also edit servings to match the needs of every family member. All of this is done with a click of a mouse.
Cons of Home Chef
While having much to appreciate, Home Chef meal delivery still has some space to get better.
Not suitable for customers allergic to many foods or having to follow a restrictive diet.
The menu at home Chef is versatile and healthy. But if you're not okay having major allergens on your menu often or can't stand them at all, there is not much you could choose for yourself at Home Chef. Even when you customize the dish by picking the dish with no nuts, milk, soy, and shellfish, there is still no guarantee that the food won't have traces of those allergens.
Not completely organic food.
In every meal, you can't find all organic ingredients. Some organic food is widely used in Home Chef recipes, but it's not enough for clients who prefer only organic. The good news is that in many cases, you can swap meat, fish, and plant food to the wild-grown and grass-fed.
Pros of Blue Apron
Blue Apron has everything it takes to compete with Home Chef in practically all areas. Its popular add-ons and exclusive recipes have captured the hearts of many. But let us look at all the major pros more profoundly.
Offers a large selection of healthy meals.
Dishes from Blue Apron can fit different dietary patterns and fully satisfy the cravings of people with diabetes. Chef-created recipes for each dish, such as Italian chicken and farro bowl or spicy turkey and mushroom lettuce wraps, are hard to stand. Meals for those who are concerned with wellness or vegetarianism are included in veg meal kits.
Reasonable costs per serving.
On average, Blue Apron feeds at $7.49-9.99$ per serving. However, the cost varies, depending on how many recipes you pick in a week. Orders that include less than 2 recipes are charged with an additional $13.99 transportation fee.
Shows prices per serving and gives free shipping when ordering much.
Just like any other decent meal delivery service, Blue Apron shows respect to the customers by giving free shipping on orders that exceed the average number of servings.
Suggests wine subscription.
The company Blue Apron is deeply caring about the clients with stricter dietary needs but at the same time offers fancy additions such as wine pairings.
Cons of Blue Apron
Less meal customization chances.
While with Home Chef, you can change practically any ingredient that causes doubts or isn't allowed by your doctor, Blue Apron gives fewer chances to customize, which is a real minus for the clients with untypical and severe food allergies. Even gluten-containing ingredients are impossible to replace.
Small orders are not cost-effective.
As it was mentioned, every small Blue Apron order is charged a fee, which makes the whole experience with the company less pleasant, especially when you're trying it out for the first time ever.
Home Chef: Pricing
To compare Blue Apron vs Home Chef in terms of costs you need to spend on meal kits, let us look at the price of these kits. Home Chef allows wonderful meals at $6.99. However, this price is mostly for salads, so a richer recipe would cost nearly $9.99.
The price stretches even higher, up to $17-$20 per exclusive dish. Shipping is $6.99 for the majority of plans but for the cases when you order just two recipes. Then, you will have to pay $13.99 for shipping.
Blue Apron: Pricing
As you can already see, the costs per serving at Blue Apron may differ from $8.99 to $9.99. Meals with only 2 servings are priced sharply at $9.99 each. The affordability of four-serving meals depends on the number of recipes in a week.
Extra recipes from Vegetarian or Signature plans at Blue Apron are charged with a $7.99 shipping fee, which doesn't encourage consuming a versatile and balanced dinner. In other cases, shipping is free (for all four plans).
Hence, the winner in pricing comparison is Home Chef, with its incredible choice of affordable dishes and comprehensive meal planning.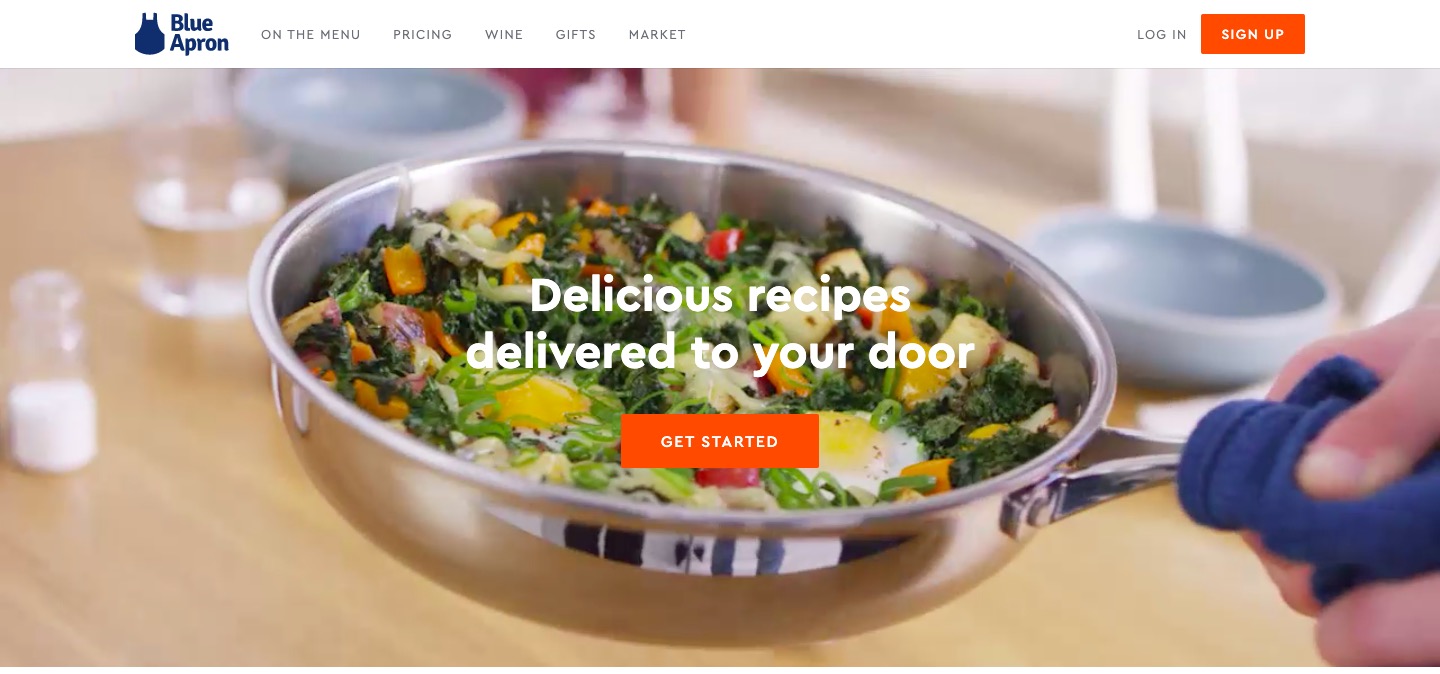 Types of Menu
So, let us compare the core of Home Chef and Blue Apron services – their meal plans.
Meals on the Menu at Home Chef
Vegetarian Diet: options with no meat but other animal-based products.
Poultry, Seafood, or Pork: you can simply choose or replace one protein with another.
Without Nuts, Soy, Milk, or Wheat: for clients with these products intolerance.
Carb-Conscious: meal kits lighter in carbohydrates.
Calories-Conscious: less calories, usually around 600 per serving.
Other categories of meals include Staff Picks and Customer Favorites. The latter is featuring the dishes enjoyed by the customers most. Staff Picks at Home Chef is, however, exquisite and a bit challenging recipes that are sure to upgrade your culinary skills.
Meals on the Menu at Blue Apron
The selection of dishes at Blue Apron covers the following types:
Mediterranean Diet: healthy menu for the heart.
Carb-Conscious: with as little as nearly 48 g carbs in a serving.
WW-Approved: for weight-watchers, i.e., focusing on lean protein and vegetables.
Plant Forward: having veggies at the heart of every meal, with only little amounts of fish or meat.
Diabetes-Friendly: recipes that perfectly align with recommendations of the American Diabetes Association.
Low-Calorie: meals with 600 calories or less per serving.
The difference between Blue Apron and Home Chef concerning the richness of the menu is obvious – the winner is Blue Apron, which allows to avoid as many allergens as possible. Home Chef, in its turn, is great for people with no special requirements and non-vegans.
Home Chef and Blue Apron: Boxes and Delivery
Nearly 85% of Blue Apron's packaging is recyclable, and detailed guides on recycling are always available on the service's official website. Home Chef is environment-friendly, too, and provides each order with reusable or recyclable packages with guidelines on disposing of them.
Delivery is made at both meal delivery services 8 am till 8 pm. Home Chef delivers Monday through Friday, while Blue Apron shifts its delivery days to Tuesday till Saturday and one extra hour in the evening. What for to deliver meal boxes on Saturday? Now, depending on your life rhythm, you might be comfortable receiving the ingredients from Blue Apron during the weekend. This is the feature widely loved at Blue Apron and another reason to admit it as the best delivery service and the winner in the category.
Ordering Process
Here is where the Home Chef vs Blue Apron thing gets more tangled.
What might be confusing to anyone ordering from Home Chef is that you count the number of servings per whole week and only after it chooses the types of meals. Surely, every dish has its own price, so it's not easy to control how much your dinner will take.
Blue Apron has it simpler. First, you also select the desired number of meals weekly. Then, scrolling through a variety of Blue Apron menu options that come at the same standard plan price, you pick those you like.
Order forms are both easy to fill and require nothing more than stating a delivery date, number, and type of dishes.
The winner in the ordering process is neither of the services since we can confidently say there are families for whom ordering peculiarities at Home Chef would be great pluses.
Support and Customer Service
Each of these delivery services dealing with prepared foods has its own way of communicating with customers. At Blue Apron, it is, for instance, the standard phone and email support.
The same phone support is observed at Home Chef along with the more convenient online 'help tickets.'
The FAQs section on the Blue Apron website is helpful on both services' websites.
The winner: Home Chef.
Conclusion
So, which is better: Home Chef vs Blue Apron? To draw a final line in this battle of healthy meal delivery companies, we will share our view.
Home Chef is a perfect option for the connoisseurs of the culinary world who, however, want to save some time going to grocery stores. Its luxurious recipes with simple instructions, healthy and responsibly sourced ingredients, and reasonable prices will make you enjoy every dinner and breakfast. Even as a customer who avoids specific products, you can easily replace one of the ingredients. Still, if you're a vegan, it would be a challenge for you to find a suitable recipe.
Blue Apron, in its turn, holds richer choices for those on a restrictive diet than Home Chef. This feature compensates for the lack of customization and provides good solutions for weight-watchers or those slimming.
The final score in this comparison is 2:2. Still, the last word in answer to the question 'What to choose: Home Chef or Blue Apron?' remains yours. Both Blue Apron and Home Chef delivery services will make a good choice; just be mindful of your individual needs.