Since the conception of Snap Kitchen, they have relied heavily on influencer marketing, which includes industry experts, celebrities, and athletes. Snap Kitchen has successfully used influencer marketing to drive growth by partnering with high-profile individuals to increase awareness of the brand and grow sales. So, we are proud to present this Snap Kitchen review to acquaint the audience with all the advantages and disadvantages of the service.
Short Overview
Snap Kitchen focuses on providing customers with the freshest meals possible. They're different from other meal delivery services, like DoorDash and UberEats, in that they don't rely on national brand-name suppliers for all of their ingredients. Instead, they work directly with farmers to bring the freshest ingredients from the fields to your table. Snap Kitchen also doesn't operate any delivery vehicles or warehouses. They simply pair our customers with a driver who picks up meals from their kitchen and delivers them directly to you at your home or office.
Key Features
Snap Kitchen is a meal kit delivery service that allows customers to order fresh, pre-portioned ingredients they can cook at home. The company was founded by parents who wanted to provide their families with a more affordable and healthier alternative to pre-packaged frozen meals.
The pros include:
A wide range of meals on offer;
An excellent value for your money;
Healthy meals;
Convenient ordering (it can be done anywhere);
Better portion size than others;
Fewer calories than competitors.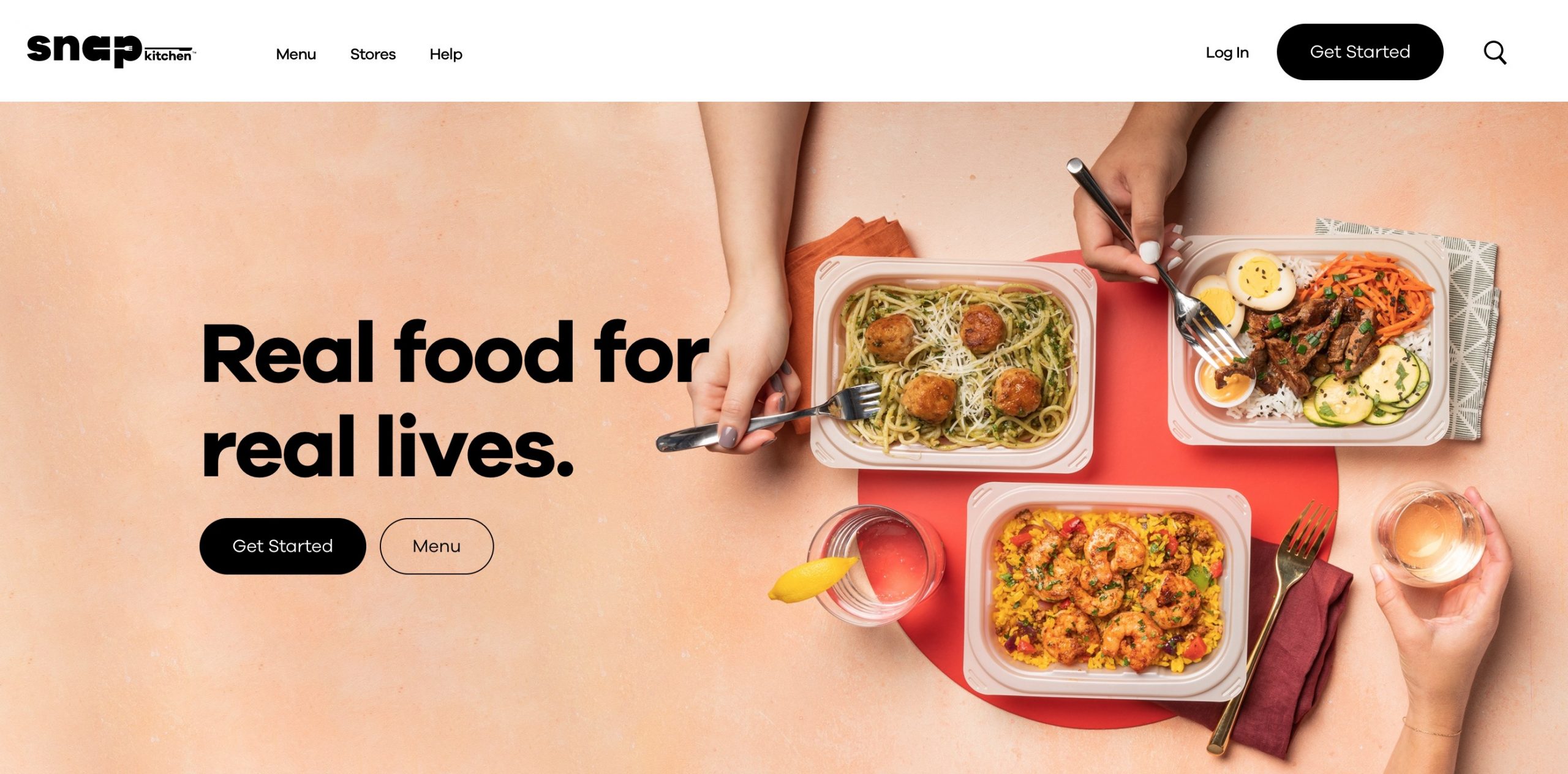 Snap Kitchen Prices
6 meals per week: $75.99 ($12.67 per meal)
12 meals per week: $125.99 ($10.50 per meal)
Shipping is always free!
How Snap Kitchen Works
The grocery store can be overwhelming and time-consuming, so Snap Kitchen curates all the ingredients, does all the work, and makes healthy meals easy to prepare. No ordering ahead, no shopping for ingredients, or worrying about measurements or cooking time. With Snap Kitchen, you can choose from a variety of Snap Kitchen menus each week, ranging from Weight Loss to Paleo to Low Carb and Gluten-Free menus. Each meal is under 500 calories, with an emphasis on fresh fruit, vegetables, and lean proteins.
How Easy Are Snap Kitchen Meal Kits to Prepare? / Cooking Process
When it comes to cooking at home, many people think it's best to keep it simple and go with a meal kit. This is especially true when you are short on time, need something healthy, or want a unique meal. That's where Snap Kitchen meal kits come in handy.
According to Snap Kitchen meal kits reviews, the service is one of the most popular meal delivery services delivered to over forty states. Some of their most popular items include their chicken sliders, grilled cheese, and salmon bundles. They are different from competitors such as DoorDash and UberEats because they let you prepare your food on your own time with the option of having it delivered to you, saving the shipping Snap Kitchen cost, and having the food ready when you get home.

Who Is Snap Kitchen Good For?
According to Snap Kitchen meal reviews, the service is an online meal delivery service that allows customers to order healthy, restaurant-quality dishes, which are then delivered to the customer's door. Orders are placed through the Snap Kitchen website, which offers a catalog of meals available for purchase. The company has stated that its products include steaks, burgers, seafood, pasta, and more. Snap Kitchen offers both vegetarian and meat-based entrees.
Who It Isn't Good For?
Snap Kitchen, the meal delivery service that promises fresh meals with no artificial flavors or colors, is not the best option for people who want to order from a certain restaurant but get something different or who want to walk out of a restaurant without having to tip. Snap Kitchen has a fleet of local employees who do all of the shopping, chopping, and cooking, so you don't have to. Meal kits include fresh ingredients simple instructions and are delivered right to your door.
Snap Kitchen Packaging and Environmental Friendliness
Snap Kitchen is committed to using sustainable packaging for our meal delivery service and strives for a more environmentally friendly world. The company purchases its packaging from outside vendors who recycle and reuse the material, saving money. The company has also worked with its packaging supplier to eliminate the use of vegetable-based, BPA-containing silver coating on plastic containers in all-new packaging to reduce the amount of chemical exposure to its customers and employees. The company's website has a "Recycling" tab where customers can learn more about the company's recycling efforts.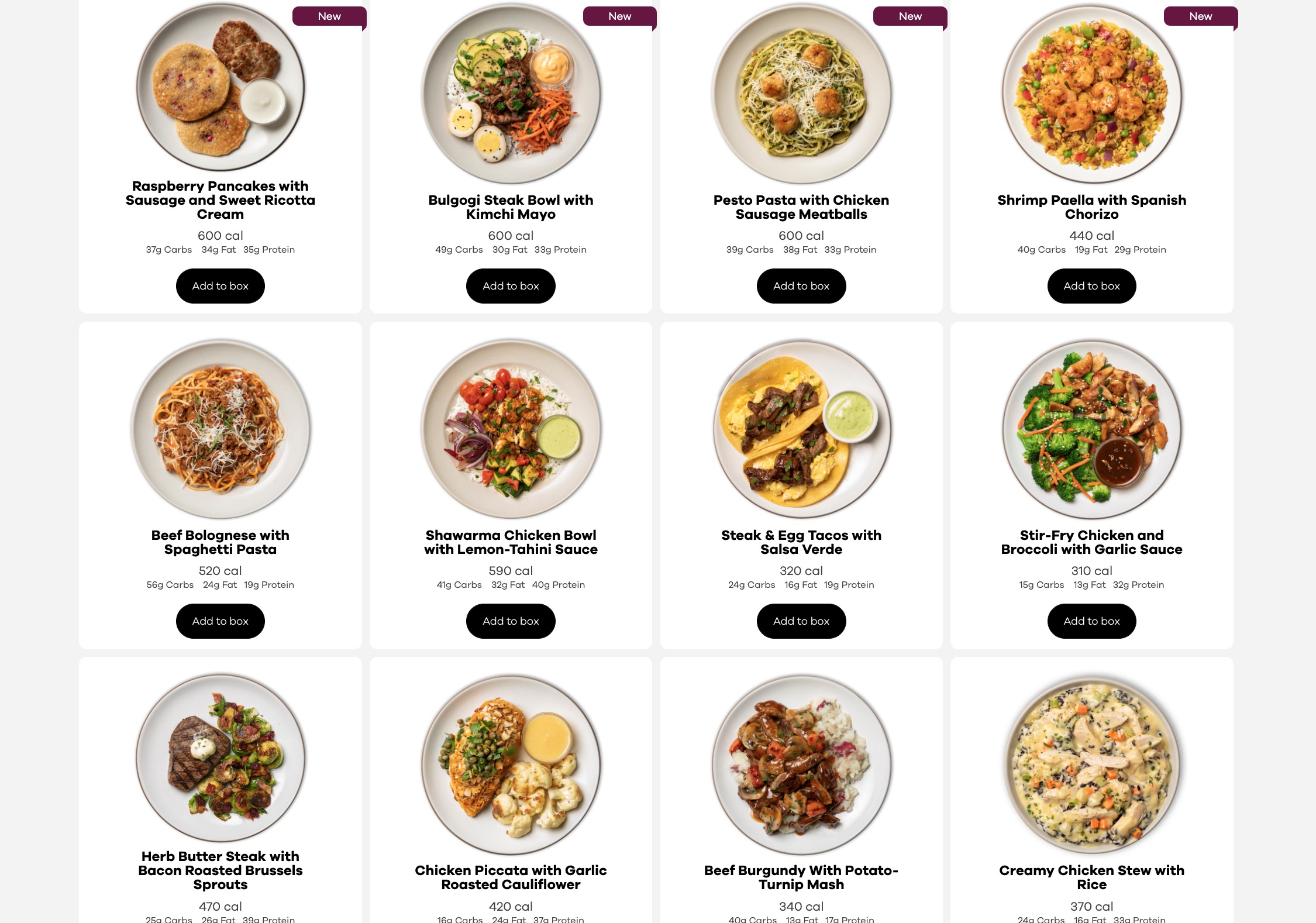 Changing and Canceling Order
As a part of Snap Kitchen's commitment to client satisfaction, the company has placed a significant focus on its commitment to being flexible with customers. One of the most common complaints heard from clients is about canceled or changed orders after being placed. This is both frustrating for customers and costly for the company and can have a bad influence on Snap Kitchen ratings.
The company wants to continue building trust with customers and providing great service. Snap Kitchen also wants to build trust by innovating and remaining ahead of the industry. Therefore, The company wants to inform all clients that it will be changing its policy on canceling and changing orders.
The new policy is as follows: Orders that are canceled within five minutes will not incur a charge. After the five-minute point, there will be a $5 charge per order. Canceling an order after the food has already been prepared will result in an additional $5 fee per order.
As always, Snap Kitchen promises to maintain excellent communication with customers as they process their orders in order to ensure that clients know that their orders are being handled properly and as quickly as possible.
Customer Service
At Snap Kitchen, they handle each and every customer interaction personally. Their team is always available to answer your questions and help you learn about meal delivery, canceling, or any other aspect of the Snap Kitchen experience. That's why Snap Kitchen guarantees you'll be 100% satisfied with your first order.
Snap Kitchen believes in building a relationship with its customers by going above and beyond at every turn. If a customer has an issue, they can expect an immediate response from one of the support team members and a solution that leaves them happy and satisfied.
The truth is, providing excellent customer service isn't an option – it's a requirement. It's who they are as a company, and it's a standard they hold themselves to every day by responding to customer inquiries in as little as 10 minutes during business hours and 24/7 via email and text message.
According to Snap Kitchen reviews, the service is going to continue delivering amazing food experiences thanks to its talented team of chefs, dedicated fulfillment staff, and enthusiastic customers who keep coming back for more.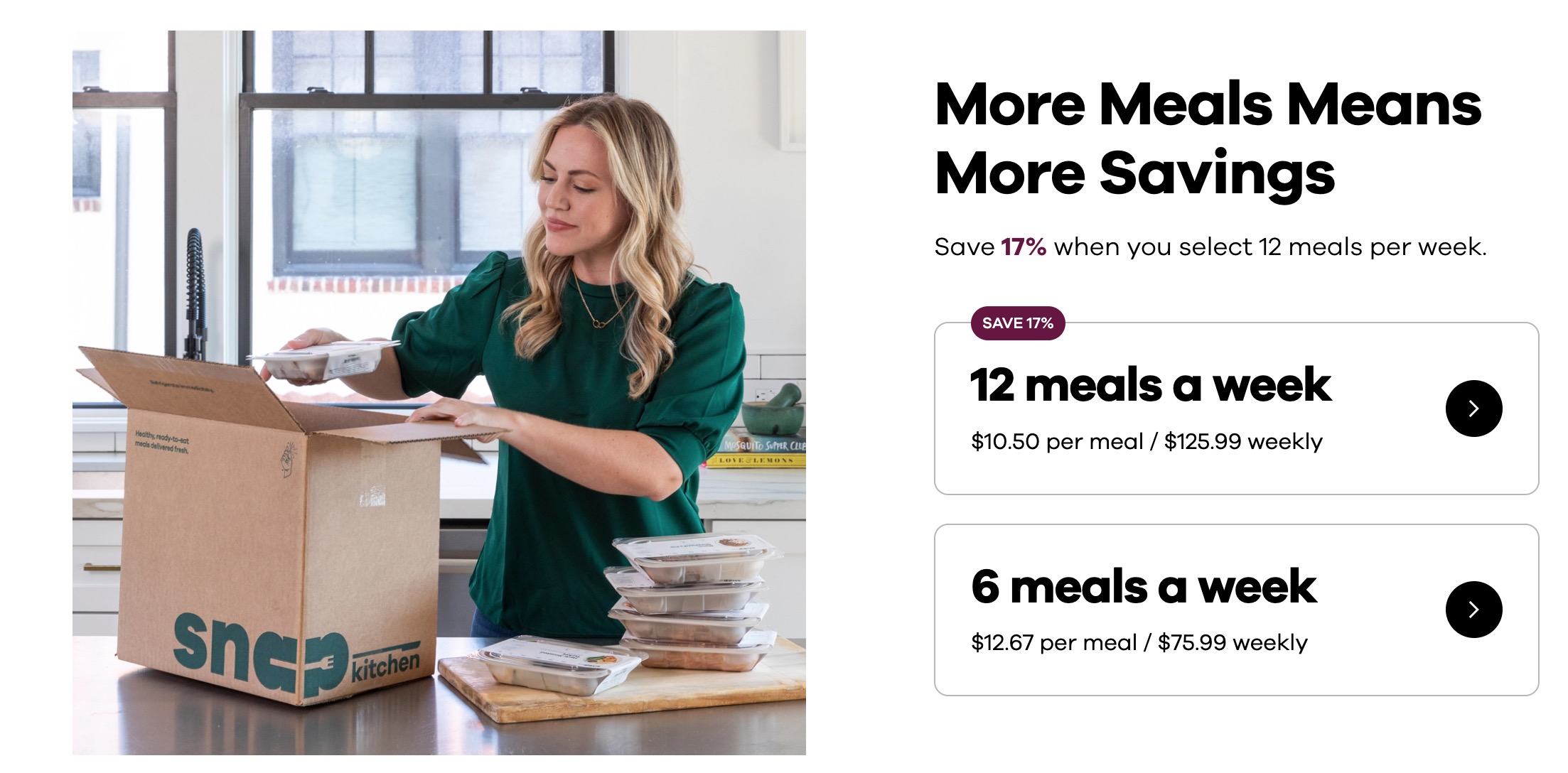 The Competition
Snap Kitchen vs. UberEats and DoorDash
According to reviews of Snap Kitchen, a healthy meal delivery service is committed to providing its customers with the best meal delivery service on the market. It has had over 50,000 members join its meal delivery service since it launched in 2015 and remains one of the fastest-growing companies in Austin. The company competes with DoorDash and UberEats. To ensure its customers are able to choose which meal delivery service they would like to use, Snap Kitchen offers the following features:
The only company that delivers fresh meals with free-range meats delivered in recyclable compostable packaging
All food is sustainably sourced and Snap Kitchen works with local farms that are doing everything possible to reduce farm runoff.
Customers can customize their orders to make them exactly as they want them.
Free shipping on all orders and incredibly loyal Snap Kitchen pricing
All orders processed within 30 minutes, guaranteed
Customers can track all of their orders online, just like with UberEats
Snap Kitchen has already helped over 50,000 members lose weight and eat healthier.
Snap Kitchen vs. Home Chef
Home chef has a free meal plan with three meals each week. Their website is also straightforward to use. Snap Kitchen has a free 7-day trial, and then you're charged $9.99 or $12.99 per scheduled delivery, depending on the plan. You can choose from Snap Kitchen recipe cards to find a suitable option. They come with a weekly menu they send to your email, and they already have your payment information saved there from previous orders, so it's effortless to sign up. Compared to other meal delivery services, this one is definitely the most affordable, which is good for college students who are on a tight budget.
The Verdict
According to Snap Kitchen meal delivery reviews, the service offers some of the best meal delivery services in town. The food is fresh, and the portion sizes are generous. Customers can choose from several different providers each week to ensure variety in Snap Kitchen plans. The different providers offer different meals, so it's a great way to try something new.

Meal Delivery FAQ
Can I Try Snap Kitchen for Free?
If you're interested in trying Snap Kitchen but want to learn more about the service before placing an order, Snap Kitchen food delivery currently offers a free trial. For $3.95 per meal, you can order up to 4 meals for free, with no obligation to continue after the trial period. Snap Kitchen meals are made with premium ingredients and are ready in minutes. All meals are available for pick-up or delivery; delivery charges apply. Customers can choose from healthy breakfast, lunch, dinner, and snack options that are gluten-free, vegan, and vegetarian-friendly.
Does Snap Kitchen Have Coupons for Existing Customers?
How much is Snap Kitchen is a question many people ask, and the short answer is yes, you can get coupons. Sign up for the Snap Kitchen newsletter to get deals straight to your inbox. Look out for the Snap Kitchen promo code in their emails. Promo codes are also available on their social media channels like Facebook and Instagram.
Is Snap Kitchen Worth the Money?
According to professional reviews for Snap Kitchen, the service, founded in 2011, claims to be the best-tasting meal delivery service around. Starting with only one restaurant in Dallas, they've grown to serve 20 states and counting. One thing that Snap Kitchen's website is proud of is how fresh the food is. In fact, on their website, they say: "We handpick our ingredients from top-notch local farms," and that "our meals are prepared from scratch daily." Its mission is to provide convenient and fresh meals for busy Americans, and by following this mission, Snap Kitchen stays true to its word.
Is Snap Kitchen Easy to Cancel?
According to Snap Kitchen meal kits review, the service is a meal delivery service that offers several meal options for customers to choose from. These options are sent to the customer via an app, which allows customers to track deliveries and check out their accounts. It offers several delivery times, from 6 a.m. to 8 p.m., and rush options for those in a hurry. Customers can cancel pre-orders up until 3 p.m. for orders scheduled for same-day delivery and up until 11:59 p.m. for future deliveries. The process to cancel your account depends on when you signed up – if you signed up in the past month, you have the option to have your next payment refunded or donated to charity; if you signed up more than a month ago, you have to call the company directly or email them to cancel.