Nothing can be so attractive regarding meal kit services as promises of no cooking, fresh and healthy ingredients, and a full balance of nutrition. Since you have a huge pool for picking such services, you might find yourself stuck with the selection. Let's speak today of the service where you can order smoothies and reheating super meals solely – Revive Superfoods. The Revive Superfoods review will share the prices, menus, customer support, and comparisons with alternatives. Off we go!
Short Overview (Pros and Cons)
Revive Superfoods is a weekly/monthly subscription service that focuses on breaking the clients' traditional view on healthy eating. One can avoid time-consuming recipes but access delicacies at affordable prices. All meals are ready in minutes, chef-crafted, preservatives-free, and they always come with free shipping. Revive Superfoods deliver frozen foods; hence, you might doubt the freshness, but the service might debate that. Order 9, 12, 24 cups for your week, build your box, and as they say – find a better version of yourself after consuming their superfoods.
Pros of Revive Superfoods:
Meals are 100% halal;
Affordability compared to other smoothie delivery services;
Easy canceling of the subscription;
User-friendly customization;
A myriad of fruits and veggies, which can be hard to find with most grocery shops;
Easily prepared foods and delicious smoothies for one's well-being.
Cons of Revive Superfoods:
Not Kosher meals;
Everything comes in individual packaging, which may cater to waste;
Not a good fit for diabetic people because smoothies are high in sugars.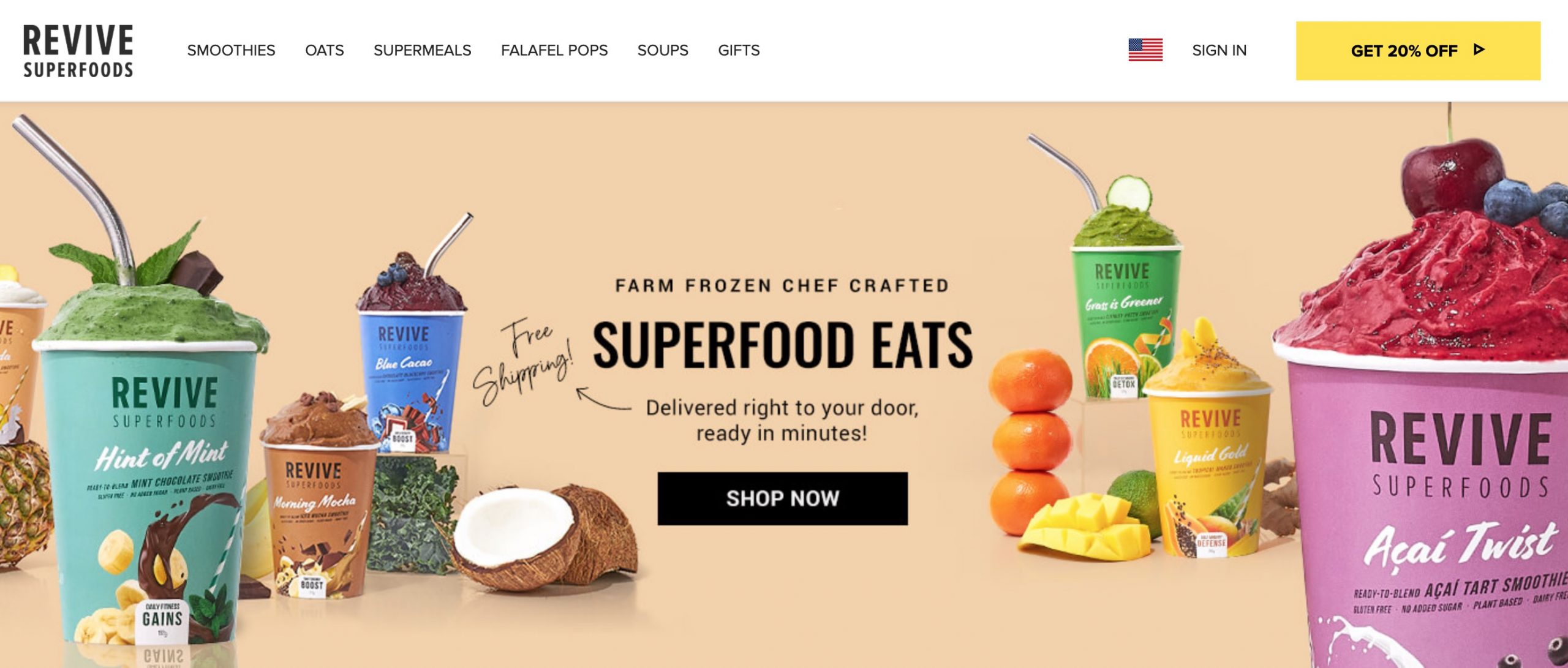 Pricing
When relying on the Revive Superfoods meal delivery reviews or website, you might find a decent choice of foods for your box. As of now, you have the following Revive Superfoods plans:
All their smoothies are chef-crafted with proteins. You can order Mint & Chocolate, Coffee & Cacao, Strawberry & Banana, Apple & Black Tea, Banana & Pumpkin Spice, Cherry & Açai twists. They come with nutritious ingredients that may somehow promote one's health. Yet, do not mistake them for something aimed at helping you lose weight.
When it comes to their oats, you access gluten-free pre-made breakfasts. They currently offer 3 oat bowls, including Banana & Chocolate, Raspberry & Blackberry as well as Cherry & Coconut.
Supermeals are fit for your lunch and dinner experiences. There are also only 3 options to choose from, including Lentil & Sundried Tomato, Cauliflower & Apricot, and Butternut Squash & Basil dishes.
$6.99 per cup of Falafel Pops is an exclusive, homemade offer from Revive Superfoods. They come with tahini sauce, rich in fiber and protein.
The last offer from this best delivery service is the soup category. Find Guajillo Pepper & Tortilla, Carrot & Ginger, as well as Pink Bean & Tomato soups.
Finally, there are also preselected boxes for those who find it hard selecting one or another dish or smoothie.
Now, how much is Revive Superfoods?
The Revive Superfoods pricing is the following:
9 cups/per week – $5.99;
12 cups/per week, month – $5.99;
24 cups/per week, month – $5.99.
The shipping is always free. By signing up for the service, you can also get 20% OFF for the first order. Beyond that, every person may use their GIFT offer to someone to try Revive Superfoods too. There is a coupon for $9 cups at $54, 12 cups at $72, and 24 cups at $144.
All in all, Revive Superfoods prices are quite attractive, taking into consideration a Forever Free Shipping.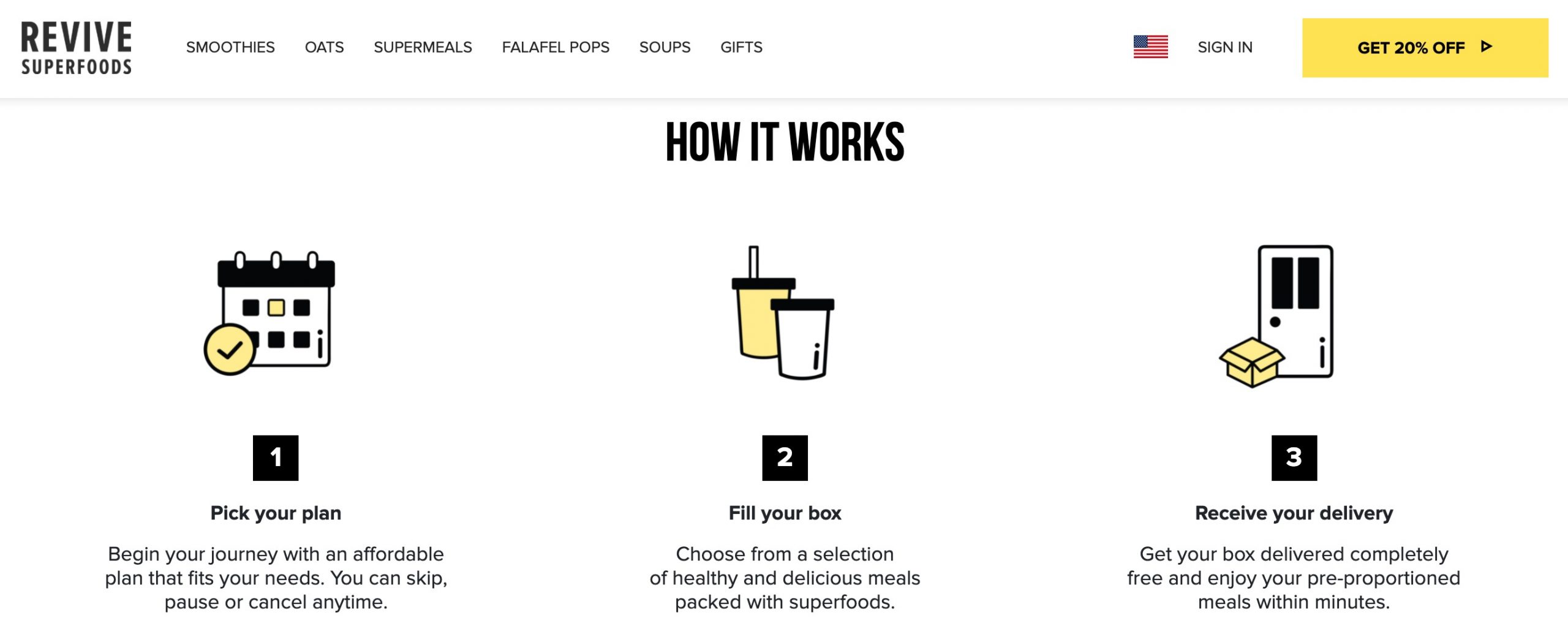 How Revive Superfoods Works
Based on reviews of Revive Superfoods, their functionality does not differ much from other food delivery services. First off, it is a weekly/monthly subscription service with which you have to sign up to order your meals/smoothies. To start with the service, do the next:
Choose between weekly or monthly subscription;
Select either 9, 12, or 24 cups to receive per week, or 12, 24 per month;
Build your meal box. You can choose oat bowls, smoothies, falafel pops, soups just depending on your liking and preferences;
Decide on your delivery day and checkout.
Once you are subscribed to the service, you are granted access to a calendar where you can easily skip billing dates. Then, you can also modify your boxes just to mix flavors and products.
It is also worth mentioning their SuperRewards program. It stands for rewarding clients with redeemable points. By sharing the Revive Superfoods service on social media, referring your friends to it, or leaving an online review, you can earn points. With a referral program, you get a 50% discount for your friends on their first box. Once they redeem it, you get $30 back.
How Easy Are Revive Superfoods Meal Kits to Prepare?
First off, let's mention that their meal kits ingredients come from high-quality local farms, and you can freeze everything with no trouble. Yet, the service recommends consuming everything within 2 months of delivery.
Secondly, as you could guess from their menu, no cooking is required with some Revive Superfoods recipe cards. When it comes to smoothies, you may just use a liquid like juice, milk, water, among others, pour it into a blender, and make a delicious beverage. As for soups, you can just reheat them using your microwave. All the other meals may be consumed cold.
If needed, you can also add your own ingredients to the dishes. For instance, not all the ingredients are organic with Revive Superfoods. Therefore, if you have some organic food, you can blend it with oat bowls and soups, too. Revive Superfoods reviews speak of the positive feedback about the cooking process among clients.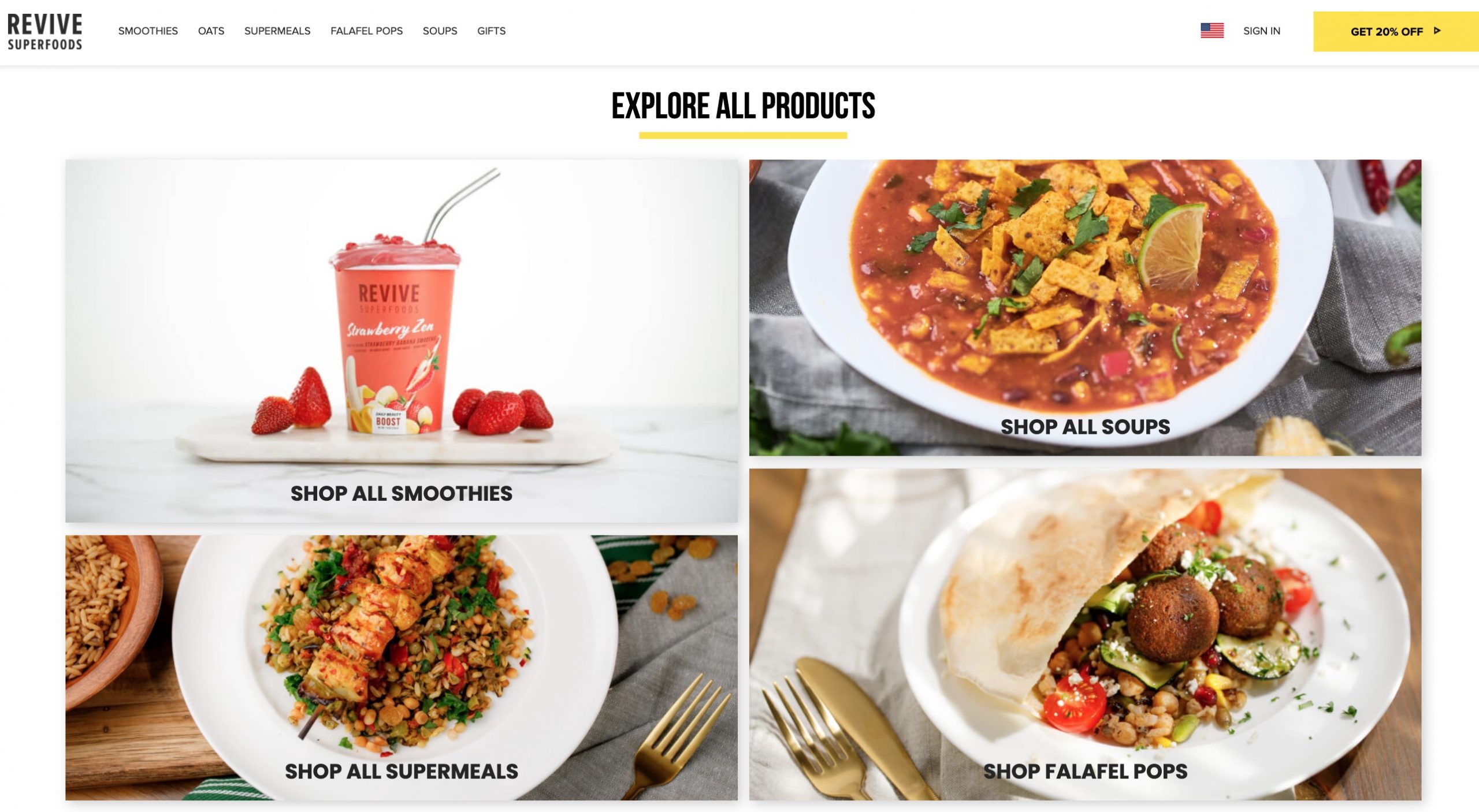 Who Is Revive Superfoods Good For?
The reviews for Revive Superfoods may greatly hint you at why you should choose this service over others. Yet, let's briefly share with you the main benefits.
Revive Superfoods is good for:
Those who crave vegetarian, healthy smoothies, and meals;
Those who want to access affordability, a referral program, and discounts;
People who want to avoid cooking;
Fans of smoothies for takeaways;
Clients who seek flexibility and easy cancelation.
Who Isn't It Good For?
Based on the Revive Superfoods meal reviews, you do not need to focus much on this service in the case:
You seek meat dishes;
You have certain diet preferences, restrictions;
You are vegan;
You have goals of losing weight with meal kits;
You want more options regarding lunch and dinners.
Revive Superfoods Packaging and Environmental Friendliness
As per the Revive Superfoods service, their meals and smoothies come only in cardboard boxes and dry ice liners that are 100% recyclable. As for cups and lids, they are curbside recyclable.
Referring to the Revive Superfoods food delivery feedback on the handy and reusable aspects of their boxes, it is all mixed. You can find reusable metal straw and cleaning brushes.
Changing and Canceling Order
If you want to make a pause or just cancel your order, the service makes advances with it. To cancel or pause the order, you should contact the customer support team by calling them. If your order has been billed, your order is not eligible for canceling and refunding.
Beyond that, based on Revive Superfoods meal kits reviews, many clients find it easy to customize their boxes since the company cares about one's comfort and various flavors. Just go to your personal account and make changes prior to being billed.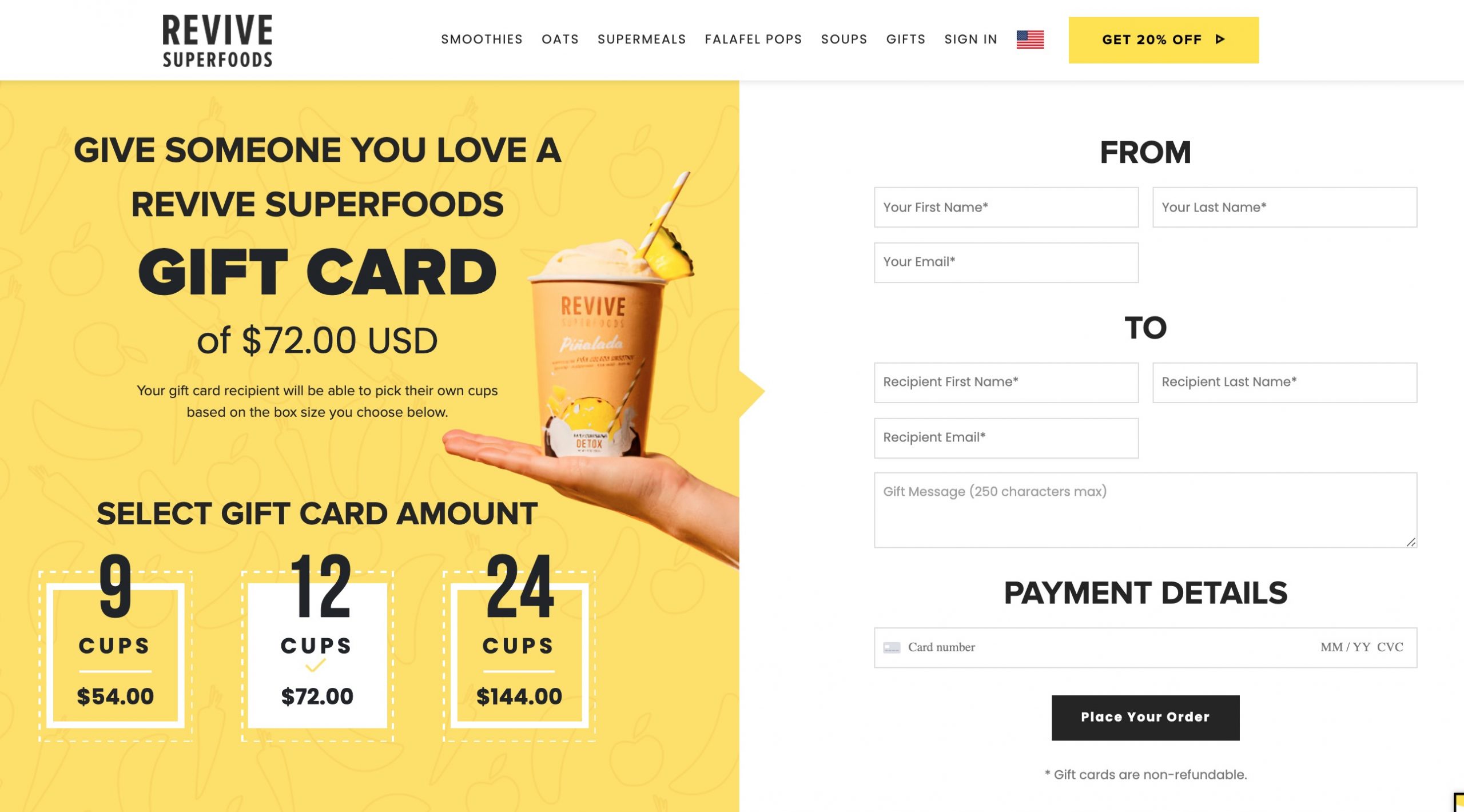 Customer Service
Revive Superfoods services two countries Canada and the USA. Therefore, you can contact their US customer support team by calling 9 AM — 5 PM EST, 7 Days a Week, and Canadian team 9 AM — 5 PM EST, 7 Days a Week too. Otherwise, feel free to refer to email 24/7 at [email protected]. Revive Superfoods ratings of customer support are mostly positive.
Alternatives
Our Revive Superfoods meal kits review also features a comparison of service with two alternatives. Find it below.
Revive Superfoods
Everipe
Kencko
Prices

9 cups/per week – $5.99;
12 cups/per week, month – $5.99;
24 cups/per week, month – $5.99.

Starting at $4.99 per cup.

$2.99 per packet of gumdrops;
7 packs smoothies – $5.29 per smoothie;
20 packs smoothies – $2.99 per smoothie;
60 packs smoothies – $2.29 per smoothie.

Menus
Smoothies, soups, Falafel pops, oat bowls, preselected meals.
A meal service only for gluten-free, dairy-free, no sugar smoothies.
Meal delivery for smoothies and gumdrops.
Shipping/Delivery
Free shipping. Canada and the USA.
Free shipping. The continental USA.
Free shipping. It delivers to 50 states of the USA and several EU countries.
Conclusion
Revive Superfoods is a great option for people who are tired of ordinary meals that come with meats and veggies. The Revive Superfoods menus feature smoothies, oat bowls, soups for any liking. They all are vegetarian and may help one feel better. As for the pricing, cups come at $5.99 and 6.99 CAD for Canadian clients. There are also discounts and a referral program. Most importantly, you also save on free shipping. All in all, we recommend this company to people who love fresh and healthy drinks and those who seek something non-trite.
FAQs
Does Revive Superfoods Have Coupons for Existing Customers?
You can find a Revive Superfoods promo code with third-party reviewing websites. Otherwise, you can get the most out of their referral programs or point reward offers. By referring your friends, you can get $30 cashback.
Is Revive Superfoods Worth the Money?
The Revive Superfoods cost is pleasant to look at. There is $5.99 pricing per cup for American clients and 6.99 CAD for Canadian clients. It is not so expensive, taking into consideration their interesting twists alongside Falafel Pops and soups. Yes, it is worth the money.
Is Revive Superfoods Easy to Cancel?
Yes, you can cancel your subscription just by calling the customer support team. Yet, ensure to do it prior to being billed for the next order if you do not want to lose money, or there won't be any refunds.