Tired of following plain and boring diets but the strive to lose weight is still super high? No need to surf the Web for the best diets that will guarantee you minus several pounds within days, but go for meal kit services. Yes, they not only ensure you receive nutritious meals when you cannot find enough time to cook but also offer plans tailored for losing weight but tasty. One of such food delivery services is Mother of Macros. Read this Mother of Macros review, and learn more about its prices, menus, customer support, among others.
Short Overview (Pros and Cons)
Mother of Macros is a healthy and super delicious meal kit company founded by Zac and Alyssa Starr. Through appropriate preparation, nutrition counseling, and macronutrient planning, Mother of Macros assists people in staying healthy and achieving their health objectives. By relying on the service, you can have lots of options such as low carbohydrate preps, sweets, macro balanced delicacies. With organic ingredients and a menu that is always changing thanks to their nutrition chef, you can be confident that you are getting the finest quality meals with probiotics, prebiotics, high protein, high fiber, and all with an incredible taste that will keep you satisfied.
Pros:
Great meals aimed at balancing your existing diets, losing weight, and just following a healthy lifestyle;
Fresh and organic service ingredients;
Quite affordable, and Mother of Macros do also occasionally organize giveaways;
Gluten-free dishes are available.
Cons:
Minimum orders are required with Mother of Macros;
No vegan or Keto service plans;
You cannot customize your plan;
Some of your favorite treats might not be available for next week's ordering.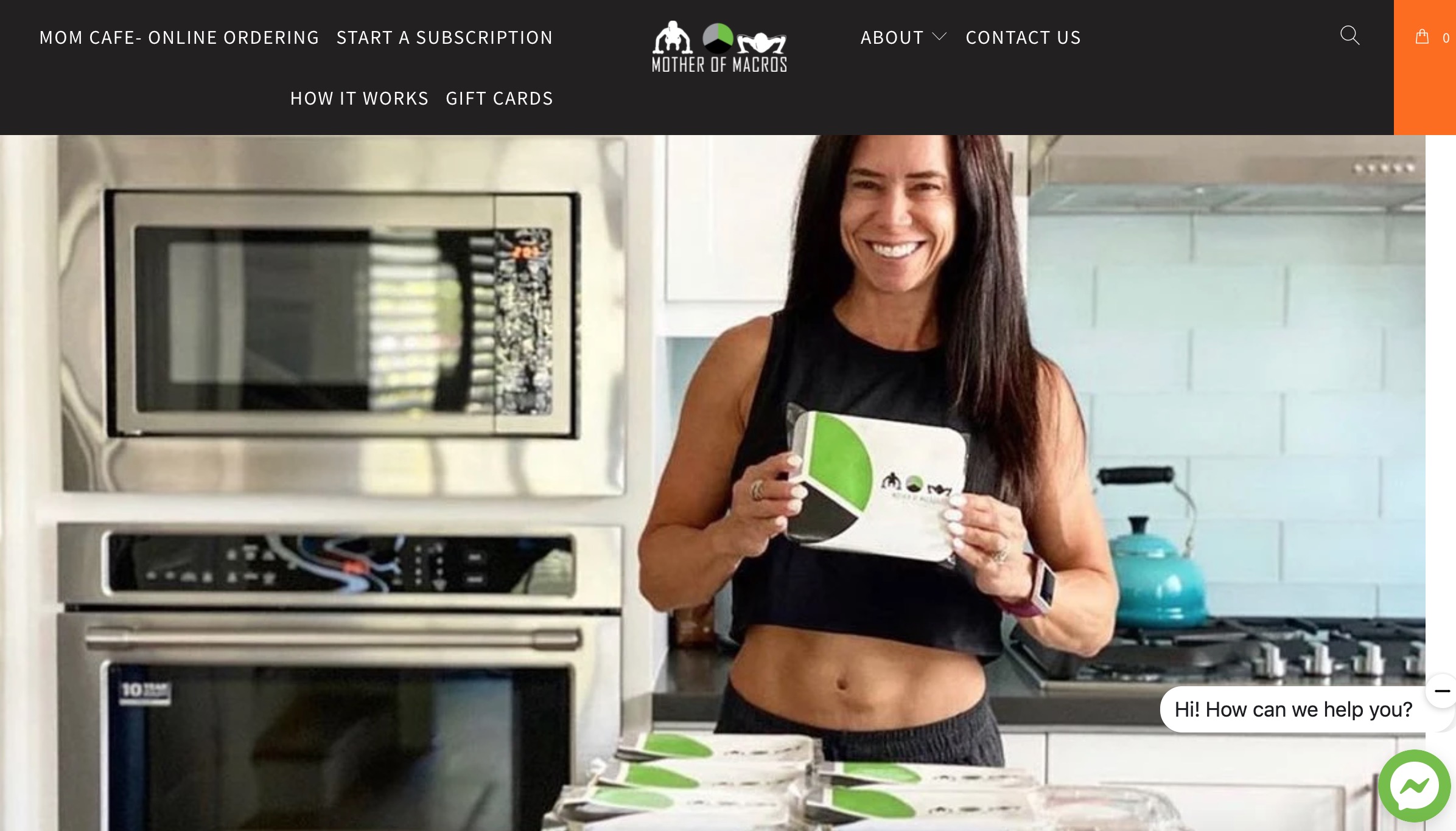 Pricing
Based on Mother of Macros reviews and existing clients' feedback, their pricing policy is outstanding taking into consideration fresh and organic food. LLet'salso share with you their menus and determine how much is Mother of Macros in general.
10 Pack:
5 lunches;
5 dinners;
A 4-pack of healthy donuts;
Mother of Macros cost of it is $134.95.
From this week's scrumptious menu, you can receive 10 different meals and a 4-pack of Clean Cheatz Donuts. You will receive two of their most popular weekly menu options. In their biodegradable, eco-friendly containers that contain no hazardous chemicals, each meal will be branded separately with its corresponding macros and ready to prepare in your oven or microwave.
Macropax:
5 breakfasts;
5 lunches;
5 dinners;
A 4-pack of healthy donuts;
A subscription cost is $198.
This Mother of Macros option provides you with 5 full-day options. Get a variety of breakfast, lunch, and supper options, as well as a 4 Pack of Donuts. Each bundle will contain two breakfast options and two of the Mother of Macros top 5 supper dishes.
20 Meal Variety Pack:
20 macro-friendly assorted meals;
A subscription cost is $245.00.
This week's delicious menu includes 20 macro-friendly varied meals (plus 4 Donuts). Then, this Mother of Macros variety pack includes a healthy mix of protein, carbohydrates, and fats, taking the guessing out of clean eating and making it simple and convenient.
18 Meal Variety Pack:
Gluten-free, GMO-Free;
Mother of Macros prices for this exclusive offer is $219.99.
You will receive a mixed box of meals with 18 of their most popular lunch and supper selections delivered directly to your home.
What about Mother of Macros pricing regarding the shipping? For local orders, the minimum is $60, and for nationwide shipping, the minimum is $139.99. Shipping is completely free in those cases.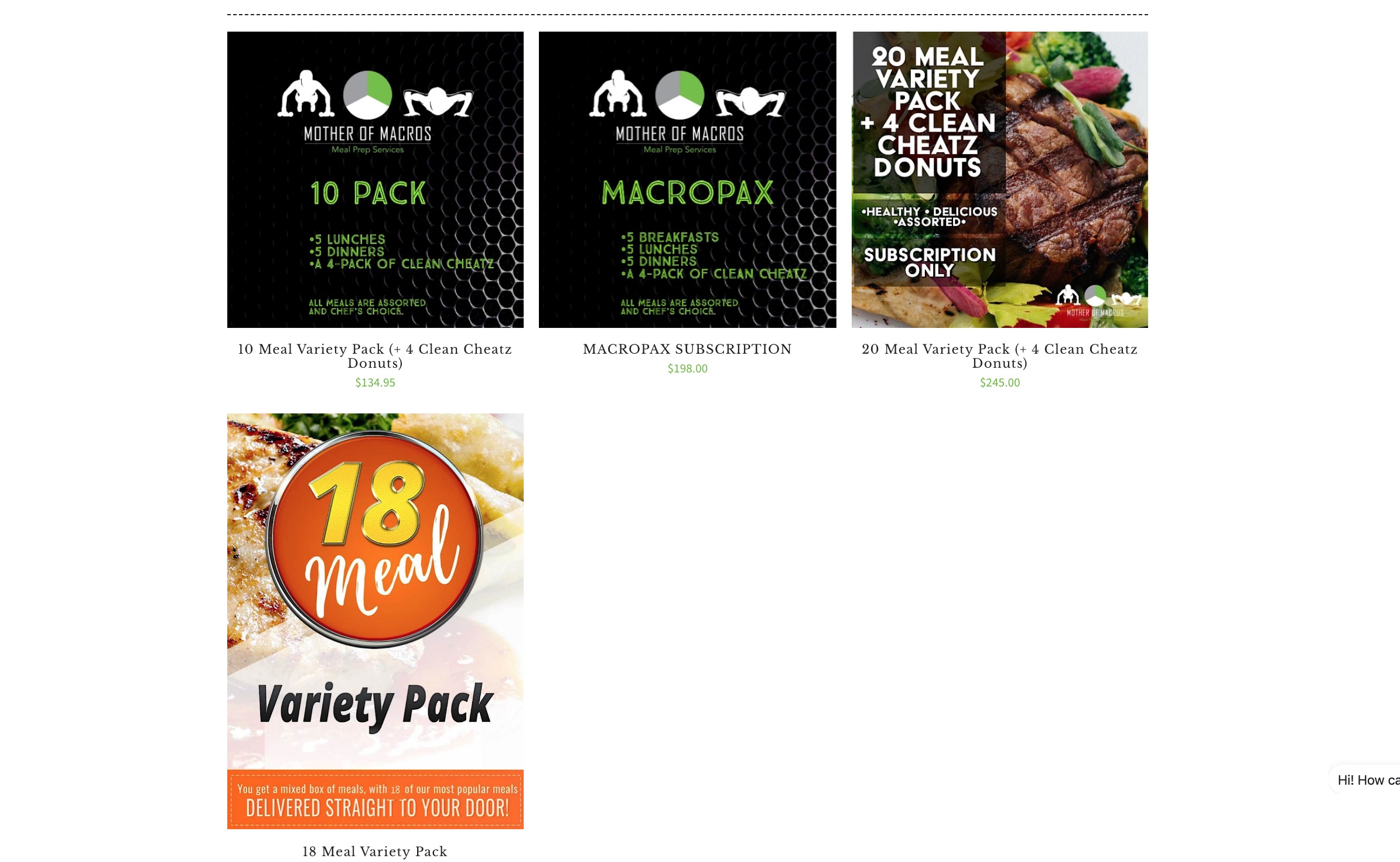 How Mother of Macros Works
With reviews of Mother of Macros, you can check how the meal kit service works. Otherwise, this information is available on their official website. For instance, Alyssa, the Mother of Macros owner and chef, creates a menu consisting of fresh, nutritious dishes every week. She works behind the scenes to balance the macros of each dish, painstakingly adjusting, adding, and removing ingredients until everything is perfectly balanced. With them, you may find meals that may be ordered alone or in value packs, so there is something for everyone. On occasion, the meal delivery also offers *POP UP* dinners that are available on a first-come, first-served basis. It means that you should ensure to get your service orders in soon if you want to sample such offerings.
As for the ordering, the procedure is the same as with other meal kit companies. Register, fill out fields with your personal information, pick the plan or program, and specify your delivery date and address.
How Easy Are Mother of Macros Meal Kits to Prepare?
LLet'ssay briefly – SUPER EASY. The explanation is also simple. Behind the creation of dishes and recipes stays Alyssa, who was a working parent who needed to access quick-to-easy foods. Therefore, when creating the menu, she carried the goal of reheating only. Therefore, receive your delicacies, put them into your microwave or oven, and wait a few minutes only. If needed, you may also find Mother of Macros recipe cards, however, there is already everything prepared, taking into consideration your time-saving.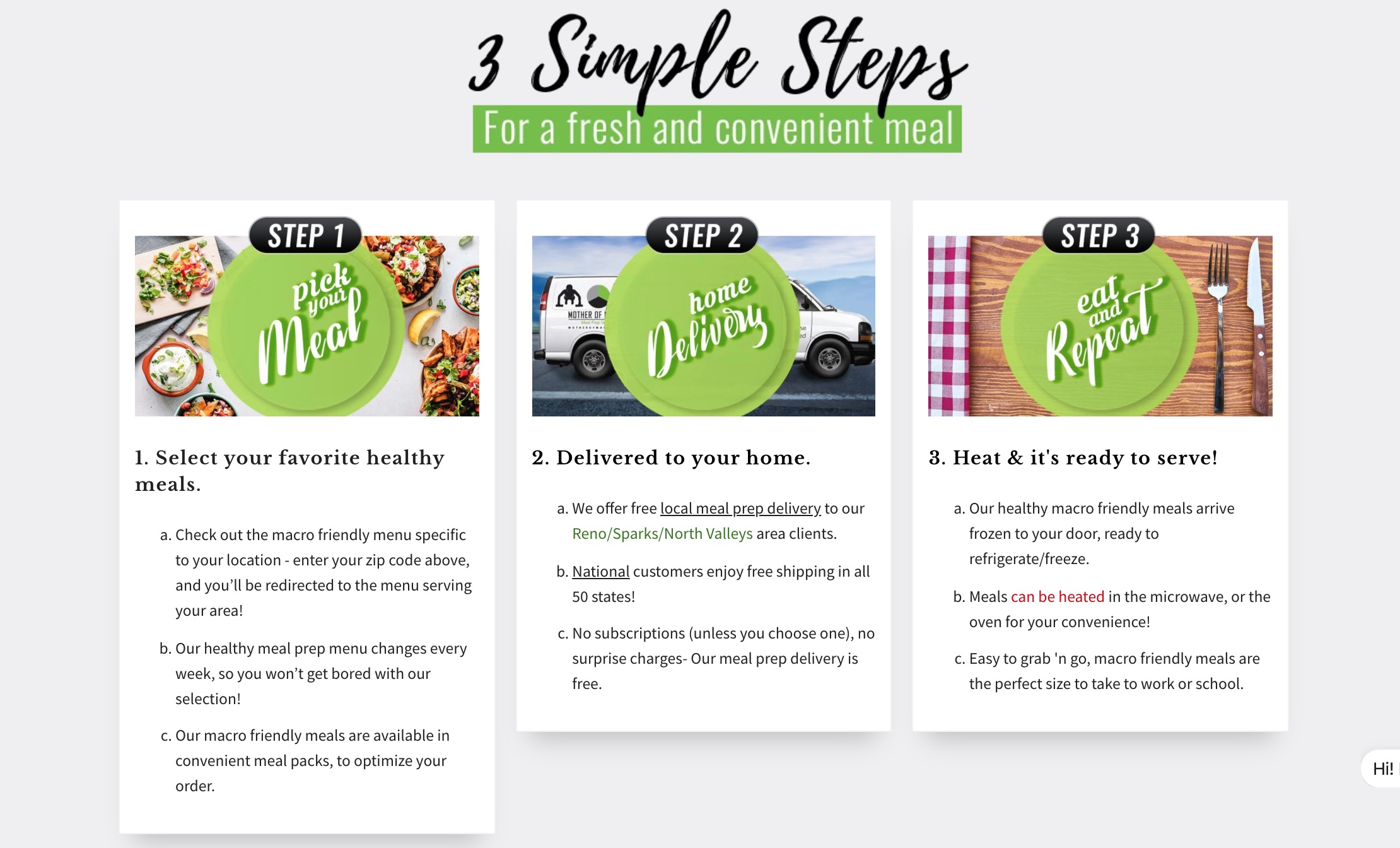 Who Is Mother of Macros Good For?
When checking a plethora of Mother of Macros meal delivery reviews, we could identify different opinions about this meal delivery service. As of now, we truly believe that you should pick it if:
You want to receive packs with both breakfasts, lunches, suppers, desserts;
You do not want to pay down the drain;
You want to access occasional giveaway that can grant you the possibility of trying out free delicacies;
You can find service Mother of Macros promo code to cut the cost on the first order with many third-party designated services;
You seek gluten-free foods or organic prepared food to boost your health.
Who It IIsn'tGood For?
Reviews for Mother of Macros also kindly specify the drawbacks of this meal kit. Today, you should abstain from ordering their healthy meals in the case:
You seek free shipping. With Mother of Macros, there is a minimum order, and orders that come with free shipping, however, you should order a lot;
You want to have regular discounts;
You want vegan dishes;
You have certain diet preferences regarding Mother of Macros menus. They do not have any Keto plans;
You like to customize your meals by adding protein or skipping carbs.
All in all, there are both benefits and drawbacks. We suggest you try the service alone and give your unbiased feedback. Otherwise, do not neglect reading clients' reviews or feedback on them.
Mother of Macros Packaging and Environmental Friendliness
Based on Mother of Macros meal kits reviews and their sole service statement, all the containers are fully disposable. If needed, you may reuse them, however, there is no such specification. Please, do contact the meal kit service for more information.
Changing and Canceling Order
Unfortunately, there is no available information regarding canceling your orders. Yet, like with many other services, you may contact them and address your inquiry. Alongside this, Mother of Macros specifies that they have lots of orders, hence, you cannot customize your own.
The same concerns the events when you want to have your favorite snacks from the previous menus. They might not always be available. All the inquiries about changing and canceling do refer to their representatives.
Customer Service
The good news for potential clients of Mother of Macros – they have lots of communication methods. You can contact them via email, reach them via phone, fill out the online submission form with your inquiry, as well as access convenient live chat. According to Mother of Macros meal reviews and existing clients' feedback, they are professional, friendly, and super polite when you have certain requirements regarding your meal.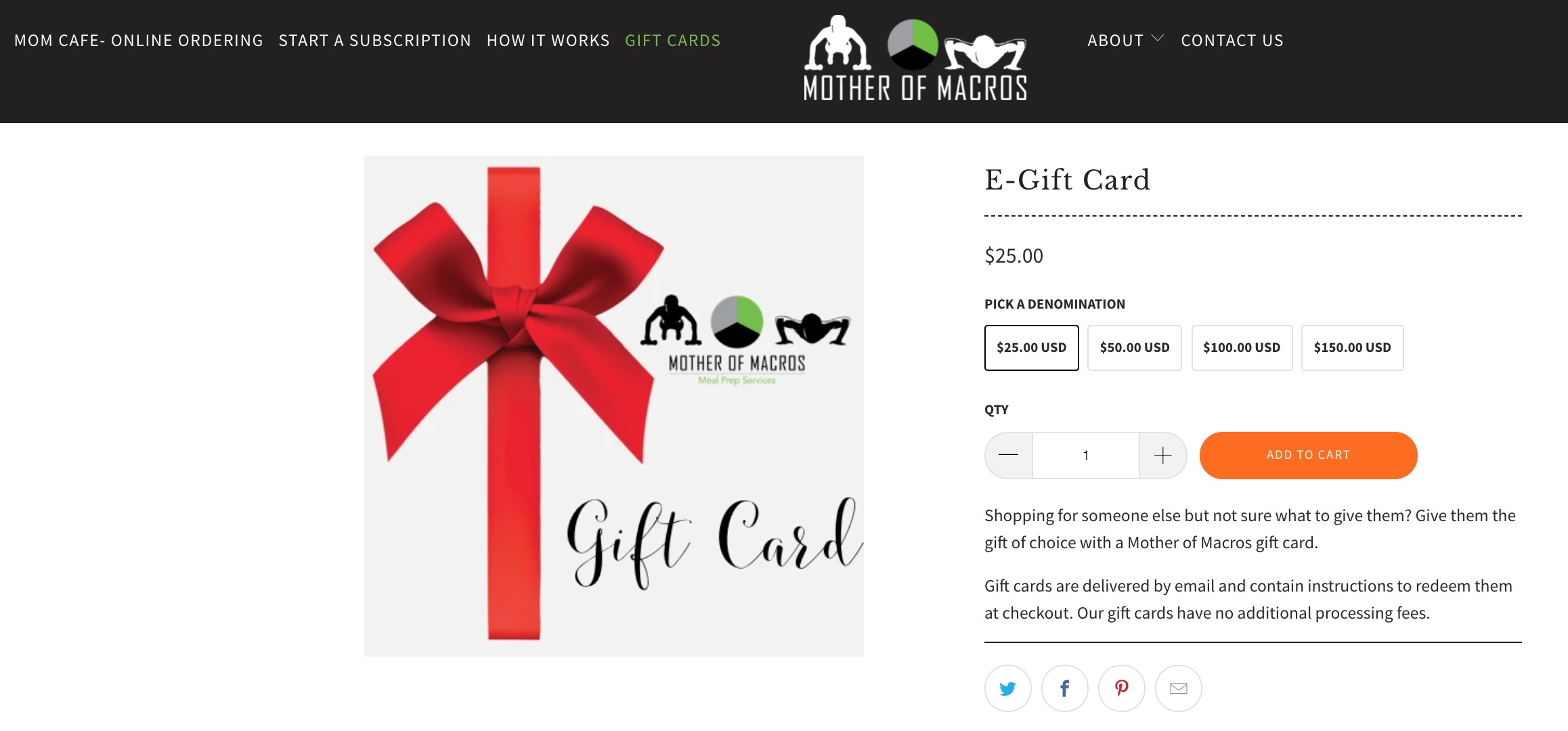 The Competition/Alternatives
Check out the comparison of Mother of Macros with Modify Health and PPete'sPaleo.
| | | | |
| --- | --- | --- | --- |
| Meal Kit Service | Mother of Macros | Modify Health | PPete'sPaleo |
| Menus available | Healthy dishes for losing weight and following a healthy lifestyle. Gluten-free meals; | Low-FODMAP, Mediterranean meals, healthy delicacies; | Low-FODMAP options, healthy and organic dishes; |
| Pricing Policy | Packs to pick from. The cheapest one is $134.95. | Starting from $7.90 for breakfast prepared foods, and $11.75 for lunch and dinner – Low-FODMAP; | A La Carte. The fresh meals may come at $17 per serving; |
| Shipping | Not free; | Free; | Not free; |
| Delivery | Nationwide; | Continental U.S; | Nationwide; |
| Customer Support | 24/7 Live Chat. | Not available 24/7. | 24/7 Live Chat. |
The Verdict / Conclusion
Referring to Mother of Macros ratings, it is hard to speak about its absolute popularity. There are a myriad of meal kit services that deliver healthy dishes for any liking and preference. Yet, their meal packs are super cool because you additionally get donuts that won't harm your body. As for the pricing policy, it is also quite affordable. Clients are always looking forward to participating in the meal service giveaways when they may test free delicacies. All in all, Mother of Macros is the best delivery service only when you want to find meal packs, free sweets, and access quick cooking of dishes and ingredients.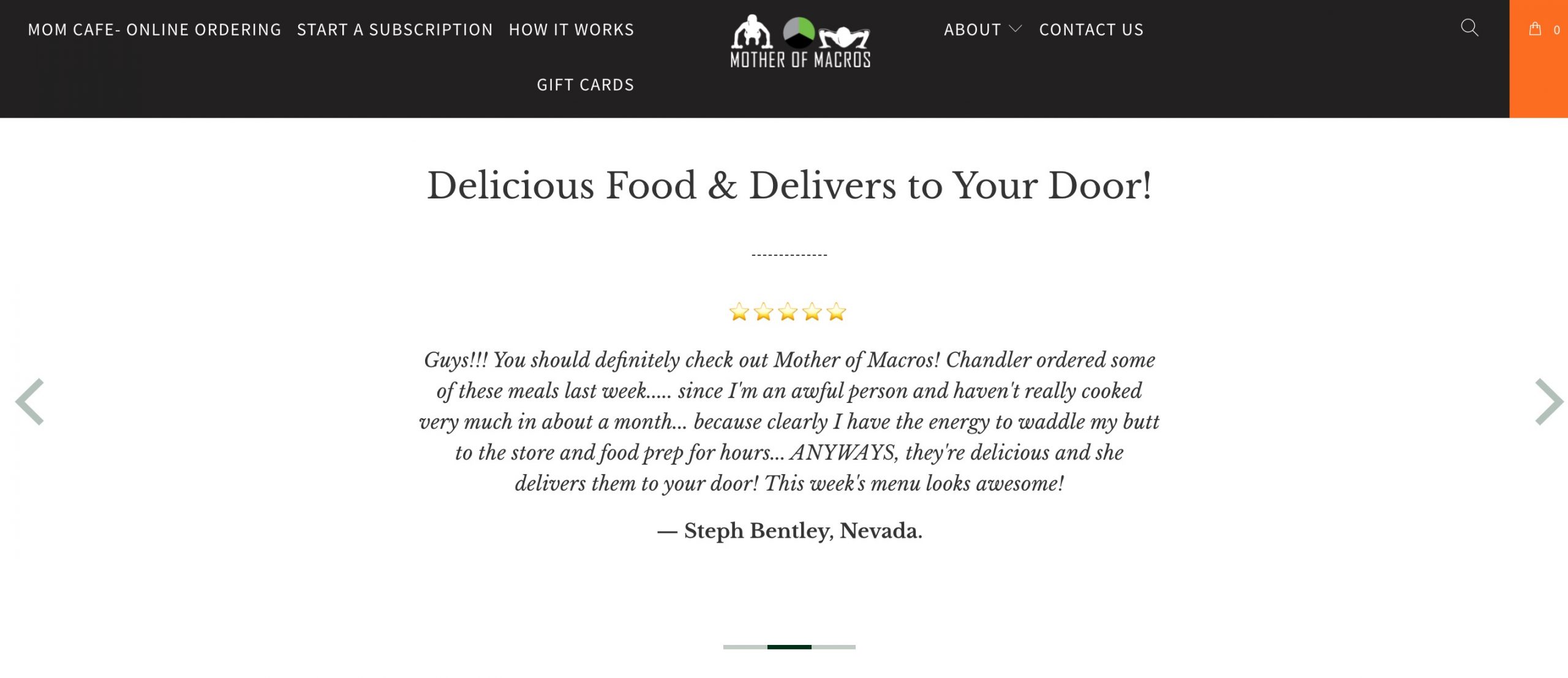 FAQs
Is the Tracking Ever Wrong?
Every Thursday and Friday, from 10 a.m. to 6 p.m., local delivery is available. FedEx Overnight Shipping is used. In this Mother of Macros meal kits review, it is possible to say that tracking has never gone wrong.
Are Mother of Macros Meals Healthy?
Yes, they are super healthy. You will find Mother of Macros plans with organic ingredients, sustainably sourced meats, and fish. Finally, it is all super tasty. Please, do refer to their page of How It Works to learn more about their approach to healthy eating.
Can I Try Mother of Macros for Free?
Unfortunately, there is no free trial or samples with Mother of Macros food delivery
that you may get without subscribing to the service. Yet, with all plans, they add free donuts, which you can taste and forget about sweet cravings that may harm your body.