There are lots of diets crafted by nutritionists or even cultures aimed at helping people lose their weight or maintain boosted wellbeing. The Mediterranean diet takes its roots to Italy and Greece in the '60s and goes around the foods people used to eat in those countries, including fruits, vegetables, seafood, alongside a bit of red wine. The key perk of this diet is that it helps one lose weight smoothly and reduce the risk of suffering from strokes, type 2 diabetes, and heart attacks. While you can always learn more about this dietary regimen alone or with a doctor, the craftsmanship of choosing the fit dishes might be a challenge.
By relying on the below-mentioned 5 Mediterranean diet meal delivery services, you can save time on cooking and see the first results faster.
#1 ModifyHealth
Short Overview
The first Mediterranean diet meals delivery for your consideration is ModifyHealth that focuses on delivering prepared Mediterranean meals. They are gluten-free and involve only organic ingredients without any hormones and antibiotics when it comes to meat and seafood. All the plans and recipe cards offered with this delivery service are designed by accomplished nutritionists, chefs, and dietitians. Beyond that, the service ensures receiving necessary approvals from physicians. They currently offer 2 service diet programs where one caters to providing dishes only, while another one comes with expert support. Finally, the delivery of foods is ongoing with vacuum-sealed packaging, hence, they may stay fresh for at least 7 days which is great compared to other meal delivery services.
The Mediterranean Get Well™ service program, which involves meals alongside Expert Support, is $11.75 per dish and is $117.50 in total, plus $99 per phone or video guidance with their dietitian.
Mediterranean Meals plan comes at $12.50 per serving and is $75.00 in total per week.
The Mediterranean delivery service plan comes in two varieties which were hinted at above. Yet, they two feature lots of vegetables, fruits, whole grains, legumes, olive oil, nuts and seeds, greek yogurt and cheese, fish, and seafood ingredients. The diet program with no expert support will involve nutritionally-tailored chefs meals with minimum preparations (min. 6 entrees to order). The program Get Well is a fully wellness-oriented option to help people with meals lose weight and improve their heart health.
For instance, you can try out Baked White Fish with Quinoa & Vegetables, Greek Chicken & Rice, etc.
This Mediterranean diet delivery service is fit for nationwide shipping and delivery.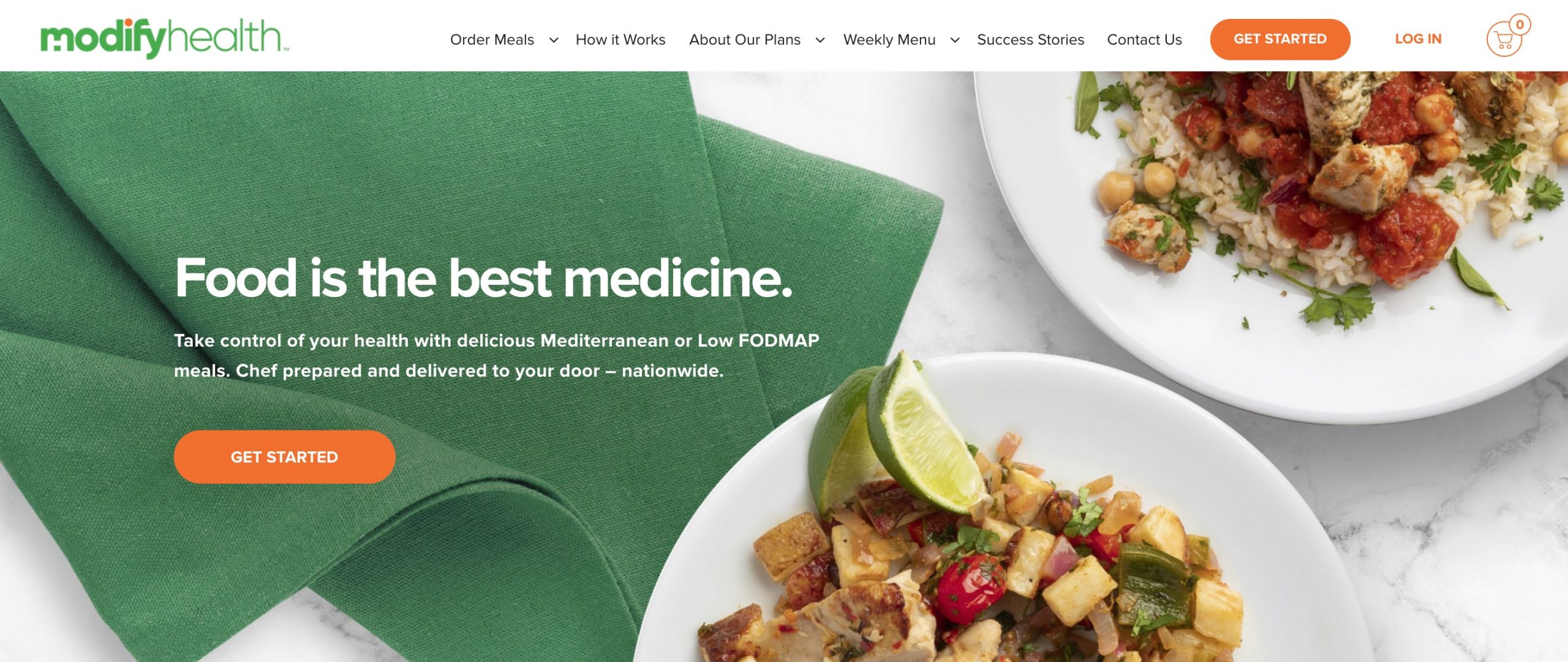 Pricing
The pricing policy for this delivery service diet ranges between $11.75 – $12.50 per serving for lunch or dinner.
Support
The customer support team of this delivery service is reachable via service email and phone.
FAQs
What are the ingredients with their Mediterranean meals?
Organic, gluten-free, and non-GMO ingredients only to help people balance their diets and occasionally lose weight.
Can this Mediterranean service provide you with online consultations?
Yes, ModifyHealth may offer you video chats and consultations if you need help with your nutrition and diet.
#2 Sun Basket
Short Overview
The next worthy Mediterranean meal delivery is Sun Basket. They offer some meals with organic and fresh veggies, nutrient fats, and sustainable proteins. Everything comes at reasonable pricing. On a weekly basis, you have an option of 5 Mediterranean dishes to choose from. Then, their options come with about 400-800 calories per serving. Yet, you should understand that this meal delivery service does not have a single focus on this diet, hence, you may find 5 dishes not enough for a full following of a dietary regimen.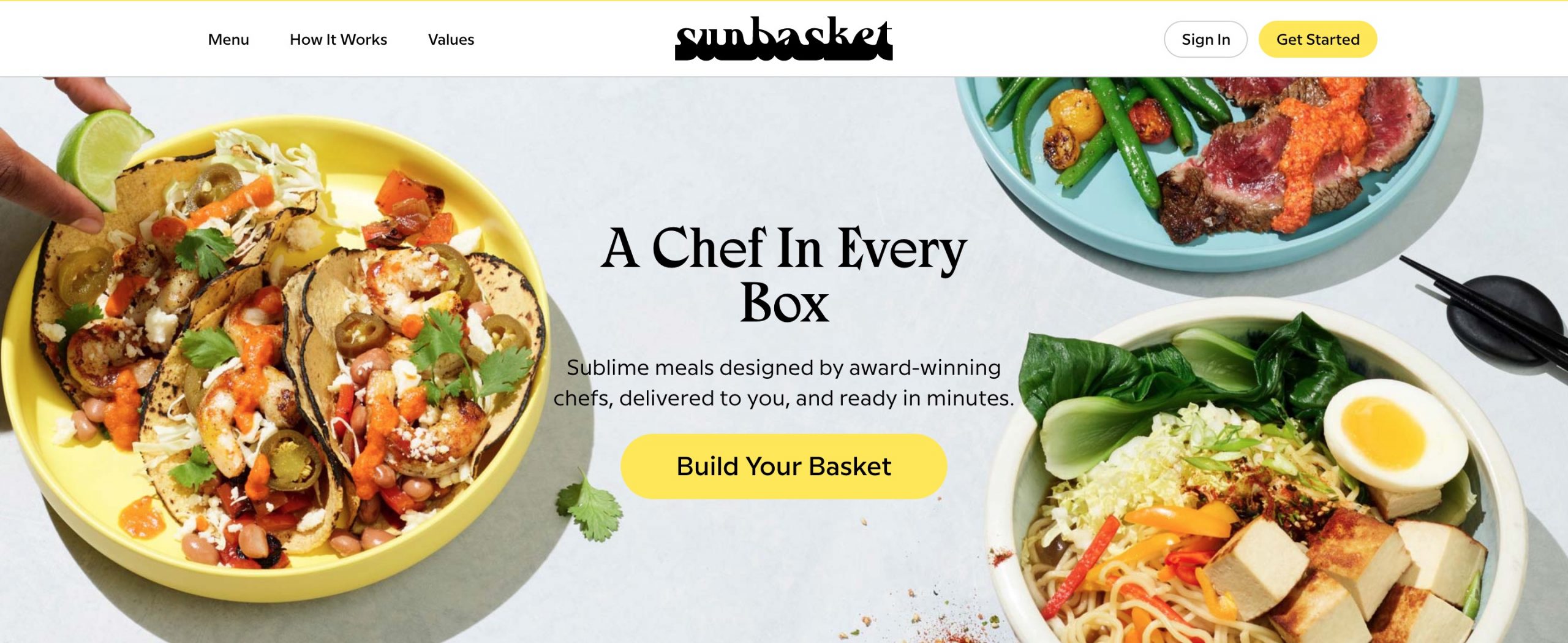 There are two separate service plans with which you can find Mediterranean meals. Fresh and Easy with $8.99 per serving, and simple Meal Kits plan with $10.99 per serving. The average cost per week might be $74.93, however, it depends on the number of dishes you want to order alongside Mediterranean dishes.
The two plans offered by Sun Basket are limited to 5 Mediterranean dishes only. They come with organic and sustainable ingredients. Everything with a Mediterranean diets meal plan
comes fresh, not frozen. For instance, you can try out for the delivery – Chicken breasts and muhammara with apple-celery salad, Orzo bowls with broccoli, etc.
This Mediterranean diet food delivery service currently covers 47 states.
Pricing
$8.99-$10.99 per serving for meal prep Mediterranean diet.
Support
Contact them via phone, email, as well as a service Live Chat 24/7.
FAQs
Does Sun Basket care about sustainability?
Yes, this diet service caters to helping the planet. All their packaging is recyclable, and on some occasions, can be reused for future purposes.
Can you edit your account with this diet meal company?
Yes, just go to your account and modify all personal information you want to. If you experience any issues, just contact their customer support team.
#3 Home Bistro
Short Overview
Home Bistro Mediterranean food delivery has a major focus on many dietary preferences and lifestyles. Still, the service offers around 10 dishes weekly for Mediterranean eaters. The dishes come frozen, so that you need to reheat them either with the microwave or boiling them in the bag. As for the popularity of this meal delivery service, it is all achieved thanks to Cat Cora, a celebrity chef, author, as well as restaurateur. She is known to be an Iron Chef.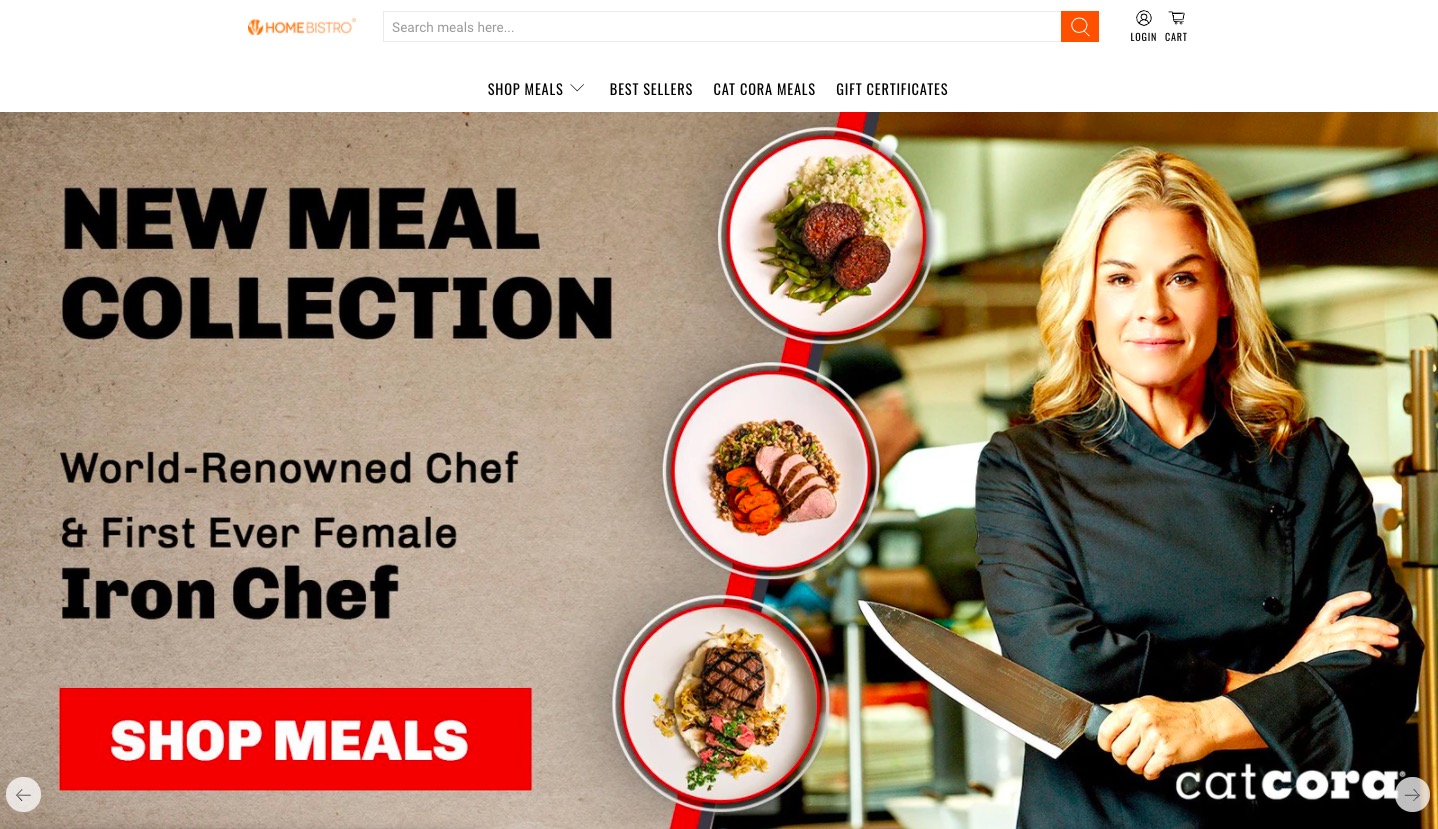 10 dishes for the Mediterranean dietary regimen service delivery are $184.99.
Their Mediterranean plan offers the following – lentil, herbed baguette bowl, saucy chicken tagine, mushroom bolognese, orzo with pecorino, fire-grilled chicken, pom-fig pork, steak with honey, salmon with pomegranate, and turkey with vegetables.
Their Mediterranean diet meals delivered to the contiguous US.
Pricing
The meal plan is $184.99.
Support
Reach them via service email or an online submission form found on their Contact Us page.
FAQs
How can you pay for their Mediterranean meals?
The diet service accepts major credit and debit cards. If you have another payment method, just contact the service for a follow-up.
Do they deliver to P.O. boxes?
Unfortunately, this diet delivery company does not work with P.O. boxes.
#4 Blue Apron
Short Overview
For Mediterranean meals delivered, you can also refer to Blue Apron. First off, this meal delivery service is one of the most popular ones in the industry next to Hello Fresh and Sun Basket. Secondly, it is known for offering not only delicacies but also wine pairings to the dishes. As you know, this diet predetermines your consumption of red wine, hence, the Blue Apron service may greatly assist with that.
This service offers diabetes-friendly, and vegetarian recipes, alongside signature collections to help you tailor diet dishes for a healthy lifestyle with low calories. Yet, it would be fair to say that with this particular diet, you will be greatly limited in choices. Only 1-2 dishes for the diet are available for the selection for the week.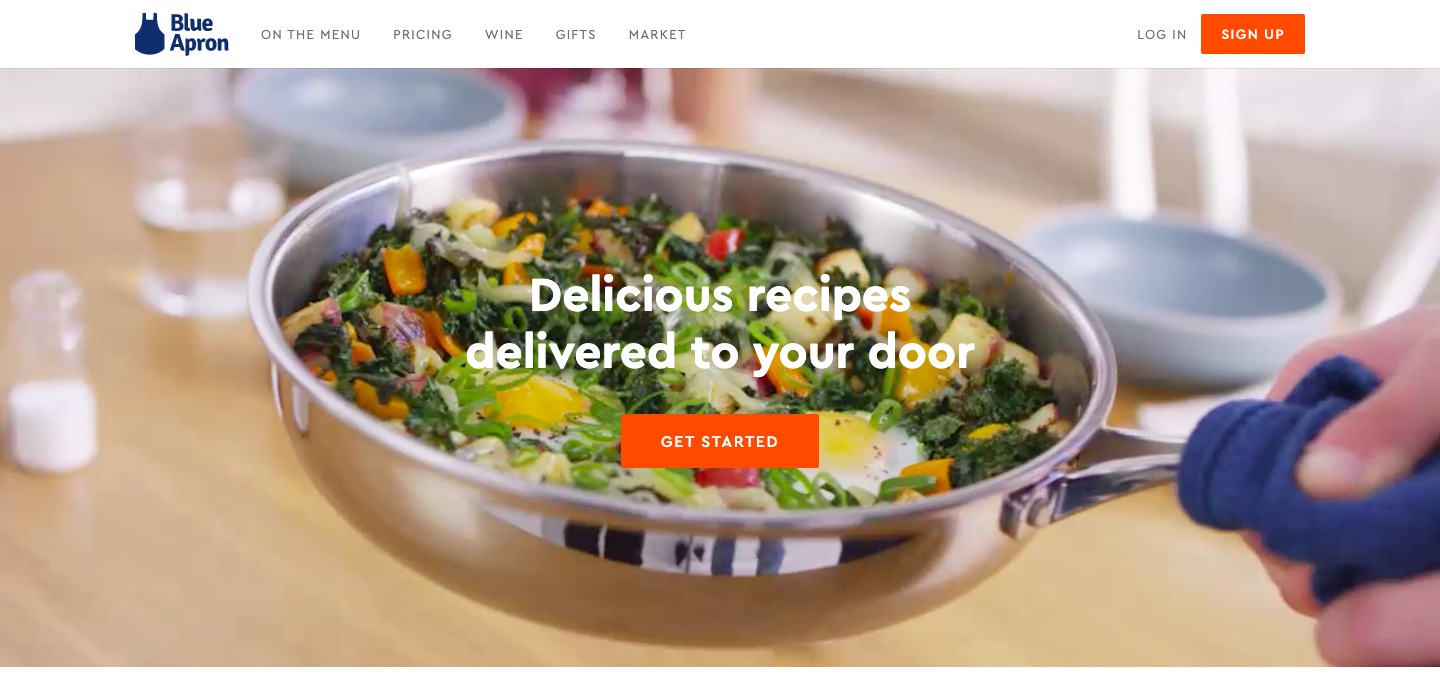 Signature Plan
2, 3, and 4 servings/per week – $9.99 (per serving);
Service shipping is free only for 3 and 4 recipes.
Signature for 4
2 servings/per week – $8.99 (per serving);
3 servings/per week – $7.99 (per serving);
4 servings/per week – $7.49 (per serving).
Shipping is free.
Vegetarian for 2
2, 3 servings/per week – $9.99 (per serving);
Shipping is free for 3 recipes only.
Wellness for 2
2, 3 servings/per week – $9.99 (per serving);
About $70-$100 you may dedicate weekly.
Weekly, you can pick 1-2 dishes only. For instance, some of the previous options were Grilled Pork & Tzatziki Pitas, Turkey Meatballs & Salmon, Chicken & Meatloaf, etc.
Their Mediterranean diet prepared meals are shipped to the contiguous US.
Pricing
$7.49-$9.99 per serving with this Mediterranean diet home delivery.
Support
You can reach this frozen Mediterranean meals service by filling in the online submission form only.
FAQs
Is there a minimum commitment to this diet delivery company?
No, no minimum commitment is required to subscribe to get their meals. You can pause, skip or cancel weeks or deliveries with no trouble.
Can you customize the meals with this diet meal delivery company?
Blue Apron delivery is fully friendly regarding the customization of your boxes and dishes regardless of the plan you choose for the ordering.
#5 Hello Fresh
Short Overview
Last but not least, Mediterranean diet frozen meals may be ordered directly from Hello Fresh. This service entered the industry back in 2013 and became one of the sought-after parties which people choose without any doubts. It offers fast-to-prepare dishes and affordable prices.
The offered plan comes with mouthwatering Greek/Italian dishes crafted by chefs who know how to mix all the ingredients to help you provide your body with nourishment and balanced weight loss.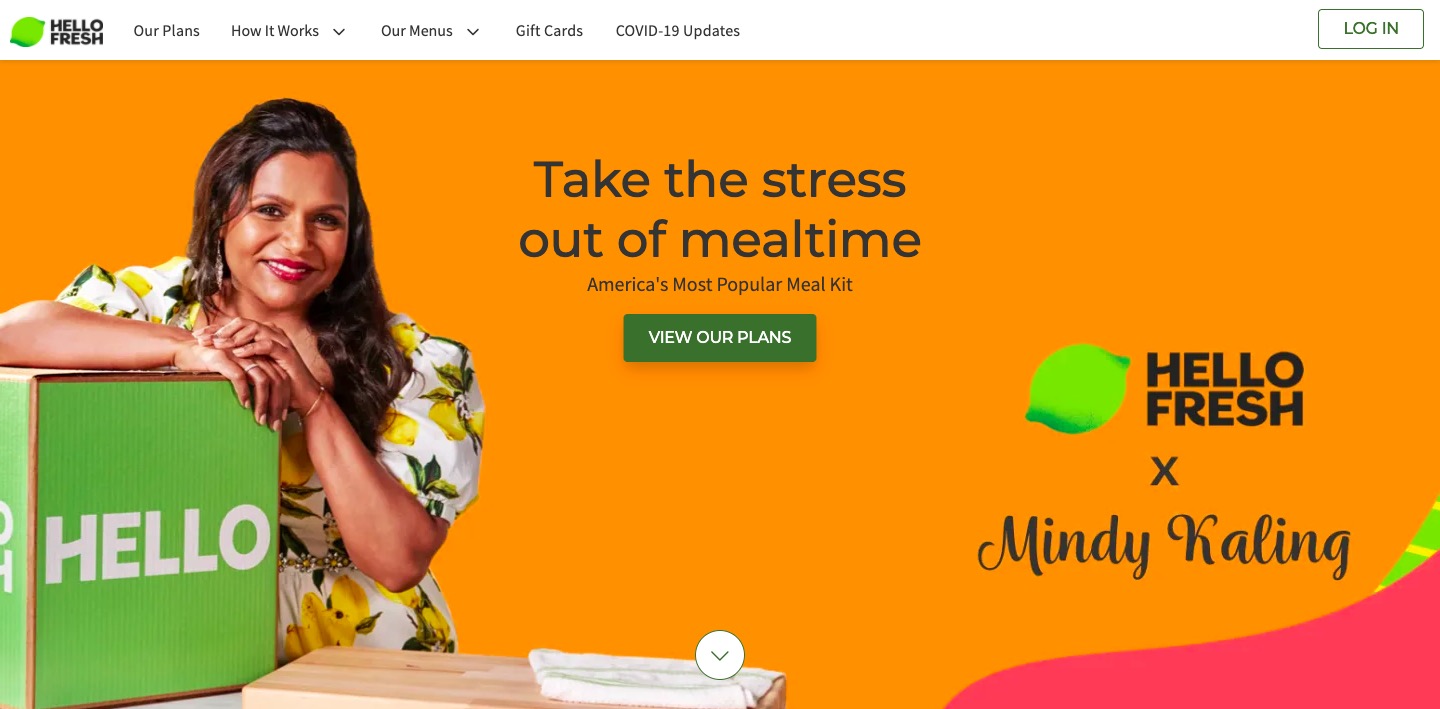 Their meals come at $6.49 per serving, with $7.99 per shipping. Around $69 per week of contribution might be required, excluding the shipping fee.
Their chefs focus on Greek and Italian fresh ingredients. You can try out Chicken Gyro Bowls, Creamy Lemon Salmon, Chicken Shawarma, etc. Beyond that, they share details on their unique approach to building the recipes for the Mediterrainian meal plan
. You can always learn more about the ingredients.
This Mediterranean diet meal prep service currently delivers to the continental US.
Pricing
Starting from $6.49 per serving.
Support
You can request a service delivery callback or use the Live Chat, which works 24/7.
FAQs
Why should you try the Mediterranean diet with Hello Fresh?
Normally, all the diets should be tailored by your healthcare provider, but even they will agree that a Mediterranean diet is a true helper when it comes to losing weight and reducing the risks of suffering from a stroke and related heart problems. Beyond that, Hello Fresh assists people with type 2 diabetes to live better. Finally, it is just a diet for your overall wellbeing when you are stressed.
Is Hello Fresh diet meal delivery worthy?
Compared to other delivery companies, Hello Fresh is commonly featured as #1 in the industry. It means that either your Mediterranean meals or other preferences can be ordered with them for a high-quality and care for your taste.