MealPro reviews characterize this California-based company as one of the best food delivery services that provide ready-to-eat meals. MealPro menus are focused on tasty and healthy food that supports your body and does not add extra inches to your weight. Find out what makes this food company different from others.
MealPro Short Overview
To make sure MealPro food delivery meets all your standards and expectations, it is important to know its benefits and disadvantages, if there are any. With a short MealPro review of its pros and cons, you can decide if this company is the right option for you.
Pros
Has more than 20 items on the rotating menu
Ships to both home and business addresses
Provides healthy meals that are high in protein and complex carbs
Allows customers to compose their food set with extra portions of protein, carbs, or vegetables
Offers many gluten-free and vegan dishes
The use of conventional produce may help keep the cost down
Give rewards points and free meals
Cons
Shipping is not free for all states and sometimes may be more expensive than similar services
You cannot order fewer than 18 meals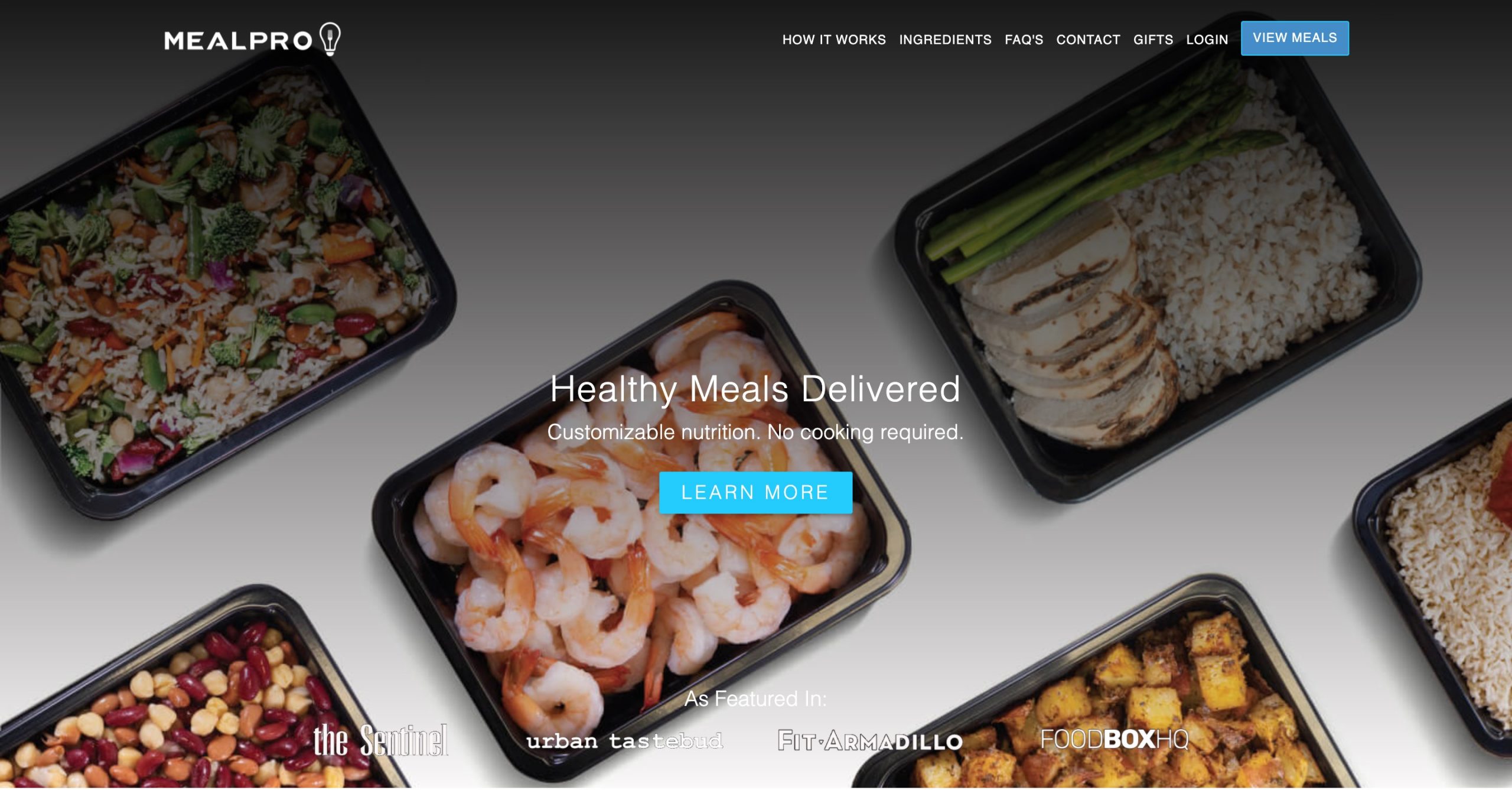 MealPro Menu Pricing Policy
MealPro differs from other food delivery companies by its rotating menu and attractive prices. You can find many different reviews for MealPro on the internet. They give credit to the great work of nutritionists who design their meals and chefs that cook them.
When it comes to picking meals, you can find MealPro recipe cards and nutrition facts for each course and pricing. You can also order food in bulk by weight, including certain types of meat, fish, poultry, and vegetables.
Menu Offers
The menus change throughout the year. For now, here are a few examples of meals that the MealPro menu lists:
Grilled chicken, red potatoes, and string beans
Beef Bolognese
Beef teriyaki
Turkey casserole
Asparagus steak
Shrimp fajitas
Vegetarian offerings include:
Tortellini
Ravioli
Taco bowl
Pricing
According to the MealPro meal kits review, this service is rather affordable. Its meals and foods normally cost $9.99 – $15.99 per serving. If you choose to customize your meals, the price per serving goes up. You can expect to pay an extra $2 per customization.
How much you pay for shipping depends on your location. For Californians, the shipping is free. Deliveries to other US states from MealPro cost up to $10. Alaska and Hawaiian citizens pay a $39.99- $99.99 shipping fee per delivery.
How MealPro Works
The company promotes flexibility and an individual approach. MealPro meal delivery reviews show how to work with the service.
Step 1
To order, you can select 18 or 20 different courses.
Step 2
You should customize the meals you select and order extra protein or veggies to your course if needed. MealPro meal kits reviews that you can find on the company's page are helpful to make the right choice.
Step 3
MealPro delivers its customers' orders in the continental United States and British Columbia. Delivery dates and charges vary, depending on your location.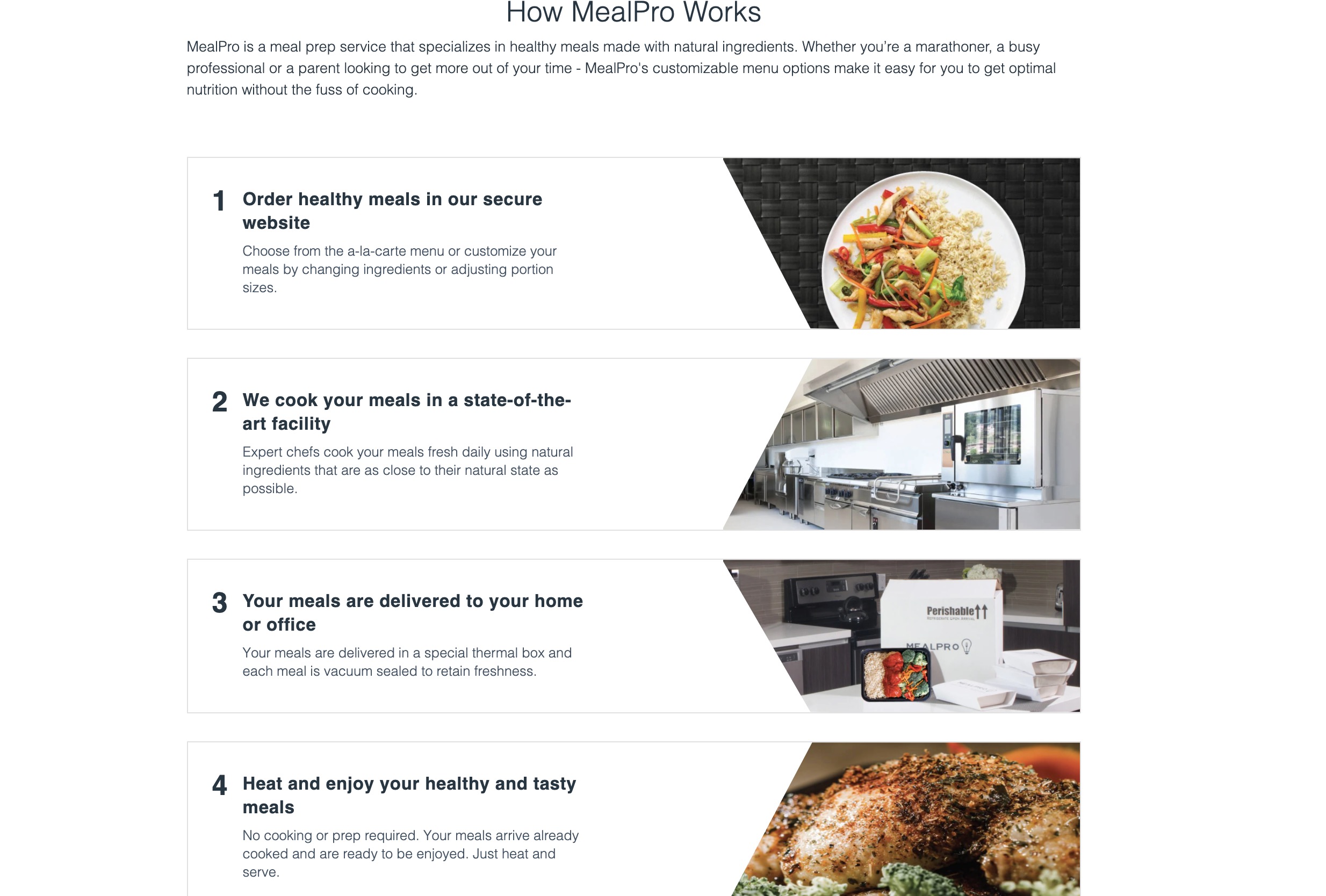 How Easy Are MealPro Meal Kits To Prepare?
MealPro meals arrive frozen.
Storing MealPro Food
You can store ready-to-eat meals in your fridge if you are planning to eat them for several days. Planning to treat your family within a month or two, you should store MealPro dinner in a freezer. Keep in mind that frozen food loses its nutrients and flavors.
Thawing
Thawing before heating is not necessary, but it is recommended. You should thaw the meals in your fridge for 1-2 days.
Serving MealPro Food
To serve ready-to-eat meals, simply remove their protective plastic film and heat them in the oven or microwave. The company says that it is safe to heat their meal trays in the oven at 300ºF for half an hour. Alternatively, you can heat your food in a microwave for 3–5 minutes.
Who Is MealPro Good For?
Meal delivery services serve people who do not feel that they have the time to plan, shop for, prepare, or cook nutritious meals. How much is MealPro food useful for people? More specifically, MealPro meal deliveries may help people who:
want to eat from menus that nutritionists set
want to incorporate more whole foods into their diet
 prefer natural and GMO-free foods
 have special dietary needs, such as kidney or diabetic issues
MealPro is not specifically designed to produce food for weight loss. But it may be useful for people who want to lose weight and increase muscle growth. Most courses are high in protein and provide 400–700 calories per serving.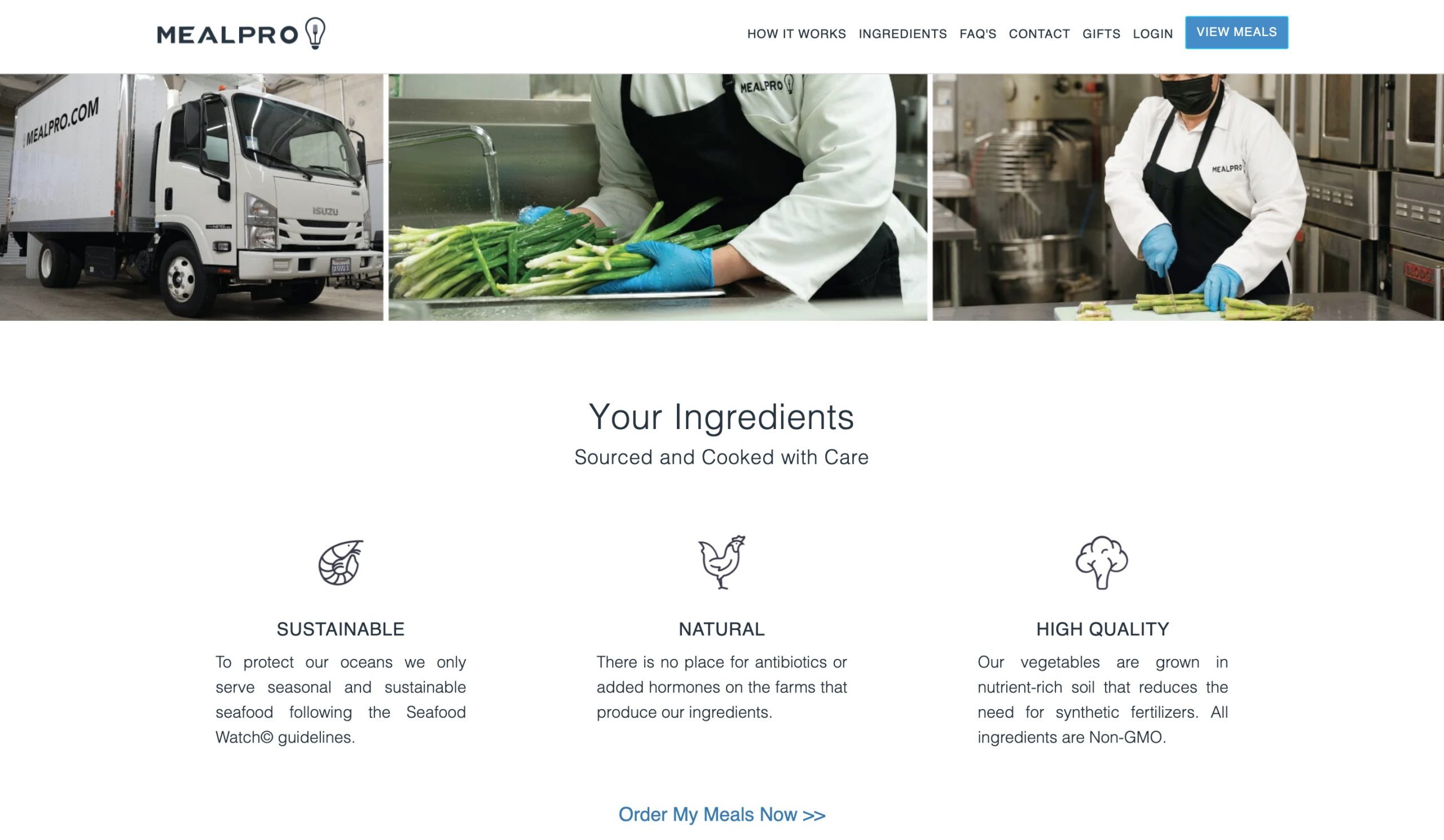 Who Isn't MealPro Good For?
MealPro meal reviews show great experience and excellent results of many grateful clients. The food of this popular company has no contra-indications. But a wide range in portion sizes and recipes can also be a barrier if you do not know what total energy and macronutrient portions are best for you.
Energy content can greatly differ from 300-900 calories a meal, so have an understanding of your individual needs before purchasing.
MealPro Packaging And Environmental Friendliness
MealPro ratings go high because they deliver their healthy food in good packing, which excludes damages during transportation.
Thermal Boxes: The food is delivered in special reinforced and weatherproof coated boxes filled with dry ice to keep your meals cool.
Vacuum Sealed Containers: The vacuumed food keeps fresh and healthy.
Is the Packaging Recyclable?
According to the company's policy, your meals are shipped in insulated green packaging that keeps meals cool and the planet happy. Remember, all meal trays are recyclable. You can also recycle the box your order came in. Your thermal liner is also made of green material. It doesn't influence MealPro prices.
Changing And Canceling Order
MealPro food delivery doesn't place restrictions for one-time orders. You can have meals of your choice delivered whenever you wish. Subscribing for recurring deliveries, you will receive meals every week or every month, depending on your needs.
You can modify or cancel your recurring orders online through your account. You should make the desired modifications by Thursday 11 AM CST, the week before your next scheduled delivery.
Customer Service
The food company takes care of its customers. Top customer service challenges for the food delivery industry include:
When consumers have questions or problems with their orders, delivery, or payment. Also, you may need help with your food delivery apps and the lack of phone support.
When orders are delayed for many reasons: the client didn't receive the order or is busy, heavy traffic in metropolitan areas, high volume of orders, insufficient delivery staff.
Providing delivery drivers with real-time support when there are delays in order fulfillment, traffic issues, vehicle problems, or the driver can't find the delivery location.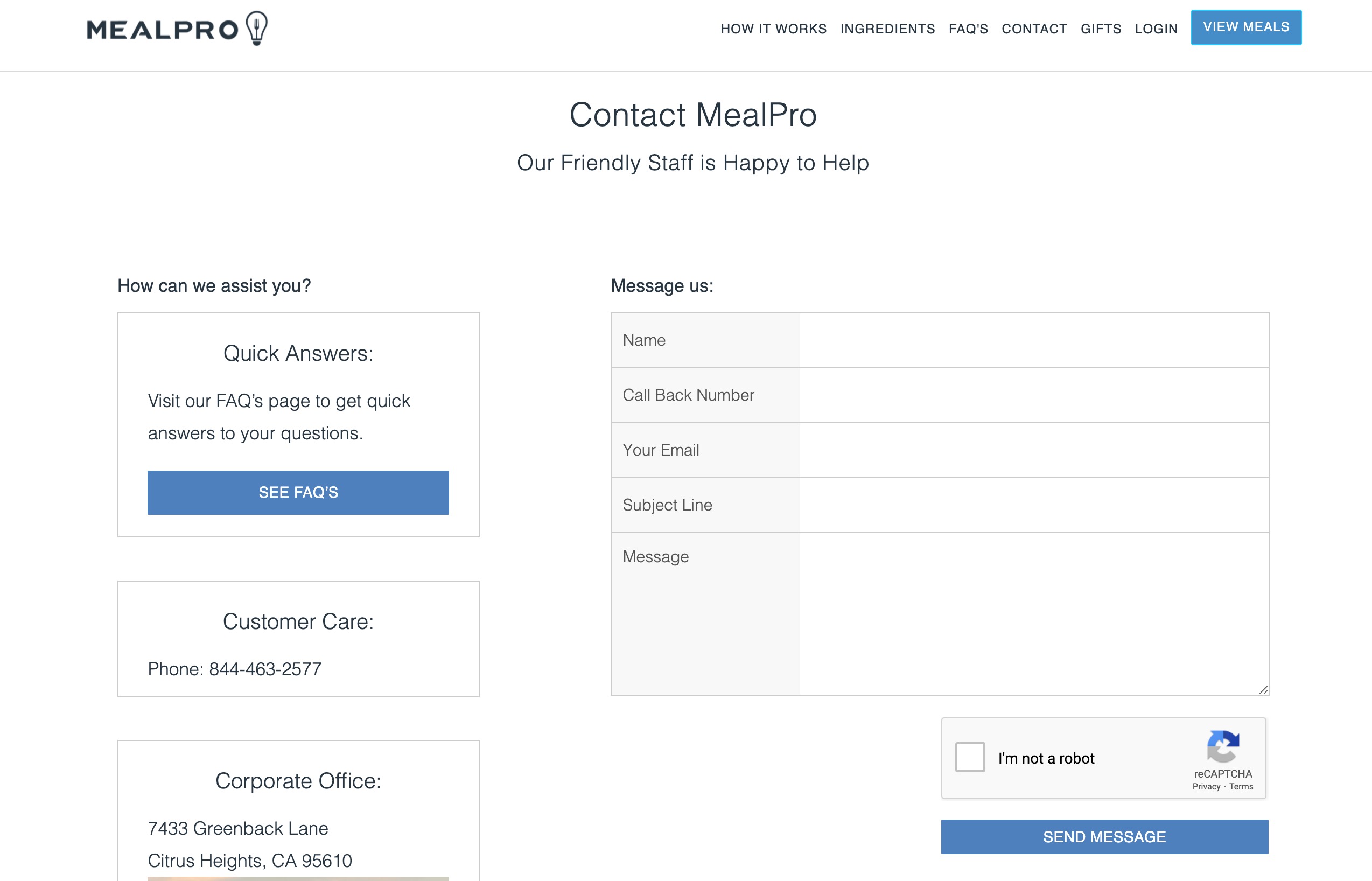 Comparison With Competitors
Many people who are too busy to plan, purchase, and prepare healthy meals still want to eat a healthful diet. Many different businesses have emerged to meet this consumer need. Their diverse offerings include plans specialized for families, vegetarians, people looking to lose weight, and any other special diet. MealPro plans further improvements, but even now, the company has many advantages compared to others.
MealPro VS EveryPlate
Unlike reviews of MealPro, EveryPlate says that they use less packaging and simpler ingredients to provide a less expensive meal delivery. The company offers 11 different options each week and does not currently cater to special diets.
MealPro VS Sunbasket
Sunbasket follows in MealPro footsteps, offering a range of dietary choices. People can also choose whether they want to do some meal preparation themselves or receive completely pre-made meals. The company affirms that they deliver seasonal, organic, and sustainable foods weekly to most of the continental U.S. Both companies, Sunbasket and MealPro are still guided by the same ideology.
Conclusion
MealPro is a highly interesting prepared meal delivery that caters to home diners who want to enjoy a healthy, balanced diet and prefer non-spicy classics to exotic dishes. The range of special diets is impressive, meals come in large portions, and you can always customize your meals to better suit your preferences. The food is available by using the MealPro promo code with a good sale or by the pound.
The only aspect of the service that we do not like is the 18-or-20-meal order limit. For now, the company works on expanding its customer base and introducing the option to order fewer meals. Still, the service is pretty budget-friendly, and you can order commitment-free, which are just some of the multiple reasons to try it out.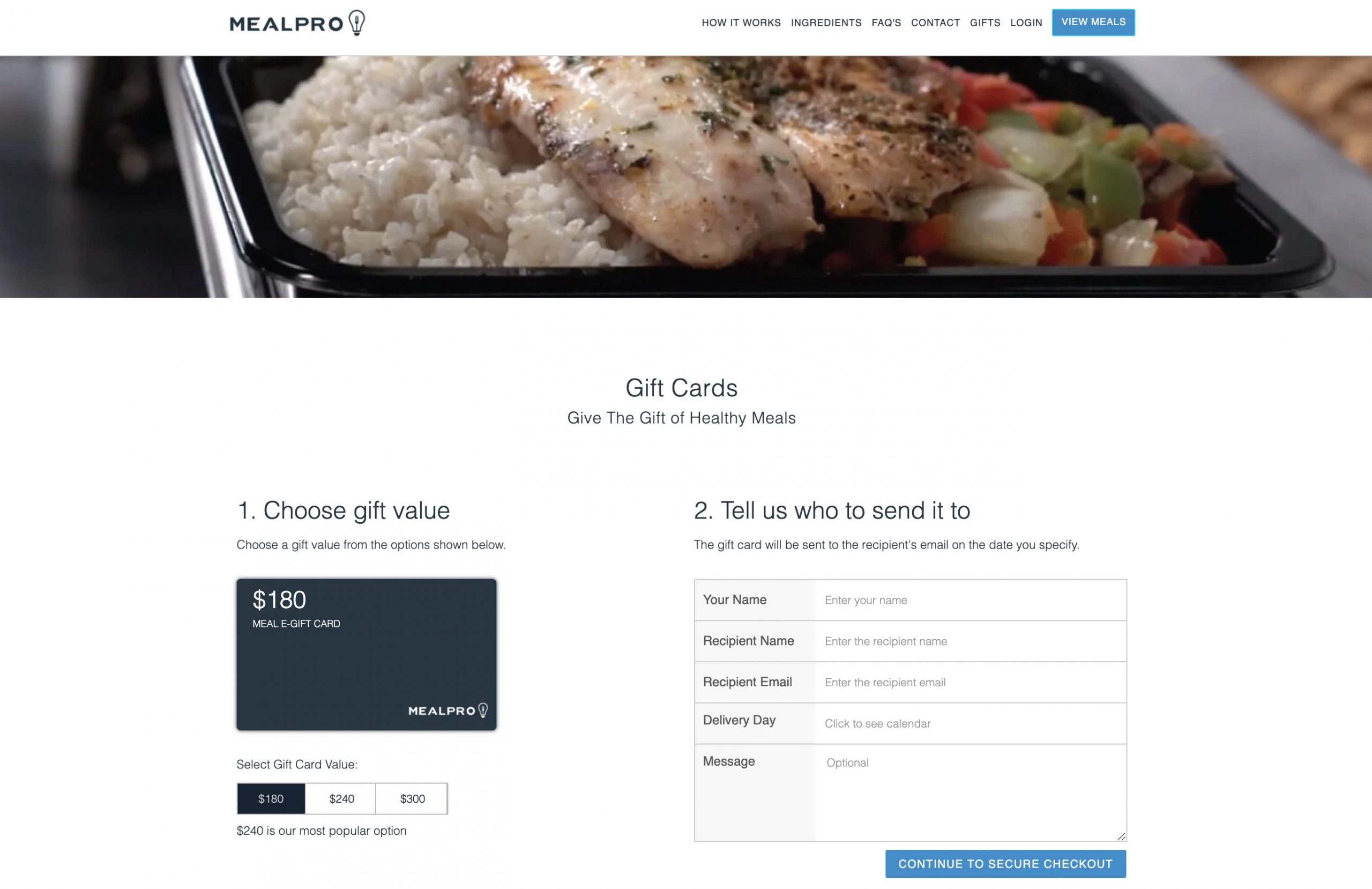 FAQs
Are Mealpro Meals Healthy?
The company promotes food without added colors, flavors, or preservatives. Your meals are made with nutritious and whole ingredients that are as close to their natural state as possible.
MealPro menus include high-quality ingredients grown in nutrient-rich soil that reduces the need for synthetic fertilizers. All ingredients are Non-GMO. There is no place for antibiotics or added hormones on the farms.
Can I Try Mealpro for Free?
If you choose to use MealPro pricing and shipping, you will earn rewards points for every purchase. You can then redeem your rewards points for free meals. Rewards points are like a bulk discount for subscribers.
Is Mealpro Worth the Money?
Yes, that's probably cheaper than eating at a restaurant or some takeout spots. If you're a family of four, you have a chance to buy more servings to freeze or take for lunch to work the next day. And while the dinners provided by the company are considerably more expensive than if you had gone to the grocery store, there's also the matter of time — your time and that of anyone else who cooks.