Meal kit deliveries have proudly taken the place of the services in the biggest demand. Today, when most offices and employees are working from home, they are even more relevant. Meal delivery saves your time for shopping, offers a great variety of menus, and is simply enjoyable. This review will focus on Martha and Marley Spoon meal delivery that stands beside Blue Apron, Purple Carrot, Green Chef, and Gobble. The service is founded by the famous cookbook authoress Martha Stewart who is also popularizing a healthy lifestyle. So, in this Marley Spoon review, we will delve into how good they are and what are their biggest pluses and minuses.
Conclusion on Martha and Marley Spoon
Martha and Marley Spoon food delivery service is a great option for those who are eager to perfect their skills of cooking dishes that are worth serving at a restaurant and don't mind spending extra time preparing delicious food to match your family's food preferences. This will also fully satisfy people who are eco-aware, don't like leftovers, and are fond of meal planning. However, as it is clear from Martha Stewart home delivery meals reviews, it won't help you save time if you are very busy or need to have dinner on the go.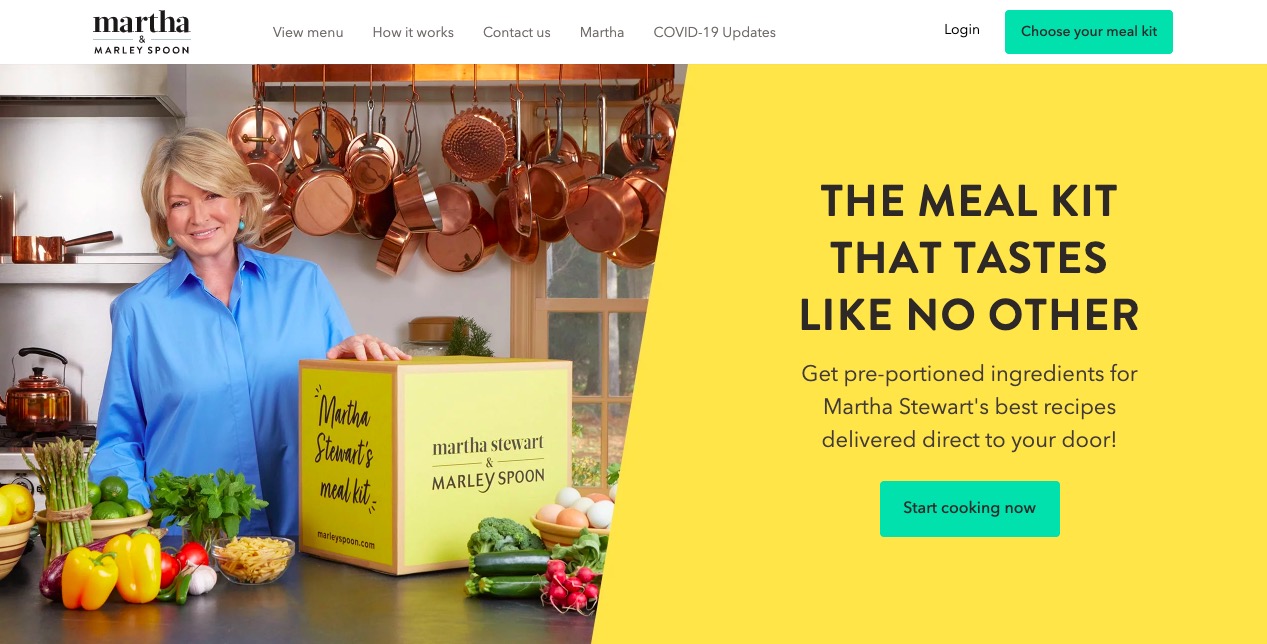 Pricing
The first thing coming to mind as a vital feature for evaluation is 'How much is Martha and Marley Spoon meal box?' Like any meal delivery service, Martha Stewart food delivery has got a set of offerings for a different number of people, and we find it thoughtful enough. The meal box for two is priced between $48 and $76 based on the choice of meals, and boxes for 3 to 4 people are worth $76 to $130. Cost per meal goes down as you order more servings – starting at $10.99 per portion in the plan for two people and ending with just $6.99 per portion in the plan for a bigger company.
Delivery cost used to be included in the price some time ago, though now you've got to check this option on the official website. Oh, yes, Marley Spoon delivery area, for now, covers the surroundings of Melbourne, Brisbane, Gold Coast, Sydney, Canberra, Launceston, Hobart, Darwin, Adelaide, Newcastle, and Wollongong. Expanding the area is promised to happen soon.
With Martha and Marley Spoon, you can pick the frequency of meal delivery and adjust it to your own schedule receiving boxes when it is most comfortable. If your plans change often, choose a different time each week or skip a few weeks when going on a spontaneous holiday. The best delivery service will send meal kits anytime it's convenient for you.
Types of Meal Kit Food Options
Meal selection at Martha and Marley Spoon food delivery is rich and wide. In overall, there are more than 29 recipes that change each other and normally include dinners, appetizers, and also breakfast and dessert / baking options. Marley Spoon Meals provide chances of customization, such as adding more protein to the ingredient box or choosing vegetarian recipes. We also love the fact that here you can regulate the amount of proteins, carbs, and fats on the menu, especially when ordering up to 10 meals a week. The choice of grains, spices, oils, and seasonal sauces is also big enough to meet the needs of people with different dietary requirements.
Vegan and low carb menus, dishes free from gluten, and those preferred on a whole food diet – Martha and Marley Spoon meal kits definitely deserve a high mark for the choice of meals.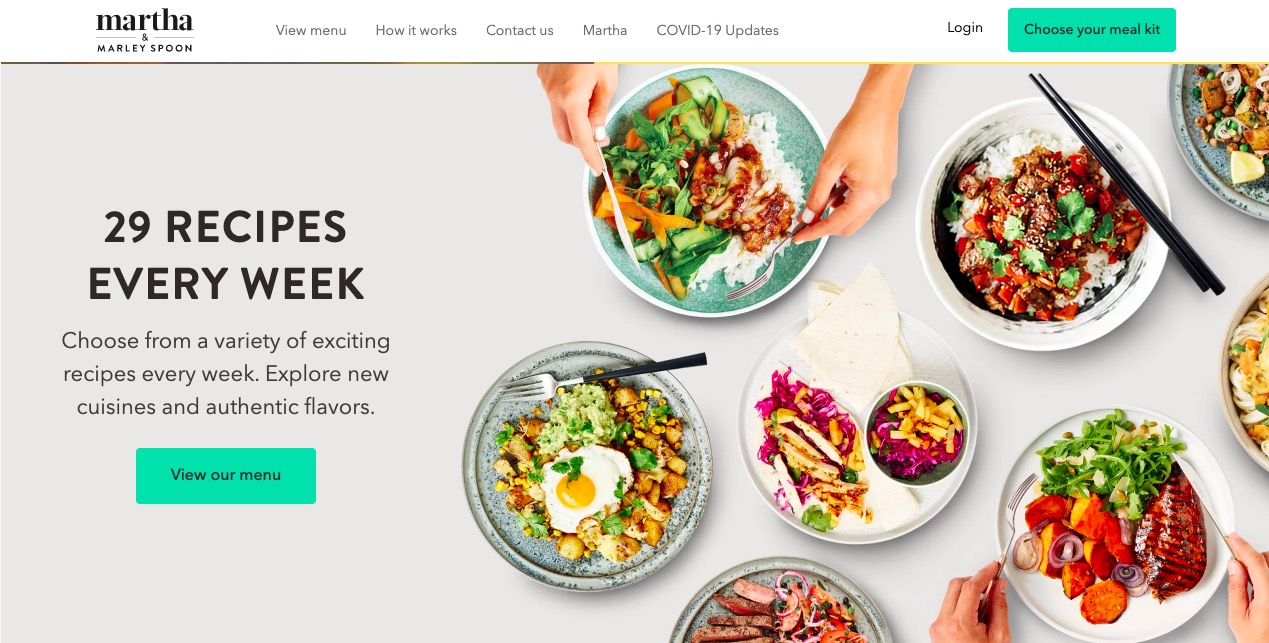 Quality of Products
Most Marley Spoon reviews tend to claim the good quality of ingredients coming in these nice beige boxes. All ingredients come in separate packaging, so it clear right off which produce belongs to which recipe.
Marley Spoon food delivery company guarantees to get its ingredients from the tried and true suppliers, which include both veggie farms and animal product, suppliers. On the website, you could easily see the words 'organic' or 'locally grown' at packages with seasonal greenery, spices, or vegetables. The principle of using the potential that the nearest area has got and taken mostly seasonal ingredients (which are, by the way, richer in vitamins and micronutrients) is something worth following. You can often see how a random review on Martha and Marley Spoon meals praises the freshness of food; however, much depends on how you store it. That is why customers are given a valuable recommendation to cook, for instance, meat and seafood dishes in one or two days after receiving the meal kit to guarantee the highest crust and satisfaction from the prepared foods.
The official Marley Spoon website is surprisingly rich in information about each recipe on the menu the offer. Difficulty levels, special notes about vegetarian or low-calorie meals, easy instructions – all of it is placed on the website for your information for you to know from the very start what a ready meal will look like (and, perhaps, taste like). To tell the truth, there is so much info on the website that if you are experienced at cooking, you won't even need to order anything.
Navigation on the site is really easy. You can search meals by the type using filters or just tick the meals in the kit that you would like to try leaving apart other ones. Individuals with special dietary restrictions like those allergic/hypersensitive to gluten can benefit from such a choice greatly. Just search for 'Gluten-free' dishes, make sure you like them, and that's it! Besides, the range of dietary dishes is continuing to expand, so don't worry, you won't be offered the same dull meals every time.
Making a personalized taste profile is another perk you can enjoy with Martha and Marley, as many Marley and Martha reviews say. You can effortlessly link it to the calendar to plan up meals for a week or even a month ahead. Smart, isn't it?
Where you have to be attentive is when entering your zip code. As we have already mentioned, not all areas are within the easy reach of Martha and Marley Spoon. So, look through the list of places where they send packages before planning any orders from Marley Spoon.
Marley Spoon Packaging
For the joy of those trying to sort out the rubbish and minimize the use of plastic, Martha and Marley Spoon meal kits are packed in totally eco-friendly brown boxes with paper lunch bags inside. Meat comes in vacuumed packages and is divided into portions ready to cook in the frying pan or oven, which saves your time. Vegetables handle shipping well, showing no signs of withering. Perhaps, it is some special cold boxes at the bottom that make them chilled and fresh as if they are picked right from the veggie garden.
The general impression of how everything is packed is really nice. You get a fresh and new 'puzzle' to unpack and solve, not a salad of products meant for different dishes. Labels on paper bags let you know where the products belong. This is a sign your time is respected!
But what makes so many people fall in love with the company is the super aesthetic guidelines for cooking. All directions are accompanied by real photos, helpful lists of utensils essential for prepping food, pieces of advice concerning portion sizes, and the calorie number in the ready dish. It is even written where each product was sourced, if you're curious. We are telling you – these recipe cards are so sweet that you will try to include them all into your personal collection. Our Marley Spoon meals review gives these recipes a Straight 'A'.
P.S. It is worth noting that a recipe card from the Martha and Marley Spoon meal kit covers the full list of ingredients together with extras (such as oils, vinegar, pepper) which is valuable if you are just making your first steps at autonomous cooking.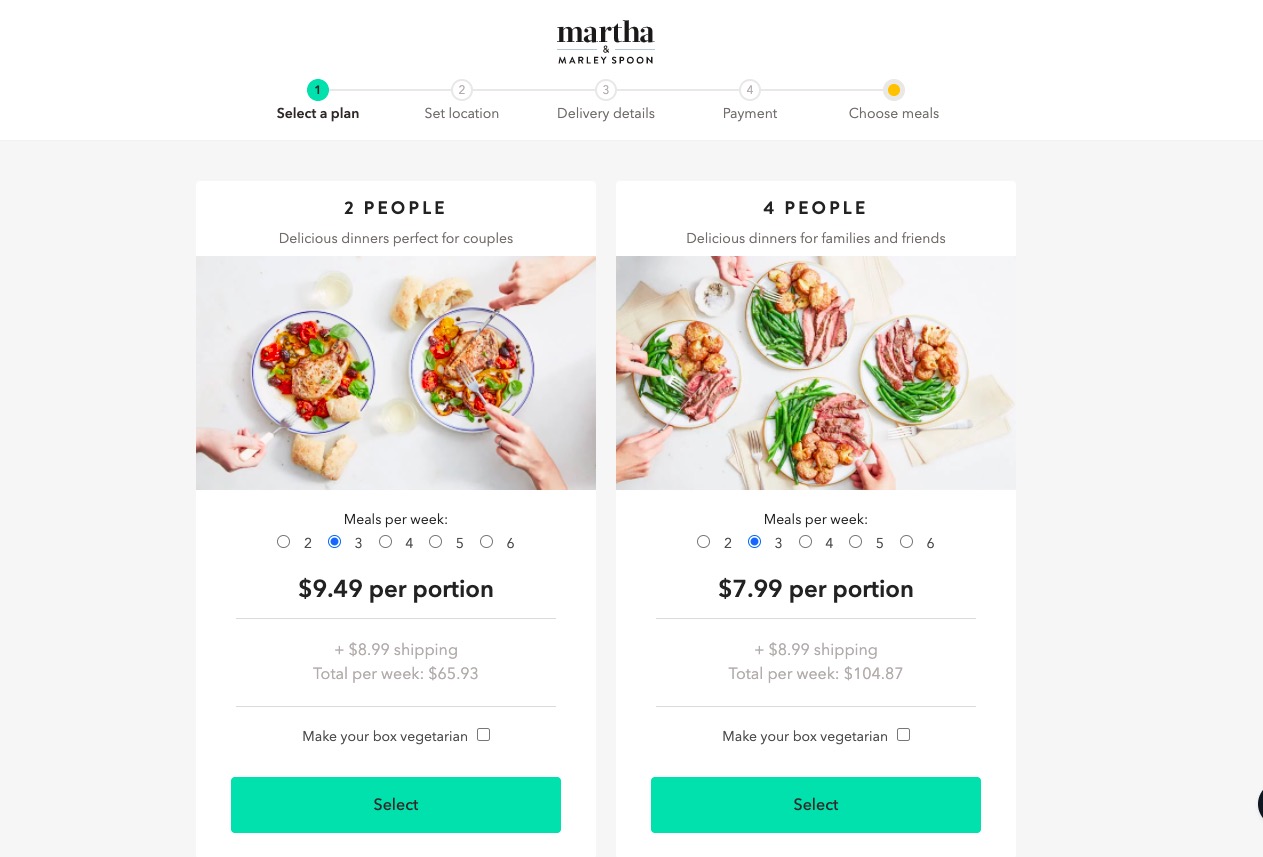 Martha and Marley Spoon Customer Support
Now, customer support makes a big difference in all food delivery services. Based on the study of the reviews Martha and Marley Spoon placed on Trustpilot, the company leaves much to work at concerning their client support and issue correcting service. Around 40% of the fresh Martha Marley Spoon reviews say that the customer support team won't solve problems that arise with delivery in bad weather, facts of specific ingredients missing, notifications that come too late, etc. Winter storms or heavy rains make it rather problematic to receive the Marley Spoon package (made from recyclable paper) whole and dry. Complaints of mistakes in compiling orders are also frequent in Martha Stewart and Marley Spoon reviews.
So, if you are wondering, 'Is Marley Spoon any good in terms of customer support?', be prepared that mistakes happen. However, judging from the quality of food, the Martha and Marley Spoon cost per week, and the accuracy they design recipes with, meal box delivery reviews promise the highest standards at Martha and Marley Spoon. But do organic food and rich menus justify poor customer service? Not really.
Marley Spoon and Similar Services
Meal delivery services comparable to Martha and Marley Spoon include the renowned Green Chef, Gobble, and Plated. While having a lot in common, these meal delivery companies will be fitting for people with slightly different preferences and lifestyle habits. Here is what they offer differently.
Company

Feature

Martha and Marley Spoon
Green Chef
Plated
Gobble
Ease of preparation
yes (however often needs more cooking time than stated)
yes (sometimes needs re-measuring)
yes
yes, cooking is minimal
Packaging
– 100 % recyclable;

– is problematic to deliver in bad weather.

– recyclable paper bags;

– not durable

– tight;

– contains plastic (recyclable);

– not always handle the delivery well.

– usual plastic bags;
Cost
$6.99-$10.99 per serving plus $9 shipping
$9.99 – $12.99 per serving plus $8 shipping
$8.95-$11.95 per serving plus $7.95 for shipping (orders over $60 are shipped for free)
$11.99-$13.99 per serving plus$7 for shipping
Meal types
– a large range of menus available; easy to search by preferences;

– restaurant-like dishes

– a large variety of diets available: keto, vegan, paleo, carnivore, omnivore, low-carb, dairy-free, vegetarian, gluten-free, etc. (many of them are not available to order from other similar services)
– exotic + average meals;

– a sufficient number of recipes rotating

– a big choice of meal kits: vegetarian, allergic (labels food for allergens – nuts, dairy products, wheat), kid-friendly lunches, and healthy desserts

– wine option

Subscription canceling
easy, you can do it anytime
a bit more difficult (you will have to do it by e-mail)
easy, you can do it anytime
easy, you can do it anytime