Smoothies are one of the most popular soft drinks in America today. This is largely because this drink tones up well, helps to quench thirst and heads, it contains many useful vitamins and minerals. Daily Harvest vs Green Blender are two major food delivery services that specialize in producing quality and delicious smoothies. Each of them has its advantages and disadvantages, strengths and weaknesses, so it can be quite difficult to make a choice.
Short Overview
Daily Harvest and Green Blender are two big companies that generally specialize in smoothie delivery, however, they are not identical. To make the right choice, you need to pay attention to the following characteristics:
Characteristics
Daily Harvest
Green Blender
Average Price
7.30 USD Per Serving
4.40 USD Per Serving
Shipping Cost
For Free
For Free
Menu Options
Smoothies;

Bowls;

Flatbreads;

Soup;

Oat Bowls;

Chia Bowls;

Scoops;

Bites;

Lattes.

Strictly smoothies only.
Popular Meals
Beet + Avocado Poke Bowl;

Banana + Greens Smoothie;

Cinnamon + Banana Oat Bowl;

Broccoli + Cheese Bowl.

Kiwi Pear Power Smoothie;

Turmeric Ginger Refresh Smoothie;

Blue Pineapple Smoothie;

Berry Protein Superfood Cereal.

Dietary Preferences Catered
Plant-based;

Gluten-free;

Dairy-free;

95% Organic Ingredients.

Vegan;

Vegetarian;

Dairy-free;

Gluten-free.

Flexibility
Switching plans;

Cancellation;

Refunds;

Gift;

Customizable.

The same.
Both Daily Harvest and Green Blender have a fairly large Delivery Area:
Daily Harvest – 48 States;
Green Blender – 46 States.
You can find out whether delivery to your region is carried out or not on the website of companies Daily Harvest and Green Blender. To do this, it is enough to indicate the postcode. It is worth noting that both companies are constantly expanding the scope of delivery, so you can leave your contacts. When the meal delivery starts to bring products to your region, you will receive a notification.
Based on the results of the general characteristics, we can say that the Daily Harvest wins, as it has wider geography and offers a wide variety of goods.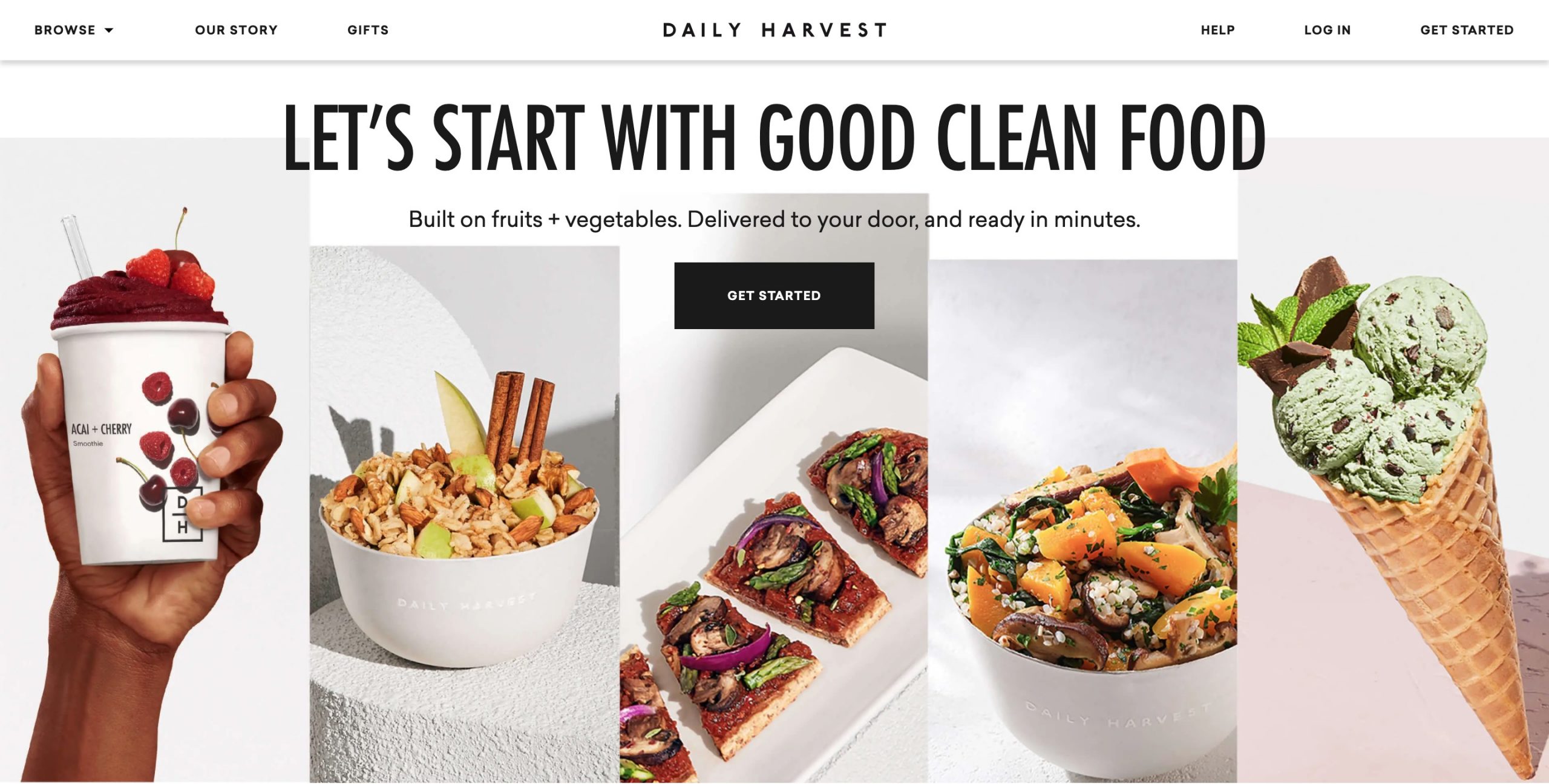 Plan and Pricing
Daily Harvest provides dedicated smoothie kits that include chopped fruits and vegetables and a special liquid smoothie base. In total, the company's assortment includes more than 100 varieties of smoothies, so choosing the most suitable option for yourself will not be difficult. Daily Harvest offers to order a plan for a week or a whole month while you decide which types of smoothies to add to it. Many people choose to buy for a week first and then buy a subscription for the whole month. In general, such a system is very convenient and helps to save money. So, if you order 9 cups per week, then the cost will be approximately 69.75 USD, and for 24 cups, you will give 167.76 USD. Moreover, if you buy a monthly set, then it also includes only 24 cups, and the cost is the same. Each smoothie has the same value.
Green Blender has a less flexible planning system. Now there are 3 plans here:
Fresh Start Plan (4.90 USD per serving);
Monthly Challenge Plan (4.40 USD per serving);
Healthy Habit Plan (4.90 USD per serving).
As part of each of them, you will receive 10 smoothies every week from Green Blender, but the drinks themselves will be selected depending on what goals you want to achieve – lose weight, get healthier, or just enjoy a delicious smoothie.
Cost comparison shows that in Green Blender, prices are an order of magnitude lower, so this delivery service wins this round.
Types of Menu
The Daily Harvest and Green Blender food delivery services strive to create truly varied smoothie sets to suit the needs of each customer.
Menu From Daily Harvest
The Daily Harvest specializes in smoothie delivery, so you will find a huge variety of quality products here, but at the same time, there is a huge selection of other dishes, such as:
Soup;
Oat and Chia Bowls;
Scoops;
Lattes and others.
All prepared foods are easy to cook, they are notable for their low price and good quality. When preparing such meals, Daily Harvest uses only organic products that are grown without the use of GMOs, hormones, pesticides, and many other ingredients.
If you are allergic to any food, then you can immediately filter out the products containing allergens. It does not take much time, and the system itself is quite convenient.
In general, we can say that the Daily Harvest menu is very diverse and unusual.
Menu From Green Blender
The difference between Green Blender and Daily Harvest is that Green Blender specializes exclusively in smoothies. Here, they attach great importance to the balance of tastes and make sure that the products are as fresh as possible.
Green Blender decided to focus not on quantity but on the quality of products, and many customers love the food delivery service for this.
In competition when it comes to Green Blender vs Daily Harvest, the first company certainly loses out in terms of the number of products it provides. But here, we have selected excellent quality organic foods that you will definitely like and can be given to children.
Green Blender is trying to create separate smoothies for people who are on a weight loss diet, have some kind of dietary restrictions, for example, allergies to dairy products or gluten. Unlike the competitor, Green Blender has special portions for vegetarians and vegans, which also attracts a large number of people.
Since Daily Harvest provides many times more items on its menu, it can be considered the winner of this round.
Packaging and Delivery
You can place an order in the Daily Harvest and Green Blender directly on the website or by phone. The order will arrive at the place within a week, at a specially agreed time and place. You do not need to be at home as you do not need to sign for the delivery. As a rule, the courier leaves the box somewhere in the shade to avoid direct sunlight.
Both Daily Harvest and Green Blender bring goods in large boxes that have special insulation and dry ice inside. Fruits, vegetables, and berries are perishable, so they have to be properly packed and delivered on time.
As soon as you receive the package, all the ingredients must be immediately put into the freezer so that they do not spoil until the moment you decide to cook them.
All packaging at both Daily Harvest and Green Blender is recyclable, so the packaging can be considered environmentally friendly.
Both Daily Harvest and Green Blender have tried to make the delivery of the highest quality and environmentally friendly, so this round is a draw.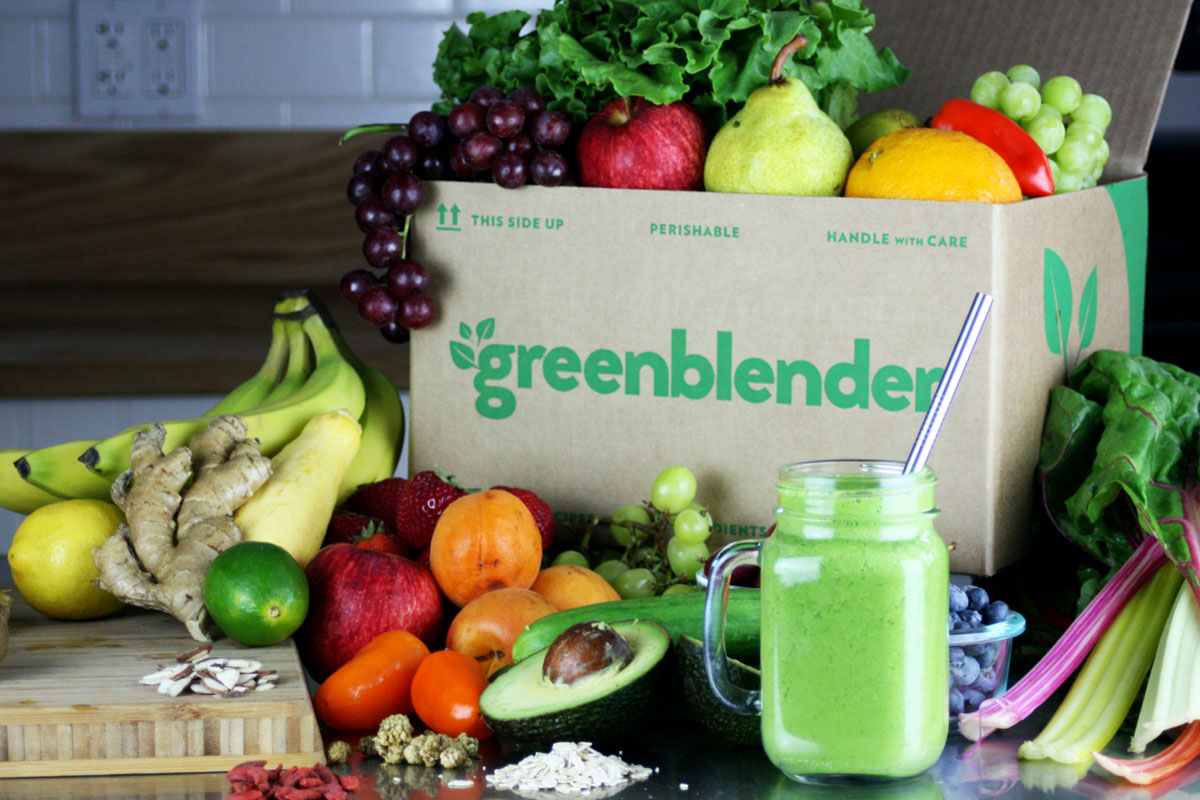 Cooking Process and Taste
Compare Daily Harvest vs Green Blender gets tricky when it comes to flavors. This is a subjective parameter that depends on your personal preference. Most of the customers who have tried both companies' smoothies prefer the flavors of Green Blender. This is large because Green Blender delivers fresh fruits, vegetables, and berries, in such smoothies, there are no chemicals, flavor enhancers, and components that can somehow reduce the cost of the product. They have a very rich taste and aroma that is as similar as possible to the one to which you were used to when you were a child.
Making a smoothie here takes some time since you need to cut all the ingredients, add salt or sugar to taste, beat in a blender, and then wash the dishes.
At the same time, smoothies in Daily Harvest are many times faster and easier to prepare. All components are already cut and peeled, you just have to beat them and pour them into a special glass, which is also included in the kit. Also included is a straw, thanks to which you can conveniently drink smoothies even outside the house.
If you ordered any other product from the Daily Harvest as well as smoothies, be prepared for the fact that they have the same simple preparation as smoothies. So, if you take soup here, then it is enough to heat it up in the microwave, and it will be ready to eat.
So, Green Blender wins in taste, and Daily Harvest wins in comfort and cooking speed.
Ordering and Cancellation Process
You can place an order in the Daily Harvest and Green Blender on the website or by phone. Here you need to select the types of smoothies, indicate your postcode and contact information. It usually takes 15 minutes to complete an order. When you subscribe, the kits will be generated automatically, the funds will be debited from your account by regular payment.
Daily Harvest and Green Blender provide options to change or cancel your order one week before the expected date of receipt of the item. You can do this directly on the website in your electronic account or by phone. This often does not take long. In the future, you can renew your subscription under the same conditions as before.
This round between Daily Harvest and Green Blender is a combat draw.
Customer Support
When choosing Daily Harvest or Green Blender, you need to pay attention to the quality of service. Overall, companies perform well, and customers are satisfied.
Daily Harvest and Green Blender provide:
The ability to change plans;
Cancellation;
Return;
Present;
Free Trial (sometimes, as part of a promotion).
To solve any problem, it is enough to contact the support center Daily Harvest and Green Blender. If you called after hours, you can leave a message on the answering machine, and the manager will contact you when you have the opportunity.
Daily Harvest and Green Blender have courteous staff, therefore, we can say that this round is also a draw.
Conclusion
Deciding which is better Daily Harvest vs Green Blender, is quite difficult. It all depends on what qualities you value more in the company. If the quality of the products and the taste are of prime importance to you, then Green Blender is more suitable for you.
But if you don't want to spend less time in the kitchen, get good service and try new flavors every day, then Daily Harvest is the best delivery service for you.
By the number of rounds won, the winner is Daily Harvest.