Let's be honest, some of us cannot digest all the foods that others won't resist eating again and again. One may come across bloating, gas as well as stomach pain. Some people may also suffer from irritable bowel syndrome that predetermines a particular diet. If you want to balance your nutrition to avoid the mentioned symptoms or just try out something new for your stomach, the low fodmap diet might be a go-choice.
To make it easier to understand, the FODMAP stands for fermentable oligo-, di-, monosaccharides, and polyols. Therefore, the low fodmap will involve meals with low lactose, fructose, and just carbs. Below, you will find the top 5 low fodmap meal delivery services.
#1 Modify Health
Short Overview
The first fodmap meal delivery that should be considered is Modify Health. It is worth saying that they are low fodmap certified by Monash University. In simple terms, they have a team of dieticians, nutritionists, and renowned chefs who design and craft every meal to meet dietary preferences. When it comes to meal catalogs, there are gluten-free, organic ingredients deprived of hormones and antibiotics. Beyond that, the delivery low fodmap service has 2 diet programs with expert support for losing weight or balancing nutrition. They will fit clients who need support for irritable bowel syndrome, inflammatory bowel disease, small intestinal bacterial overgrowth, as well as Celiac Disease.
The first program – the low fodmap program that involves meals plus expert support comes at $165.00. The second program – Low Fodmap Meals, without expert support, comes at $7.90 per breakfast and $11.75 per entry. Your ordered meals are available with free expedited delivery.
The delivery service menu will vary based on the program you choose. If going for a low fodmap program with expert support, you can receive up to 7 lunches and 7 dinners. If needed, you can also include 7 breakfasts. The recipes are gluten-free, organic, and non-GMO. You won't come across wheat, refined sugars alongside other artificial colors and flavors.
With the second program, you can simply add to your box up to 6 meals. The same properties and benefits compared to the first program.
This low fodmap food delivery has nationwide shipping and delivery.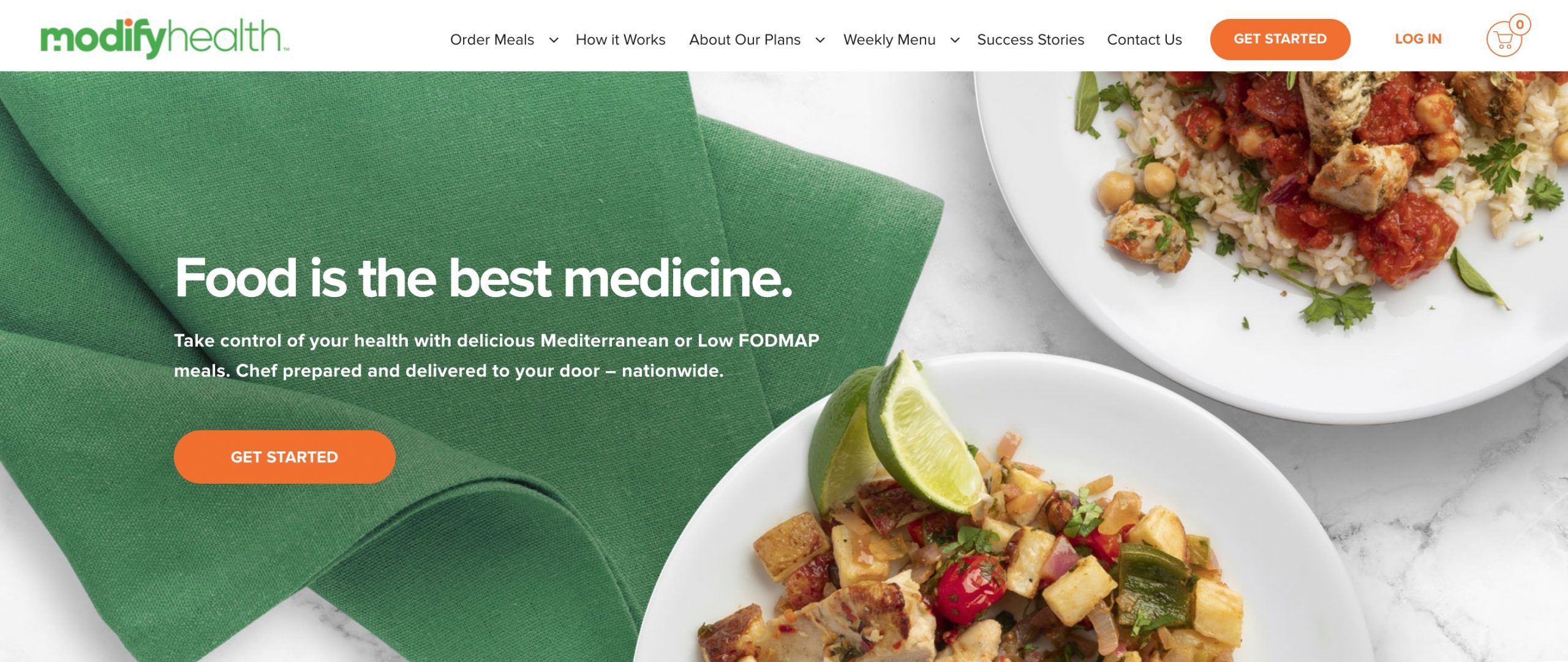 Pricing
The service delivery pricing policy is $165.00 per advanced expert program, and $7.90 per breakfast, and $11.75 per entry if choosing the second program.
Support
You can contact the low fodmap meal service company via email and phone.
FAQs
Which delivery service program to choose with Modify Health?
You can enjoy their service low fodmap meals with Pro Program that involves expert support if you want a consultation with a nutritionist and dietician.
Why Modify Health delivery service is often ranked #1?
Their low fodmap meals are often ranked #1 because of the various choices of recipes, affordability as well as consultations.
#2 Pete's Paleo
Short Overview
The next service fodmap food delivery worth your attention is Pete's Paleo. The delivery company caters to delivering fresh Paleo and low fodmap dishes that are never frozen. You get access to seasonal rotating menus based on the availability of seasonal ingredients. As for the diet, there are 6 options each week. You can find them with the EAT WHAT YOU LOVE menu that features low fodmap foods.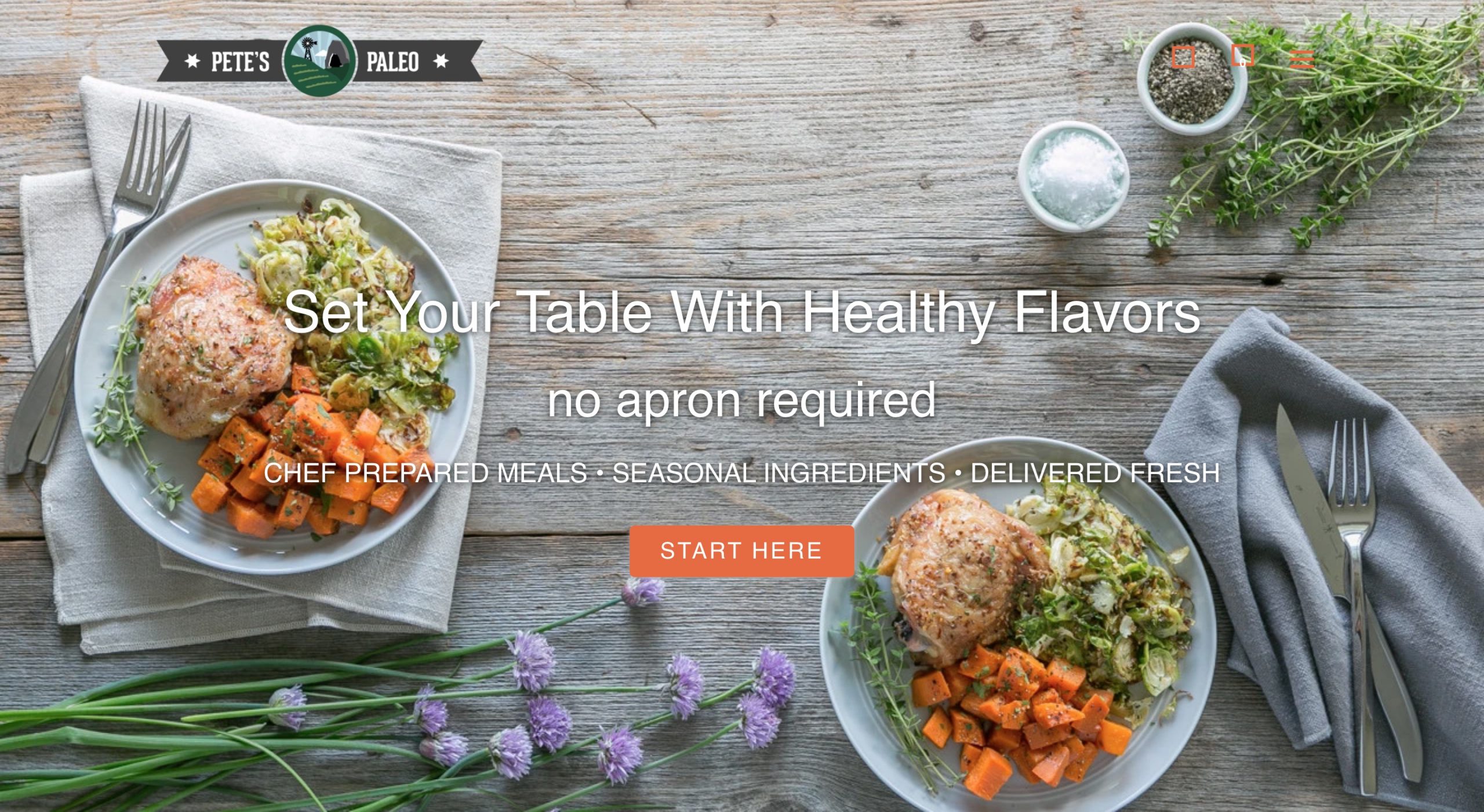 To learn the delivery service price for the Eat What You Love low fodmap dishes, you can just shop with the catalog. You will pay based on the number of foods added to the cart. For instance, you can add Grilled Chicken with Summer Squash and Sautéed Arugula that comes at $16.00 or Lemon Tahini Turkey with Green beans and Shallot Salad at $17.00.
The Eat What You Love menu features foods for chronic gastrointestinal symptoms. The key focus is to avoid such ingredients as onions, shallots, leeks, peas, garlic, among others.
Their service low fodmap ready meals are delivered nationwide, including Hawaii and Alaska.
Pricing
Delivery service pricing depends on the number of ordered meals only.
Support
You can contact this delivery service customer support team via email, phone call, and a designated Live Chat.
FAQs
Is Pete's Paleo low fodmap service worthy?
If you are afraid of their worthiness, Pete's Paleo has been numerously featured by many newspapers, journals, and independent online sources, including Goop, Self.com, and CrossFit Journal, among others.
What stands behind their delivery service ingredients?
They focus on harvesting seasonal ingredients for all their service low fodmap dishes, including fresh veggies and fruits.
#3 Caveman Chefs
Short Overview
Now, it is high time to speak of low fodmap meal prep from Caveman Chefs, an alternative to more renowned companies. This company has a primary focus on Paleo and Keto foods, however, they are fully fit for low fodmap diet preferences. The meals ordered are always fresh and never frozen. On a weekly basis, you can pick from 7 delivery service low fodmap options. Caveman Chefs is super devoted to maintaining a healthy planet and caters to sustainability and humanely raised meats. You will see grass-fed wagyu beef dishes and recipes with 100% antibiotic-free pork and chicken. The same concerns sustainable seafood. Alongside low carbs diet, there are foods for soy-free, dairy-free eaters.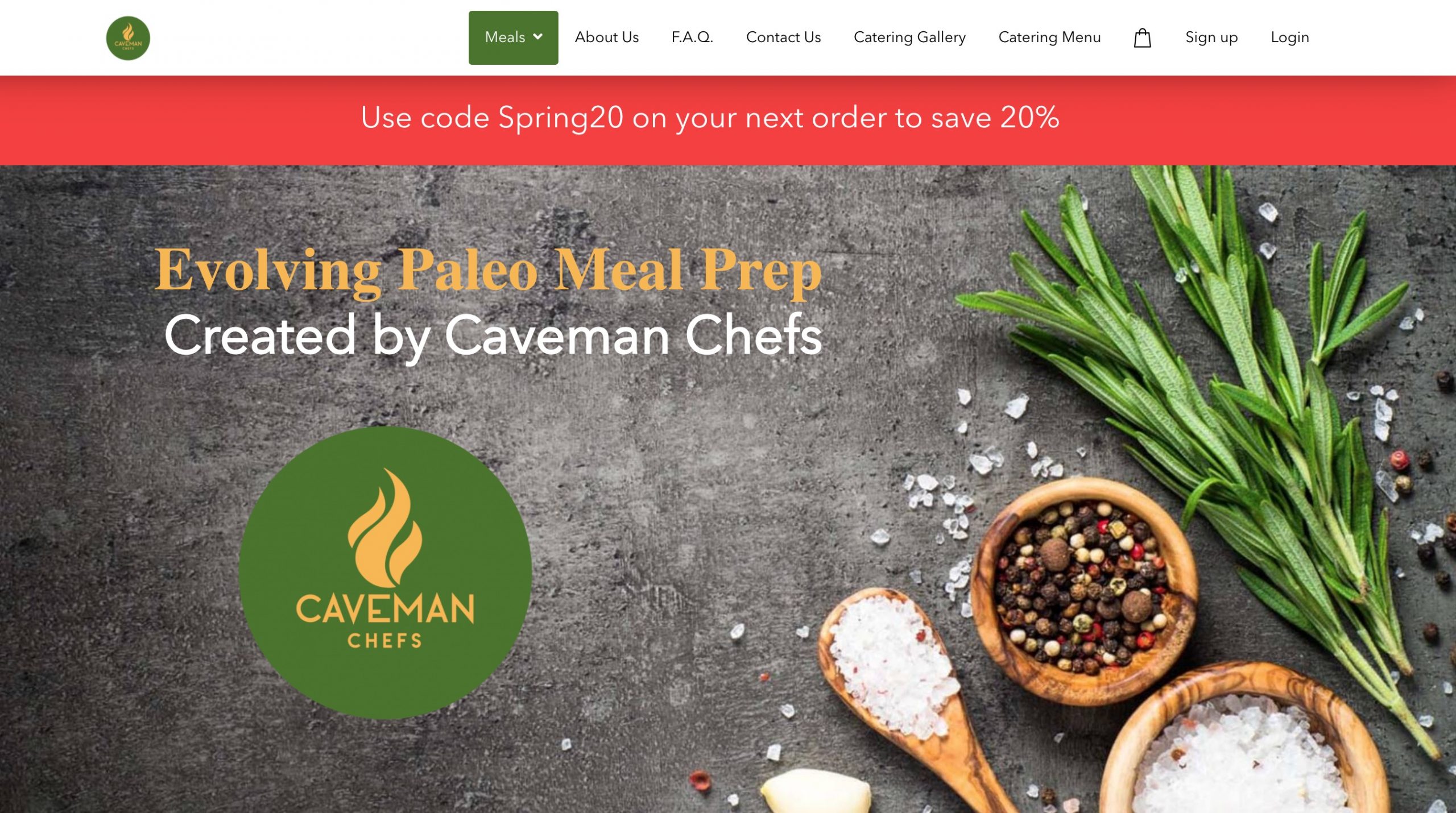 The service pricing policy is very different. Let's start with Individual Meals (ordered for lunch and dinner):
Regular size meals – start at $13.75;
Large size meals – from $16.25;
XL size meals – from $18.75.
Family-sized delivery meals:
Foods for 2 people – start at $28.00;
for 3 people – from $42.00;
for 4 people – from $56.00;
for 5 people – from $70.00.
If going for their low fodmap frozen meals with a Subscription Plan, the pricing policy is:
4 recipes/per week – $55;
8 recipes/per week – $110;
12 recipes/per week – $165;
16 recipes/per week – $200;
21 recipes/per week – $288.75.
Finally, there are service meal plan trial packages that are:
6 pack – $82.50;
12 pack – $165.00;
18 pack – $247.50$
24 pack – $320.10;
38 pack – $496.38.

Types of Menu
The delivery menu is fully fit for various dietary preferences, including low fodmap followers. There are meals with grass-fed wagyu lambs, free of antibiotics, meats and wild-caught seafood, and seasonable veggies. The menu stands for paleo, whole30, AIP, fodmap, Keto, gluten-free, dairy-free, soy-free, etc. To overlook the rotating menu, you have to be signed up for the service only (the service enlists only examples of meals). Otherwise, you can contact the company for a follow-up.
It is quite hard to find out where the service delivers. Yet, as per their official website statement, they deliver foods within 50 miles of the Charlotte area. For more information, reach their support team.
Pricing
Starting from $13.75. Or, go for subscription or delivery trial packs to learn what they offer.
Support
You can either contact this delivery service via an online submission form or call them.
FAQs
Where to learn more detailed information about Caveman Chef delivery?
There is no detailed information specified online on their delivery area except for Charlotte area shipping. Please, do contact them directly via online form or call them.
Are their service delivery ingredients sustainable?
Yes, the delivery low fodmap menu features sustainable free of antibiotics and hormones meats, alongside wild-caught seafood.
#4 Epicured
Short Overview
Epicured meal delivery is known for providing clients with a huge varied menu regarding their needs for low in carbs cravings. You can pick options from the a la carte menu. All the offerings come with natural and non-GMO ingredients. You won't come across preservatives or additives harmful to your body and health. Then, there are grass-fed and wild-caught sustainable meats and seafood. Unlike other alternatives, Epicured has low fodmap freezer meals that can be postponed for further consumption without losing their nutritional benefits.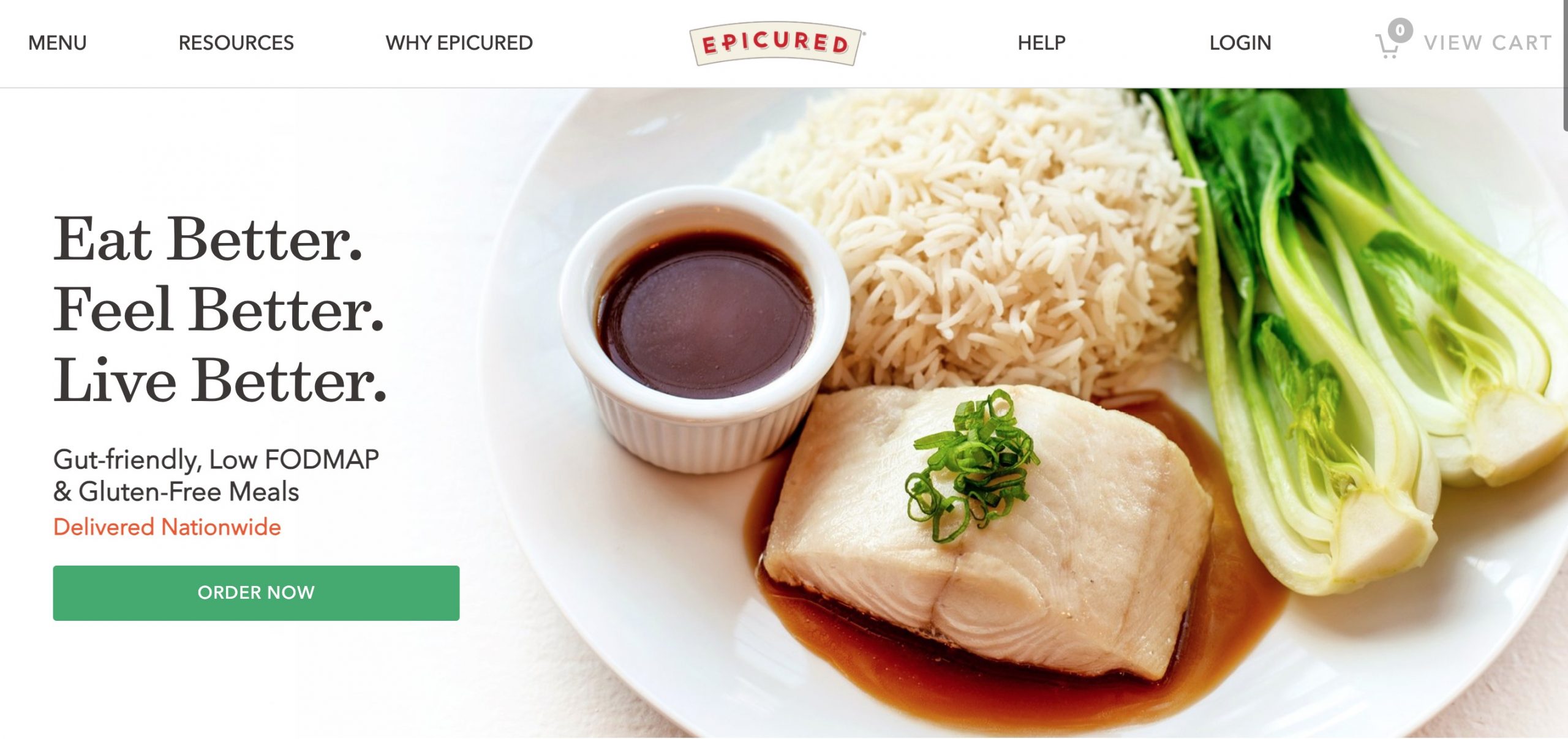 By signing up for the service, you will see prices ranging from $12.99-$22.99 per serving. Most of the meals come at $16. Unfortunately, the huge drawback is the shipping fee which may reach $40 even depending on the plans/foods.
As for the food, you won't be surprised much. The company focuses on gluten-free meals with all-natural and seasonal ingredients. Only a little preparation is required. For instance, you can order such delicacies as Pico de Gallo and Tortillas, Three-Spice Turkey Chili and various puddings, etc.
It delivers across the continental USA.
Pricing
The service delivery pricing policy varies between $12.99 – $22.99.
Support
To follow up on the Epicured fodmap diets menus, you can reach them via email, phone, and live chat.
FAQs
Can you always freeze Epicured low fodmap service meals?
Yes, this company is friendly regarding the freezing of their service meals. Yet, like with other companies, do not freeze them longer than 3-7 days to have a fresh eating experience.
Is Epicured delivery service affordable?
Compared to other delivery companies, the prices are pretty low – starting from $12.99. Yet, the shipping fee may vary.
#5 Urban Remedy
Short Overview
Last but not least, the service delivery to buy low fodmap foods is Urban Remedy. The low fodmap company focuses on fresh, organic, and no-preparation meals, juices, and snacks. By choosing them, you get access to menus with no white sugar, white flour, fatty oils, dairy, and gluten. Beyond that, the service caters to providing seasonal ingredients recipes aimed at boosting one's well being and health. Looking ahead, it is fully fit for losing some weight.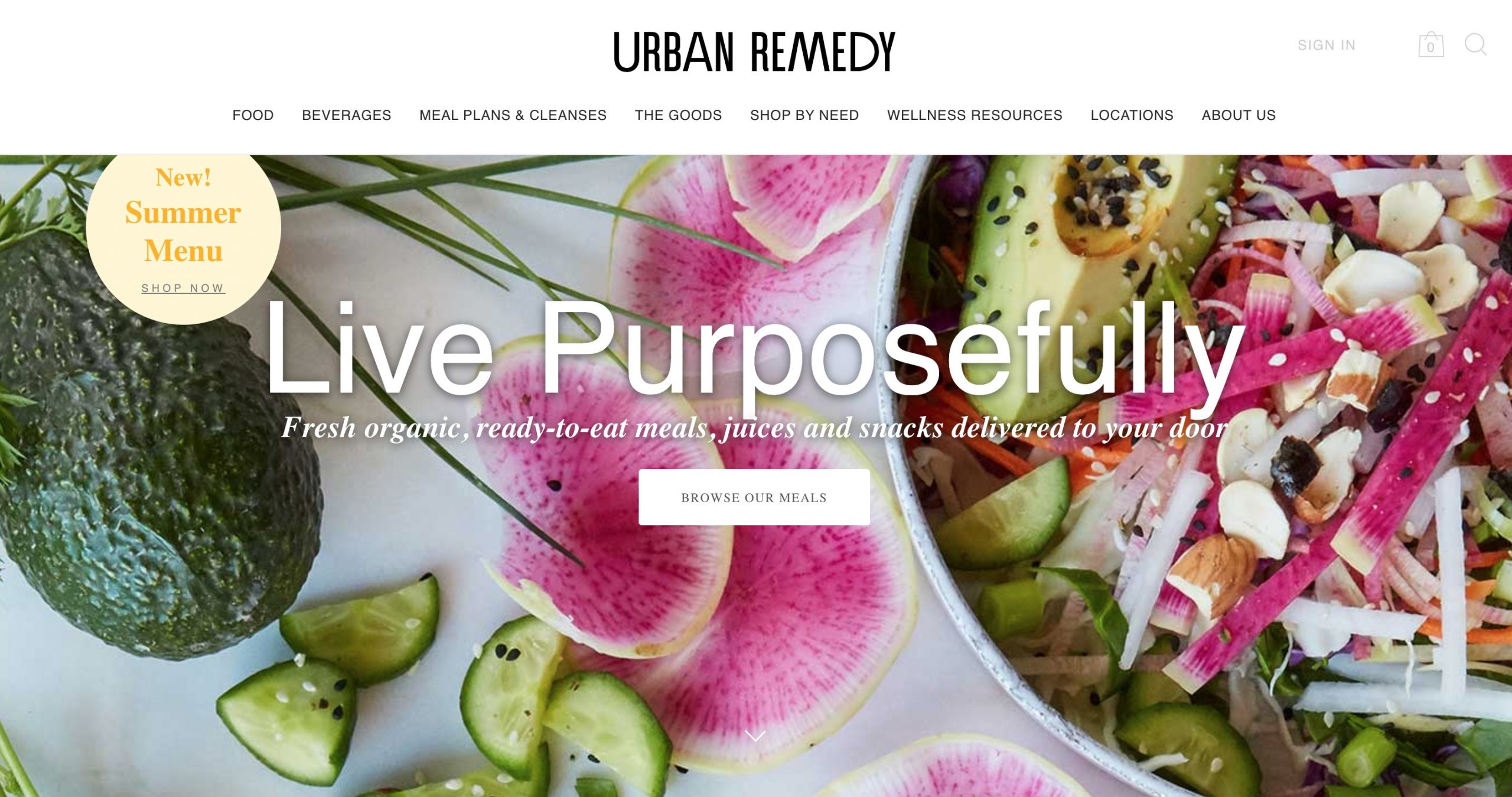 The Kate Upton 12-week meal plan is $230. Kate Upton meal plan is $180. A Signature Reset plan is $160. A Metabolism plan is $195. A Metta-Morphosis plan is $175. Cindy Crawford's plan is $165.
All the menus are fit for healthy nutrition. There are gluten-free, dairy-free items, juices for changing one's lifestyle and health. Then, some menus are aimed at boosting one's metabolism. From plant-based recipes up to juices that you can grab as a takeaway to have a delicious eating experience while at work or during studying.
Where to buy low fodmap foods with Urban Remedy? The service currently delivers across the USA.
Pricing
The pricing policy fully depends on the plan you choose. It starts from $165.
Support
You can reach the service via phone, email. Or, you can address your inquiry online via a live chat button.
FAQs
What Urban Remedy fodmap diet meal plans are famous for?
All their service low fodmap meals cater to boosting one's metabolism. Then, there are foods exclusively crafted by Cindy Crawford, hence, you can try out what stays behind the celebrity eating preferences.
Which delivery service plan to choose to start the acquaintance with their low fodmap offerings?
The best delivery service option to go for is The Kate Upton 12-week meal plan which will help you familiarize yourself with their vast menu and understand how they deal with seasonal and organic ingredients.