When you enter the Lite n' Easy website, you are greeted with a large message that says, "Find your way to a healthier, happier self." This is a big promise and one that we should all strive towards, even if we have to take a somewhat roundabout path to get there. It's also a promise that has enticed thousands of Australians to try Lite n' Easy.
The company delivers organic prepackaged breakfasts, lunches, and dinners every week to help you lose weight regularly. This Lite n' Easy review will tell you whether the meal delivery can truly make you happier and healthier.
Short Overview: Lite n' Easy Food Delivery Pros and Cons
Lite n' Easy has a tremendous track record of accomplishment, with thousands of success stories. Their complete weight loss program is straightforward and convenient, and they provide some tasty meals. There are some pros and cons.
Pros:
It's really simple to stick to a complete diet;
The flavors are fantastic;
It's simple to eat in a calorie deficit;
The opportunity to get the Lite n' Easy promo code.
Cons:
The salt content in main meals is fairly high;
Some dinners might be a letdown.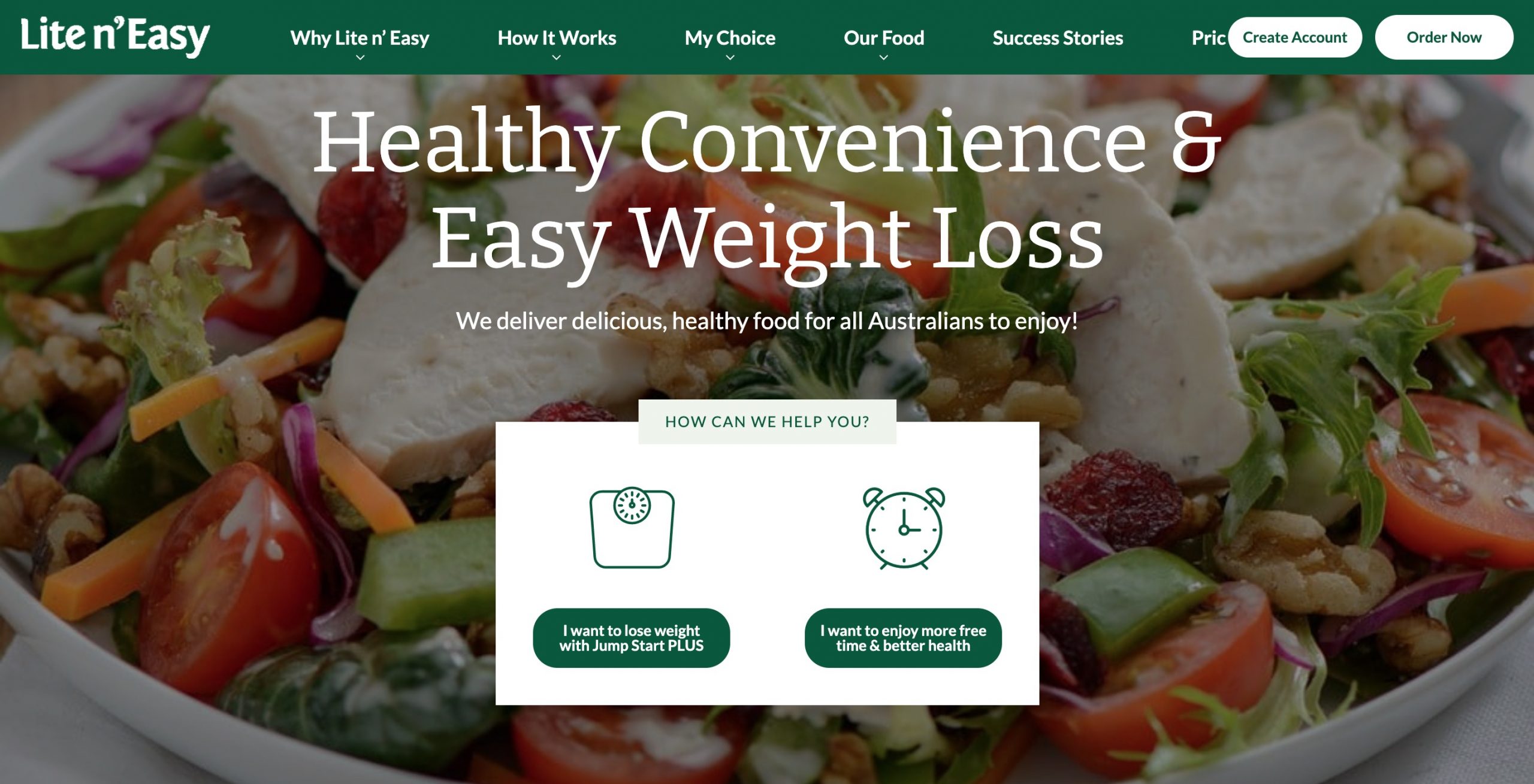 Lite n' Easy Recipe Cards' Pricing
With over 160 organic food options on the menu right now, the delivery service offers a wide range of cuisines. The following options are also available: fresh meals, salad mixes, Asian as well as Indian food, international, traditional, high-protein content dishes, chicken, beef, lamb, pasta, roasting, seafood, steak, vegetarian, no added milk, and no gluten.
The following meal types are available:
Breakfast and lunch;
Dinner;
Miniature meals;
"Lite" meals;
My Choice Meals;
Meal-in-a-Bowl;
Soups;
Desserts;
Simple Snacks.
If you have a stronger desire than the meal plans listed below, you can combine them with another plan in a way that works for you.
Lite n' Easy cost is based on the concept that you pay a premium for receiving precooked meals, just like with other food delivery services. So, you should expect Lite n' Easy pricing to be more expensive than purchasing individual ingredients and preparing them yourself. The importance of a well-planned diet, on the other hand, should not be overlooked.
To give you an idea of how much is Lite n' Easy, it costs between $22 and $27 every day. If you dine out for lunch or order takeout on a semi-regular basis, it's a great option.
Ordering individual dinners is a less expensive option than purchasing the entire meal package. You'd typically expect to spend $11 for prepared foods, therefore ordering at least 10 meals on each transaction makes financial sense. Because these meals may be kept for up to a year, there is no danger in ordering in bulk. If you have sufficient storage space, that is!
How Lite n' Easy Works
You may begin by first taking a brief questionnaire on the website. It'll provide you with recommended dish plans based on criteria such as your personal info as weight, age, and height with the frequency and amount of physical activity you undertake each week.
There is also an option to pick your health objective, such as trying to reduce weight or simply having more comfortable access to healthy foods. After that, you may sign up to choose your dishes and delivery time.
How Easy Are Lite n' Easy Meal Kits to Prepare?
These fresh dishes are adaptable and may be enjoyed as dinner or as a larger lunch alternative. They're also faster to prepare than our freezer dinners because they're delivered fresh. Some meals are ready to eat right away from the fridge, while others require just minor heating.
However, mind that all frozen foods should be thawed before serving. It is not necessary to cook the meat first. Frozen dinners may be reheated in the microwave or a normal oven.
Lite n' Easy Meal Kits Review: Who Is Lite n' Easy Good For?
While it isn't inexpensive, you're paying for what is supposed to be a dependable service that takes pleasure in delivering high-quality meals to your home. It may also assist you in saving time and avoiding the trouble of planning and preparing nutritious food.
You may order what you want as you go and get a clear sense of what it is for you because you aren't bound by a contract or obliged to order every week. If you prefer actual food to meal replacements like weight reduction smoothies, based on Lite n' Easy meal kits reviews, it may be your helper in losing weight.

Lite n' Easy Menus: Who It Isn't Good For?
According to other reviews of Lite n' Easy, if you travel frequently — whether for a job or leisure — it may all start to fall apart. 71% of Lite n' Easy customers who traveled felt it was difficult to keep to the program while abroad.
Besides, if you're using this service, but your spouse isn't, sticking to the plan may be more difficult. The majority of Lite n' Easy ratings left by their customers who had partners claimed it was more simple to keep to it since their partners did as well.
Lite n' Easy Packaging
Regarding Lite n' Easy meal delivery reviews, 52% of consumers are concerned about the quantity of food wrapping and packing. Given the poll, it's begun to offer clients the option of returning their empty shopping and day bags to be recycled by putting them in their Empty Esky.
Changing and Canceling Order of the Lite n' Easy Plans
You can cancel your delivery and make a new order if you want to modify the delivery date. Additionally, you can call Customer Service to talk with one of the advisors for further assistance.
Lite n' Easy Reviews of Customer Service
If you have any questions, Customer Service hopes to be able to answer them in the form. If this is not the case, please contact them using the phone number on their website.
Besides, if you aren't completely satisfied with your delivery, the company will refund your money in full. Simply write to them within 5 days of getting your first delivery explaining why you are dissatisfied, and we will arrange for the remaining meals to be collected up and refund the cost of your first delivery in full.
Reviews for Lite N' Easy Alternatives
Here are the top company's competitors in healthy meal delivery services in Australia.
Lite n' Easy vs. Marley Spoon
Marley Spoon provides another option for people who like spending time in the kitchen but dislike going to the store or butcher shop. Yet, these meals are faster to cook compared to Marley Spoon's. Its weekly menu is pretty the same as in the Lite n' Easy.
In the box, you'll get recipes as well as fresh ingredients, however, the meals are geared more toward the evening than other meal times. Each meal costs about $10, it's less than the same box in the Lite n' Easy menu.
Furthermore, if you're going away for a week — or your fridge is running out of room — you can pause your subscription or just skip a week, making it simple to work around your schedule.
Lite n' Easy vs. HelloFresh
HelloFresh began in Germany and has now spread globally. There are four options available: the Vegan Plan, the Meat & Veggie Plan, the Family-Friendly Plan, and the Calorie Smart Plan.
Rather than delivering pre-made meals, HelloFresh supplies all the fresh ingredients to assist reduce preparation time rather than the cooking process. HelloFresh, like our main star of this review, offers a changing menu, which means you'll have lots of alternatives to pick from during your membership.
Each plan includes some meals for each person, with prices ranging from $10.99 to $19.99 for each meal, which is much cheaper than you'd pay for Lite n' Easy.

The Verdict
Given all Lite n' Easy meal reviews, this subscription makes it very simple to regulate your calorie consumption due to its simplicity and routine. With so many success stories going around, it's apparent that this diet may help you lose a significant amount of weight. Lite n' Easy prices are pretty good.
This may not be the best delivery service, but if you're seeking to lose some kilograms or simply need quick, nutritious meals, you should certainly give Lite n' Easy a try!
FAQ
Are Lite n' Easy Meals Healthy?
The company provides a variety of nutritious meals and healthy convenience alternatives that eliminate the guesswork from eating properly. There's something for everyone on the ever-changing menu of fresh and frozen dishes. It's also a nutritious and handy option for individuals who don't have time to buy or prepare. Our dietitians and chefs create the menu, ensuring that everything is properly balanced and portioned correctly.
Can I Try Lite n' Easy for Free?
There is no such option. However, you can join without any fees or lock-in contracts with Lite n' Easy, so consumers may come and leave as they choose. Payments are deducted weekly, on the day before delivery. You may choose your delivery frequency to weekly, fortnightly, three-weekly, or four-weekly. Alternatively, you may go "on-call," which means you'll only be sent deliveries (and paid for them) when you place an order.
Is Lite n' Easy Worth the Money?
It's a personalized meal service for those who are too busy to cook healthy, nutritious meals every day. Meals are delivered directly to your doorstep and only need to be heated. At Lite n' Easy, you get delicious, healthy cuisine that makes it simple to lose and maintain weight. Lite n' Easy is also a nutritious, handy option for individuals who don't have time to buy or prepare food.